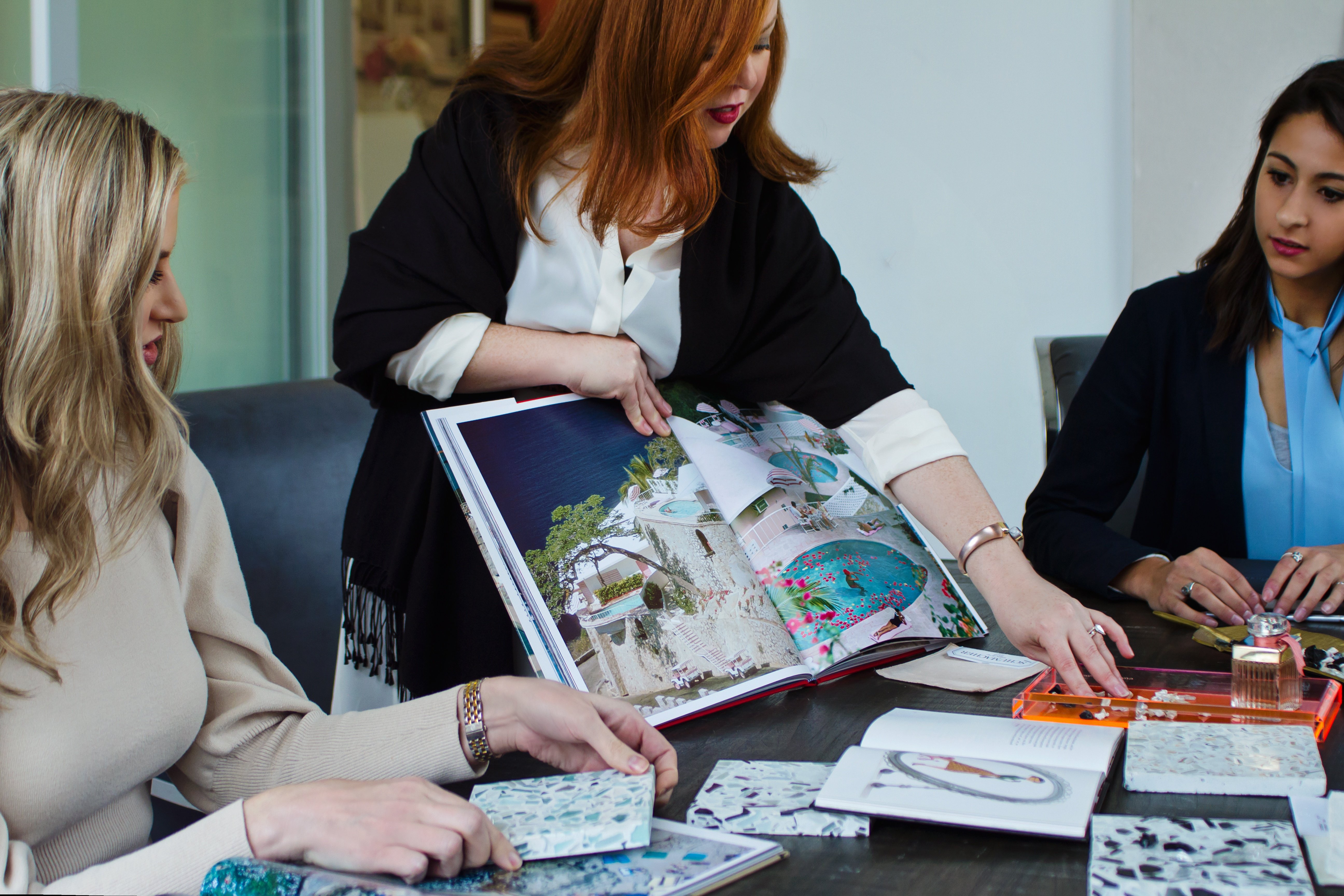 From neutral palettes to color spurges, Vetrazzo's recycled glass countertops make their appearance on many mood boards and material selections. In love with the creativity of the designers who feature Vetrazzo, we gathered a few of our favorite finds and asked them for the backstory on their vision.
Our sustainable surfaces make many designers' product wish lists and in the case of Houston designer Laura Umansky of Laura U Interiors they even inspire product lines. In preparation for the recent BLVD Show House, sponsored by Luxe Magazine, Umansky and her husband Michael transformed their newly purchased historic Tudor into a beautiful, modernized home that showcases her signature liveable, luxury style (and of course Vetrazzo).
Aqua Current
The house's poolside cabana is a charmer featuring Umansky's Aqua Current colorway on the bar top. Inspired by the crystal blue waters and calming waves of the coast, the surface's soothing combination of seafoam green, aqua, white and sparkling mirrored glass is a beautiful addition to the poolside space.
Paired with crisp, white shades, like those featured below, Aqua Currant creates a classic look inspired by the mid-century modern coastal designs of the 1960s.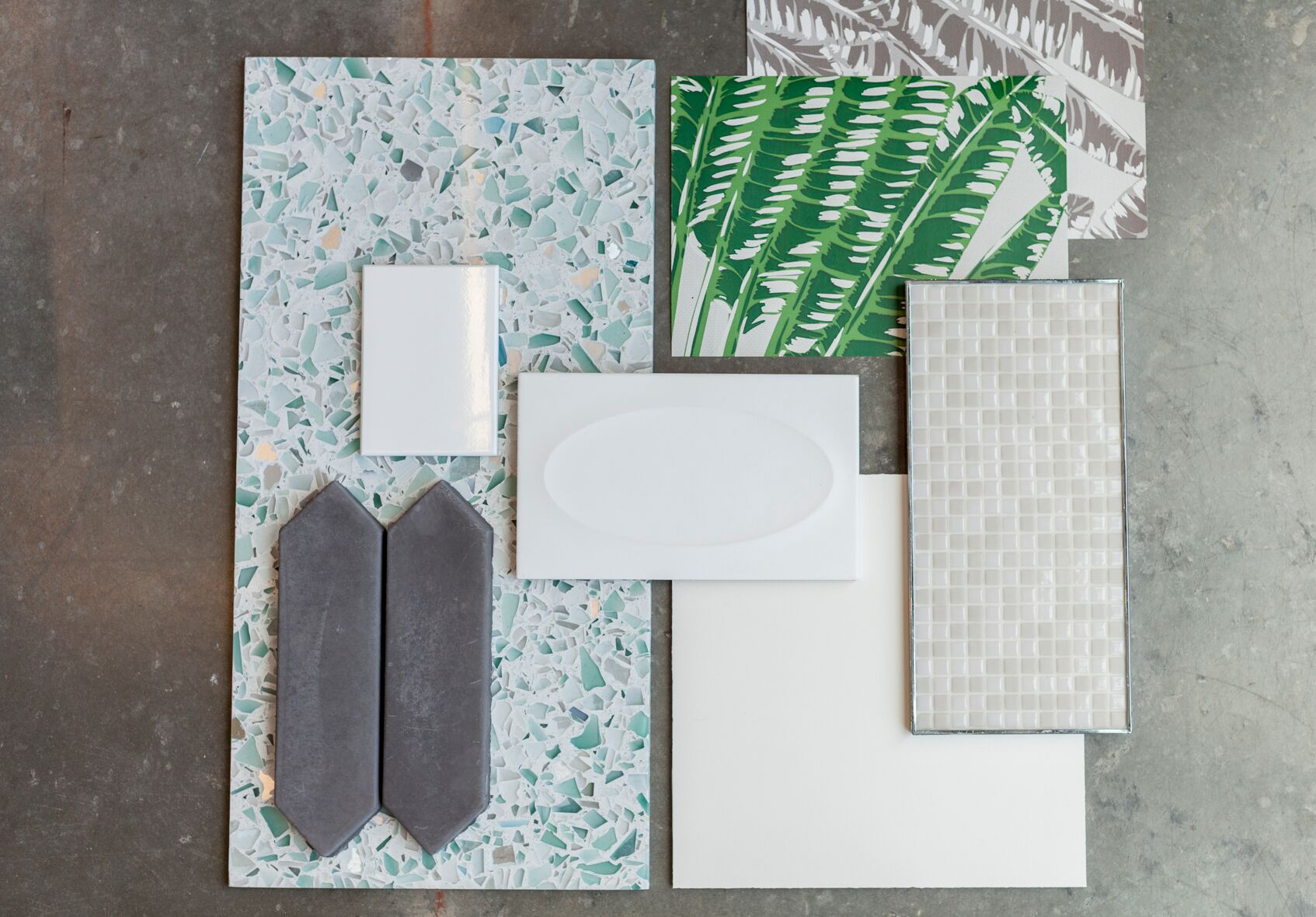 The inspiration behind the project is the couple's twin daughters, Liv and Ryan, who absolutely love that their new (old) house has a pool. "The cabana needed to be super functional, but we didn't want to sacrifice on style, of course," she said. "I enlisted the help of Letecia Ellis Haywood, Principal designer at Laura U, to bring the once-drab space to life." She had visions of the French Riviera - a black and white striped awning, vibrant tropical wallpaper, cozy seating areas and Aqua Current Vetrazzo countertops - that when pulled together created the perfect laid-back poolside style that Umansky loves.
Fair Pearl
On the lighter, more muted side of Vetrazzo style, interior designer Patricia Thompson of Taide Scape created this mood board for a fresh, modern kitchen design. Entitled Relax, the design is a ying-yang balance of neutral tones, recycled materials and soft lighting. Products like Vetrazzo's Fair Pearl countertops, terracotta tiles by clè tile, paint colors by Sherwin Williams, hardware Wayfair, and lighting Lights.com are featured. Her firm specializes in visual and spatial design, 3D renderings and interiors. (Taide means art in Finnish if you're wondering.)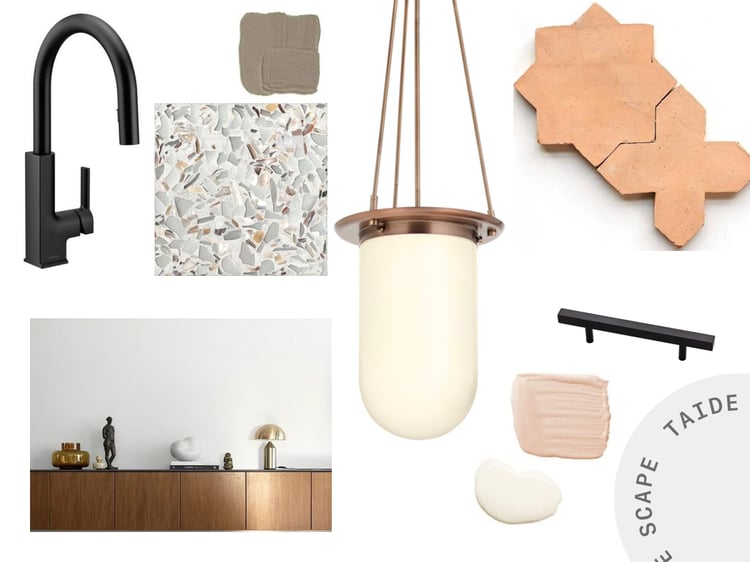 Thompson's overall style is a mix of old and new. She also loves pattern, color, brass, and especially anything handmade or painted. "I like to take time to explore different artists and creatives and when I find something that strikes inspiration, I run with it," Thompson said. "I came across Vetrazzo and immediately fell in love, and branched out from that point to pieces and finishes that spoke to the neutral, beautifully crafted material to build a strong foundation for this mood board."
The sample piece alone was enough to create a spark in Thompson's imagination to pull other finishes in and make the design come full circle. "I love to be "in love" with a product or material. It's all about energy for me and that gut feeling when making selections. I let the pieces speak for themselves… they just have to all speak the same language."
The recycled content of Vetrazzo was a bonus factor for Thompson.
"I'm all about sustainability, whenever I can make it count I will. When coming across Vetrazzo, I couldn't believe my luck," she said. "I found a great product with values I can agree with. The Fair Pearl color mix was just so perfect! Of course I looked all the other options before making a final decision, but the balance of color, shape/size of glass along with the shell inlay was just right! The neutral base that I needed to set the stage for the rest of the elements to shine."
And then there are the color lovers.
Millefiori
There's no greater surface for capturing color than Vetrazzo's Millefiori. Italian for "a thousand flowers", this vibrant mix of stained glass includes 12 blooming colors. This mood board by Cuisines Nuenza, Montreal's custom design kitchen and bathroom specialist, showcases their passion for colors, shapes, textures, and smart accessories. According to the design firm, a focus on balance and serenity not only guide the mind into a state of quietude, but bring peace to the heart of every home, the kitchen.
Their recent material mix pairs bright orange and light wood cabinetry, white ceramic tile, brass hardware, and colorful Millefiori countertops for a fresh modern look. The light, youthful design guarantees good vibes year round, even in the dark of Canadian winter.
If you're working on a Vetrazzo inspired designs, we'd love to feature them on our social channels. To share, use #VetrazzoMoods or tag us at @Vetrazzo.
Download our moodboard collection featuring a rainbow of recycled glass surfaces.