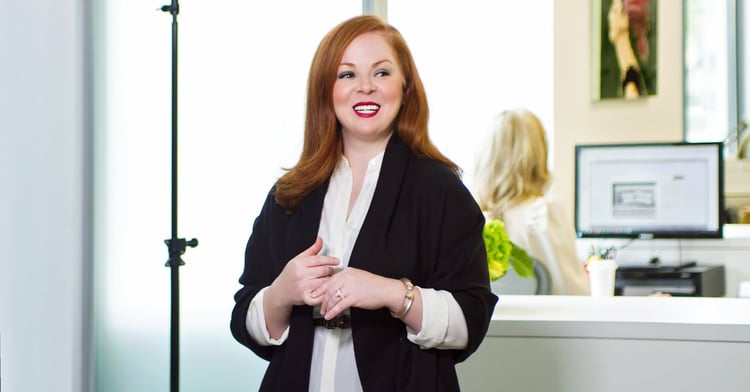 If there is one element present in every Laura U interior design it's bold color. Whether she's designing a traditional historic home or a contemporary new build, Laura Umansky begins with a soothing neutral base and adds layers of rich colors and cheerful metallics to create exuberant spaces.
"I just really like color," Laura said. "It adds life to a space. Designing with color simply makes me happy. It's an innate motivation with my firm's design aesthetic."
With 18 colors (and counting) in our recycled glass palette we feel that love of color right down to our core. Color is who we are and we love designers like Laura who embrace every hue.
This year, Laura and her team celebrate a decade of technicolor designs at her Houston, Texas design studio known for its breadth of work in modern highrise projects, family-friendly homes and destination getaways. In fact, a destination home is how we met Laura and formed a partnership with her to create a new four color designer curated edition of recycled glass surfaces: Vetrazzo By Laura U.
"We were working on the Galveston beach house right on the water," Laura said. "We wanted to pull the color of water into the house. Floating Blue was a perfect fit. It looked like sea glass and it was a recycled material."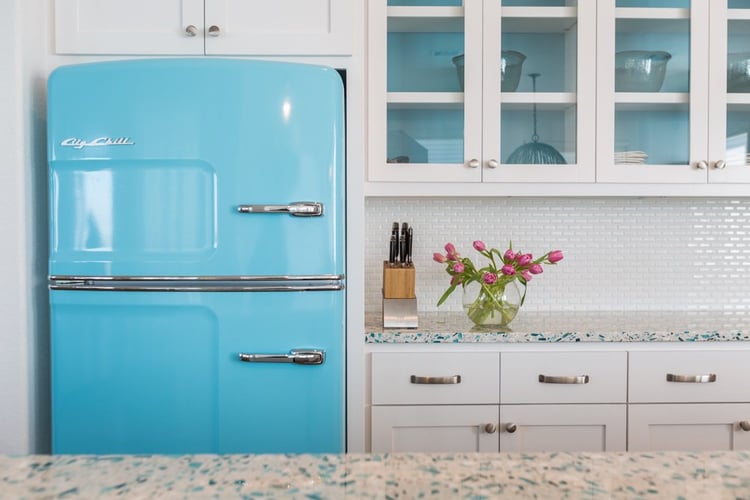 A Big Chill refrigerator makes a cheerful connection with Vetrazzo Floating Blue recycled glass countertops.
In the Galveston home you can see Laura's signature mix of classic, retro and modern elements. Shaker cabinets, a throwback fridge and contemporary recycled glass countertops all dwell in harmony in her kitchen design. The motif is beachy without the cliched theme elements of sea shells and starfish.
Though glass embedded in the Floating Blue countertops resembles sea glass, it's actually recycled architectural glass named for the reflective coating you see on glass skyscrapers. See more of the gorgeous Galveston home here.
"I love the depth in the product," Laura said. "It's so different. I don't think there is anything else like it on the market. Every piece I've seen is so different from the others even within the line itself."
At the center of all Laura U designs is the notion of livable luxury. As Laura says, you want a beautiful space, but, "You need to be able to live in your home."
One of the reasons Laura partnered with Vetrazzo on the new line of colors (and why she used the line for her own home kitchen) is that the Designer Collection line is nonporous and stain resistant. Afterall, she's a busy mom of twin girls. The recycled glass aggregate is combined with a bio-resin to create durable surfaces for countertops, floors, tiles, even furniture.
"I feel if my designs can stand up to me then I feel really confident about doing the same design for my clients," she said.
The anchor for the new color line is a soft neutral incorporating Laura's favorite material of all time - Mother of Pearl.
Together with the craftsmen and designers at our atelier in Georgia, Laura blended bits of the pearlescent shell with a custom mix of recycled glass aggregate.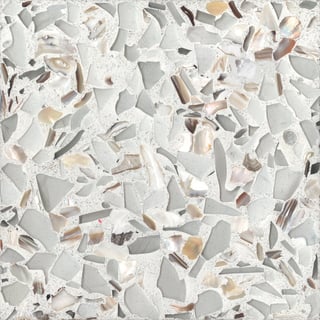 The result was Fair Pearl, a dynamic neutral surface, the perfect base layer for her designs. And what better place to try it out than in her own kitchen - a 1930s bungalow that she and her husband bought and renovated five years ago.
"Our house has historic designation so we kept the original footprint of the room. I wanted a light bright white kitchen so I chose white cabinetry and backsplash tile and painted the vaulted ceiling a pale sea green," Laura said. "We chose those elements before the Vetrazzo surfaces were installed and they couldn't be more perfect with the Fair Pearl colorway. It picks up little bits of grey, pink and gold."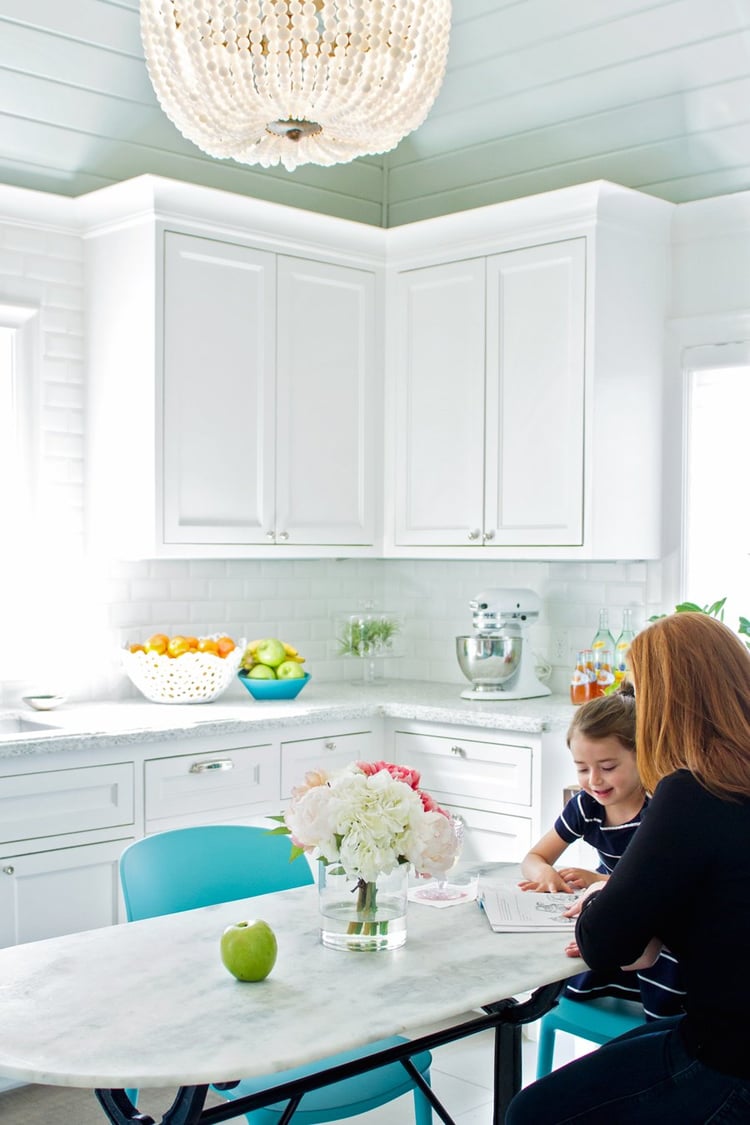 In the remodel of her historic home kitchen Laura expertly mixes modern and traditional elements, beginning with a neutral base and layering color.
"The Fair Pearl has a really pretty shimmery effect, especially when the under cabinet lights are shining on it. When you move around it, it just sparkles."
Get an insider view of Laura's home kitchen featuring Vetrazzo By Laura U, plus her inspiration for the Fair Pearl palette in our new lookbook.