If when you picture Miami design you think hi-gloss white lacquered floors and cabinets you wouldn't be wrong, but what Miami customers are looking for in their interiors today is something deeper.
"The Miami market is craving black," said Alex Ferraz. As director of sales and business development at UMI, Florida's exclusive Vetrazzo distributor, Ferraz sees first hand the emerging designer demand for new materials that feature black in a fresh perspective.
Where other parts of the country have been falling for the matte black looks of granite and soapstone, in Miami he says, designers and homeowners still want a bit of glam in their surfaces. And with pieces of black and mirrored glass Vetrazzo's latest recycled glass color- Classic Black - has all the allure the Magic City needs.
Created by Houston designer Laura Umansky this color mix is one of four in the Vetrazzo by Laura U line, and Vetrazzo's first ever black and white palette.
"Vetrazzo nailed it with their Classic Black by Laura U. The surface has both vintage glamour and South Beach sophistication. A total win with our designers," Ferraz said.
Flat lay by designer Laura Umansky.
Made from a unique black glass mixed with classic whites and soft gray tones, this colorway offers a retro art deco look with the classically current twist designer Laura Umansky is known for.
"Old Hollywood glam is the true inspiration behind this bold black and white Classic Black Collection," Umansky said. "I love mixing this with a pop of peach or a soft turquoise for the perfect coastal glamorous south Florida feel."
Inspired by the consistent creativity of
Miami's Design District we paired recycled glass surfaces with furnishings, textiles, and art that will bring Miami style to any space.
Sources:
1. Chic floor lamp – Holly Hunt, 3833 NE 2nd Ave, Miami, FL 2. Romance vase – Roche Bobois, 450 Biltmore Way, Miami, FL 3. Jaime Derringer, Untitled Study 12, 2015, 9"x12" acrylic, ink and pencil on paper 4. Cocktail - Rose Bar at Delano, 1685 Collins Ave, Miami Beach, FL 5. Spazio buffet by PIANCA – Addison House, 5201 NW 77 Avenue, Miami, FL 6. Felix by Roberto Lazzeroni – Lema, 4141 NE 2nd Ave, Miami, FL 7. Jane sofa – Bobby Berk Home, 53 NE 40th St, Miami, FL 8. Distressed banana silk – Woven 9. Spin side table – Michael Dawkins Home, 3628 NE 2nd Ave, Miami, FL
beyond countertops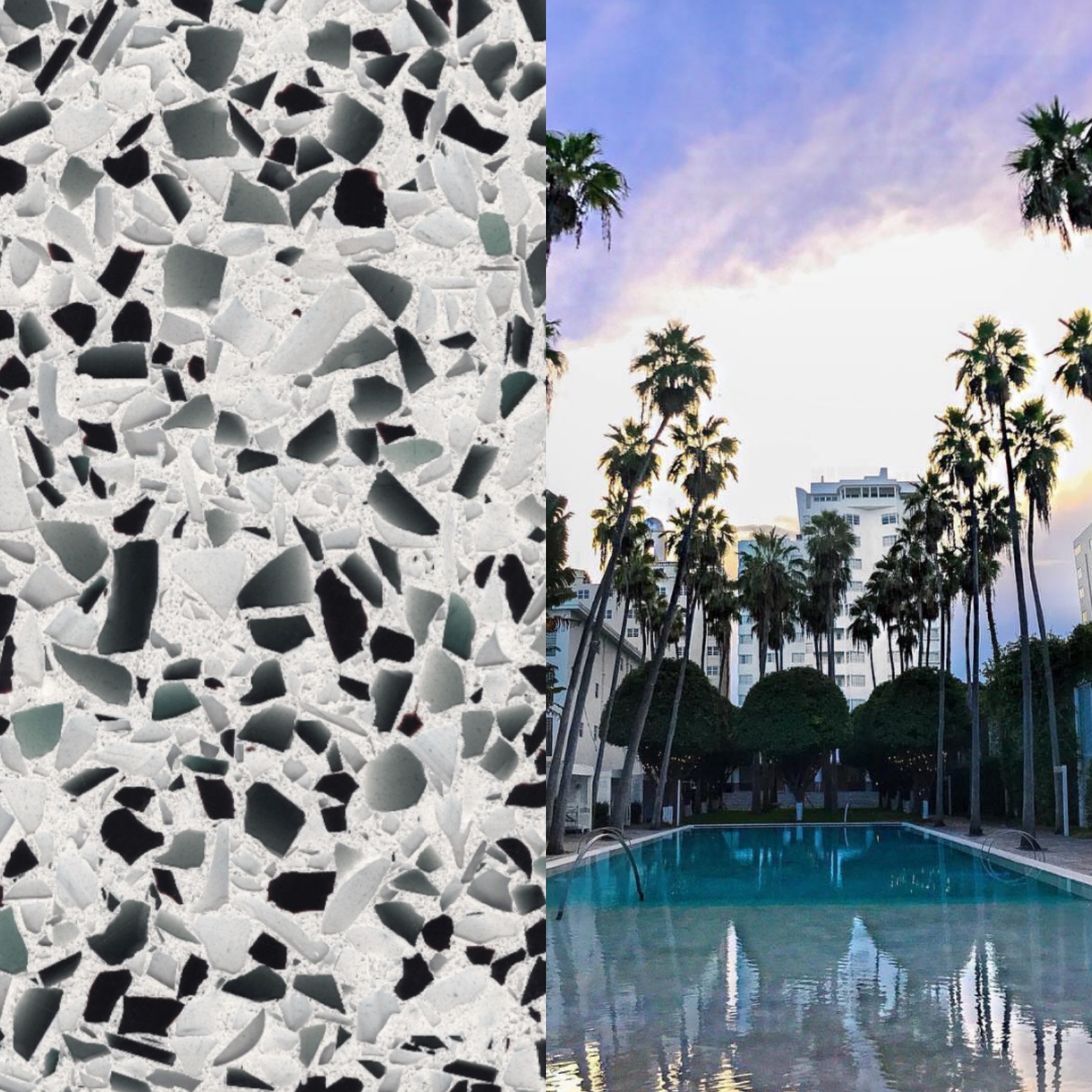 Inspo: The Classic Black recycled glass mix conjures the look of the sexy and sophisticated poolside of the Delano Beach Club, hot day or night.
The Vetrazzo by Laura U line is part of Vetrazzo's Designer Collection, and is made with bio-resin instead of concrete. The ultra-durable resin makes it easier for an array of applications, including thin counters and large format tiles. Thanks to resin's strength, slabs are now available in 2 cm, and even 1 cm for an ultra-thin profile on countertops and furniture.
At just a third of the weight of a traditional slab, 1 cm slabs are ideal for feature and shower walls, floors, built-ins, and even special applications like yachts, planes, RVs and high rise apartments, where weight is a concern.
Complete the look
One of our favorite material match-ups for our recycled glass countertops are mosaic tiles from Oceanside Glass Tile.
Their creative collections capture the same love for color, texture and movement that we feature in our Vetrazzo glass mixes.
As their name suggests, Oceanside Glass Tile is known for their vibrant sea blues, but the American made tile company actually offers an array of dramatic black tiles, perfect for bartops, islands or vanities made from Vetrazzo's Classic Black.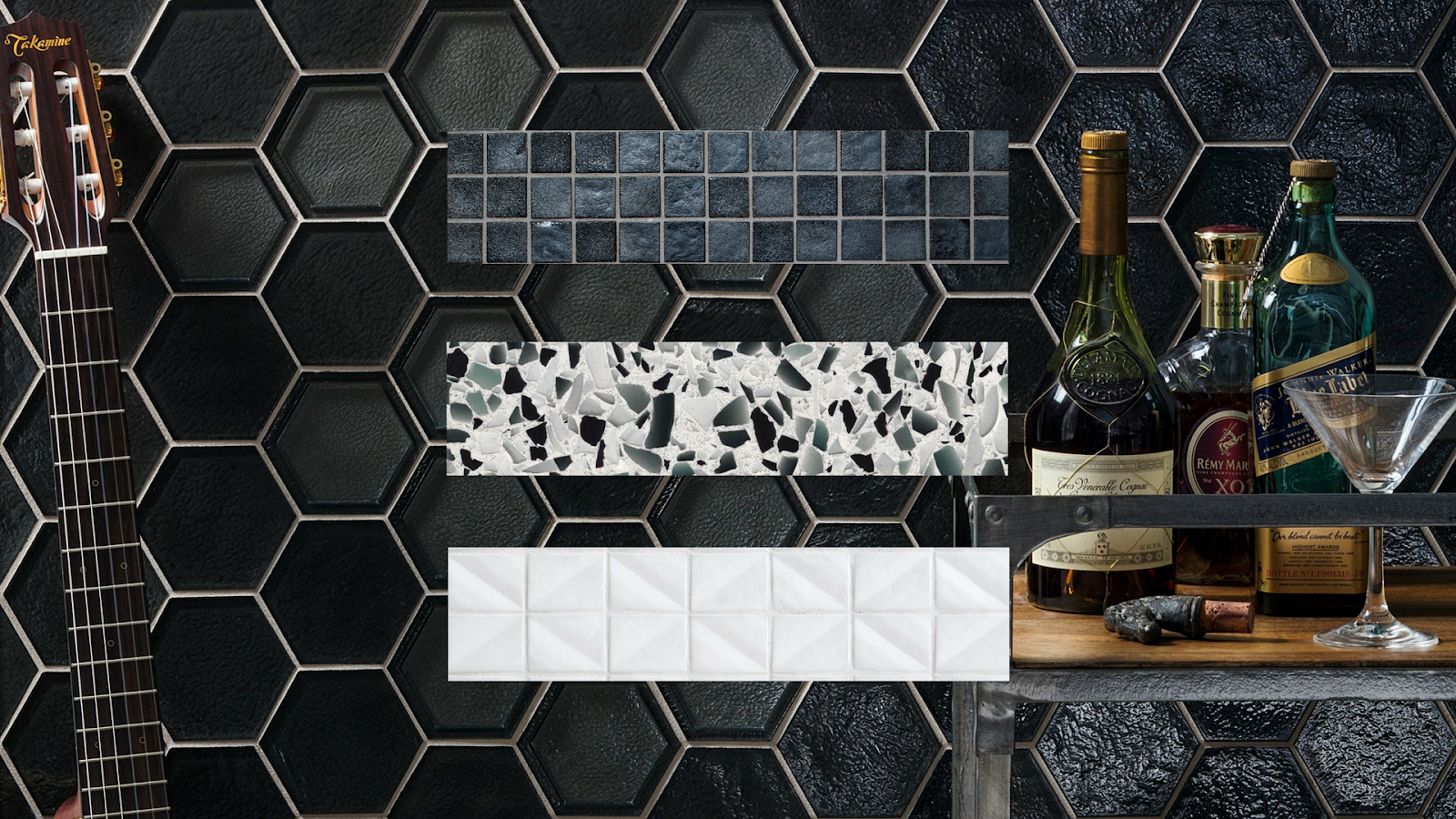 These pewter mosaic, matte black hexagonal or crisp white geometric tiles by Oceanside Glass Tile pair perfectly with Classic Black.
Melissa Reynolds, South East Regional Account Manager for Oceanside Glass Tile, explains why this new moody color mix is just right for the Miami market.
"Classic Black conjures images of the famous outdoor Lincoln Road mall and Marris Lapidus' influence on the region. His use of classic black and white with just the hint of fountains among the trees is the perfect embodiment of Vetrazzo's Classic Black colorway."
Even if you don't live in South Beach, Bal Harbour or Palm Island, you can add a touch of Miami to your next project with the sharp and sophisticated look of Classic Black recycled glass. As a kitchen island, wet bar top or even large format tiles, this recycled glass product captures the Miami style and edge.
Love the look of recycled glass surfaces? See more in our Coastal Luxe Lookbook.