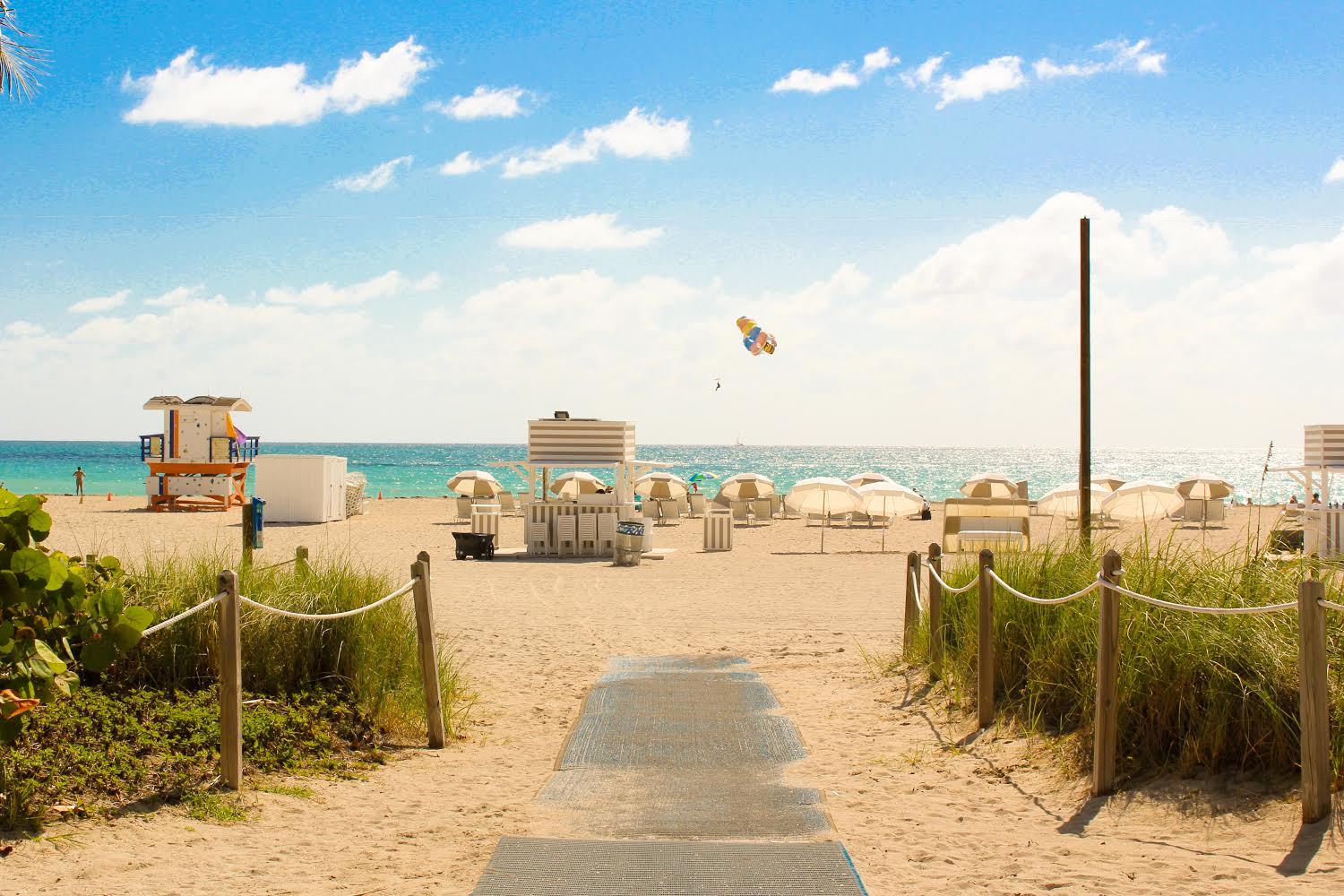 Floridians enjoy a special piece of paradise living close to warm sandy beaches and crystal blue waters. And just like the sun and sea outside their doors, they've fallen in love with Vetrazzo recycled glass countertops, its sparkling sea glass surfaces and gem like colors bringing light and art to their kitchens, bars, pool houses and bathrooms.
From Jacksonville to Miami to Key West, interior designers, architects and builders each have their own take on coastal style - from laid back to sophisticated, bold to neutral. Their unique perspectives combined with a rainbow of Vetrazzo colors help these professionals capture in their designs what we all love about the Sunshine State - the luminous color of those bright skies, swaying palms and sparkling waters.
Serving this community of style influencers in the luxury market, is UMI, Florida's largest source for natural stone, quartz, porcelain, and recycled glass surfaces.
"We began our business almost 20 years when as fabricators and installers we saw a need in the market for more unique materials for residential and commercial projects. Over the years we've moved from fabrication to distribution," said Don Di Norcia, President of UMI. Di Norcia and his team now operate locations in Naples, Tampa, and Boynton Beach.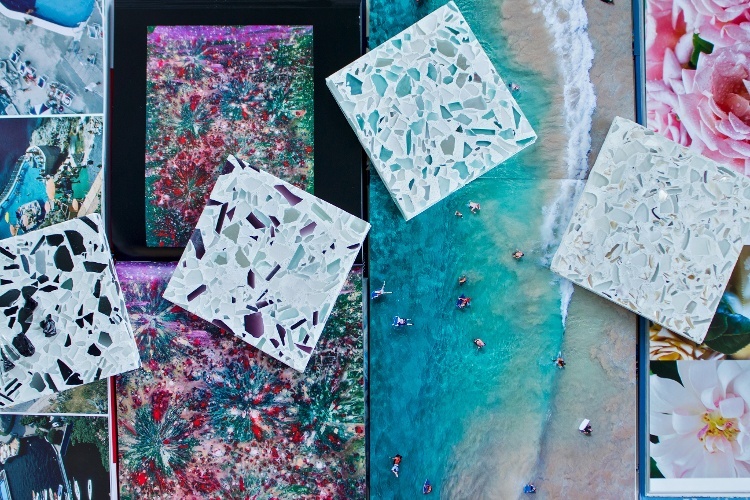 The four new colorways of
Vetrazzo by Laura U
are part of the Designer Collection available at UMI.
There's no doubt that in Florida environment influences style, (how could it not when the sun is shining and the water glistening?), but the diverse locations, from city to suburb to coastal hideaway, mean the state has styles as dynamic and diverse as its residents.
We love what Rob Goldberg, Executive vice president of marketing for the iconic Florida brand Tommy Bahama had to say about style here.
"From a design perspective, there's South Beach, the Gulf Coast, North Coast … all have different sensibilities, yet all come back to the same foundation and theme: a lifestyle that's a little slower, easier and more relaxed," he said.
Pensacola based designer Cheryl Kees Clendenon of InDetail Interiors, who works in Florida and around the country, likes to incorporate subtle coastal themes that are an homage to their surroundings.
Photo by Greg Riegler Photography
This get away home master bath remodel by InDetail Interiors features an Emerald Coast recycled vanity top and textured cabinetry.
"I like to call it Elle Decor meets the coast," Clendenon said. "I try to restrain clients and their seashells to give them the sophisticated look they want."
It's one reason that Clendenon says she's a fan of Vetrazzo where the luxe look meets the coastal vibe. See her coastal chic Perdido bathroom here.
As Florida's demand for unique modern surfaces has grown, UMI has expanded its recycled glass countertop offerings to include four new colors, a designer collection with new profile options from 3 cm to ultra-thin 1 cm, and the new Sea Pearl finish, with the texture of beach glass and the opalescent quality of a pearl, rising to the surface of sand.
In the Sea Pearl finish (shown here in Floating Blue) pieces of glass seem to rise up gently out of the concrete surface with the texture of a worn piece of sea glass.
"Sea Pearl is the Florida lifestyle in a countertop - high end style, in a relaxed design, with a strong connection to the ocean. Our customers gravitate to it for the look, and then fall in love with the texture." Alex Ferraz Director of Sales and Business Development at UMI.
For just about every client, though, it's the color and movement in the Vetrazzo surface that grab the client's heart. That was true on Clendenon's Perdido project. "Once we showed the Emerald Coast to the homeowners it was a done deal," she said. "We designed the whole bathroom around it."
It was the same story for designer Amanda Webster for the Ponte Vedra bathroom she designed for a beach loving couple. "I love that you can see right down into it and some of the chunks are really large, so you can see about a half-inch deep. The first thing [people] do is go over to the countertop, start touching it and go, Wow, what is this?!," Webster said.
With Vetrazzo, it's always about color, and seeing it in person is key to selecting the recycled glass color that matches the project's inspiration. For Webster and her clients that meant starting with beach treasures.
"The homeowners have been walking up and down the beach for about fifteen or twenty years and had a quite a collection of sea glass and found treasures," she said. "Between the sea glass and the shark's teeth and the occasional driftwood, we had everything they wanted in that color scheme and Emerald Coast was perfect."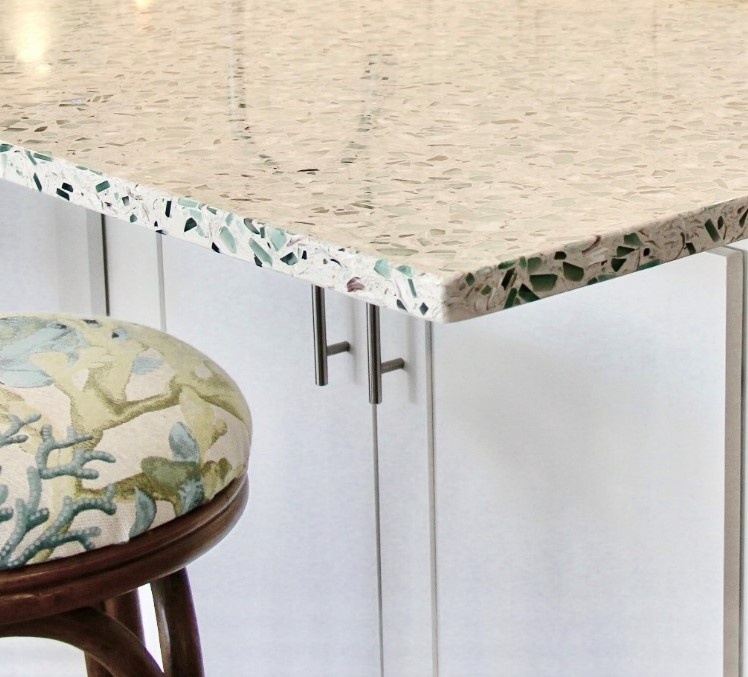 Emerald Coast incorporates bits of oyster shell for a subtle coastal reference.
At UMI's showroom Ferraz and his associates help designers and homeowners select from the 26 available recycled glass colors to find that one meant to be their design's centerpiece.
"Because our expertise is working with the materials that make design dreams possible we're able to help our customers discover new one-of-a kind surfaces, like Vetrazzo's recycled glass, and accomplish their most ambitious designs with expert guidance and custom options they may not have even known existed."
See more colorful recycled glass designs for bathrooms, kitchens and even restaurants in UMI's Coastal Luxe Lookbook.