With increasing chatter in the media about climate change and global warming, the growing trend among architects and designers has been to use green products in commercial settings.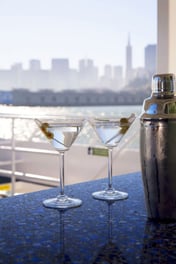 According to the United States Green Building Council (USBGC), there is more than 13.8 billion square feet of building space that are LEED-certified, a remarkable achievement the industry. Not only that, but the green building market is growing – it 2013, the market grew to $260 billion, which included the 20 percent of new commercial construction in the United States.
Couple this with the fact that in the U.S., buildings alone account for 39 percent of total energy usage and 68 percent of total electricity consumption, and you've got more than enough reasons to look for sustainable alternatives to traditional building and interior products.
The creation of sustainable design has become a key factor in many types of commercial settings. The use of green building materials can be another way for eco-conscious designers and architects to incorporate sustainable products into a project's aesthetic.
Thankfully, green building materials have come a long way since their inception. Popular energy-conserving products like solar panels used to be clunky, expensive, and, let's be honest, not exactly a designers' dream. However, innovation within the industry has led to the creation of both aesthetically pleasing and practically designed green building products, like Vetrazzo's recycled glass countertops, which can add credits to those looking to achieve LEED certification.
GREEN BUILDING MATERIALS ON THE SEA
Green building is not limited to land. Those in maritime industry have taken great strides to reduce their impact to the environment as well. This dedication to creating sustainable designs has been showcased in one hybrid vessel called the Hornblower Hybrid.
This luxury yacht, which appears fairly standard from the outside, takes New York City tourists sightseeing around the New York Harbor to some the city's most famous sites, like Ellis Island, the Statue of Liberty, and the city's iconic skyline.
However, it's what's inside that makes this ship so different. The Hornblower Hybrid was the United States' first vessel to be powered by diesel, hydrogen, batteries, wind and solar energy. Adding to the ship's very green theme are the number of LEED certified and eco-friendly products in its interior, like the eco-friendly countertops in Cobalt Skky® with patina from Vetrazzo.