We may still be in the throws of winter, but spring is right around the corner and with all that arctic chill your mind might start to think about next summer, and maybe even a secondary home investment. If so, you're not alone. There's been a recent boom in vacation property sales among affluent investors and the baby boomer generation as they begin to reach retirement years. Vacation home sales across the country are soaring, rising by 57% to 1.3 million properties in 2014 compared to 2013 reaching a record high, according to the National Association of Realtors (NAR). In fact, vacation home sales accounted for 21% of all real estate transactions last year. This increase is great for the economy but there are many factors to consider before investing in a secondary home. Here are two key recommendations to keep in mind before taking the plunge.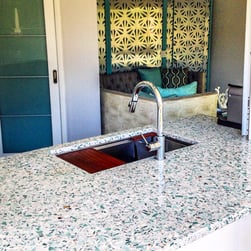 LOCATION
We can all agree that location is going to be the biggest decision you make when searching for a secondary home. There are many possibilities such as beach houses, lake houses or maybe even a cabin in the woods. NAR's survey tells us that beach resort properties are the most popular and attract 40% of buyers compared to 19% in the country and 17% in the mountains.
Location is something you need to plan for, especially if you're considering leaving the house vacant in the winter months. If you're planning for a beach house in the south, you need to keep in mind the possibility of hurricanes but if you're thinking about something a bit more north then you need to be prepared for snow. Is there going to be a possibility of flooding or a damaging earth quake? You can never avoid all issues as unfortunately, bad things can happen no matter where you're located. Luckily, there are precautions you can take to plan ahead for. The last thing anybody wants to think about when buying a fun vacation spot is preparing to take care of the home in the winter months or the time when it's vacant.
DESIGNING FOR WINTER
Designing your home to withstand the elements that come with the location you choose is essential. There are many design esthetics and products you can invest in that will protect your home internally and externally.
New smart home technologies continue to come on the market that allow you to monitor your home while you're away. You can remotely monitor and change the thermostat, the alarm system and be prepared for many types of emergencies. These products not only keep your house safe but will also save you money in the long run.
Design smart with hurricane shutters. These allow you to protect your home from the harshest weather conditions even if you're thousands of miles away. Another design element to consider is gutters and downspouts, making sure you're taking maintenance, durability and longevity into consideration. Leaking gutters and downspouts can cause serious damage to a building's interior and exterior if neglected. Copper is a safe material choice because of the low maintenance required, high resistance to corrosion and long life, plus it looks so stylish.
Investing in high quality outdoor materials is a smart decision since they encounter the most abuse with exposure to the elements while you're away. Any kind of outdoor patio or kitchen areas with tables, cabinets or countertops need to be equally as durable and recycled glass countertops are definitely an investment worth making especially for their UV stability, durability and aesthetics. Check out our latest case study featuring a beautiful design-centric summer home for some outdoor living inspiration: A Coastal Retreat Inspired by Vetrazzo. Discover how this large city family designed their Jersey Shore summer home using Emerald Coast at the poolside.