In these uncertain times, the joy and comfort of home is more important than we realized before. This is a perfect time to think about the projects you want to tackle next. It's also an opportunity to explore just how meaningful a place home is for all of us. We hope looking at our projects, like this one designed by Mary Ann Smiley, brings some delight to your day.
One look at Dallas designer Mary Anne Smiley's portfolio and you'll realize you're dealing with someone who never puts it in neutral. Smiley, an Oklahoma native, is revered for her ability to bring her designs to life with their fearless use of pure color and her ability to leverage cutting-edge pieces in a completely livable and enviably elegant way. And even though every surface in a project benefits from Smiley's taste, talent and experience, countertops hold a special place in this designer's heart.
"I love countertops to be interesting," said Smiley. "To me, countertops are like walls and floors. They are some of the biggest areas that we have in a home and they are a fun place to do something really special. We like to have fun with surfaces like that."
Her projects pop with energy and creativity — think modern artwork (like wall-mounted Dale Chihuly bowls), clean lines and even a LEGO® backsplash. To deliver something special, fun, and unique to every client every time means Smiley's always on the lookout for what's new and different.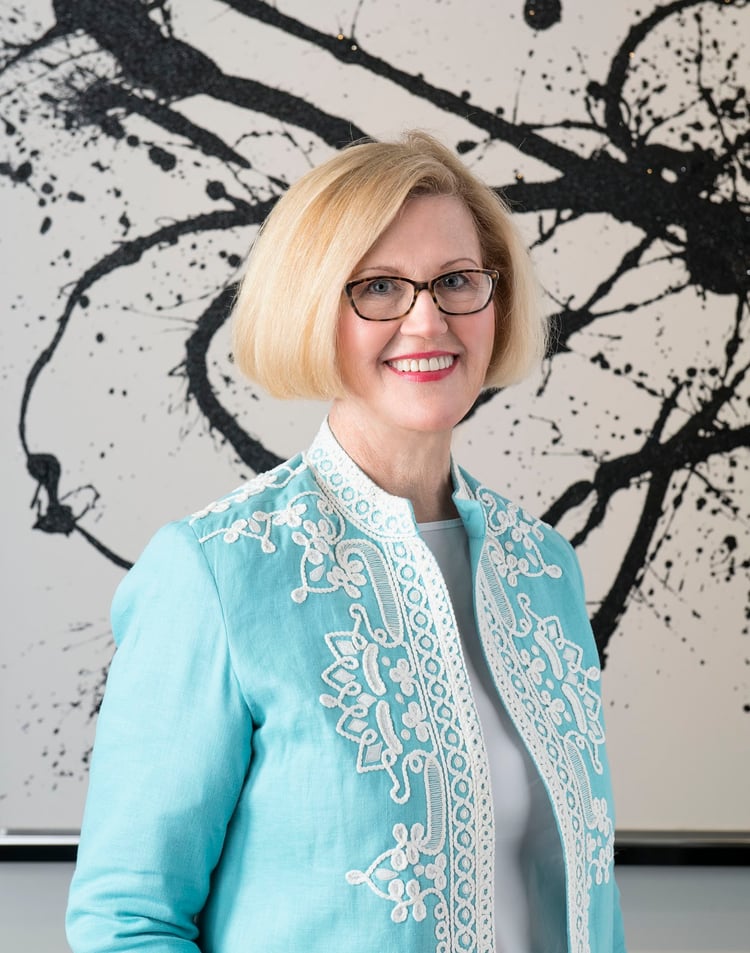 Countertops hold a special place in Dallas designer Mary Anne Smiley's heart.
"I'm always going to be going for color and I'm always going to be going for cutting edge. What's the newest application of any product? I'm going to want to try it, I get really excited," said Smiley with a laugh.
And when she can't find what she's searching for, she makes it. She's created countertops using everything from cowhide to oversized photos to embedded crystals. After utilizing selenite crystals embedded in resin over gold lamé and an oversized photo printed on glass for the countertops on the interior of this home, Smiley wanted to find something that would stand out for the revitalized outdoor space.
"This was the fourth remodel phase that we did on this 14,000 square foot property, all of it interior until we got out to the cabana," said Smiley. "We totally gutted the cabana and redid it, starting fresh.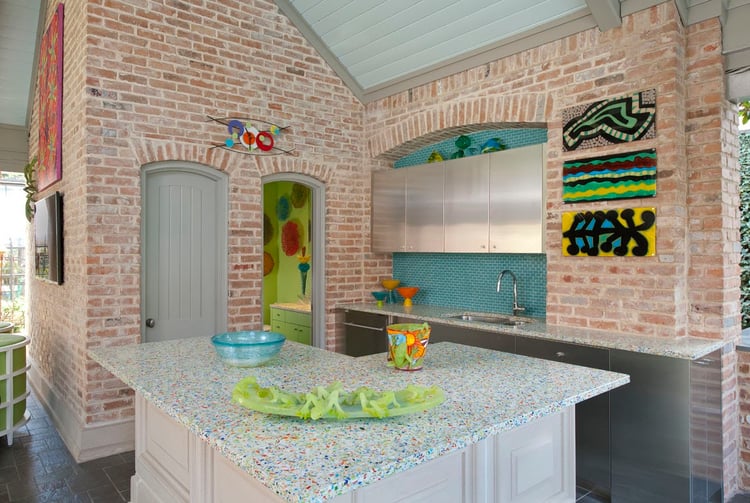 For her client's outdoor cabana, Smiley wanted to find something that would stand out. She landed on Vetrazzo's Millefiori surfaces.
The client came to Smiley due to their shared love of pure hues, so brights are used throughout the project. Since it's the clients' favorite color, Smiley used turquoise throughout the interior of the home, notably in a playful seascape design in the master bath. Bright yellows and oranges are found throughout the interior of the home as well. But to Smiley the turquoise was a natural fit for the cabana, with custom turquoise cushions adorning a patio set and matching poolside lounge chairs, topped with lime green accent pillows.
"We started with the turquoise and then added the lime green with it, for the outdoors, it's just a given," said Smiley. "I really like for my backgrounds to be pretty neutral so I can do those strong spots of color."
This spacious outdoor room was designed with entertaining in mind, with a full kitchen, sitting area with a fireplace, TV and grill all steps away from the pool and main house. The pops of lime green and turquoise are evident throughout the other areas of the space, primarily as clean-lined furniture.
But for the outdoor kitchen, Smiley knew she would have the beloved turquoise in the backsplash, utilizing the same tile that is in the master bath, paired with stainless cabinets. But for this kitchen's countertops, she didn't have an immediate solution. She only knew that she wanted to install an outdoor-appropriate surface that had color in it without it being a solid color. Smiley then began her hunt for the solution to her surface dilemma and discovered Vetrazzo's Millefiori.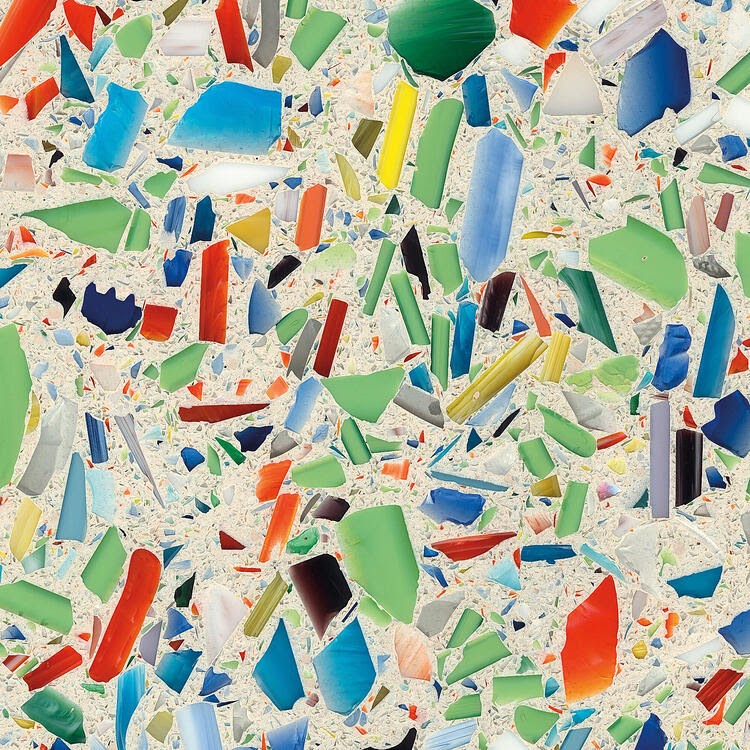 Millefiori is Italian for "a thousand flowers," and includes a vibrant mix of stained glass in 12 blooming colors.
"I immediately fell in love when I saw the Millefiori," said Smiley. "But then I had to make sure that it was not only available as resin-based, because resin does not do great outside. We had to make sure there was a cement base to work outside, and luckily it was an option. Now we've got a countertop that will be practical, but also we can get some color in."
Millefiori was such a success in the outdoor kitchen space that Smiley used the surface again as a round tabletop on a vintage iron table also in the cabana. And the clients loved the bold colors of the surface so much in this home that Smiley brought it into the outdoor space of their second home, a 22,000 foot ranch located about an hour outside of Dallas.
"The primary difference in the ranch home is that the Millefiori is used as an accent," said Smiley. "In the other home it's used as the main outdoor counter. Here we're using stainless as the main counters and the Millefiori is the eye candy accent. So, there's two different ways to approach how you use the product."
The ranch offers a unique union of Western and modern inside, housing a world-class art collection that blends contemporary pieces with sterling parade saddles. Smiley continued this juxtaposition in the outside space with the Millefiori combined with stainless, rock, and iridescent mosaic tiles to comprise an outdoor kitchen that coordinates with the pool. Creating this upscale and modern approach to traditional Western style was a years' long project led by Smiley and built on a solid foundation of detailed planning.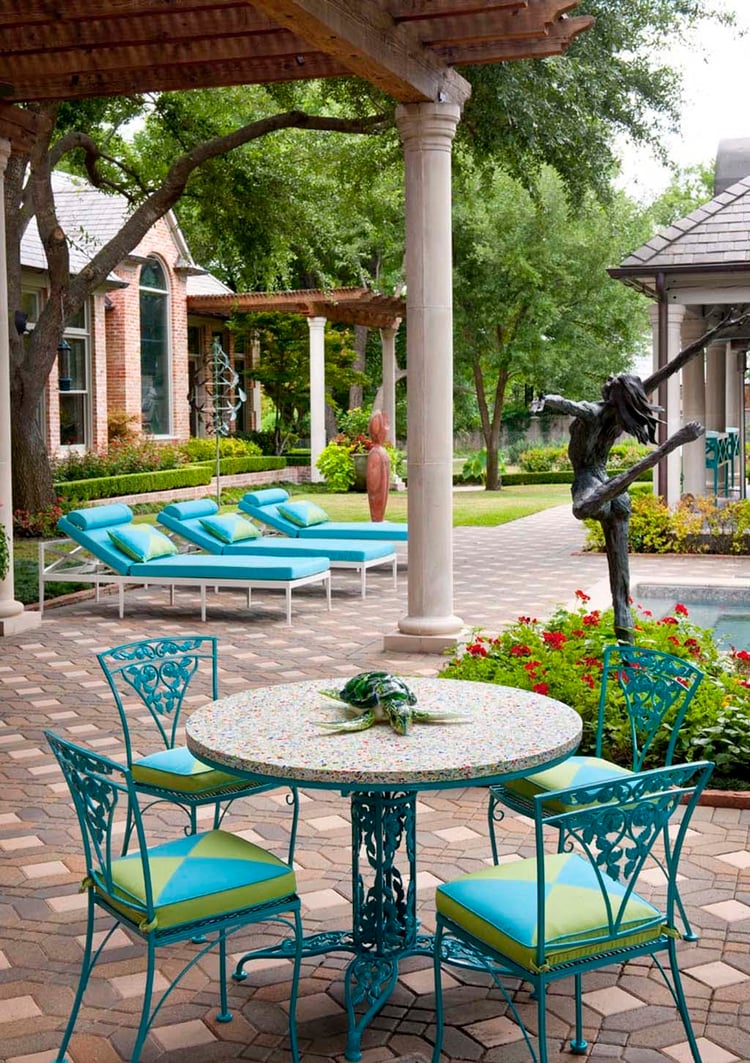 Millefiori was such a success in the outdoor kitchen space that Smiley used the surface again as a round tabletop on a vintage iron table.
"The reason these countertops are so effective in these projects and why they're so timeless is because they are part of a plan that started with the basic space planning and then grew from that," said Smiley. "Each step and material was strategically chosen and selected, so you get that and then you get a great project."
Even though she's known for her fresh eye and bold color, Smiley along with her design partner Dani Burbidge deliver timeless and classic results with their projects.
"I really think that if you use color right, and you do design right, it stays fresh," said Smiley. You know, if you stay away from trends and you do good design, it's going to stay good, it's not going to look dated. That's what we go for."
Create a space that never goes out of style. Order a sample of Vetrazzo recycled glass. Free to the trade.