Down on Lafayette Street in SoHo, NY there is Vietnamese restaurant where the sun pours in through a sky light onto the happiest of tables ever to serve a bowl of Pho noodle soup.
Here at BòCàPhê diners are treated to bright dishes of Vietnamese food with a French twist in a space that is as lively, cheerful and artful as the well crafted dishes they enjoy brunch, lunch and dinner.
The vibrant hues of Millefiori come from a mix of art glass. The name Millefiori is Italian for a thousand flowers.
The decor features large-scale mixed media murals by artist Stephanie Ledoux, eclectic lighting and a healthy dose of greenery, anchored by recycled glass tables and a bartop made with an explosion of joyful color, perfect for a menu that packs flavor and color in every bite.
The thick edge build up on this bartop showcases the stunning spectrum of colors in the Millefiori mix. Each slab is made by hand and no two are identical.
The recycled glass countertops are Vetrazzo's Millefiori, a unique mix of art glass that originated from the artist communities of northern California.
Owners Jeremie Mouyal and Raphael Louzon relied on the designers at Favoreat Design in Brooklyn to deliver a colorful, sustainable countertop material that would also make a great background.
"The food in our restaurant is very healthy and environmentally conscious. Even in construction, we want to hurt the planet as little as possible," Mouyal said.
"We chose the Vetrazzo counters because we wanted something friendly to the earth and really original. It's a very colorful and unusual material," he said. "It's a harmony between the dish and the background."
Color and whimsy are everywhere at BòCàPhê, designed by Favoreat Design of Brooklyn. Photo courtesy of BòCàPhê.
At this cafe the menu is as colorful as the surfaces. BòCàPhê serves up fresh juices and bubble teas, noodle bowls with salmon and avocado (to name just one) and sandwiches like beef and lemongrass, with the colorful editions of pickled daikon, carrot, cucumber, jalapeno, cilantro on French baguette served with taro chips.
Restaurateurs often choose Vetrazzo countertops for durability, sustainability and for the backdrop they create for food. But not all want such a lively palette. The chefs at Preserve preferred a neutral, earthy feel for their eatery.
More about Millefiori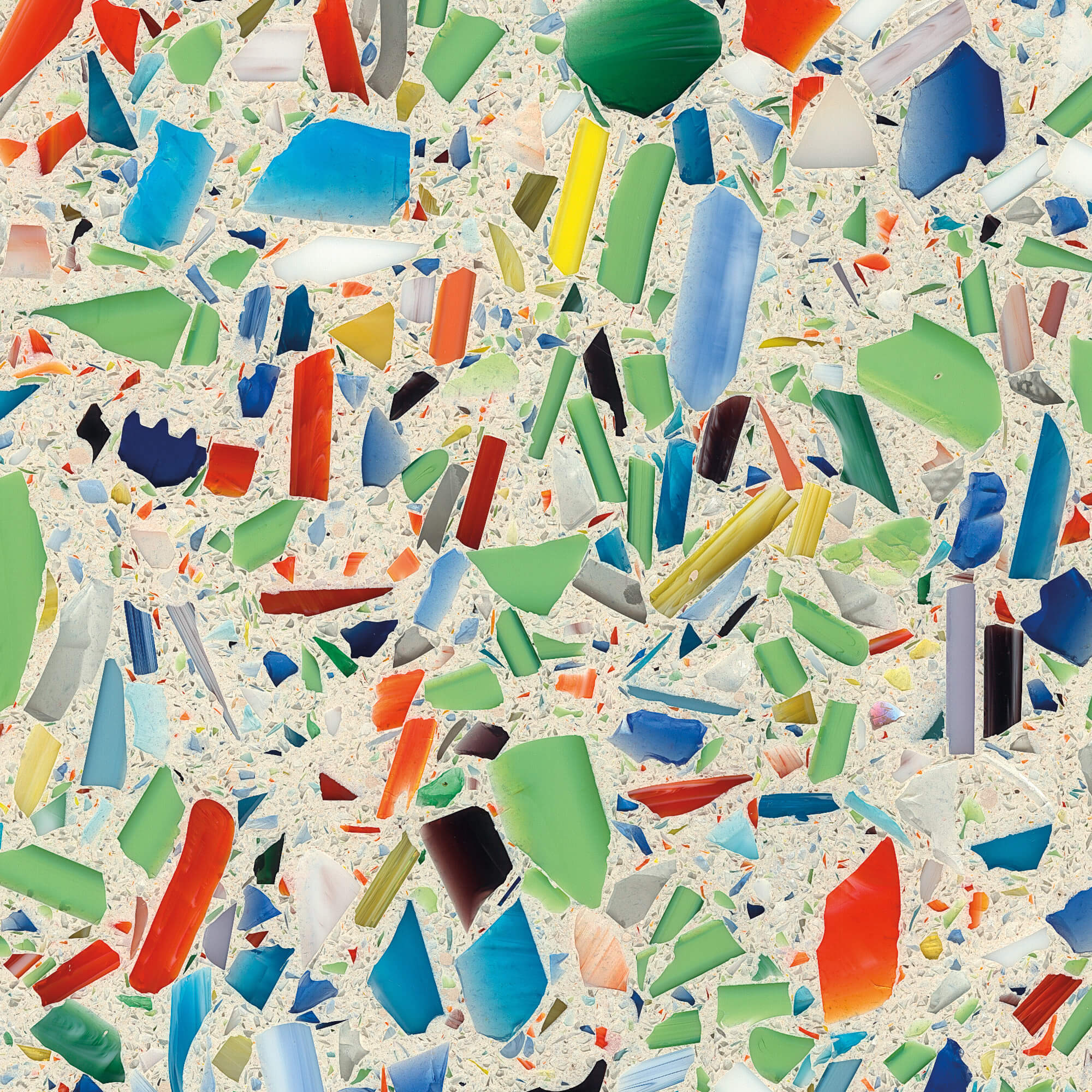 (HOMEOWNERS,
CLICK HERE

TO BUY SAMPLES AND FURNITURE MADE WITH VETRAZZO.)

Millefiori is available in classic cement based slabs and the new resin based Designer Collection. The Classic Collection is well known for its heat and UV resistance. Learn more in this Millefiori case study here. The Designer Collection is notable for its non-porosity and stain resistance. The new collection offers profile options from 3 cm to ultra-thin 1 cm.

Both are made in Vetrazzo's atelier in Tate, Georgia with 100 percent recycled glass aggregate. Besides it's unmistakable color, the glass pieces in Millefiori are notable for their variety of size and shape. The mix of large and small pieces of irregular shape make each slab a unique piece of art rather than a homogenized factory produced recycled glass surface.
The eclectic elements of Millefiori are right at home in BoCaphe where neon, woodgrain and metal all coexist happily. In Mouyal's words, modern and a little exotic, BoCaphe's environment is a design reflective of the vibrant, diverse and artsy SOHO neighborhood.
And how is it holding up in the busy pub and restaurant? "It's very strong," Mouyal said, "and put it this way, we're looking at opening a second location, so we may be using Vetrazzo again."
Find your sustainable color inspo for your next project. Download our LEED Credit Analysis.