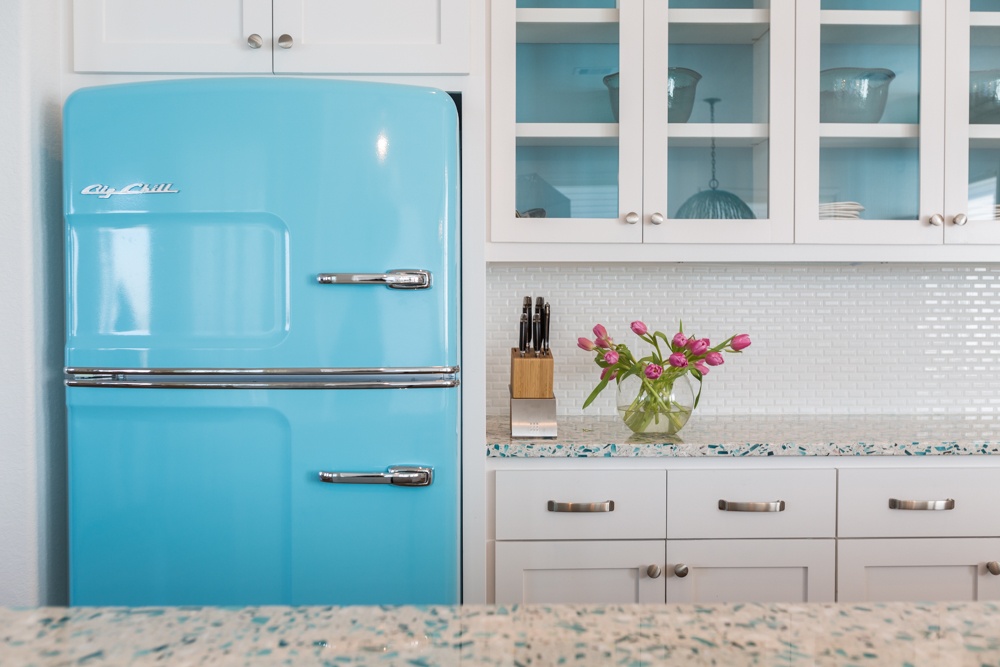 Like a blue water beach vacation, the appeal of the coastal kitchen endures through seasons and trends. But we all know a few beachy kitchens that we'd like to forget (hello shellacked seashells and driftwood art) that were more tourist t-shirt shop than tranquil retreat.
You want your beach inspired kitchen to be everything that is day at the beach - light, warmth, fresh air and a cool splash of color. More homage to the sea than a picture of it. Let's take a look at three classic coastal designs that bring a breeze of summer without the fisherman's net and starfish appliques.
Laura U Interior Design hit the perfect balance of sea inspiration and sophistication with this chic kitchen for a Houston getaway home. The kitchen is eclectic and modern, without being sterile or formal thanks to traditional furniture touches, simple cabinetry and a dose of turquoise. Step into the open plan space and you can exhale out that city stress and breathe in that clean, salt air flowing into the light airy space.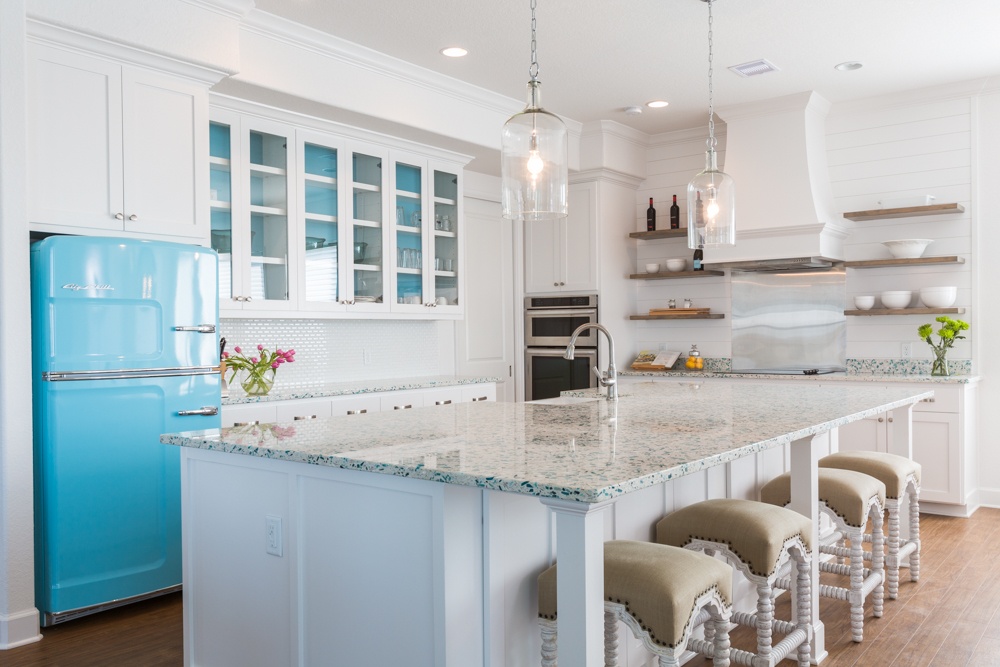 She centered her design around Vetrazzo's Floating Blue countertops atop fresh white shaker style cabinetry. Though it resembles sea glass, the surface is actually recycled architectural glass named for the reflective coating you see on glass sky scraper and a white cement binder.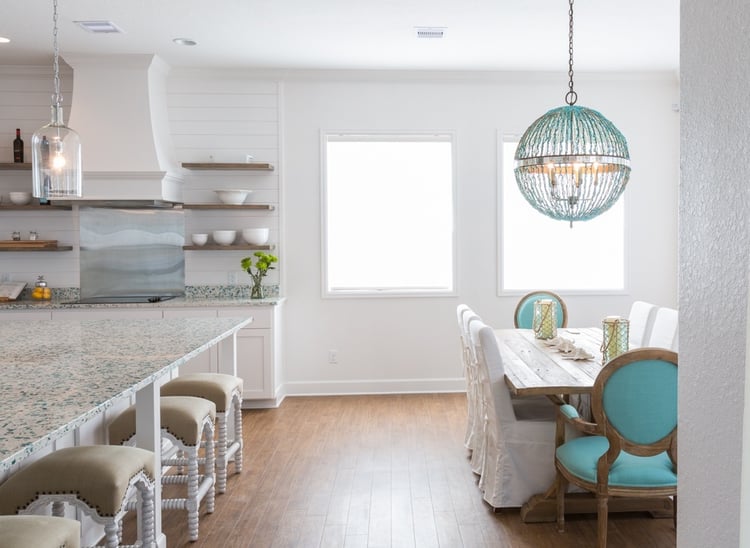 Instead of driftwood sculptures Laura U chose a dining table in a weathered wood with the grey tones of driftwood and visual weight. You can see how it anchors the dining space and gives the open floor plan delineated spaces. I particularly love how the white wood clad range hood and open shelving in that same driftwood tone as the dining table balance the space and keep the kitchen airy.
The design keeps a clean palette with the white cabinetry, wood paneling and subtle white mini subway tiles. Those tiles are a great example of Laura U's restraint. Rather than going with a bold backsplash for a saturated turquoise kitchen, she keeps the backdrop clean and glass front cabinets with pops of deep aqua on the back.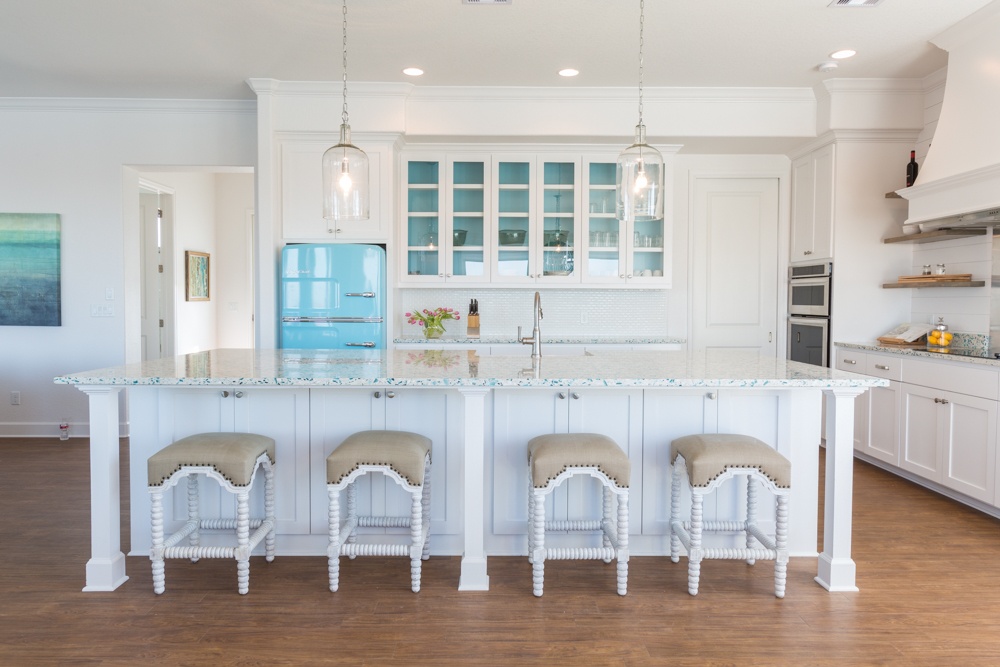 Details on the island – shaker style cabinet fronts, hardware and wood painted and trimmed legs – make this island more like furniture, which pairs perfectly with the turned white stools with burlap colored upholstery. Skipping the standard iron barstool and carrying through the cabinet details give older home charm to this new design. A little bit formal, but the perfect contrast to that Big Chill fridge, in the happiest shade of turquoise it says, "Relax, have a drink and a cookie, you're on vacation!"
In Watercolor, Florida this new build home features Vetrazzo's Emerald Coast recycled glass slabs. In addition to the architectural salvage glass and Georgia marble bits, crushed oyster shells are added to the mix.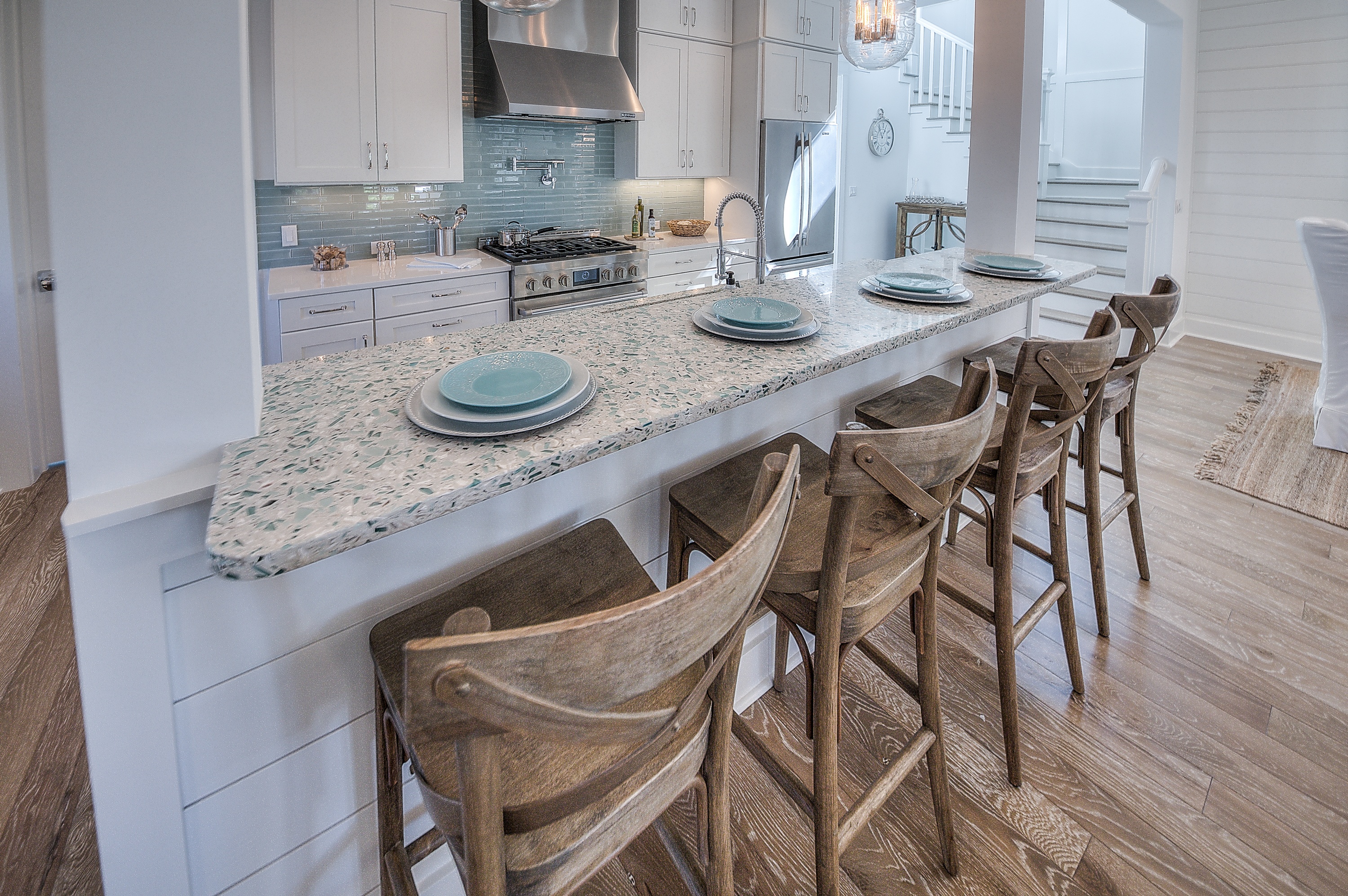 This aqua kitchen design keeps the coastal décor to the ultimate minimum. Here it's the palette of soft whites, blues and browns that reflect the environment.
The design carries the muted tones of the Emerald Coast to the glass tiled back splash and to the textiles of the open living room. The cream colored oyster shell fragments match the tones of the stacked stone fireplace and help connect the two spaces.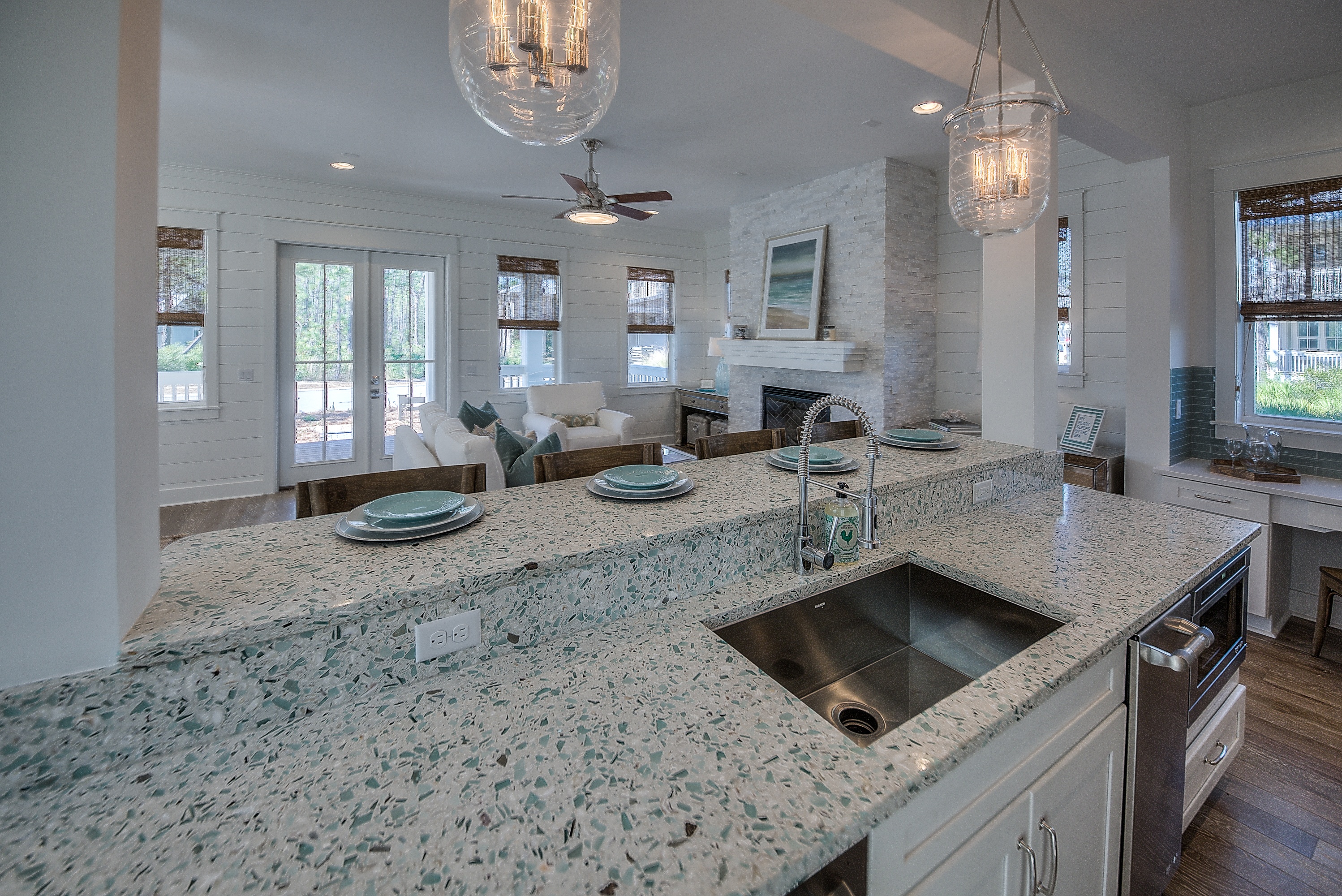 The warm wood tones of the floor, bar stools and woven shades add a natural element to the room to balance the stainless appliances and fixtures. Not too shabby and not too chic. And no need for overt beach accessories.
Down in South Carolina, north of Charleston Harbor, in the town of Sullivan's Island the country charm of this coastal town has held on as other areas of the state have built up. Inside one cottage, Vetrazzo's Bretagne Blue lends a bold point of view to its tiny kitchen.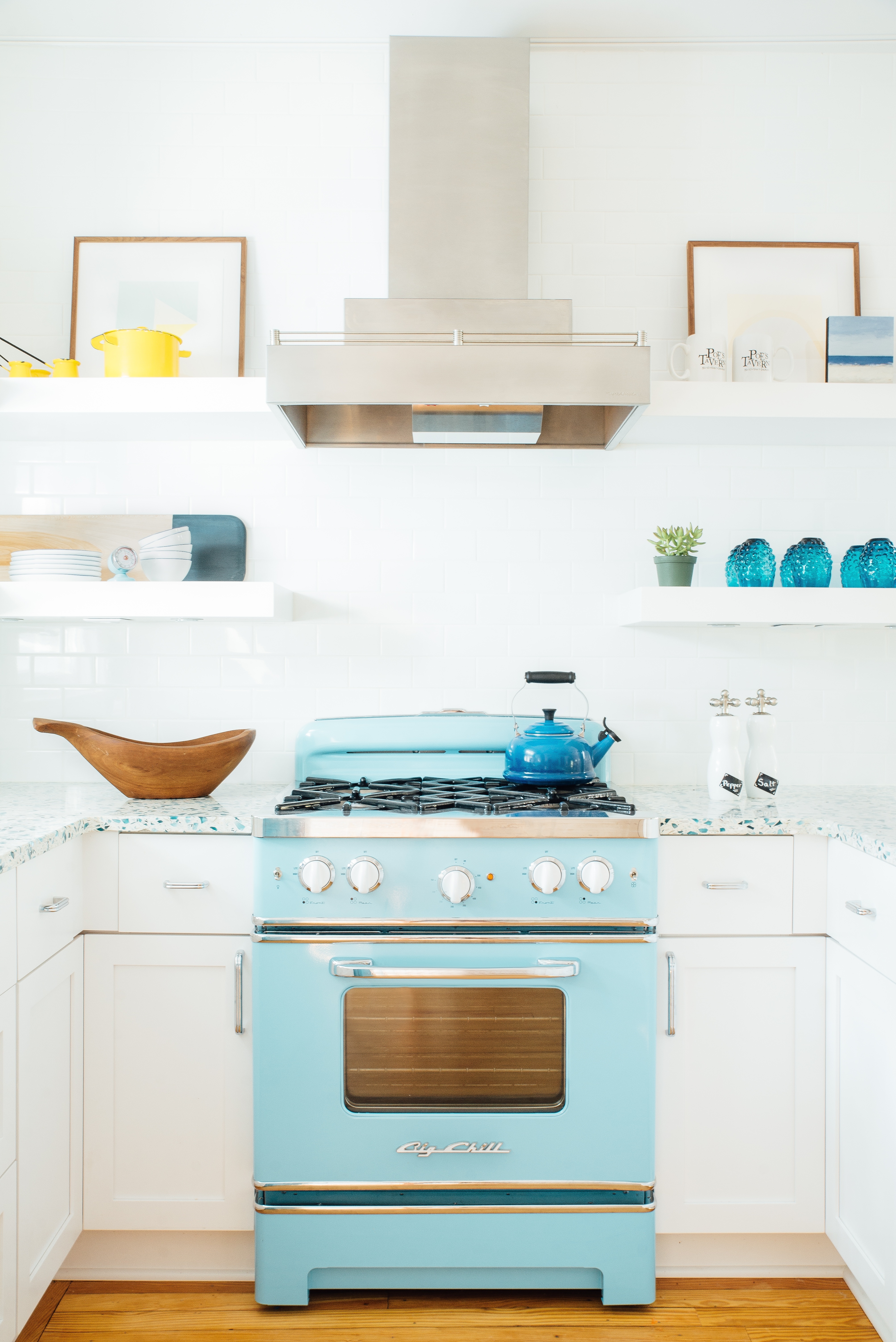 Again the recycled glass countertop is made with marble bits and crushed oyster shells. This slab is high on turquoise and aquamarine giving it a seaglass look.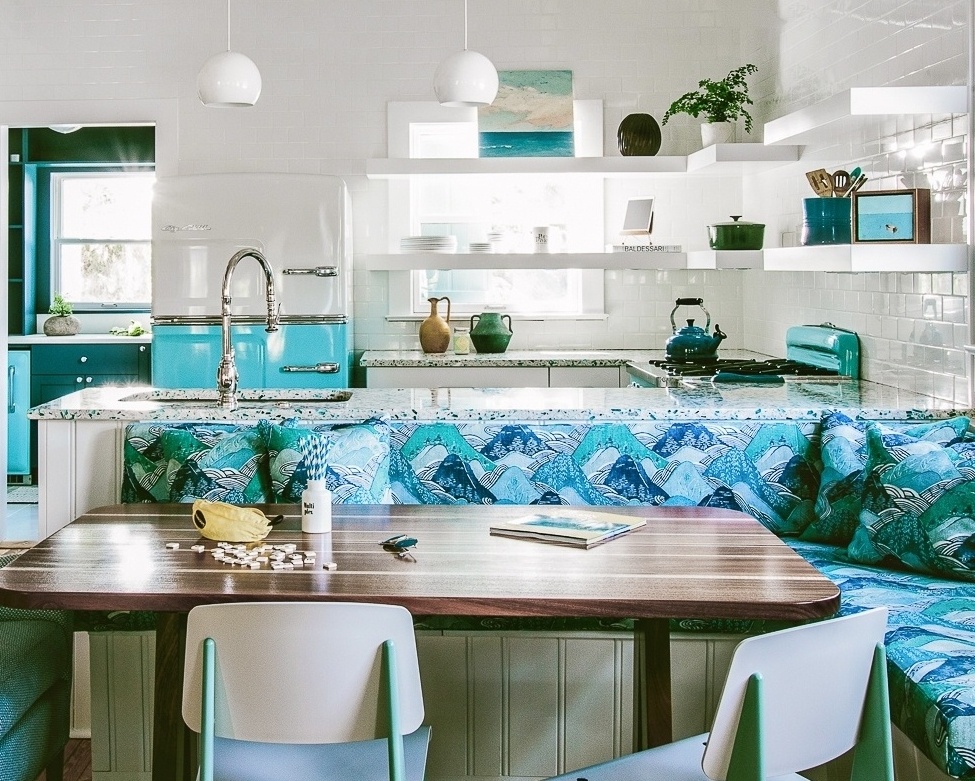 Designer Cortney Bishop paired the counters with a bright aqua Big Chill range and two tone refrigerator. (It's like these appliances and counters were made for each other). Her choice of bright blue and green textiles for the banquet keeps the eating area just as lively.
With summer coming we're inspired by the deep sea blues and tranquil greens of these designs and the variety that designers can produce with the same counter top surface, in contemporary, traditional and even eclectic spaces. That it's recycled makes it the perfect anchor material for a sustainable kitchen design. Though for the designers who spec it, it's really all about the color. There are 16 shades of Vetrazzo recycled glass, but endless expressions when a design mind gets to work.
Do you have a Vetrazzo design you'd like featured here on our blog? Enter the Design Star competition and you could win a spotlight, plus a trip to our atelier to see how we handcraft our slabs.