Your local barista isn't the only one who finds inspiration in a freshly brewed cup of joe. Vetrazzo's creative team is also captivated by the simple beauty found in a morning latte and the warmth of coffee beans. These subtleties influence the color trends for our recycled glass countertop materials. Inspired by the barista's world, Vetrazzo introduces its newest sustainable surface – say hello to Coffee House.

Vetrazzo Coffee House was born from the early stirrings of the concept of adding a warm color to our palette that would appeal to a wide range of design styles. Most of our color options are defined by a white background, against which the recycled glass pieces really shine in all their saturated glory. With our Patina line, we have a created a dark background that gives the appearance of glass glowing mysteriously through the surface. In addition to several other offerings, such as Cool Titanium, Hollywood Sage and Porter Flint, we have tinted the base with a particular dominant hue to create an altogether different effect. A similar thought process was applied to our Coffee House, opting instead for a neutral, creamy beige that immediately recalls the warm and inviting shades found swirling in a morning latte. To this neutral colored material, we added a unique blend of recycled, crushed, clear flint glass as well as rich shades of amber bottle shards for a dramatic but warm effect.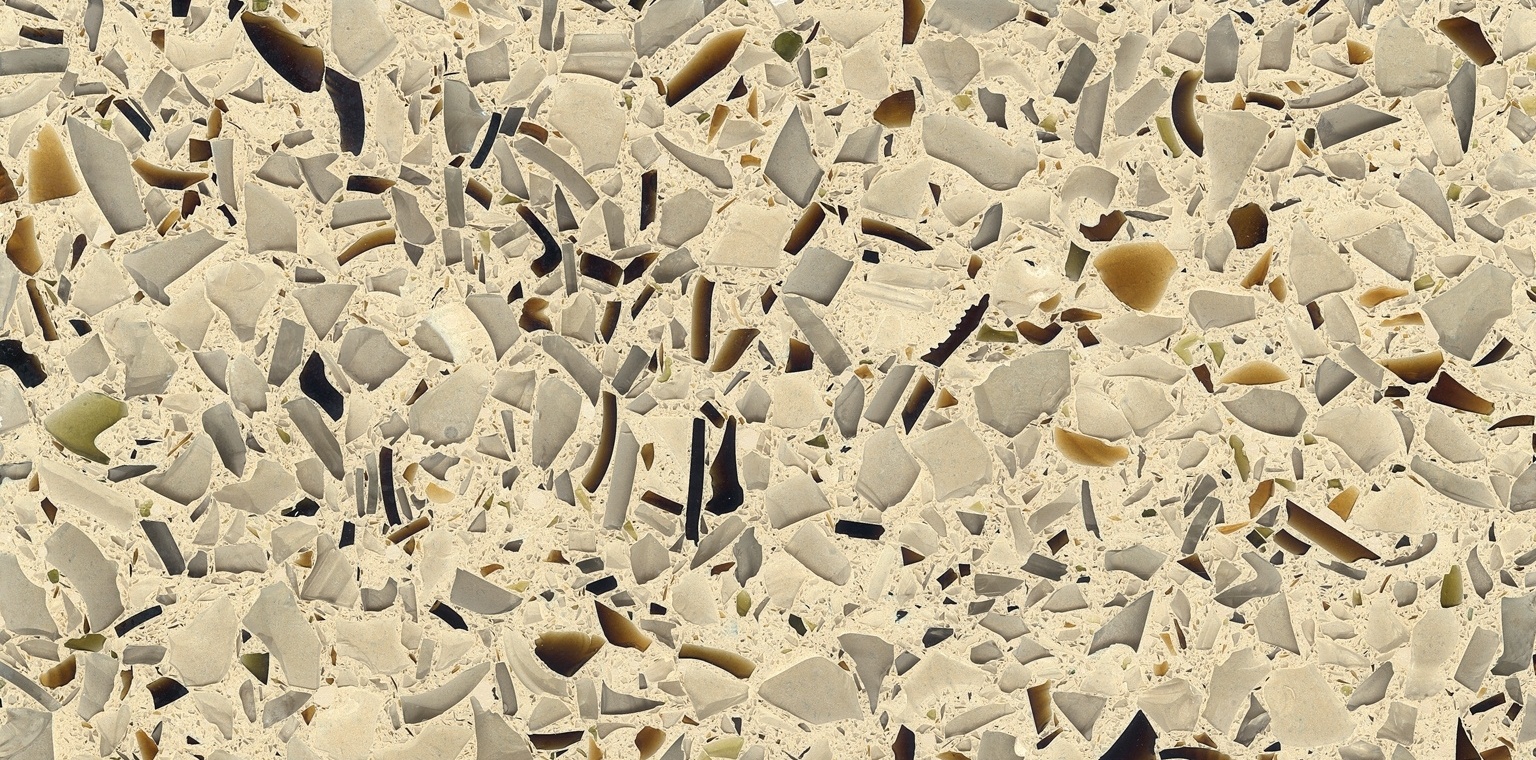 What Is It Made From?
Coffee House is comprised of 85% recycled domestic glass and 15% cement to bind the material. There's over 550 pounds of glass and up to 800 bottles contained in each slab. In the manufacturing process we are diverting millions of tons of waste glass from landfills where they instead they would sit, wasting away for up to 1 million years until they fully break down. That's a lot of embodied energy going to the dump, so we have formulated the right quantities of ingredients to get to the final, aesthetic result, all while greening up our environment.
With Coffee House we knew we wanted a soft, muted shading so we opted for a predominant base of clear glass made mostly from recycled jars, providing little windows for the light to penetrate deep below the surface and reflect outward. And for the splashes of accents, we turned to the many new and interesting wine and beer bottles, just enough to highlight the brown undertones in the slabs.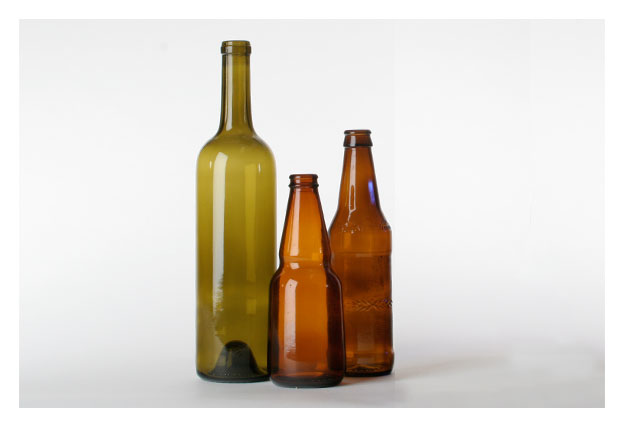 What projects are a fit for the material?
Being inspired by the barista's art, we first envisioned it as the best coffee bar top ever imagined! A great conversation piece, it's a perfect ice breaker for warming up the social interaction with your fellow 'caffiends' while gathered around this interesting recycled glass countertop.
If you're more of the unleaded, decaf type, then thoughts of a tea house may come to mind. Have any plans for your own bar top for the wine cellar? Coffee House puts back into it what you put in your recycle bin after uncorking that vintage Malbec and polishing off that craft brew, so why not reap the rewards and incorporate some of the sparkling glass in the design and embrace the champagne color.
Bathroom glass countertops have been popular with the increase in glass tile options and the palette of this blend will compliment many selections, whether it be an accent like a border or listello, or an entire glass mosaic feature wall in the shower that ties the top into the finished project. There's been no shortage of interest in glass kitchen countertops either, and the bursts of amber and brown glass work really well with dark stained wood cabinetry, whether traditional, transitional or modern, and the cream base color sets the stage for the backslash and floor tiles. Even on white or black lacquer cabinets this color can look sleek and contemporary because of its neutrality.