Nowhere is color more important to design than in corporate branding. It energizes workers, inspires customers and reinforces brand identity. From coffee shops to financial offices, the color of surfaces underpins the look of a brand, and in some cases communicates the company's commitment to sustainability.
When Quicken Loans opened a new office in Washington, D.C., designers went beyond red decor accents to represent the company. The nation's largest home lender is probably best known as an industry innovator that approaches mortgages from the perspective of a modern consumer looking not just for a loan, but a new kind of loan experience.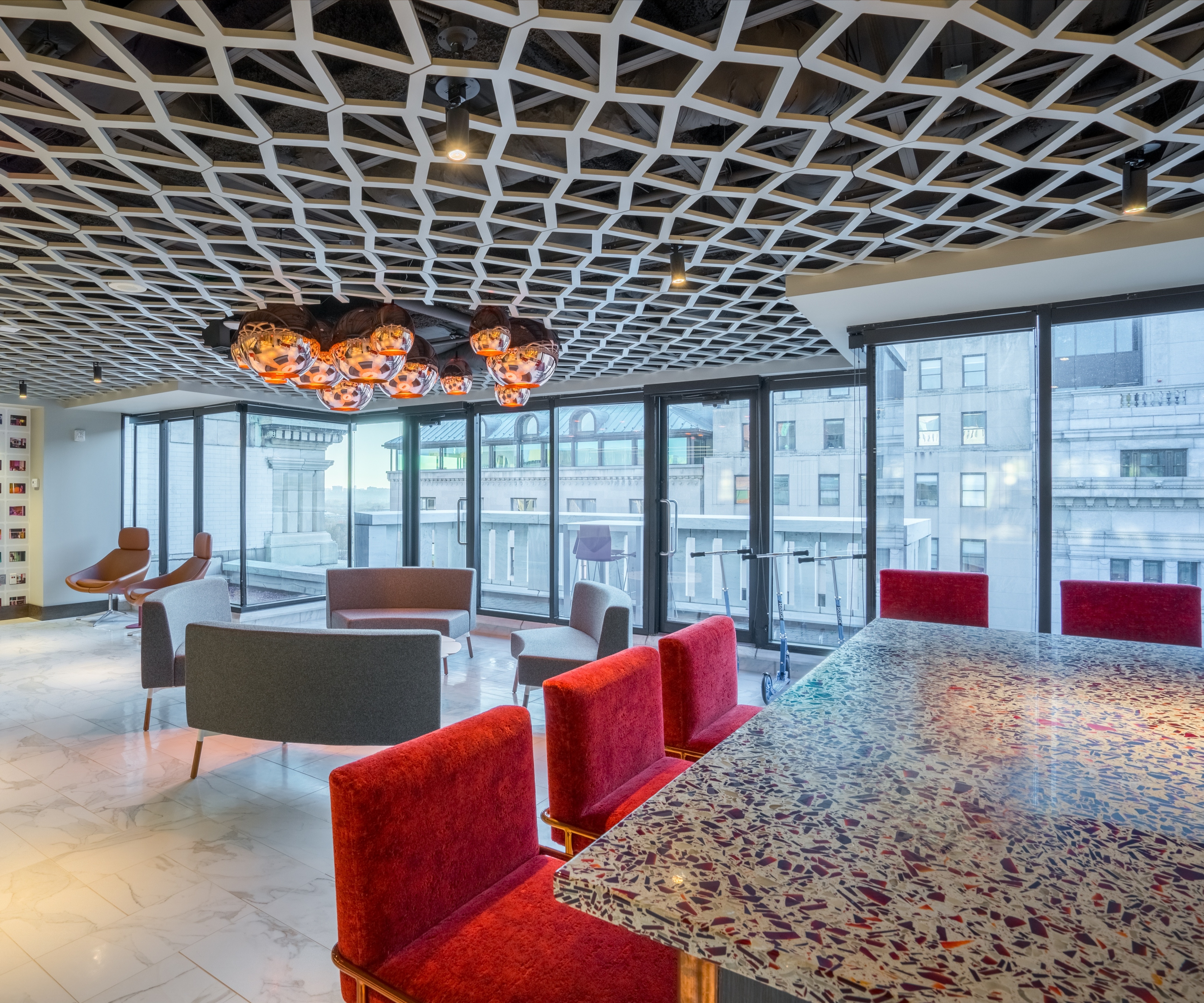 Kristin Kostrzewski of the firm dPOP led the design.
"What we try to do as designers is to celebrate the branding, but also the culture. We have "ism's" — core values (innovation is rewarded, execution is worshipped, saying yes before no, eat your own dog food) — that we want to convey and it's important to see who a company is when entering any space," Kostrzewski said.
Inside the space used for meetings, fundraisers and events, color, pattern and texture pop from every surface, fixture and piece of furniture.
From a ceiling that looks like bone structure to the veining in the floor tiles, the space exudes movement and energy. The movement continues on the bar and perimeter countertops of the kitchen where designers chose Vetrazzo's Ruby Red, which incorporates red, orange and brown pieces of recycled glass in a white cement binder.
"Incorporating brand colors in to designs encourages team members to be passionate and celebrate who they are and when clients step into one of our spaces, they pick up the energy and get a sense of who we are as well."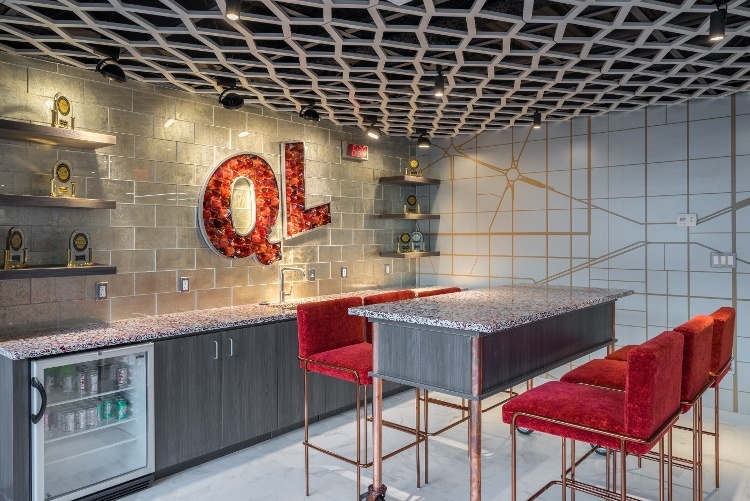 The Quicken Loans project also presented a unique opportunity for the design firm to show off its own sustainable values and design perspective. dPOP is a design agency that grew out of a relationship with Quicken loans and is now a member of the same family of companies.
"dPop is based in Detroit, so I wanted to bring a little Detroit to D.C. and really celebrate Quicken as a brand. When I was going through the palette for the project [the Ruby Red Vetrazzo] just fit. It's glamorous, sophisticated and functional," Kostrzewski said. "I always try to use sustainable products when I can and Vetrazzo fits the branding and is beautiful. I'm LEED Green Associate certified, and it's good practice for any designer to bring sustainability into designs and good for users of the space as well."
Sustainable Process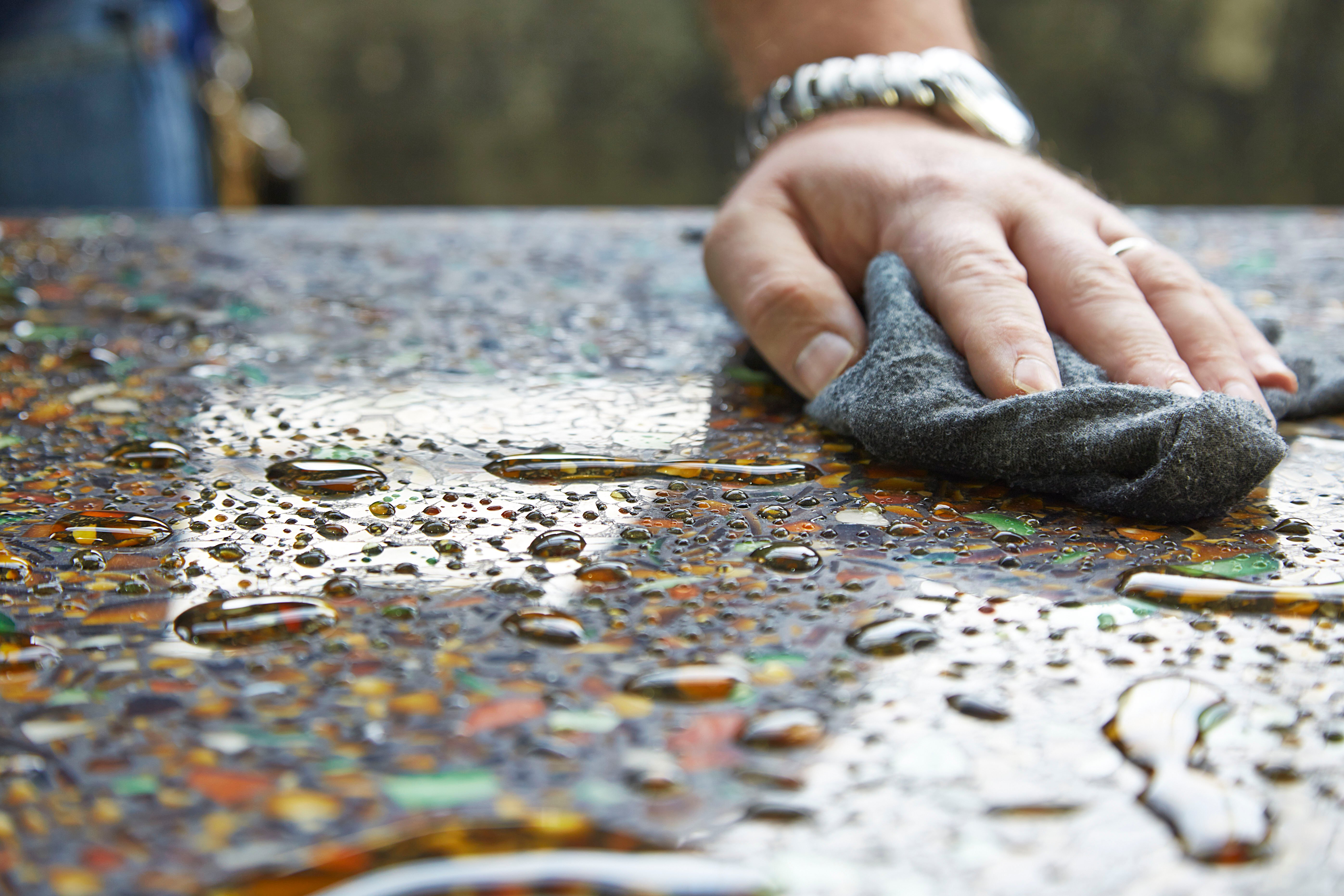 Vetrazzo's slabs are handcrafted at its own atelier in Tate, Georgia and are hand finished. It takes eight craftsmen a full day to create just one slab. See more on how Vetrazzo slabs are handcrafted here. Each slab is made with pre- and post-consumer recycled glass from local curbside recycling programs to reduce its carbon footprint.
Old traffic lights, art glass scraps, all kinds of jars, car windshields and architectural glass from skyscrapers are just some of the ever changing sources of Vetrazzo glass. The craftsmen who hand form and finish the surfaces make sure that each slab is unique, even within the same color blend.
Brewed Branding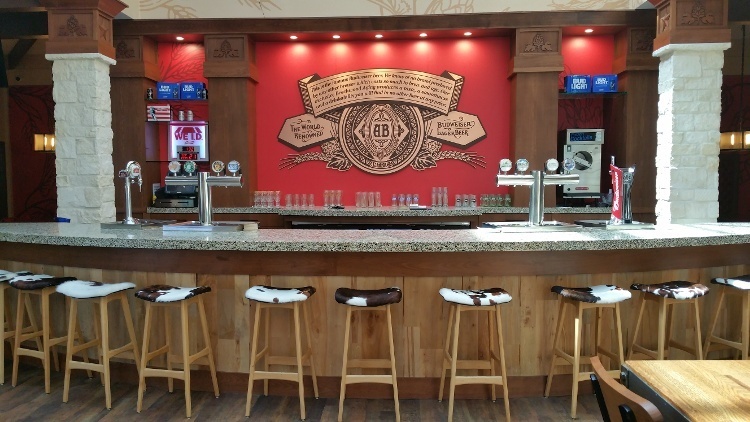 If there were an award for melding branding, color and sustainability it would have to go Anheuser Busch's Houston Brewery where the bar top is made from the same material it packages its products in - amber beer bottles. (Maybe even the very ones that its patrons enjoyed at home drinking a Bud Light during Monday night football.)
At The Houston Brewery beer fans can come for brewing and history tours before settling down on the cowhide stools of the expansive bar topped with Vetrazzo's Alehouse Amber. The recycled glass mix features the classic amber beer bottle as well as green wine bottles in a white cement aggregate. JED Countertops fabricated the bar from material supplied by Latera Architectural Surfaces.
Opened in 1966, Anheuser Busch says The Houston Brewery is one of its greenest breweries. The operation gets some of its energy from landfill gas piped in six miles from nearby McCarty Landfill. On average, the company reports, the brewery sources approximately 30 percent of its energy needs from alternative energy. The brewery's energy efficiency and conservation efforts also include an on-site bio-energy recovery system (BERS), where brewery wastewater is recycled, adding to water conservation efforts.
Color Story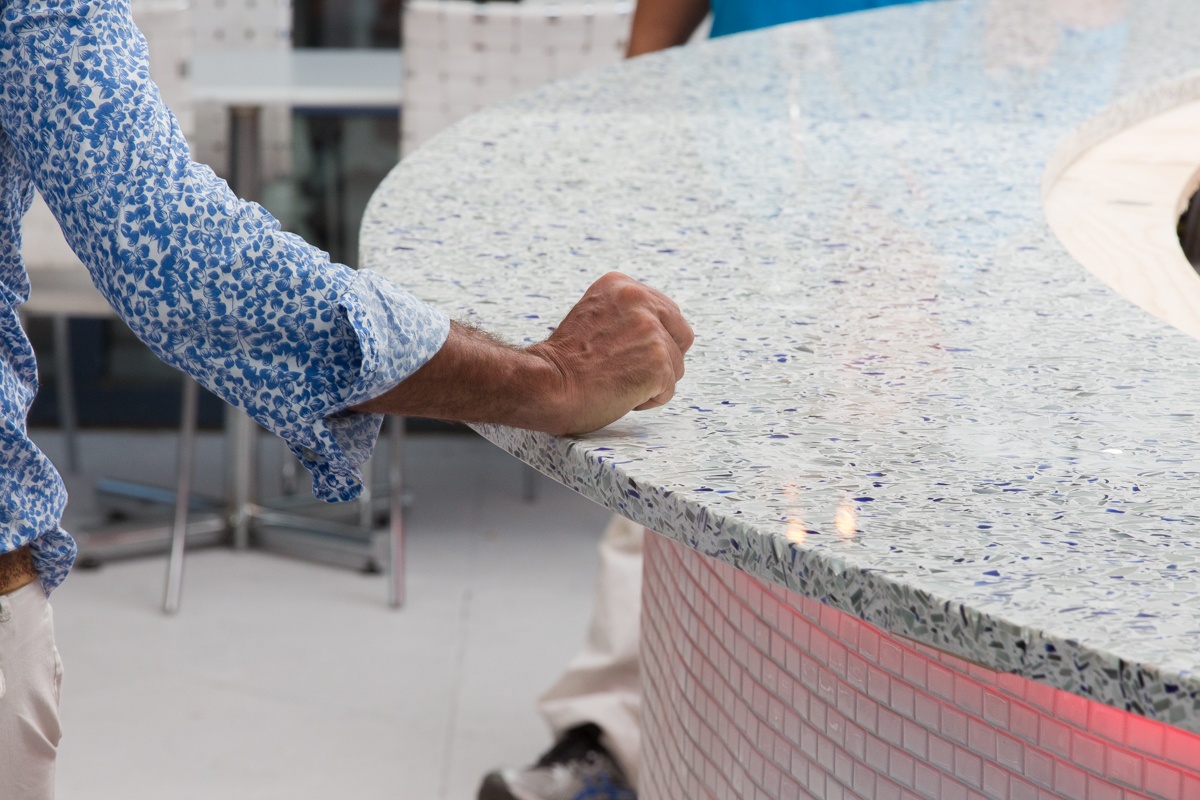 Bo Barkley, owner of Latera Architectural Surfaces, who supplies Vetrazzo to much of the south, finds that the sustainable element of a material is a conversation starter with corporate and residential clients, but it's not what ultimately leads to material specification.
"Sustainability is a small part of the story," he said.
It's color, more than sustainability that carries a brand's identity and motivates those who work or do business there. The photo above shows the outdoor bar at the US Open which features the organization's trademark blue in Vetrazzo's Chivalry Blue.
"Whether it's a business or an institutional project, the more times you get that color out there the better. It's the reason football teams wear the same color shirts. You want uniformity and a strong brand identity. Colors tie so strongly to brand," he said.
"People end up choosing Vetrazzo because of the look of the product. They like the colors, they know it's going to work well with the projects and fit into the brand. There's such a uniqueness to it and there is truly nothing else like it on the market. It's one in a million."
For more on blending color, branding and sustainability, download our US Open case study.