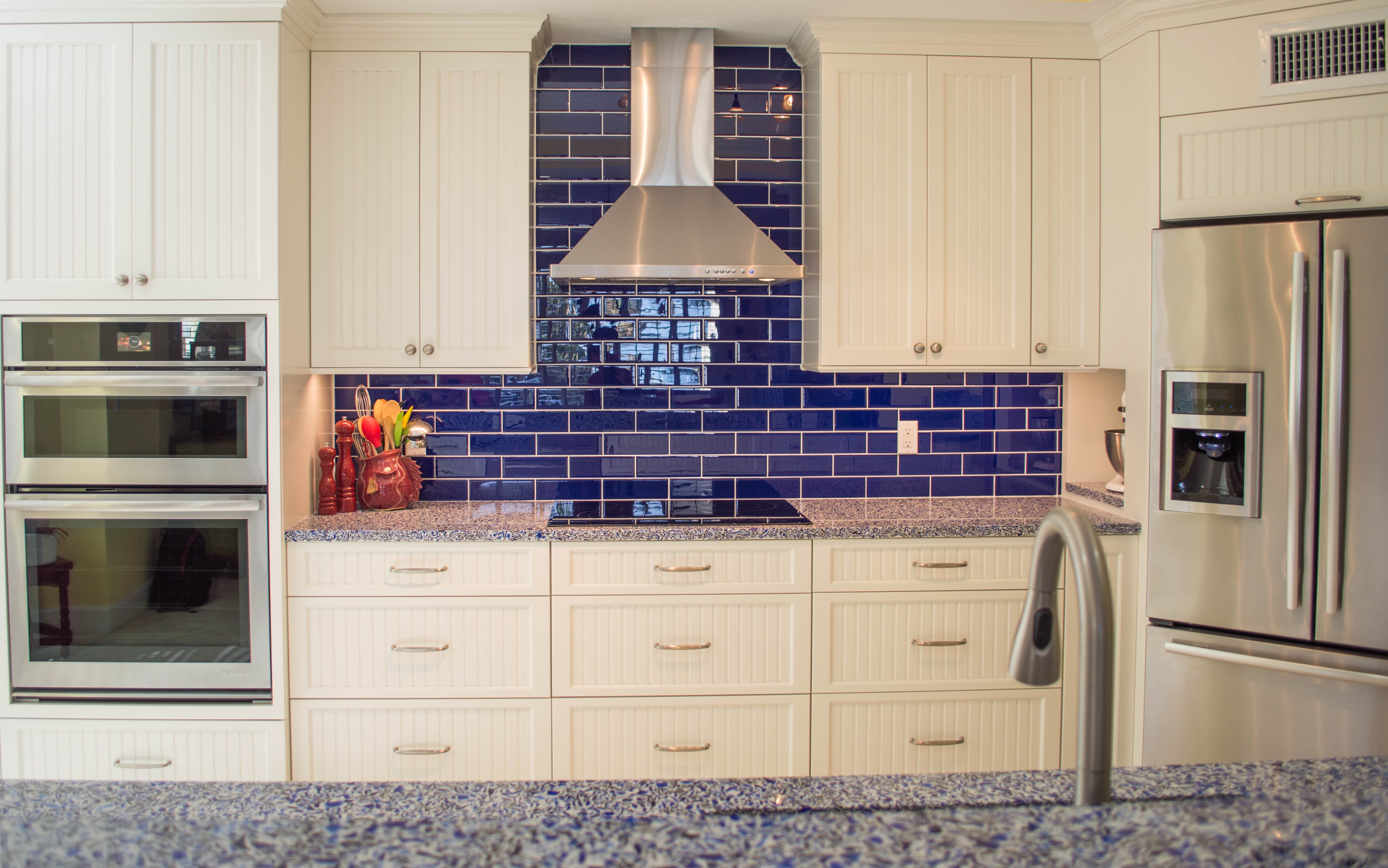 What do you give a homeowner who loves bold primary colors? A clean white canvas and ALL the cobalt blue.
Located in beachfront Tequesta, Fl, Patty Anderson of Waterview Kitchens is used to designing bright coastal kitchens with a sea glass look and feel. But this Jupiter, Fl luxury beach condo packed the most color punch of them all. The ocean loving homeowner Gayle Fravel already had a bold palette of yellow, blue and red against crisp white. So when it came time to do a kitchen update her daughter Lindsey Diebler who is an interior designer said, "Mom, you have got to check out Vetrazzo."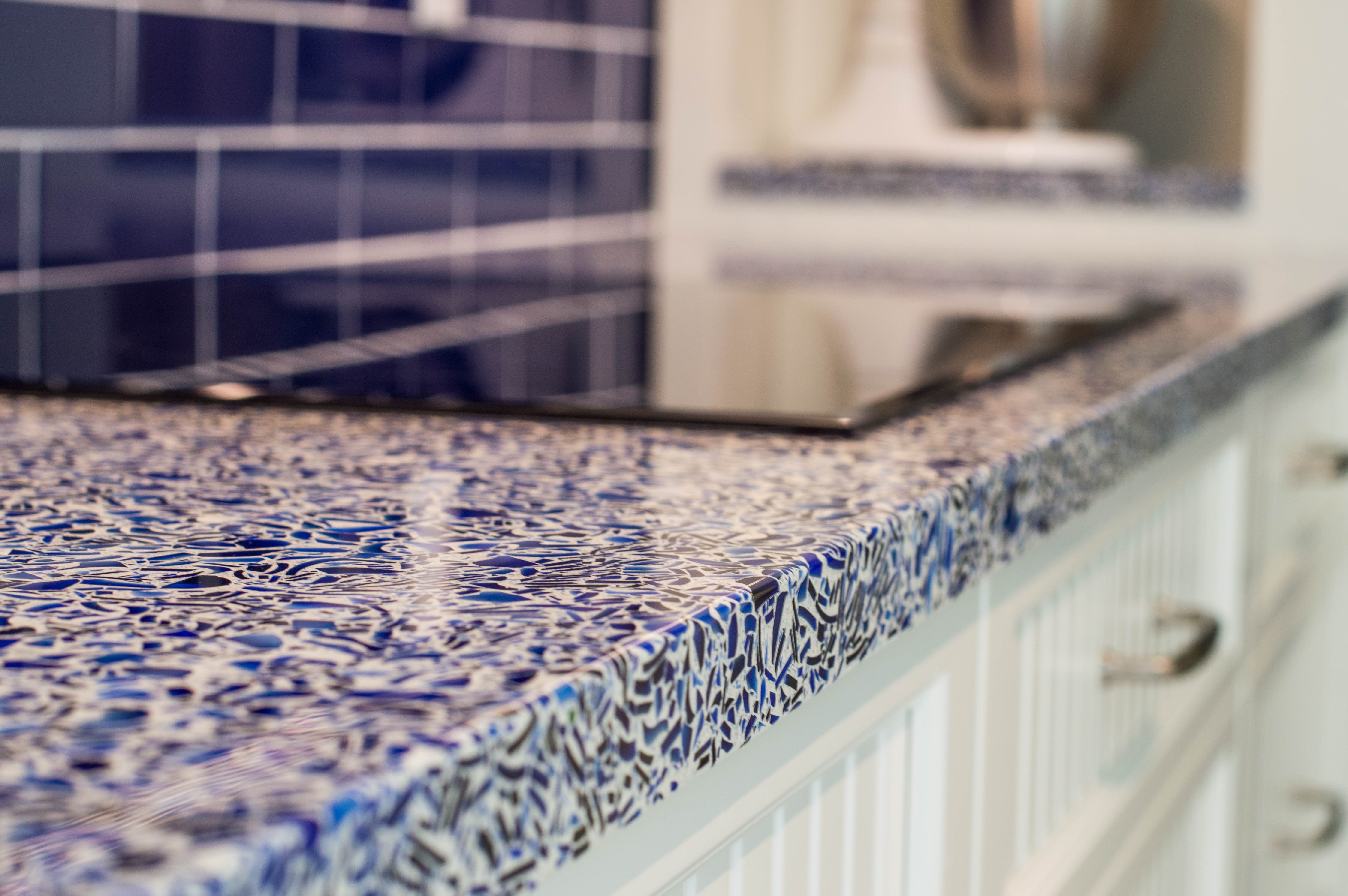 "We love to design a beachy kitchen and we use a lot of Vetrazzo. When the homeowner first came to us she loved that the counters are made in the USA from recycled material. She was thinking she might do perimeter counters in a different material, but once she saw Cobalt Sky she said, 'Nevermind. That's it. I'm doing it everywhere.' I loved her boldness."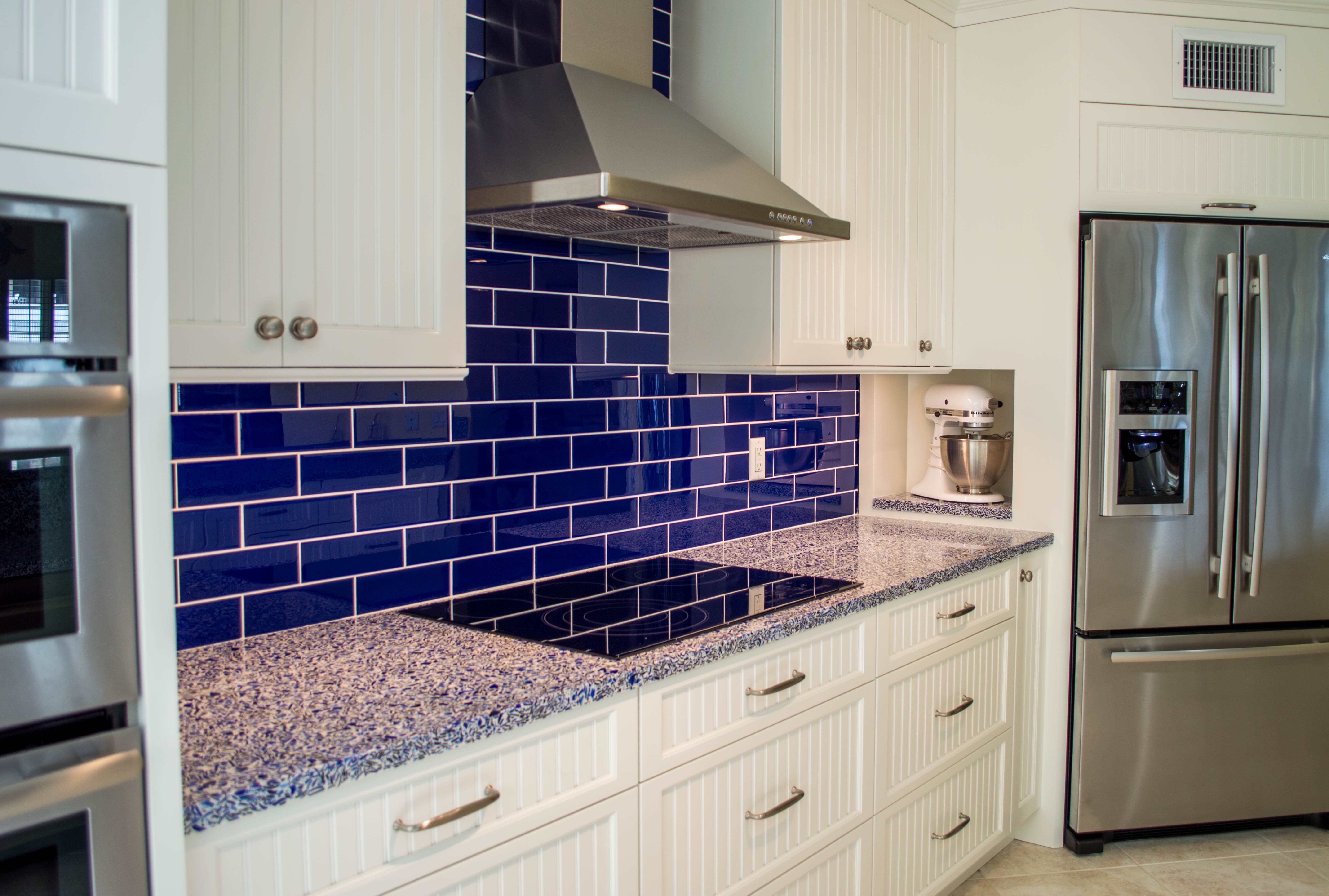 The space presented an annoying and common challenge - the 45 degree angle. Many condo kitchens have the refrigerator set at a 45, which is great for grabbing the milk, but causes a dead space pocket between the fridge and the perimeter counter. When he was designing the cabinetry layout, Waterview Project Manager Mark Howell came up with an ingenious solution to harvest the dead space and give creative kitchen storage with a niche.
"The homeowner loves her Kitchen Aid MixMaster but didn't want it sitting on her gorgeous countertops," Patty said. "Capping it off with the Cobalt Sky was a bonus!"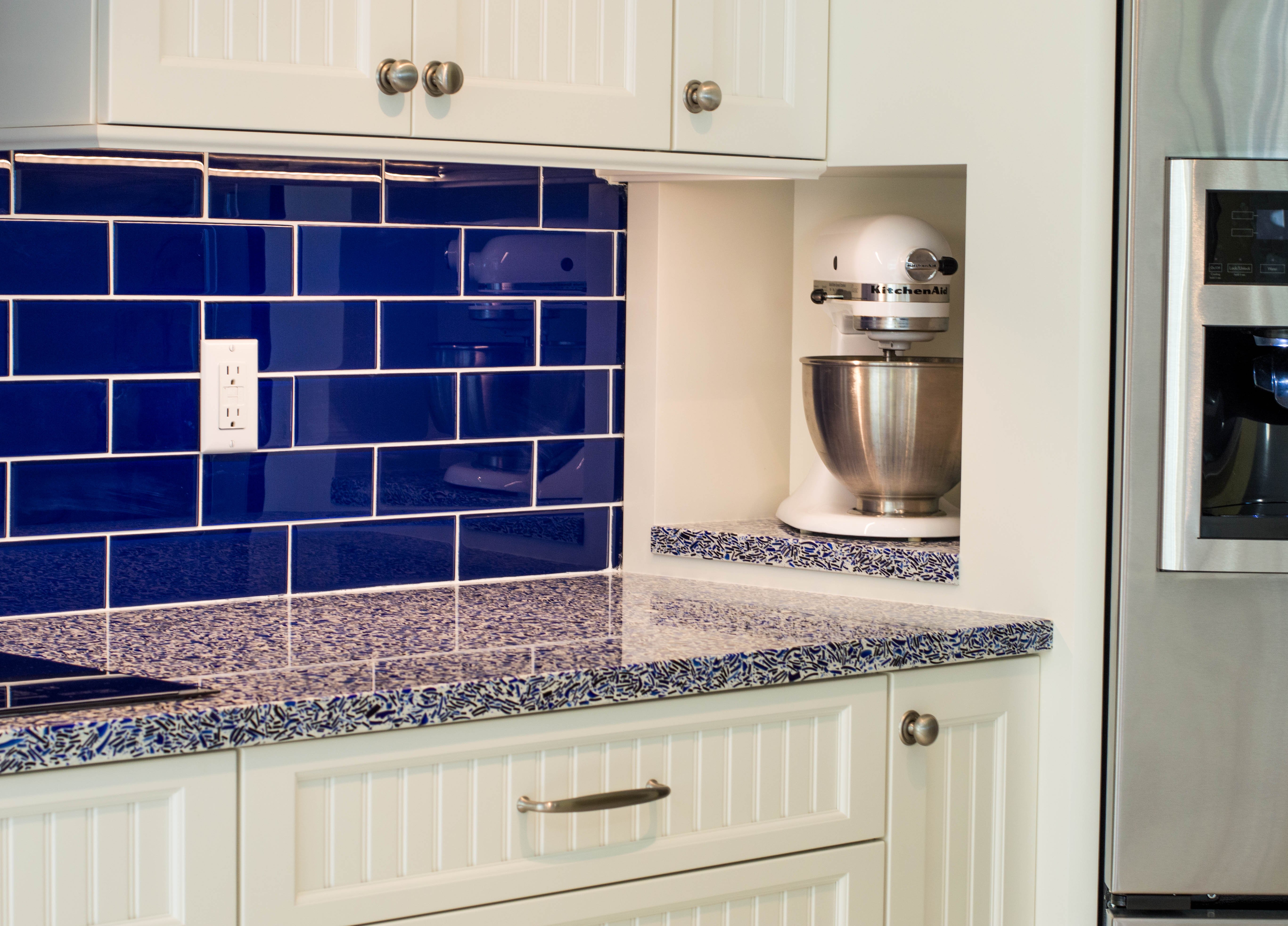 The simple addition actually involved a lot of collaboration between the design team, the dealer Treasure Coast Carpet and Tile and the fabricator Stone Palace. Distributor UMI provided the slabs for the crushed glass countertops. Working together they were able to get the highest yield from their slabs and make a colorful addition to the niche. Patty was able to call Crystal Cabinets directly and work with their designer to make the built in fridge cabinet to the exact specs. "We can literally draw something on a napkin - and we've done it - and they made it happen," Patty said.
That bit of whimsy slash practical solution to the dreaded 45 condo layout has made this job a showcase for Waterview. Patty now has two other projects incorporating the design.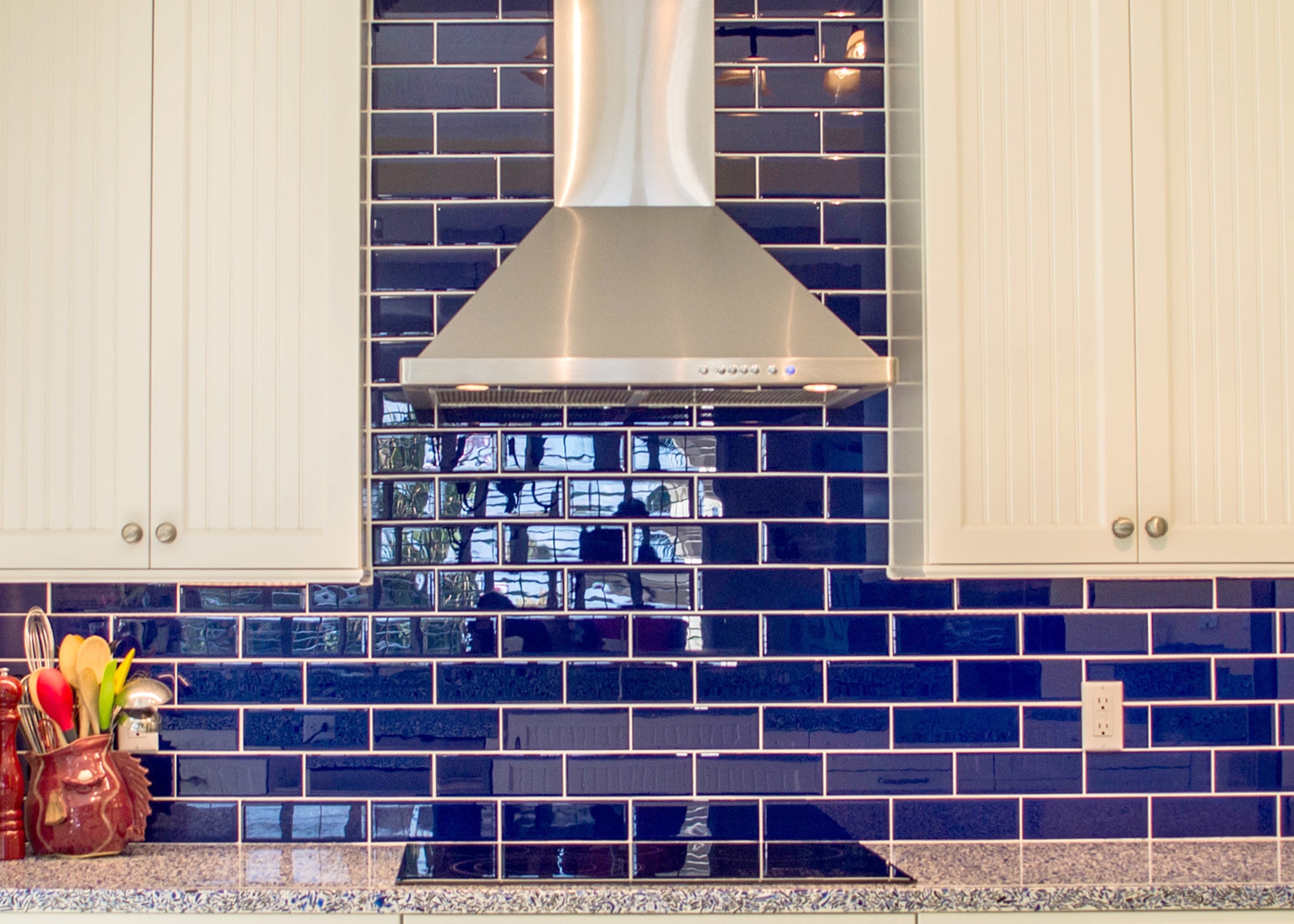 Patty kept the cobalt going in the backsplash with glass subway tile from Treasure Coast. The beadboard cabinetry was a favorite of the homeowner for the cottage beach look, despite it not having the typical coastal colors of aqua and turquoise.
Their ability to do custom work and solve site specific problems is one reason Patty sticks with Crystal Cabinets. She and her husband Jim, who has 30 years in the business opened Waterview Kitchens in 2013 and are the number one dealer of Crystal Cabinets (out of 648!). She's also loyal to the brand because she can see it's family heritage in the quality of the craftsmanship.
"We're a family owned business and so is Crystal - third generation - and their average employee has worked there 22 years. Their paint finish is the thickest in the whole industry."
Like Crystal Cabinets, Vetrazzo slabs are made by hand in small batches right here in the US. In fact, the glass aggregate is hand placed within each slab to ensure each one is unique, while maintaining consistency of color across the 16 different hues.
If you're working on a high impact color project there are slabs in bold green, blue, brown and even red tones, with white or patina backgrounds. See them for yourself by requesting a sample - free to the trade. Orderhere.
Photos by: Jake Capo and Adam Tadeusiak