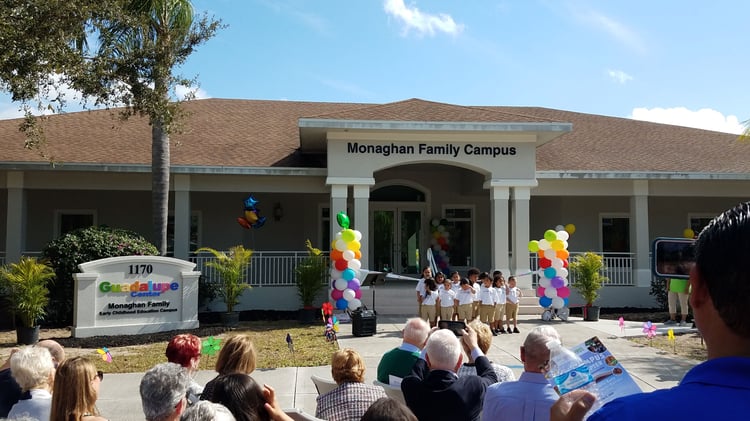 There couldn't be a greater contrast between the city of Immokalee and its neighboring communities in Collier County, Florida. While nearly half of Immokalee families live in poverty, nearby Naples is one of the wealthiest communities in the United States. While one well-documented solution to breaking the cycle of poverty is access to high-quality educational opportunities, in Immokalee there are not enough services to meet the need.
Since 1984, Guadalupe Center's mission is to break that cycle of poverty through education for the children of Immokalee. The only local center accredited by the National Association for the Education of Young Children, Guadalupe Center has three programs to address these needs: an Early Childhood Education program, an After school Tutoring & Summer Enrichment program and a college preparatory Tutor Corps program. Together these educational programs serve more than 1,300 youth in rural Collier County.
Thanks to generous individuals, Guadalupe Center has launched an ambitious plan to expand its Early Childhood Education Program to serve more children, starting with the Monaghan Family Early Childhood Education Campus in Immokalee's Jubilation neighborhood. This new campus, which was made possible through a lead gift from Helene and Rich Monaghan, features six classrooms and can accommodate up to 64 children ages 6 weeks through 3 years old. Guadalupe Center was able to purchase the new facility debt-free and pay for renovations entirely through additional philanthropic support, including a donation by Vetrazzo of Millefiori recycled glass countertops for the new building's reception desk.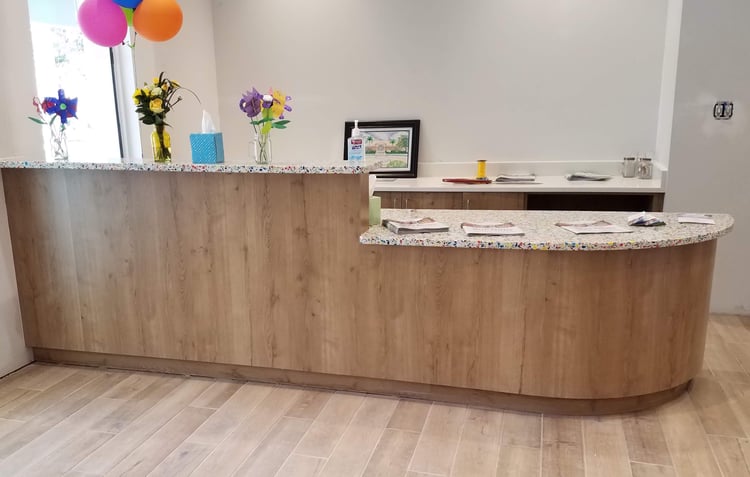 The Guadalupe Center's Millefiori reception desk is ready to offer a friendly welcome to everyone who walks through the center's front door.
Award-winning, Naples-based interior design consultancy Wegman Design Group provided interior design consultation on the project. In addition to envisioning the overall aesthetic of the new center, the Wegman Design team worked together with UMI Stone, Vetrazzo's exclusive distributor in Florida, to create a spirited, safe and fun environment that was designed to improve day-to-day functionality while incorporating the colors of the Guadalupe Center logo. This was not just another design project for Wegman, it was a passion project.
"We had volunteered our services for their Resale Shop a few years ago and let them know that we supported their mission and work," said Sara Gomez-Primero, Senior Designer, Wegman Design Group. "So, when their CEO reached out to our president Lori Wegman for this project, we were thrilled to help."
Wegman Design Group selected all the interior finishes, made recommendations on furniture layouts and designed the reception area's custom millwork for the center.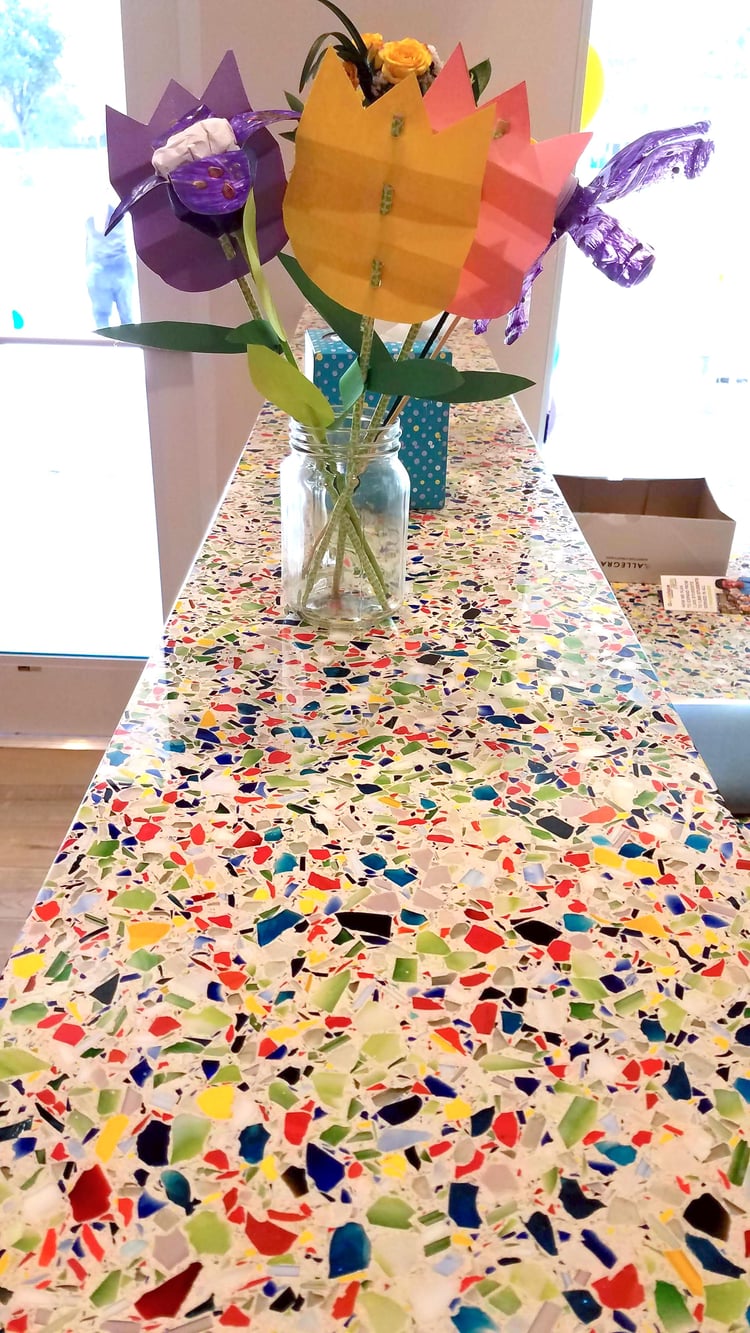 Wegman Design Group was sure to incorporate the colors of the Guadalupe Center logo in all design choices.
"We worked with the project architect, Joleen Darragh of Southview Studios and Renate Engels, responsible for the center's instructional programs, to understand the needs and desires of the center," said Gomez-Primero. "We then created a look and feel with durable but distinct finishes that related to the Guadalupe logo and communication materials."
Wegman Design Group specified paint colors for the classroom doors, vibrant colored countertops for the classrooms' millwork, and coordinated them with accent tiles in the restrooms.
"Our design concept was to incorporate the primary and secondary colors of the Guadalupe Center's logo," said Gomez-Primero. "We wanted to use the colors in a subtle way throughout the project without making it overwhelming." The final result creates a stimulating environment for fun and learning.
The design team coordinated all the parts and pieces of the reception desk in partnership with Brian Blackwell from Heatherwood Construction as their General Contractor and Steve Whitt from Fusion Industries as millwork fabricator.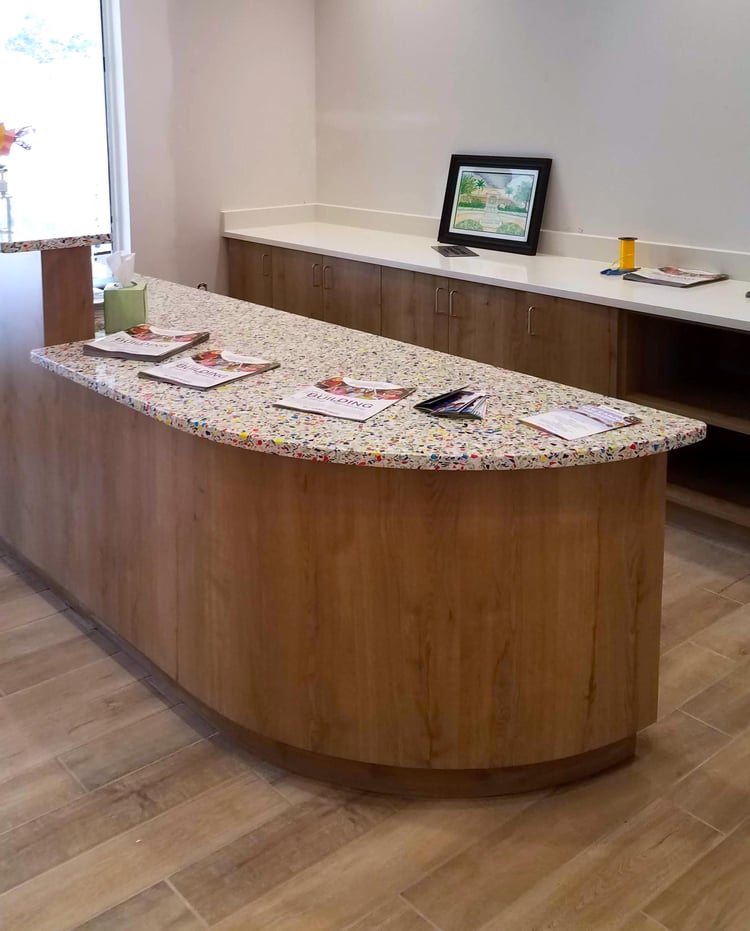 Vetrazzo's recycled glass surfaces are durable and distinct, making it a natural fit for a reception desk with lots of wear and tear.
"The reception desk has a lot of wear and tear, it is the first area you get to see in the building, so we were looking for a durable material that could represent our design concept," said Gomez-Primero. "Millefiori from Vetrazzo was the perfect material to represent and put together our ideas in one place."
The Guadalupe Center logo features a vibrant rainbow of colors and is full of excitement and energy. For the Wegman Design Group team, this made Millefiori a natural fit for the project.
"Millefiori has most of the colors we were utilizing," said Gomez-Primero. "It is so beautifully mixed, the material has a great story to tell, it is created from repurposed pieces of glass, pieces that might otherwise go unused, but instead have a new purpose, a new meaning."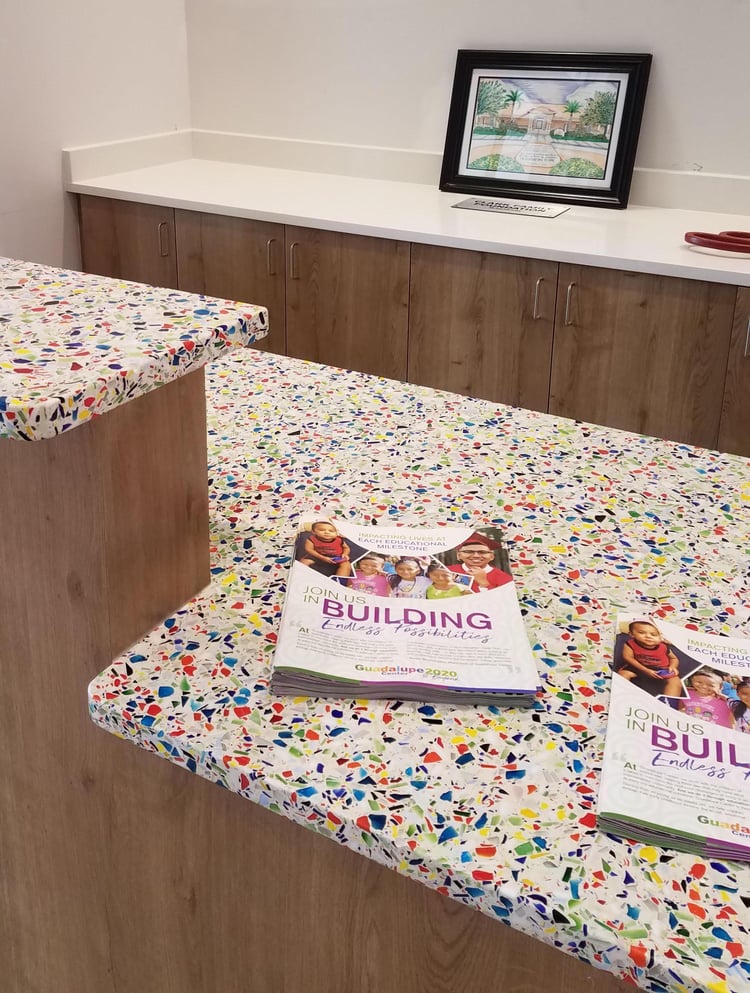 Vetrazzo's Millefiori found a new meaning that goes along with the goals of the Guadalupe Center.
"And that goes along with the goal of the Guadalupe Center, they are providing early childhood educational opportunities which will change their future," she added.
According to the center, 95% of Early Childhood Education Program graduates meet or exceed kindergarten standards and enter school prepared to succeed. Unfortunately, of the estimated 5,000 Collier County children under the age of 5 who live in poverty, just 1,000 are enrolled in a high-quality preschool program. Guadalupe Center's Early Childhood Education program operates at capacity and has a waiting list of more than 500 students.
"There is a critical need in the underserved community of Immokalee for affordable early childhood education," said Guadalupe Center President Dawn Montecalvo in a press release. "The research shows that birth to age five is a critical period of development, and the possibilities are endless for students like ours who can be part of a high-quality early childhood education program."
Italian for "a thousand flowers", Millefiori is a vibrant mix of stained glass in 12 blooming colors.
As Guadalupe Center's waiting list continues to grow, the center's Board of Trustees joined staff in developing a long-range strategy called "2020 & Beyond," a forward-looking campaign that aims to provide life changing educational opportunities to additional students in Immokalee.
Donors, trustees and community members recently celebrated the first of many milestones resulting from "2020 & Beyond" as the Monaghan family cut the ribbon on the new Early Learning Program center bearing their name, with the Millefiori reception desk ready to offer a friendly welcome to everyone who walks through the center's front door.
There's a story in every surface, so why not start writing yours? Download our color inspiration magazine.