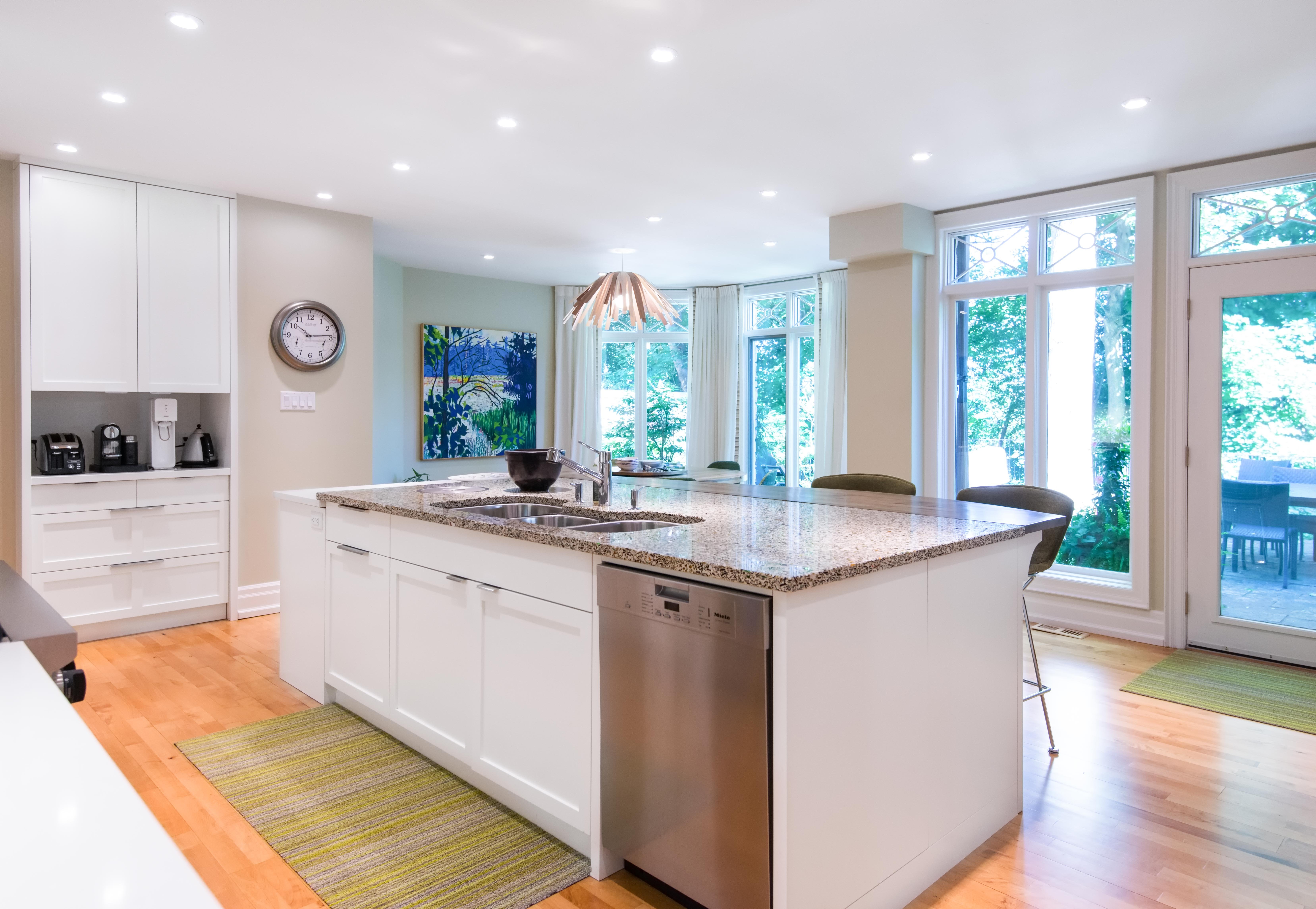 When an eco-conscious family wanted to transform an outdated kitchen they turned to designer Catherine Friis to create an eco-friendly and stylish space reflective of the Toronto woods just outside their door.
What was once a brick red room weighed down by dark granite and visually weighty traditional cabinetry is now a light, bright space with an unusual mix of modern, recycled materials.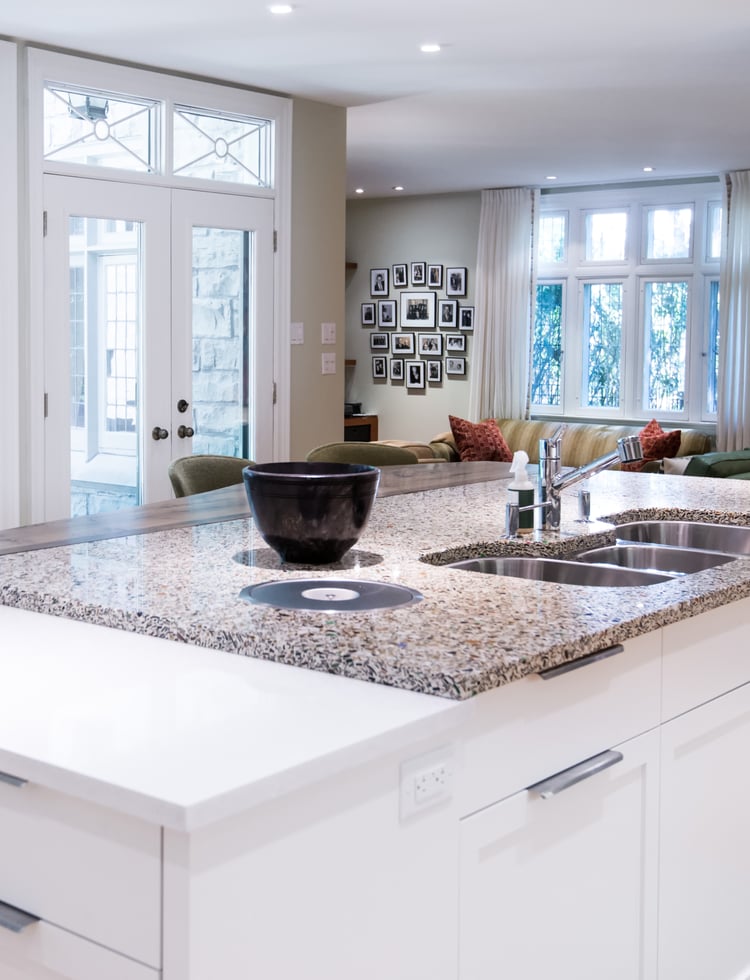 Photos by: Roy Belding
Join me now for a conversation with the designer about her Baby Point project.
Tell me about the home and the homeowners - What is their overall style? Lifestyle? What were they looking to achieve in the design of their new kitchen?
The homeowners are a family of four. Their style might be considered eco-eclectic. They are very energetic and active. They travel a lot and are extremely energy conscious and wanted to use green and local products wherever possible. The kitchen/dining/family space was the last bastion of the previous owner's style. The clients wanted to open up, brighten and modernize the space to suit their active and casual lifestyle. The space faces north and before felt heavy and dark and there was no flow through the kitchen to the dining area. Since the family likes to cook together we decided to have an island instead of a peninsula.
It looks like the kitchen is open to both the outdoors and the living room. How did you relate the spaces?
The garden and ravine are just outside so it was like bringing the outdoors in.
This space incorporates a unique mixing of materials. So very different and yet they work so well together. How did you come up with this design?
Well interestingly, my client was at a luncheon and the centerpiece became the inspiration for our color palette - green, cream, wood.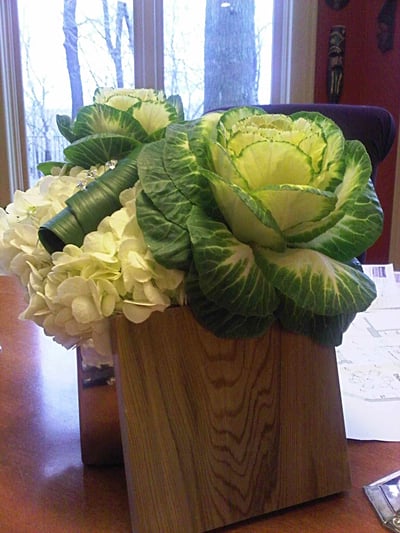 Plus there was an existing fun green leather sofa in the family room that helped and there were some great stone pieces of the original exterior walls that were left exposed by the previous owner's renovation so we chose to have these as accents. I think our themes would be considered organic, recycled, eclectic, easy modern. Young and fresh like the family.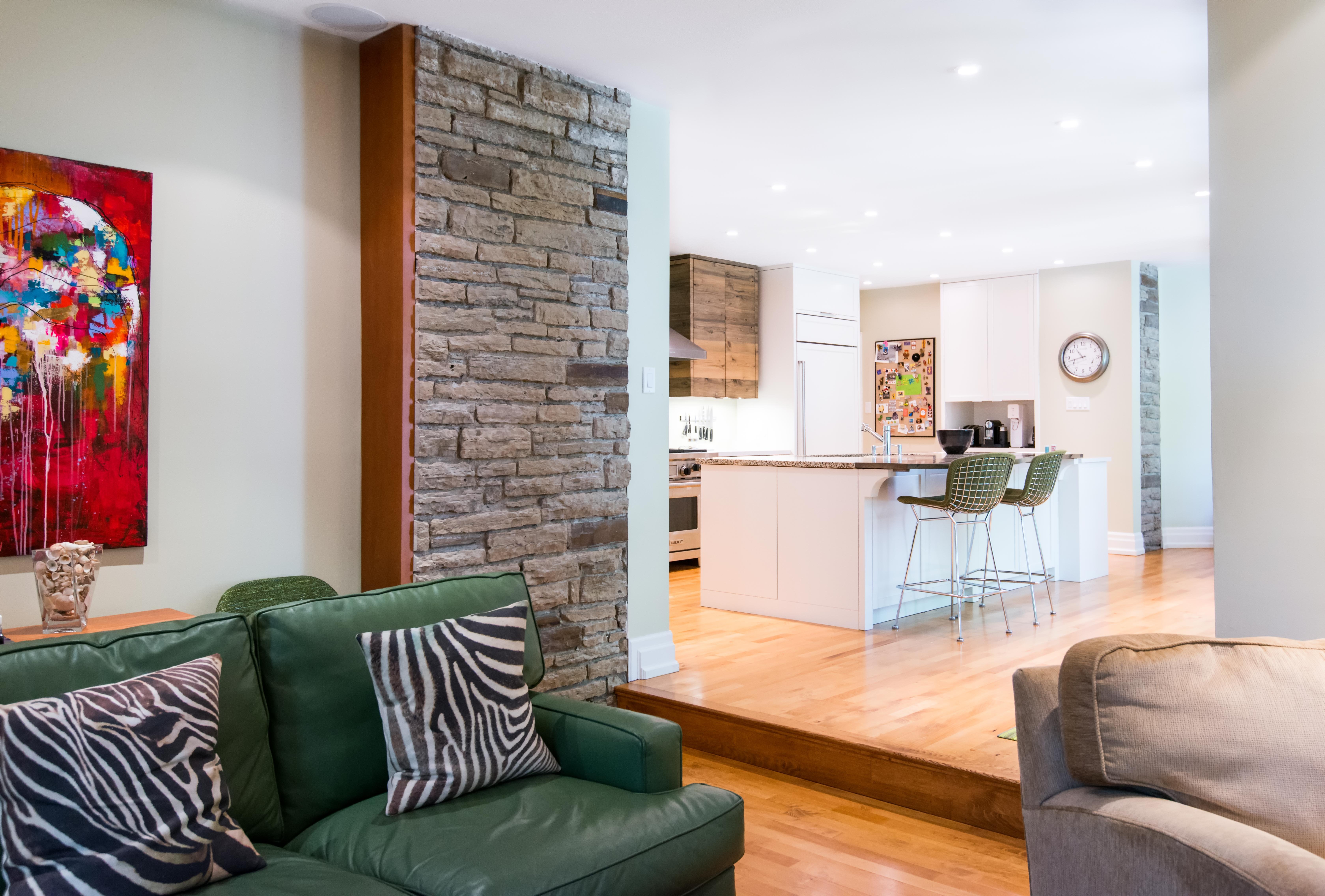 What were the factors that led you to choose Vetrazzo for the island material?
The clients had found the recycled hemlock at Cabinet Furniture and wanted to use it for the dining table top. The hemlock came from the docks in Lake Ontario. Ron Briand from Cabinet bought the lot and was making furniture from it and he was willing to do what we needed to help us with the kitchen. So that was the starting point.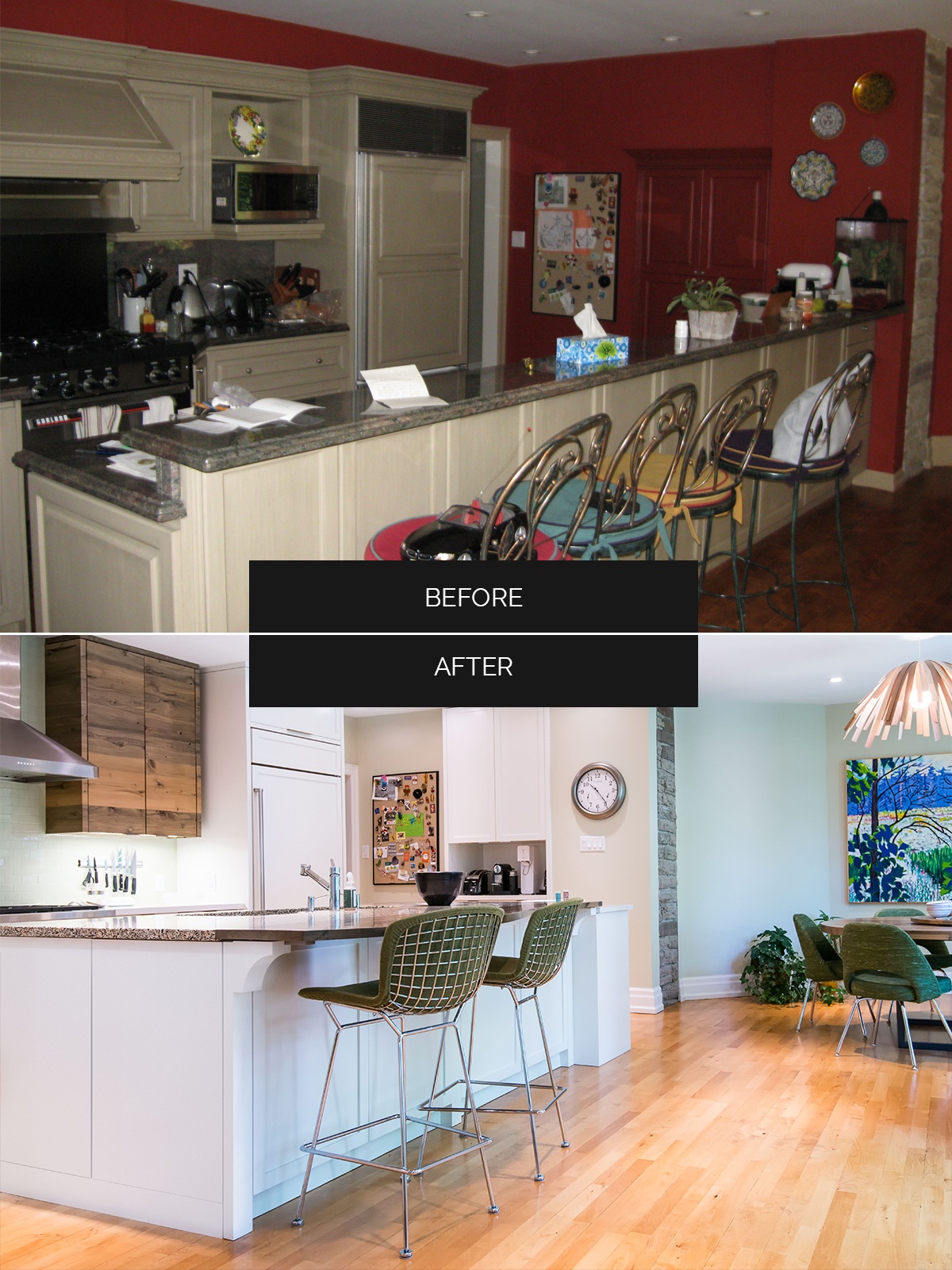 Dining table chandelier by Atelier Cocotte in Montreal, through Design Republic in Toronto. Dining chairs and bar stools by Knoll, sourced through Hollace Cluny. The custom cabinetry is by Copacetic.
We went to Ciot Technica for tile and while we were working on one of their big tables with our piece of reclaimed wood and the inspiration photo, we looked down and noticed this amazing material we were working on - Alehouse Amber Vetrazzo - was a perfect compliment to our palette, plus is was made from recycled glass - so that was a bonus. We wanted some white to brighten up the north facing room and so we decided on Caesarstone's Blizzard for the secondary surfaces because we wanted the Vetrazzo to be the star.
Friis installed a Richelieu recessed compost container directly into the island. Subzero and Wolfe appliances were sourced through Tasco Appliances. Sink and faucet sourced through Taps.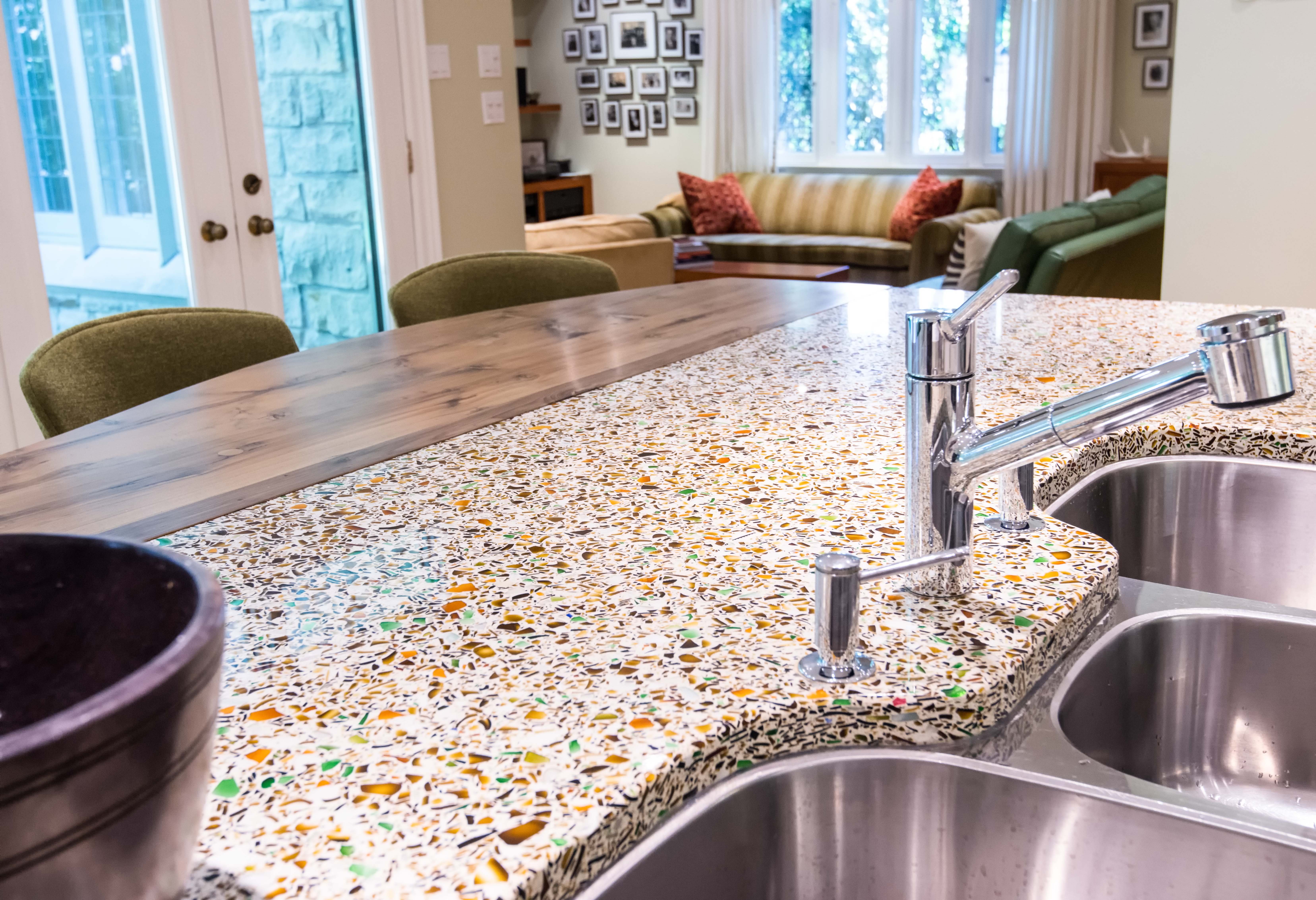 Was the goal to incorporate recycled and reclaimed elements or were they chosen for look?
Color, look, sustainability, durability, uniqueness, all those requirements went into all the decisions, but everything was so beautiful there was no compromise in function or style.

Have you ever used Vetrazzo before? What was your experience like with fabrication and installation?
It was my first time using Vetrazzo and the contractor Harper House Contracting said York Fabric did an excellent job.
You know every project has its own character as I try to collaborate with the client - their needs, their style and some reflection of the character of the house. I try not to be married to a style other than clean, classic lines. And this was great fun because most Toronto clients are afraid of color and these clients definitely weren't!
See more designer pairings for Vetrazzo in a variety of styles. Download the free lookbook here.