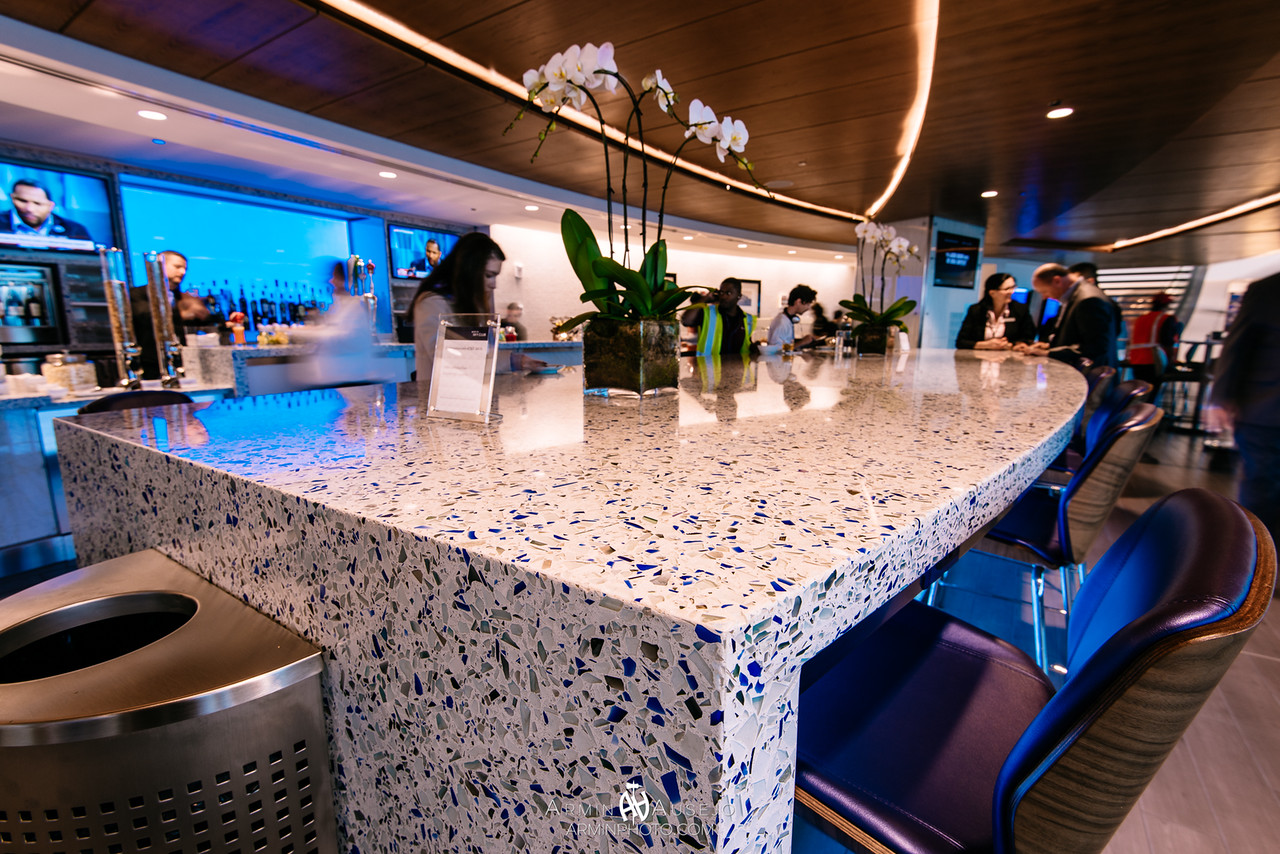 The golden days of luxury air travel (the glamorous glory years of Pan Am and the Concorde in the 1950s and 60s) may be long gone, but that doesn't mean airlines aren't still offering their flyers lavish amenities. Now you might just find many of these first-class touches with your feet on the ground.
Nowadays many airlines are increasingly offering their flyers an escape from a cramped gate area – the lounge, but they are all hardly created equal. Most have reliable WiFi, average food and moderately comfortable workstations for the business flyers who make up the majority of their clientele. But then there are sublimely sumptuous lounges, like the Delta Air Lines Sky Club at Seattle-Tacoma International Airport, that are so super luxe that you may miss your flight.
Skillfully designed and boasting an impressive list of amenities, this 21,000-square-foot lounge, which opened in 2016, stands as one of Delta's five largest clubs. This sprawling space with its sky-high ceiling and wall of windows is more like an upscale hotel lobby than an airport gate. With a heavy focus on wood, water, movement and local touches — including a mural inspired by the city's iconic Pike Place Market and a 60-foot suspended sculpture created by globally-recognized but locally-based wood artist Paul Vexler — it was designed to provide a meaningful environment. Today it's Delta's most-awarded Sky Club, but it wasn't too long ago that this luxe lounge at Sea-Tac airport was just a concept.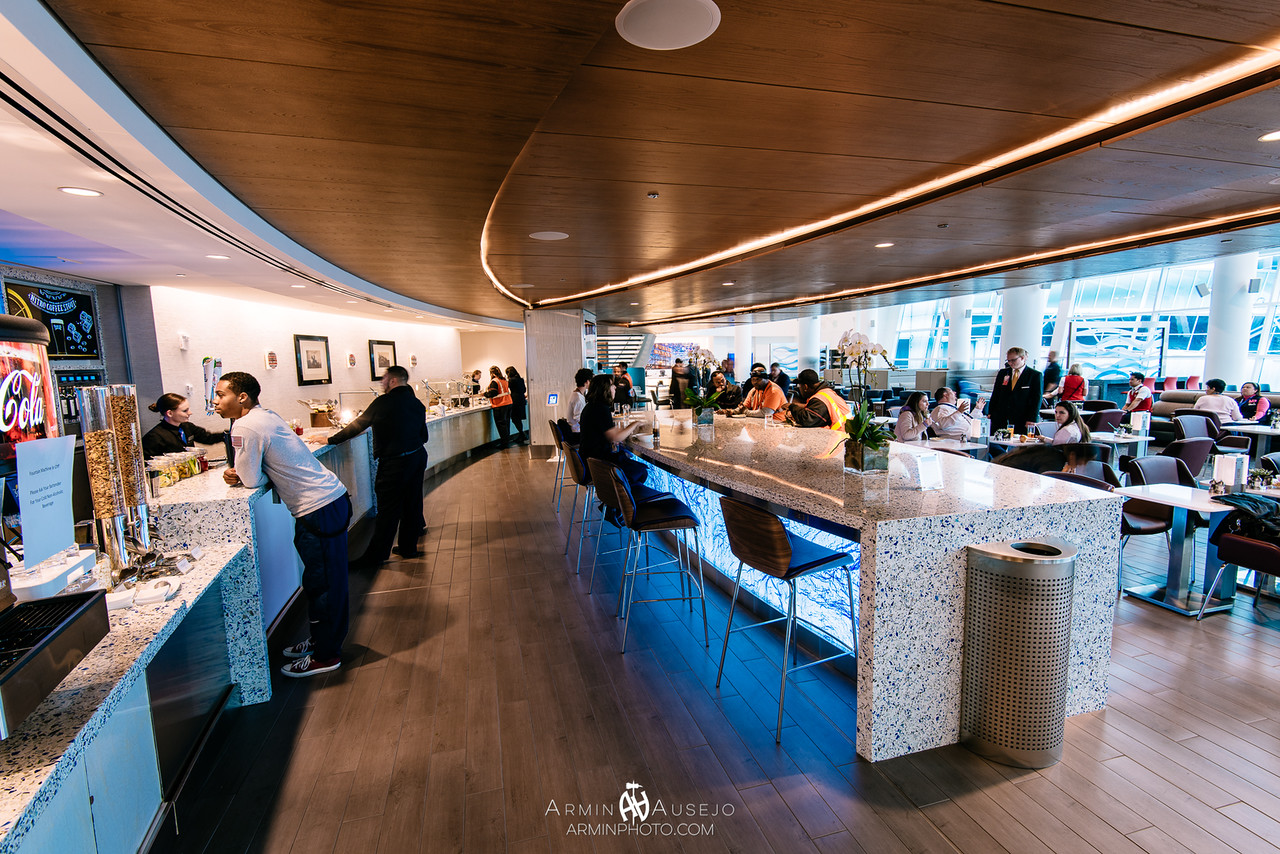 The Delta Air Lines Sky Club at Seattle-Tacoma International Airport is more like an upscale hotel lobby than an airport gate.
Crafting a premium experience for airline guests at its Pacific Northwest hub, providing travelers room to stretch out — literally and mentally— was the primary goal in the design of this $24 million lounge, and one that required many companies to work together as a unified team.
ECH Architecture, a full-service Seattle based firm, was brought in to design the new, expanded, high-end club. And soon after, ECH contacted Shannon Day, an architectural specialist at Valhalla Construction Products and a long-time champion of the Vetrazzo product line, to provide insight into if Vetrazzo was the right choice for the project.
"Valhalla does things a little differently – we work with architects from the beginning and really like to have a hands-on approach" said Day. "Before I started working at Valhalla, the Vetrazzo line had been bounced around between different warehouses and there wasn't anywhere local for customers to come see it. So, part of my conditions on coming over to Valhalla was that I was bringing the Vetrazzo line with me. I just wanted it to have a stable home."
"And I thought that Chivalry Blue was the perfect color match for Delta. I thought they would be a good fit," Day added. Chivalry Blue captures the airline's signature shade of Delta Blue as well as the lounge's overall bright blue and white color scheme.
Distinctively seductive and upscale in look and style, each Chivalry Blue slab is a unique mix of prestigious blue liquor bottles, architectural glass, and clear glass bottles.
On a project the scale of the Delta Sky Club, finding the right fit, especially when it comes to all of the companies involved, is integral for success.
"ECH needed a solid installer who could work with them on a commercial scale and Stoneworld Seattle was awesome with everything they did," said Day.
Stoneworld Seattle is familiar with large scale commercial projects, as they've completed work for hotels and restaurants in the Seattle area, but the Delta Sky Lounge was a new challenge for their team of fabricators.
"Installation happened in stages; the hot food station, the beverage station, the communal table, which is like a big island, were done in different stages," said Nick AuYong from Stoneworld Seattle. "And because they wanted the counter to be a certain thickness, we had to laminate the Vetrazzo surface two times to get the thickness they wanted. We had constant emails with the representative at Delta, to make sure they were happy with each stage."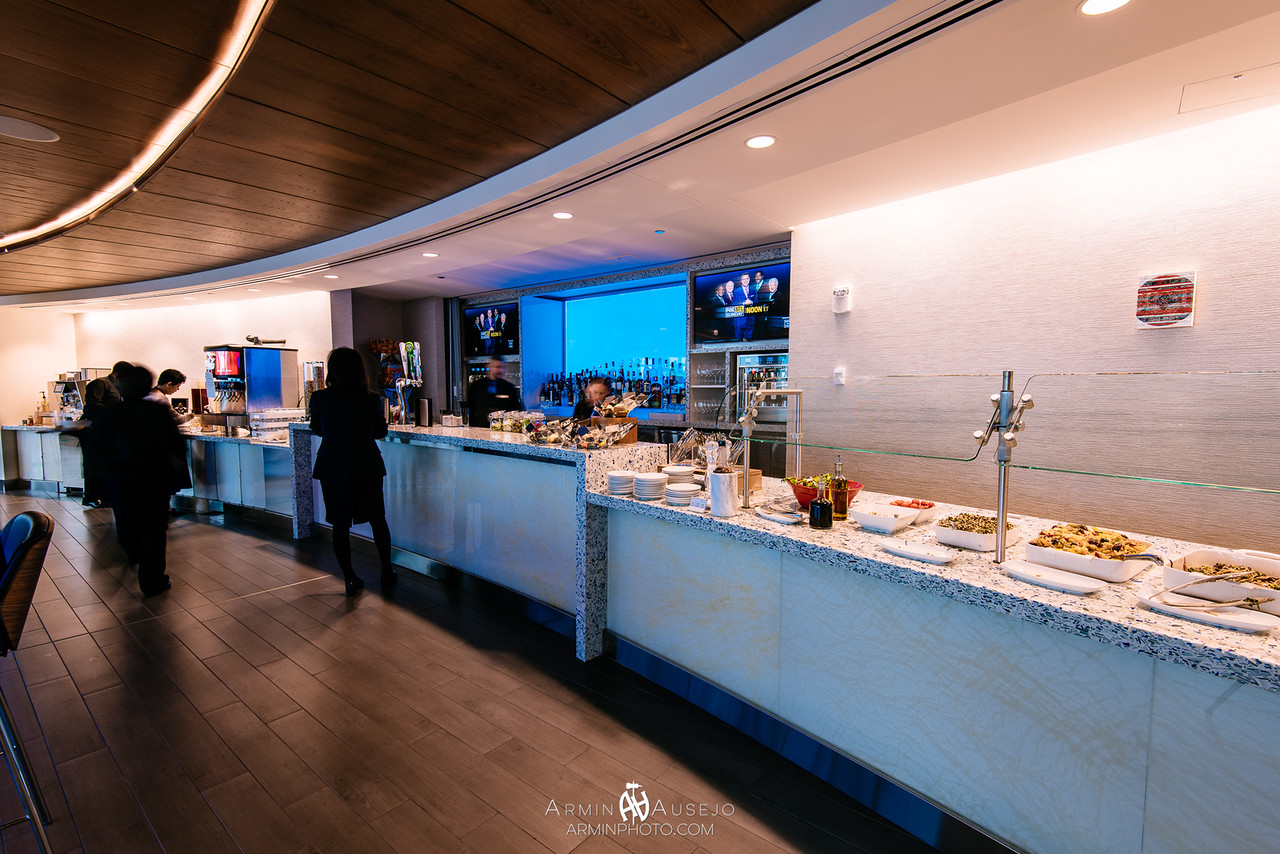 Chivalry Blue captures the airline's signature shade of Delta Blue as well as the lounge's overall bright blue and white color scheme.
These Vetrazzo countertops are where staff literally serve up a world-class travel experience, with a large buffet of seasonally rotated, locally inspired fare created in partnership with Seattle chef Ethan Stowell and a full-service bar.
There are many seating configurations around the Club — seating more than 400 customers on two levels — including low-slung leather swivel chairs around tables, window seats to keep an eye on the view, and an oversized communal table, which is a striking centerpiece to the space, topped in Chivalry Blue recycled glass.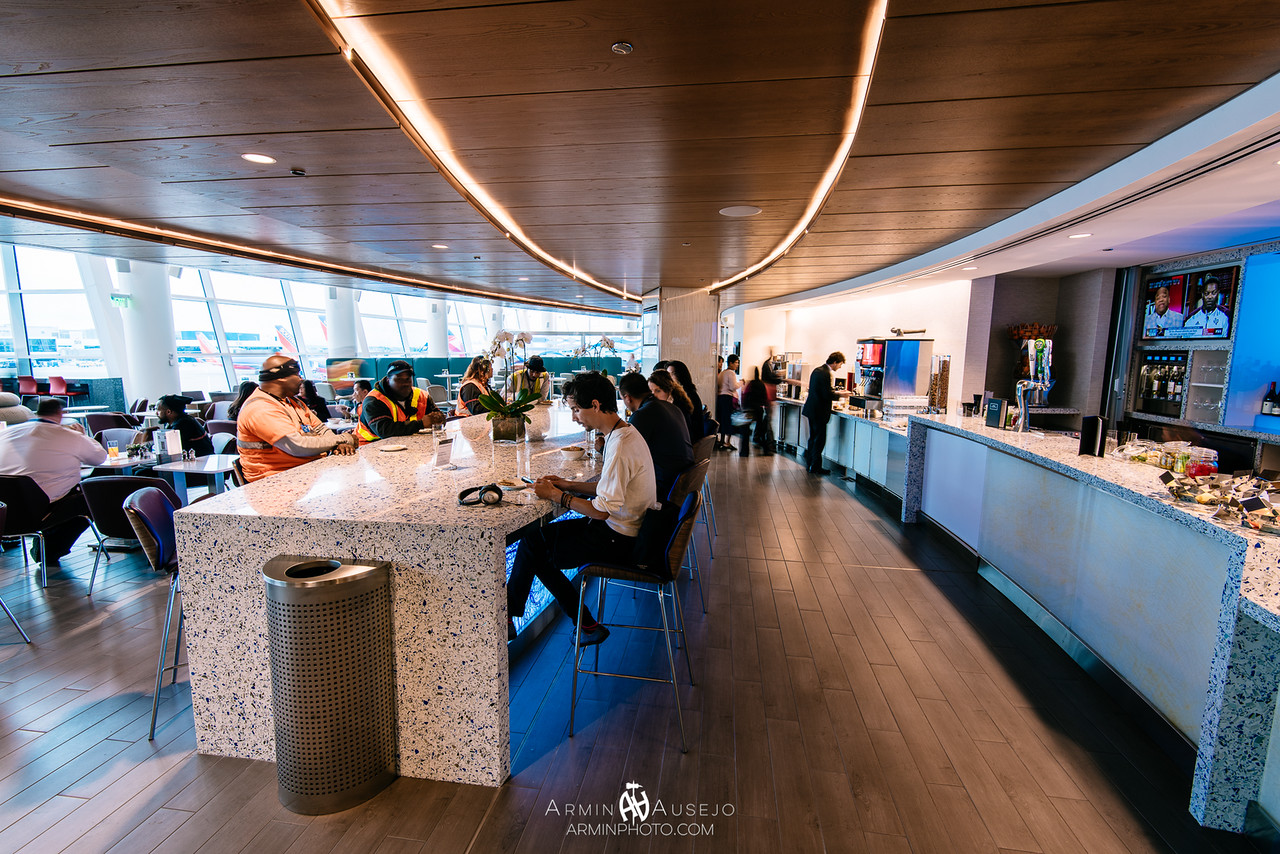 The oversized Chivalry Blue communal table with a waterfall edge on each side is a striking centerpiece to the space.
"For the communal table they wanted a waterfall on each side, but they also wanted cladding, so when you look at the table, you notice Vetrazzo is on the top and also on the side, and it also wraps around the legs and goes into the blue illuminated glass," said AuYong. "In terms of that process, we had to install the top first, then we installed both waterfall legs. We made sure we used a color matching epoxy between the seams to match the base of the color, which makes the seams much less noticeable. We then measured the angles for each corner of the leg, and we did the angle cladding first and the wraparound cladding second. We did two legs per week."
Delta is committed to eco-friendly sustainability, with reducing emissions, building a more efficient fleet and carbon-neutral growth an important part of addressing their environmental impact. It was in the spirit of that commitment that led the airline to choose multiple eco-friendly surfaces in the space. More than 7,500 square feet of energy efficient, intelligently tinting glass that keeps the Club temperature and sunlight at optimal levels, provides a breathtaking and "green" view of Mount Rainier. Vetrazzo's highest sustainability standards and 100% recycled glass made them a natural fit for this project as well.
"A lot of people love the 'green' story of Vetrazzo, how they turn something that we already put a lot of energy into creating, like soda bottles and condiment jars and dining room lamps, into something gorgeous and with a new purpose," said Day. "Vetrazzo is a good way to show that you can make good, sustainable decisions and it can still be beautiful. And the Delta Sky Club shows that you can create a space that looks amazing while still being kind to our environment."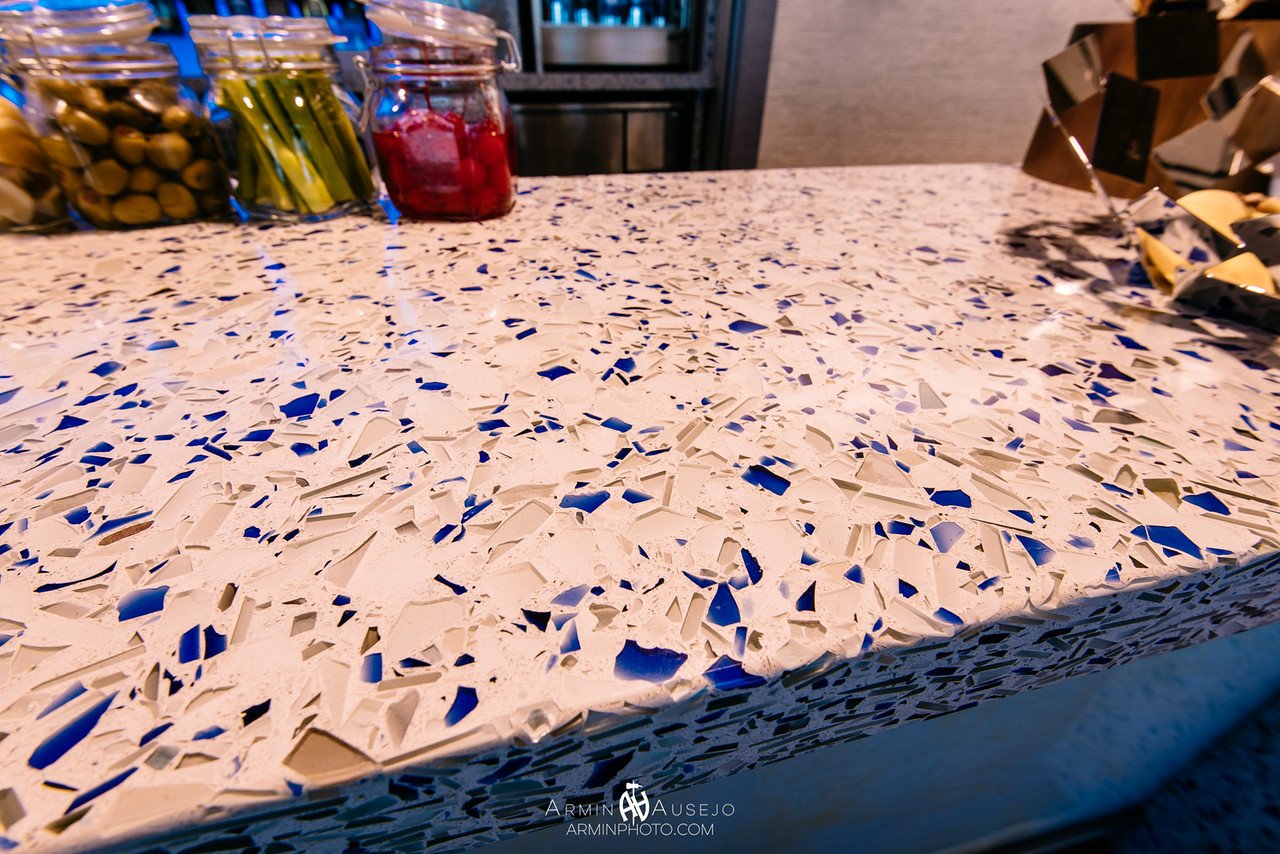 Because of Delta's commitment to sustainability, it made sense for the airline to choose multiple eco-friendly surfaces in the space.
From Delta to ECH to Valhalla to Stoneworks to Vetrazzo, and countless others, each company that touched the Delta Sky Club project at Sea-Tac helped bring opulent, brand-right touches and a sense of place to this award-winning lounge.
"It was definitely a team effort," said AuYong. "The construction process was a grind, but afterwards we were very happy with the finished product, and most importantly, Delta was very pleased as well."
Add this first-class finish to your surface library. Order a sample of Vetrazzo recycled glass. Free to the trade.