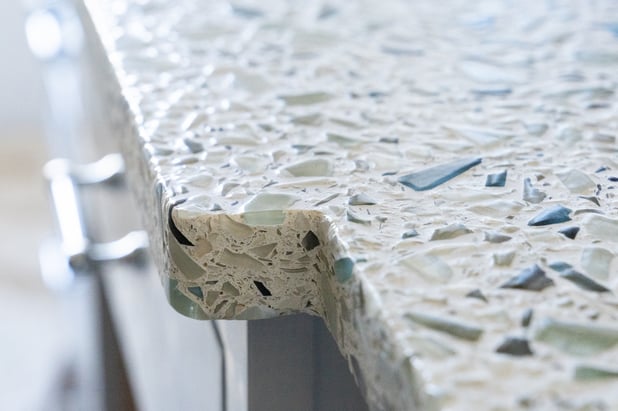 Vetrazzo has always brought impact to a space with color and movement in its handcrafted recycled glass countertops. But now, thanks to an innovation in finishing, our crushed glass slabs are adding a tactile dimension to kitchen and bath design.
It all started when a member of the Vetrazzo team took inspiration from the textures of natural stone from our sister brand Polycor, a natural stone quarrier, where antiqued finishes (also known as leathered or antiqued finishes) are a bestseller.
Because Vetrazzo's atelier is on the same site as the marble production facility in Tate, Georgia, he was exposed to a variety of finishes available in natural stone and was interested about how these processes might be utilized for Vetrazzo slabs. The production team used a combination of know-how and knowledge of their equipment to apply to the crushed glass slabs a technique similar to what is used for brushed granite and the end result was amazing.
The pieces of glass seemed to rise up gently out of the concrete surface with the texture of a worn piece of sea glass but with an opalescent quality of a pearl, like bubbles rising to the surface of sand under the surf.

See here how the appearance of the surface changes with light.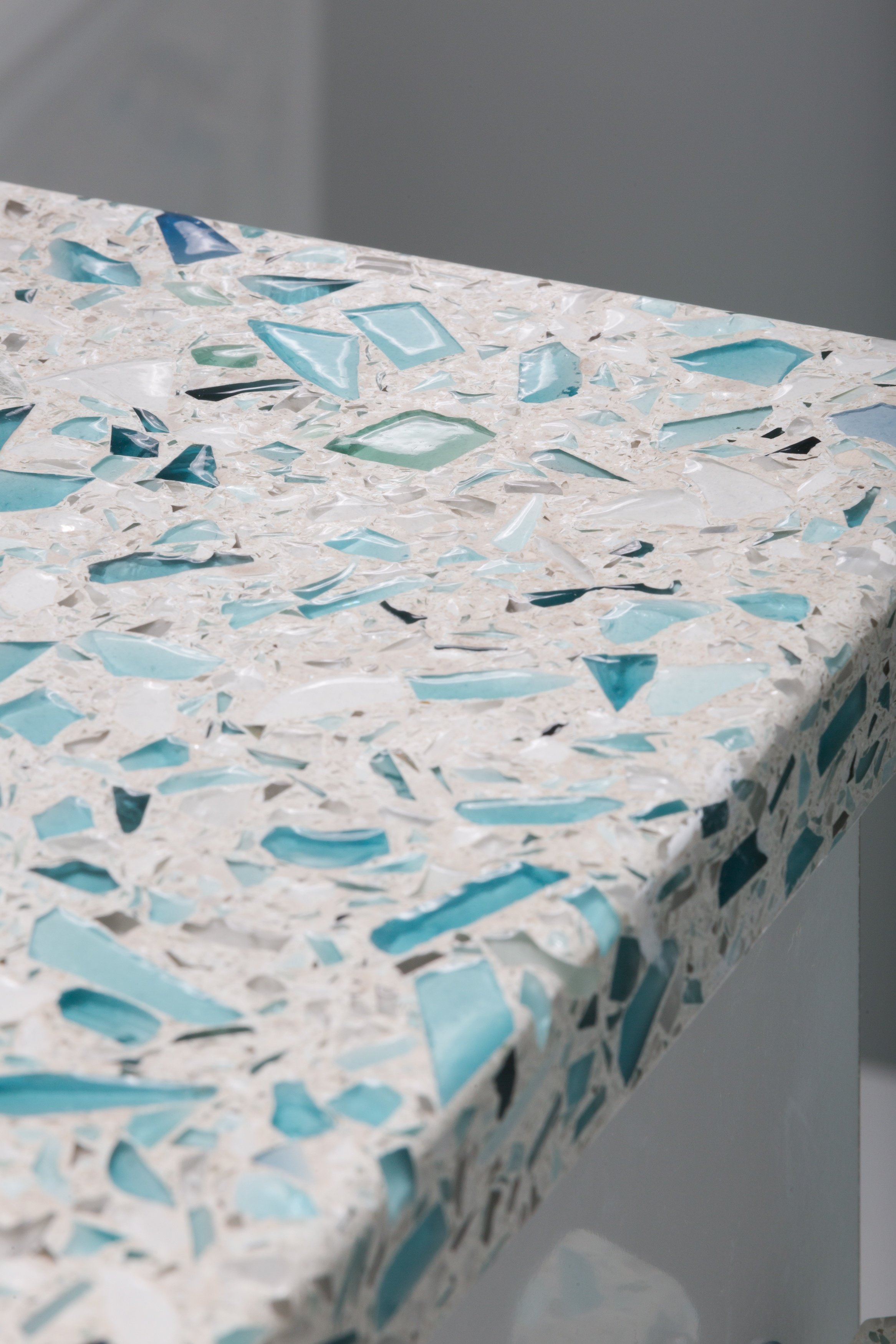 When our Vice President of Sales Alexandra Neidbalski saw it she said, "It's like a piece of jewelry. I could have put that in my jewelry box."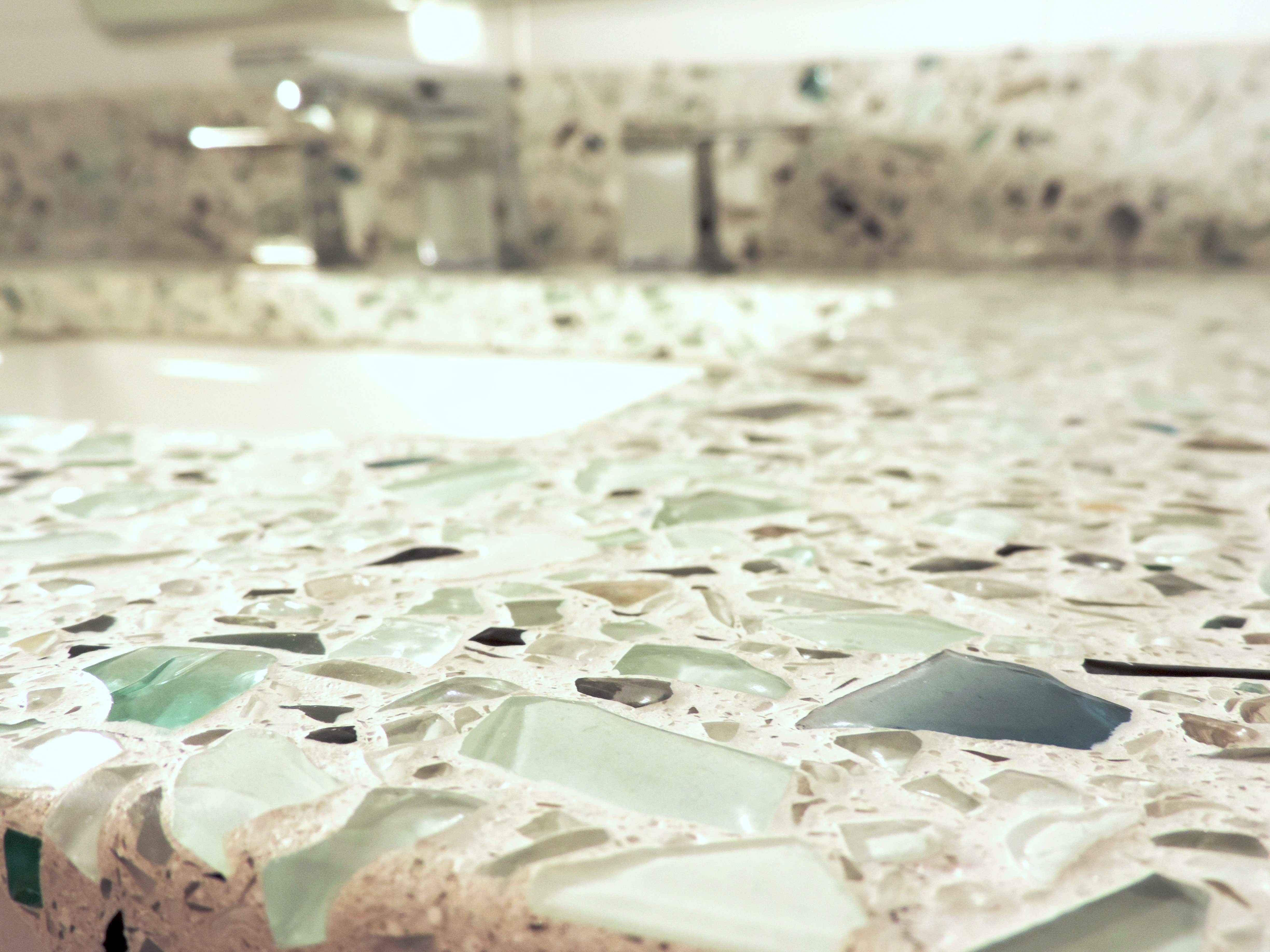 How could we call it anything other than Sea Pearl?
We're finding more and more that designers and homeowners want texture and intricacy in their surfaces. Maybe it's an answer to the prevalence of monotonous engineered materials like quartz countertops, but what we're hearing is customers want something with more interest, a story in every surface, as we like to say.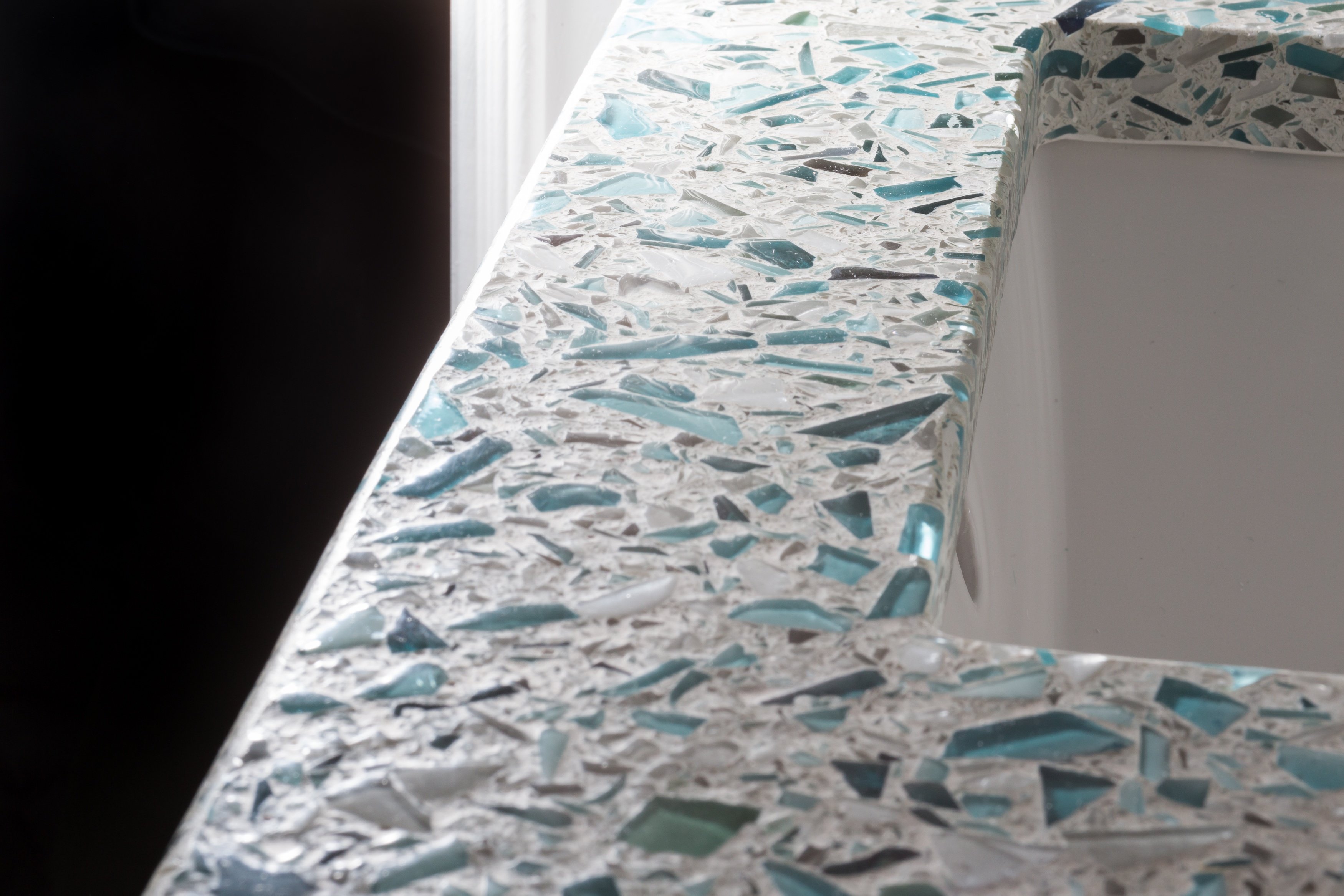 Don't you just want to drag your fingers across the surface?
When we originally rolled Sea Pearl finish out as a limited release the response from customers was huge. When they see a sample they have to keep rubbing their hand back and forth over it because they can't believe the texture.
As one told me, "It's so soft and velvety, you just want to lay on."
SEE THE FULL BROCHURE OF VETRAZZO PRODUCTS & FINISHES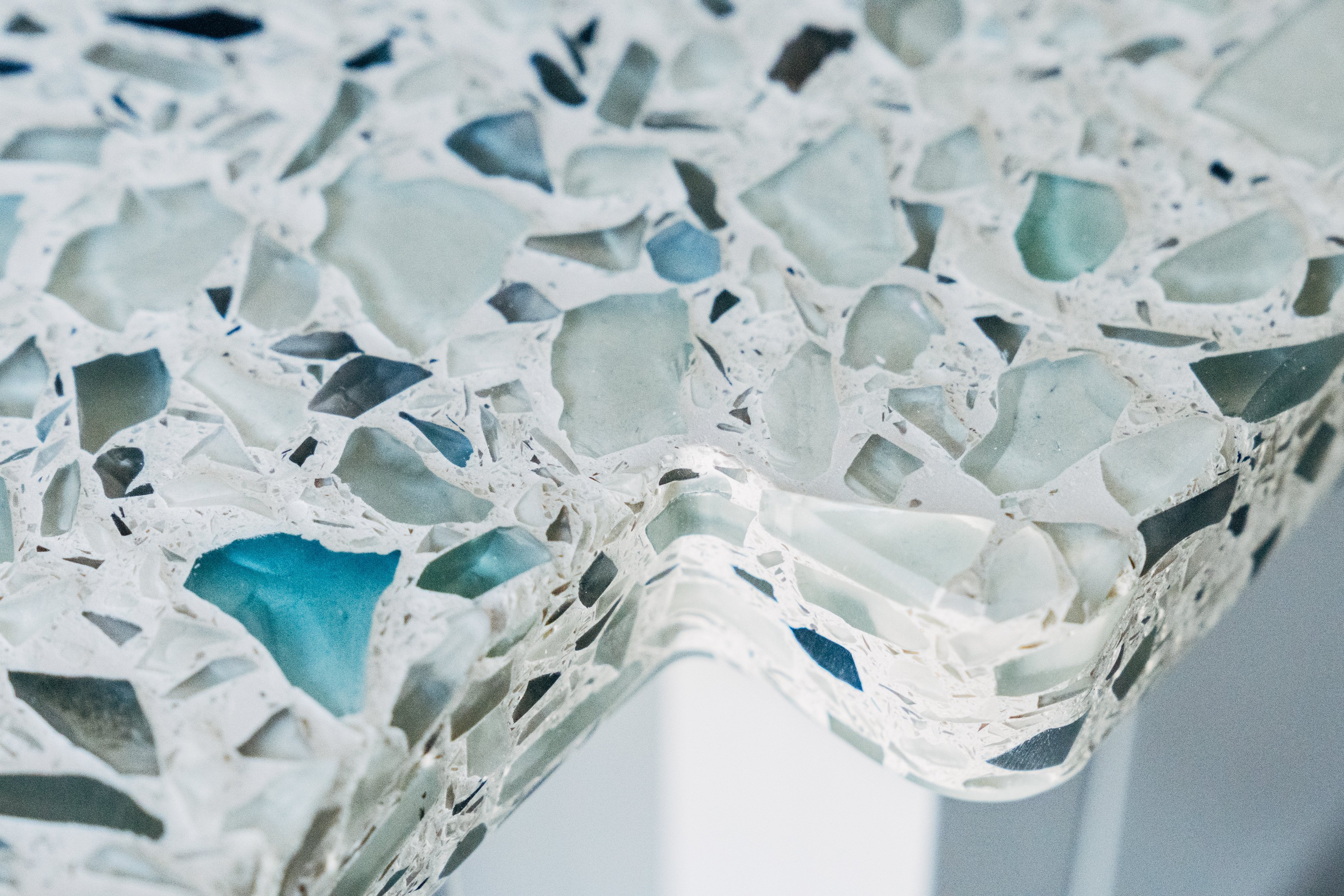 The jewel-like quality of the Sea Pearl finish on the crushed glass can turn small, everyday kitchen and bath features into focal points. Take the photos in this blog for instance. Those above and below are from a small bathroom vanity in a child's en suite in a New York home.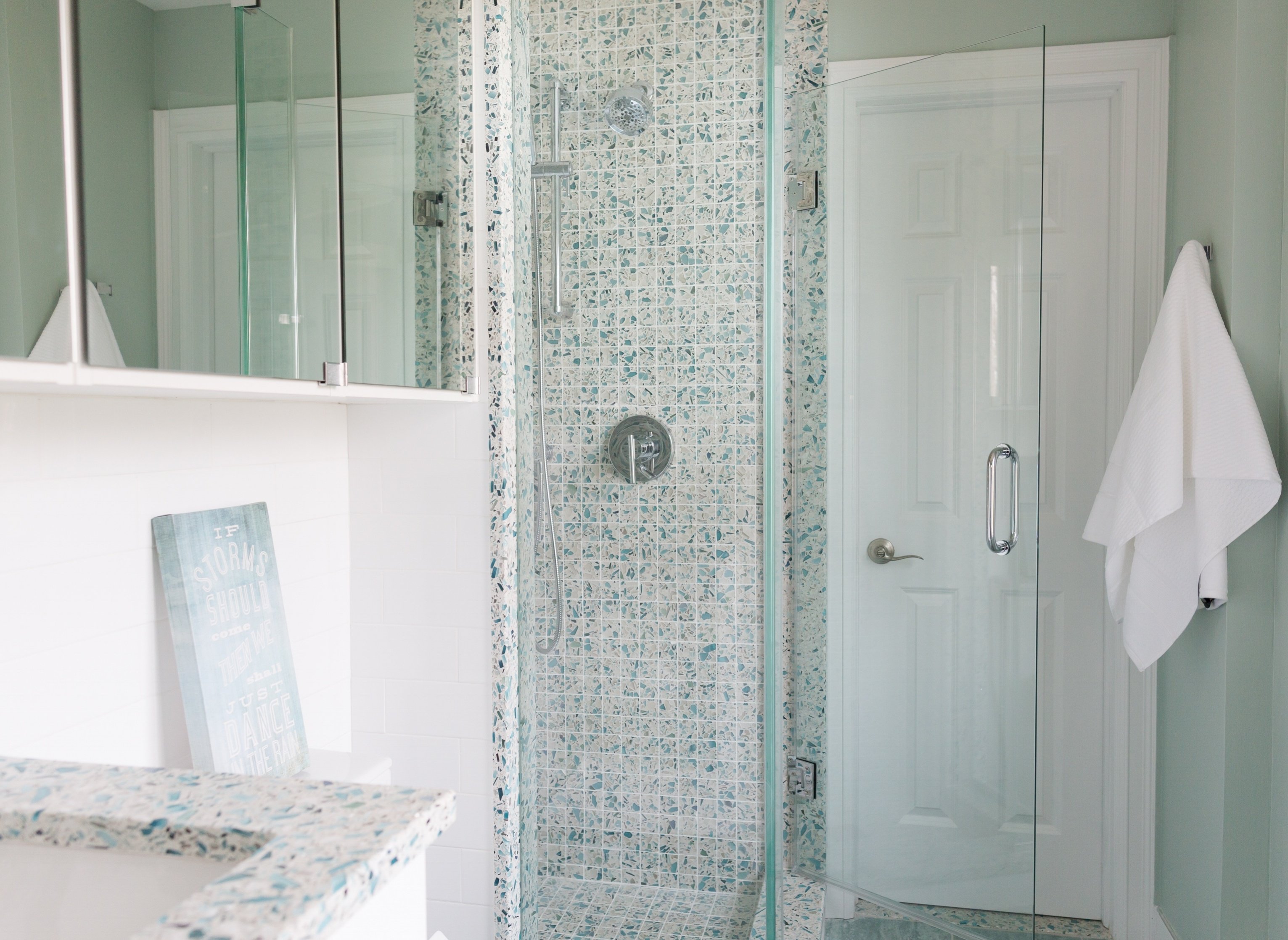 Designer Toni Sabatino used Sea Pearl finished slabs in Floating Blue for the glass countertops, shower curbs, jambs and niche. She also paired it with custom cut mosaic tiles in the shower wall and pan. The texture and color of the surfaces, and their ability to catch and reflect light transformed the small space into a precious jewelry box.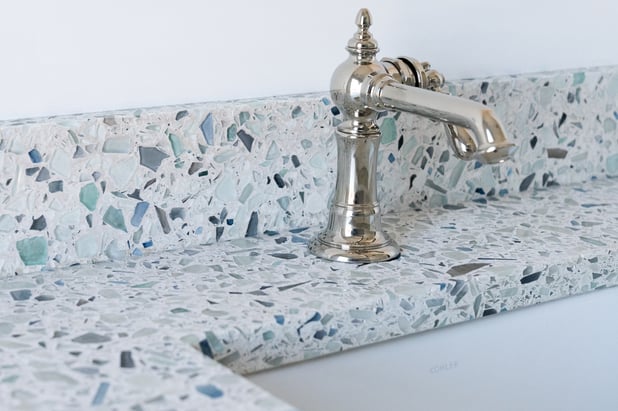 Here the Palladian Gray Sea Pearl finish brings a soothing coastal cool feel to this seaside bathroom.
Product availability
The soft beach glass feel on the crushed glass countertops comes from an additional week of hand finishing each slab. (It takes eight craftsmen one full day to complete a traditional Vetrazzo crushed glass countertop slab). Because we have our production facility located domestically here in the US and have a large distribution network, through this supply chain we're able to offer architects and designers a direct connection to the source of the material, keeping lead times to a minimum. (Try that with an imported slab of stone or engineered surface.)
Color selection

The Sea Pearl finish can be applied to our color selections that feature large pieces of glass. The large aggregate pieces offer more perspective in the soft undulations between the resin and the glass itself.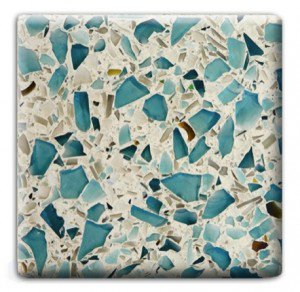 (seen in the bathroom above)
Thickness
3 cm slab
Glass source
Demolition architectural glass, inspired by sea glass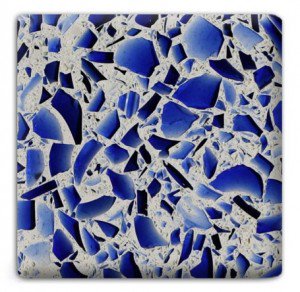 Thickness
3 cm slab
Glass source
Skyy® Vodka and 1664 beer bottles, condiment jars, demolition architectural glass, aquariums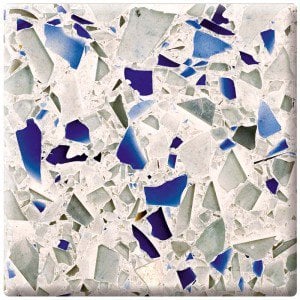 Thickness
3 cm slab
Glass source
Architectural glass (floating glass), Skyy® Vodka bottles, clear glass bottles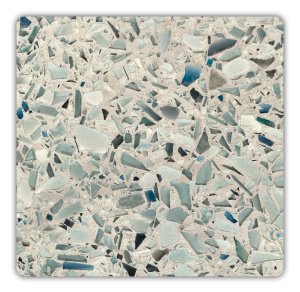 Thickness
3 cm slab
Glass source
Demolition architectural glass and aquariums
Here's a look at a Palladian Gray vanity counter with matching hardware, backsplash and coordinating tiled shower.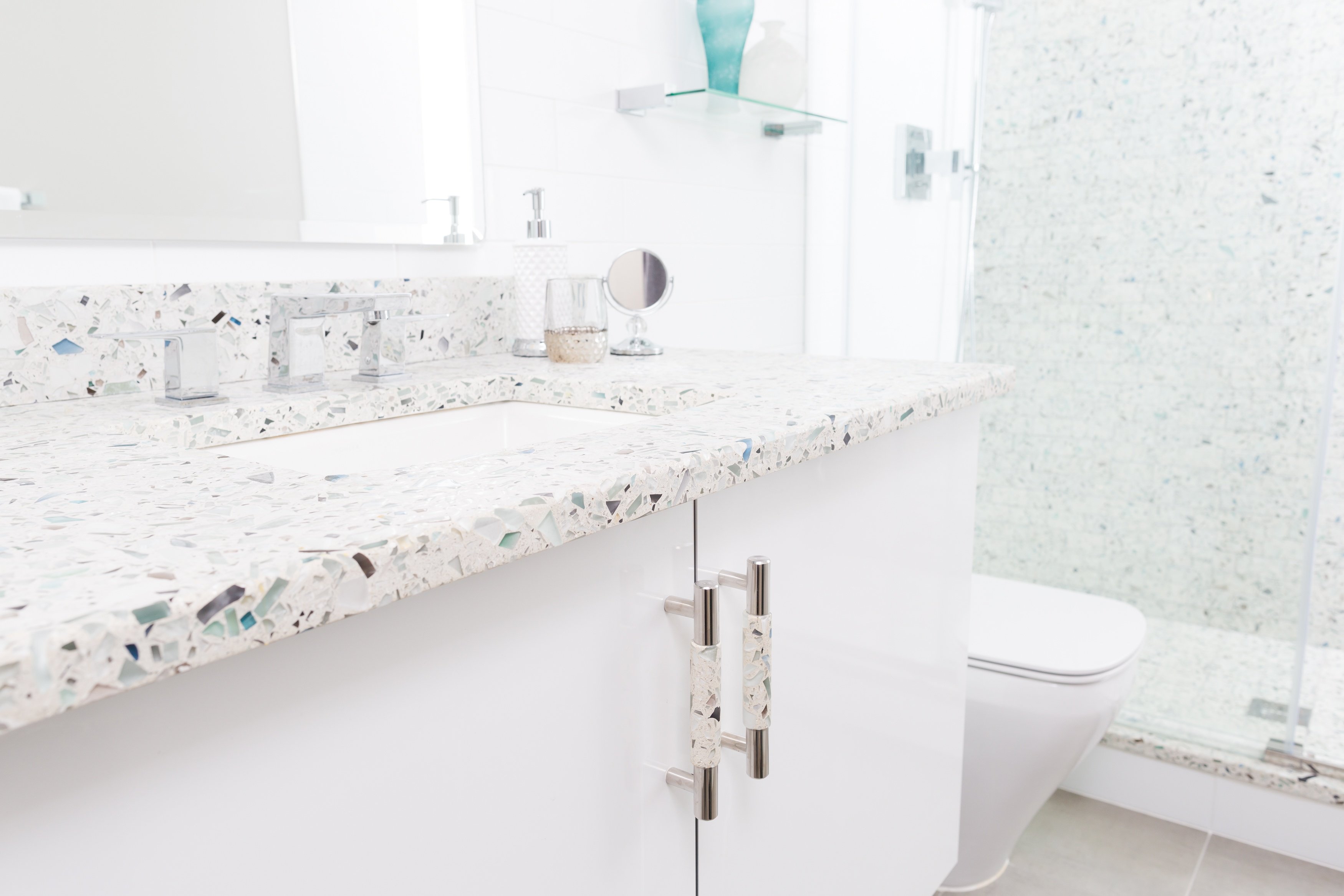 Looking to add more texture and dimension to your next design? We're offering samples of Sea Pearl exclusively to members of the trade, in one of four colors. Click through the button below to learn more.
(If you're a homeowner, contact us here and we'll connect you with a local distributor who can provide you with a sample.)