Recycled Skyy® Vodka Bottles Emulate Water at the Parkway Hills Baptist Church.
Project: Parkway Hills Baptist Church Children's Area
Architect: HH Architects, Dallas, Texas

Who would ever thought that "a festive evening with friends sampling savory treats and drinking top-shelf spirits poured from a lovely cobalt blue Skyy® Vodka bottle" would become the Parkway Hills Baptist Church Children's Area centerpiece? An innovated, passionate glass scientist in Berkley, CA did. More than 15 years ago he was the first to create a 100% Post Consumer Recycled Glass countertop called Vetrazzo®.
The inspiration for Children's Area at Parkway Hills Baptist Church was the salt water fish tank which was existing and was the idea for the "water" theme. The vision behind the design of the Check-In Desk was "stimulation" and "interactive". Using one of Vetrazzo's signature color, Colbalt Blue Skyy®; made from ACTUAL Skyy® Vodka bottles was a perfect color to emulate blue water.
The primary color "windows" on the face of the desk are at child height so the children can touch them and reach inside them. The fish tank adds visual interest, and "thinking" and "seeing" stimulation. HH Architects & Nan Gammon thought the Vetrazzo counter added visual stimulation and of course color to the desk.
Enviably, Parkway Hills Baptist Church was on budget but it was interesting when interior designer Nan told us "although we went through a number of value engineering exercises with this client, cutting the Vetrazzo counter was never approved. The client agreed that it was the centerpiece of the Check-In Desk, and they liked that it was recycled glass".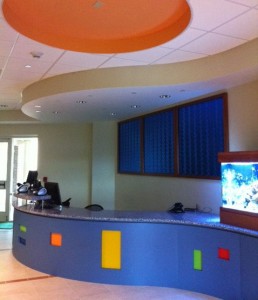 Project Credits
HH Architects: Principal -Jerry L. Halcomb
Project Manager - Tom Willis
Interior Designer - Nan Gammon
Construction Administrator - Dale Smith
GC: Beck Group/Principal Robert Hodges
Project Manager - Elliot Bevers