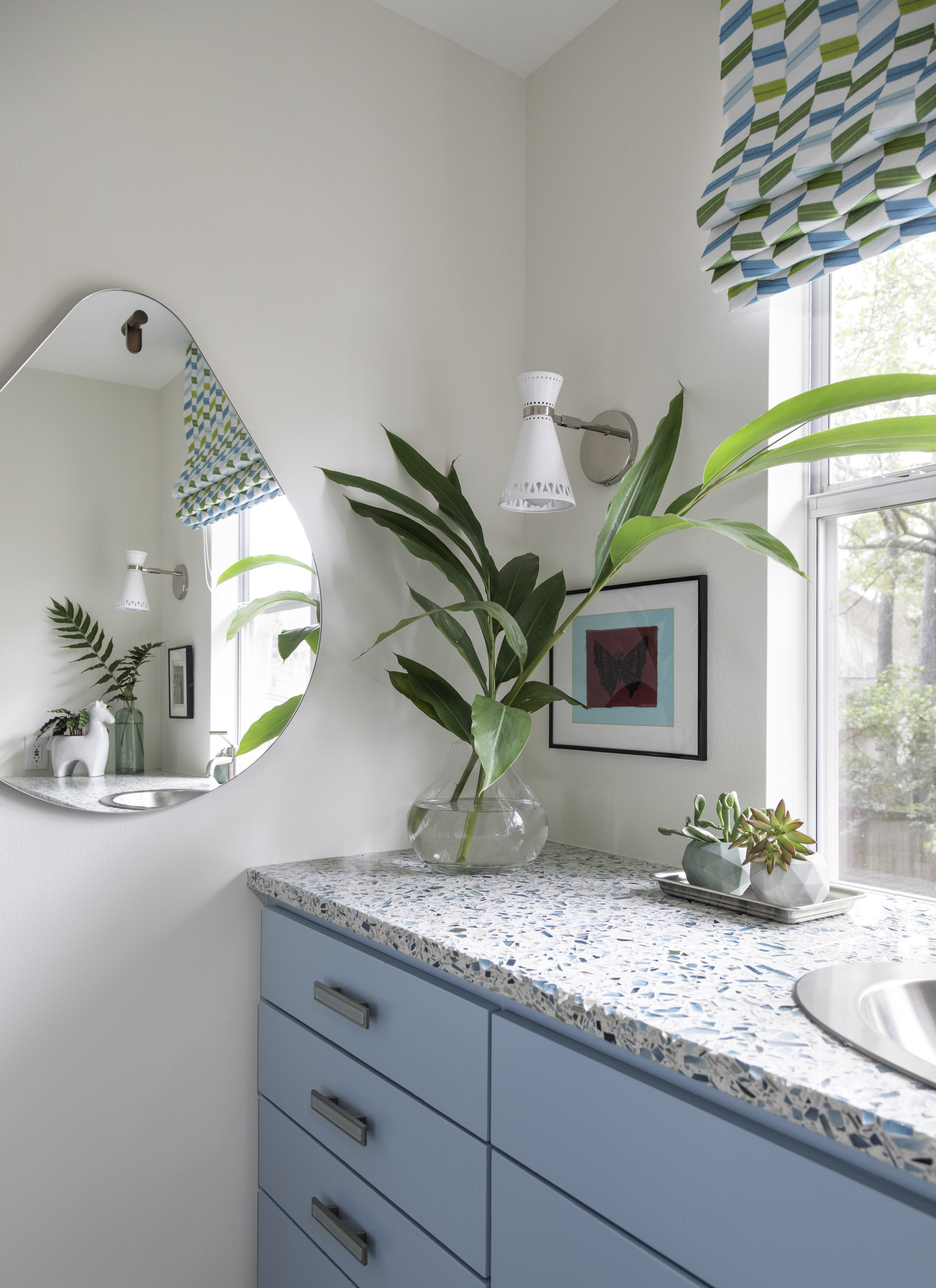 When choosing an interior designer, there are many things to consider – budget, style, personality. And when someone chooses Houston-based interior designer Emily June Spanos, the deciding factor seems to hinge on the word "delight." She creates unique spaces that are designed to delight with whimsical solutions and happy hues, bringing joy to every space – and making friends with every client along the way.
As the principal designer, founder and business owner of Emily June Designs, Spanos is focused on adding the unexpected (usually in the form of a bold tint or bright pattern) and making sure she is creating a space that encapsulates her client's personality and interests. She wants to know everything about her clients – where they shop, what their hobbies are, if they like to travel — and then uses that information to design spaces that are a unique reflection of the people who inhabit them. But she and her team don't stop there; their goal is to create rooms bubbling with personality, warm like a joyful embrace, and alive with vibrancy, wonder and light.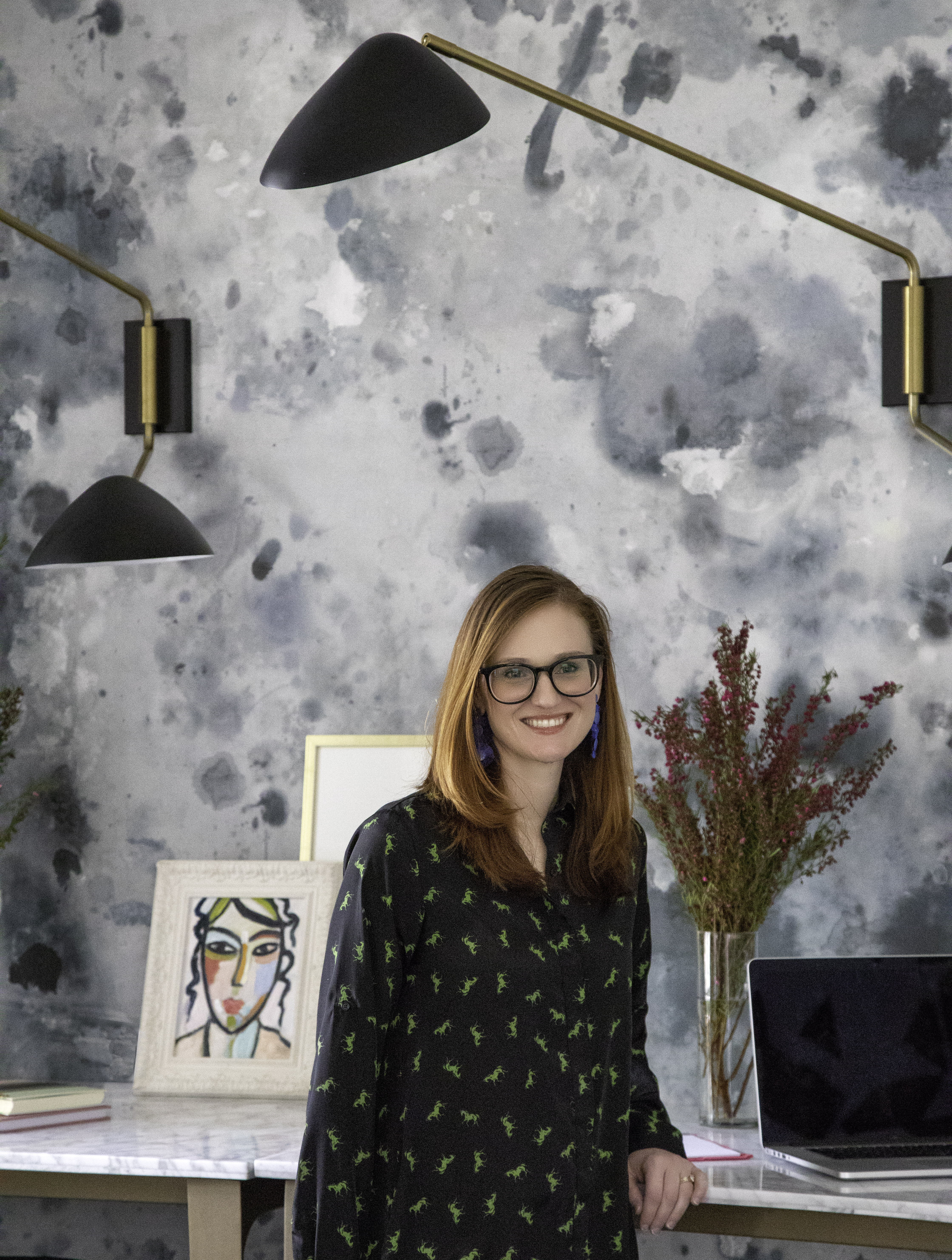 Designer Emily June Spano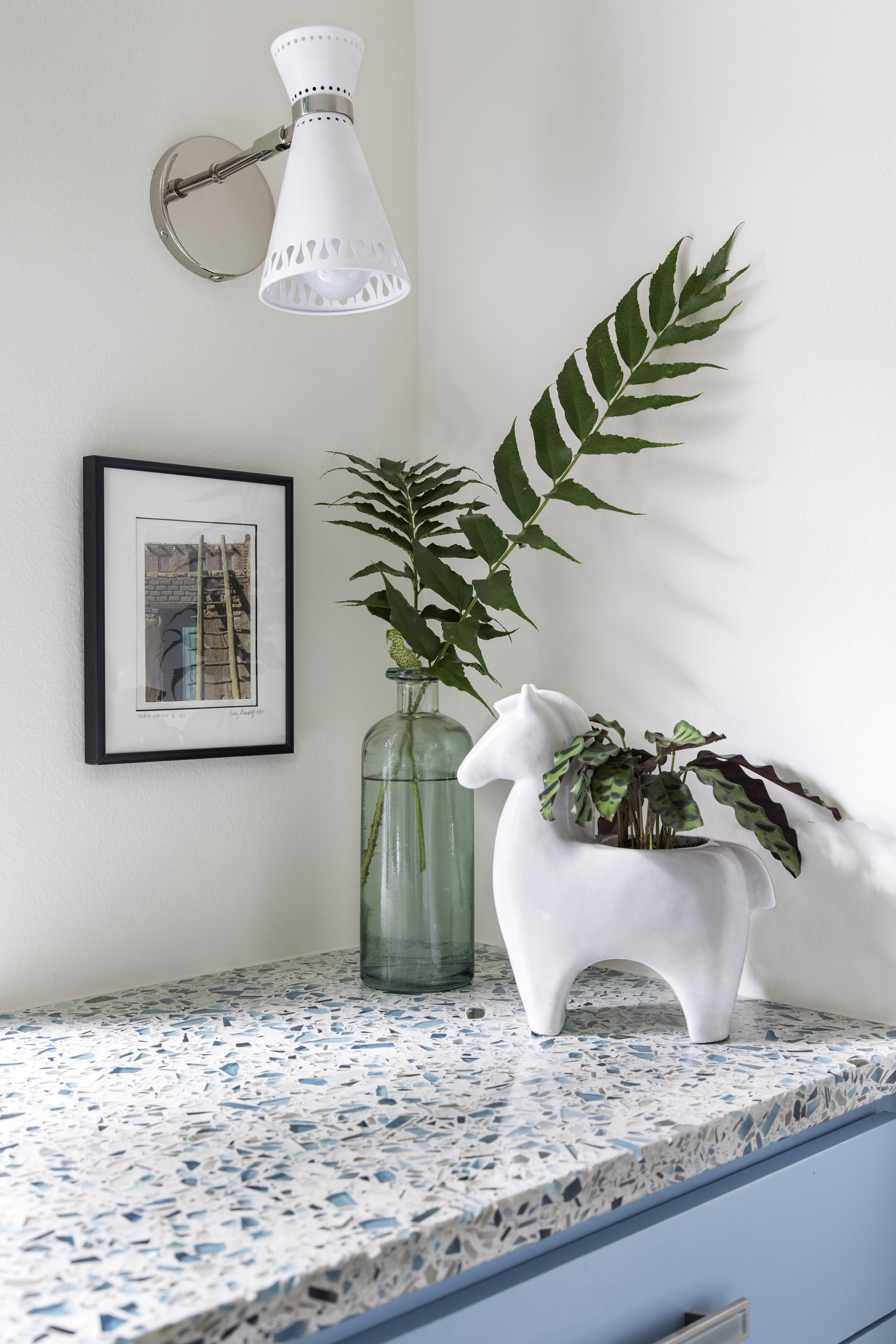 Spanos chose modern lines in the bathroom anchoring the space with a baby blue vanity topped with a Floating Blue recycled glass countertop. "I knew Vetrazzo was the perfect material for my client," she said.
"If a potential client is coming to me, I know there is a color lover in there somewhere, because they have seen my work," Spanos said. "However, I do push the envelope with all my clients and get them to a place where they might not have envisioned their space initially."
This focus on providing a fresh perspective is evident in a recent remodel she did for a client – renovating two bedrooms and bathrooms in a modern home. Her goal was to refresh and reinvigorate the spaces, without losing the home's character, and at the same time bring in color to transform the rooms into bright, friendly and modern spaces.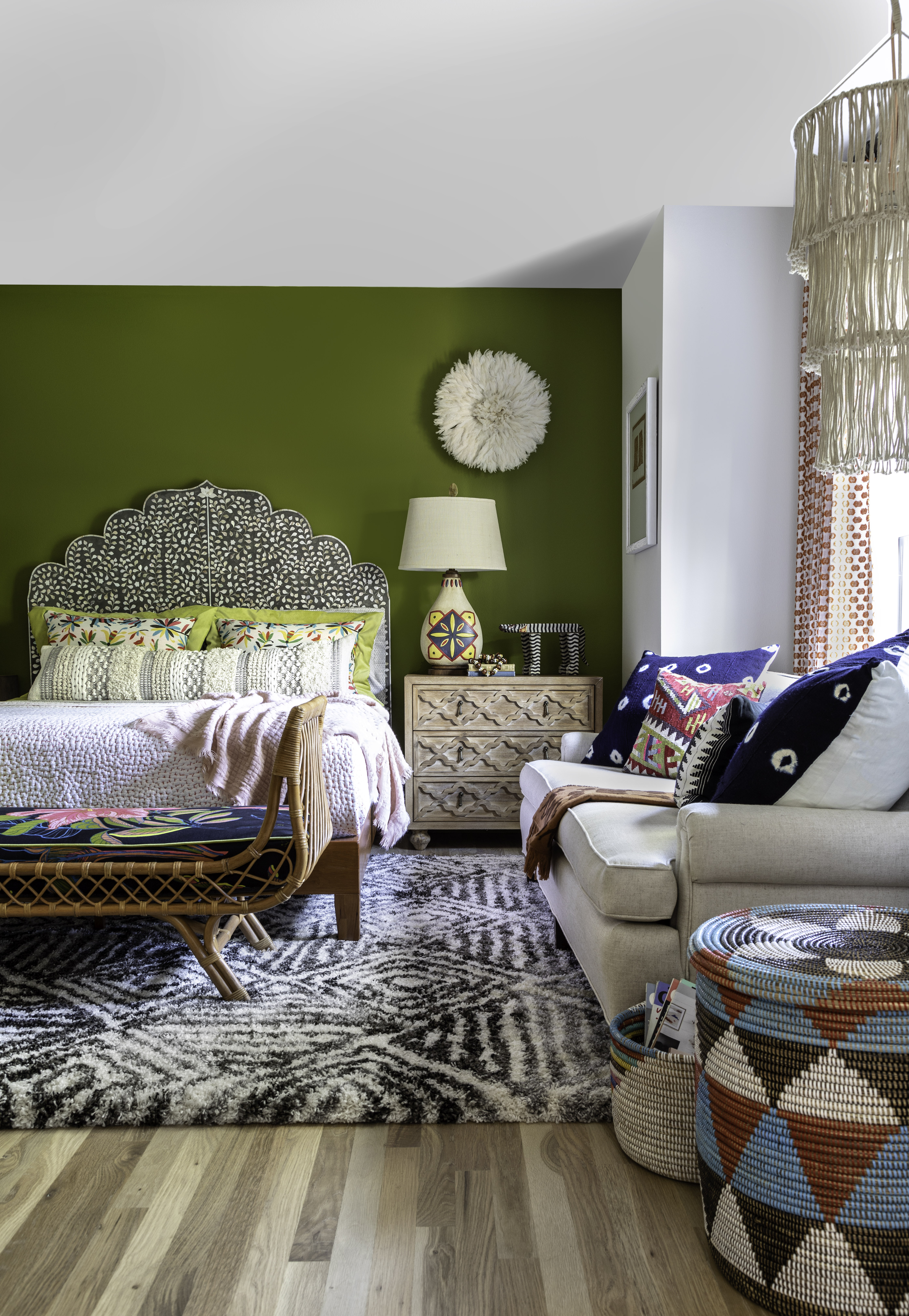 Each room has a collected feel with a mix of treasured travel finds and Spanos' own selections to create a modern boho retreat.
"The architecture of the home definitely had some mid-century mod vibes, so the feeling carried throughout the house," Spanos said. "I leaned more bohemian and eclectic in design elements when designing her other spaces to counterbalance the modern lines of the home."
Her design strategy is to choose materials based on the style and color palette she's envisioning for the space, the durability of the materials, the budget of the client, and the overall end result she wants to achieve. She selects one or two bold materials or fixtures that work as a showstopper in each room and let the rest of her selections quietly complement them. And for that wow factor in both bathrooms, Spanos chose Vetrazzo Floating Blue countertops, selected through Pomogranit Stones in Houston.
"I knew Vetrazzo was the perfect material for my client," Spanos said. "She is very nature centered, but also has a modern aesthetic. It's sustainable, uses recycled materials, and has a clean modern feel. I knew we couldn't have any other countertop and as soon as I showed it to her, she agreed."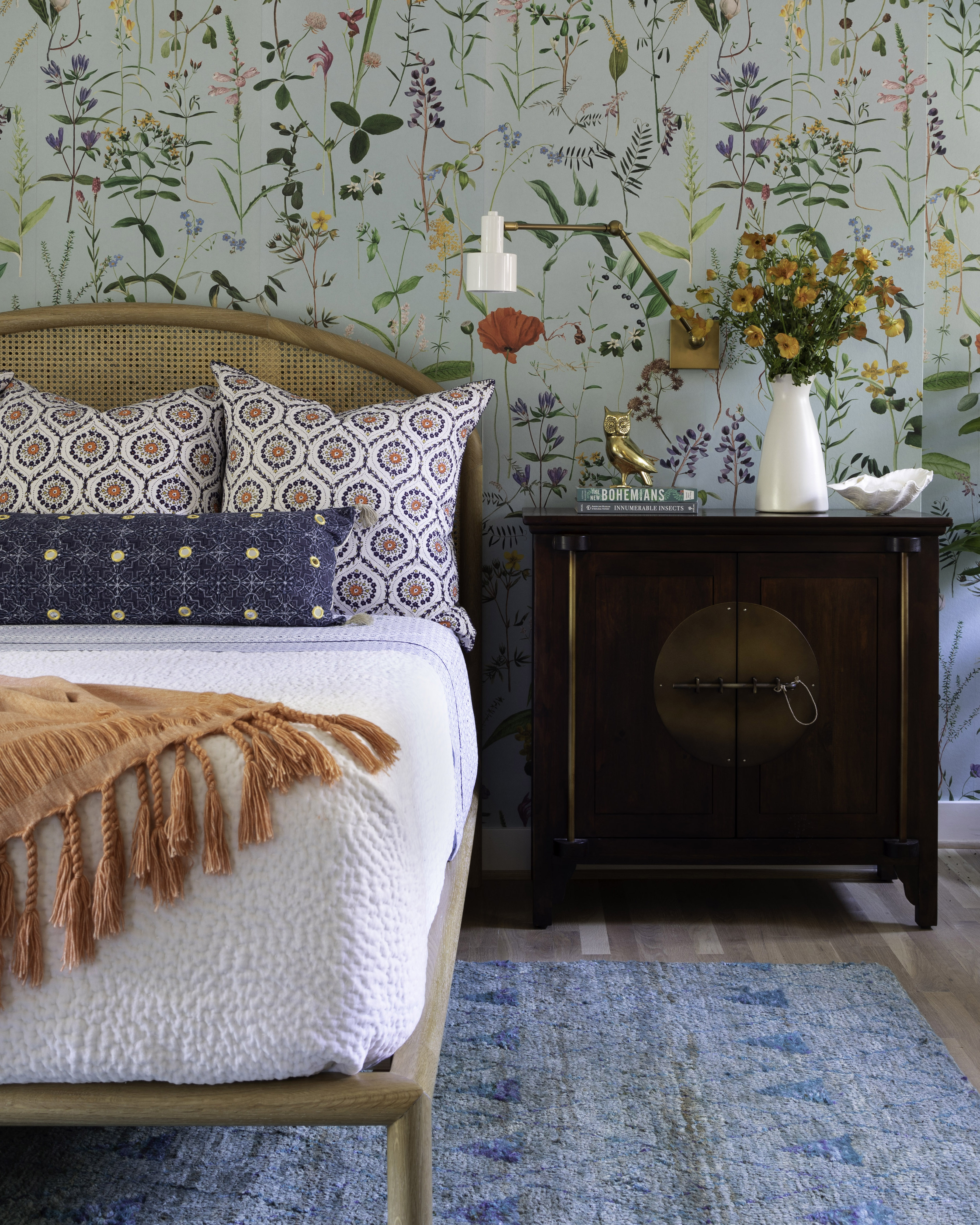 Generous natural light makes a happy match to this nature inspired modern floral paper.
Her client also tasked her with finding a way to bring the outdoors into both refreshed bathrooms. Architect Phil Schawe designed them with this in mind by placing windows in front of each vanity, which lets in plenty of natural light, brightening both bathrooms and allowing the sun to create a play of light across the vanity tops. Spanos wanted to utilize materials that would capitalize on this idea of a bathroom brimming with nature and light, while adding pops of color and shimmer.
"Vetrazzo countertops were perfect— the light just danced and reflected with the recycled glass in the material," Spanos said.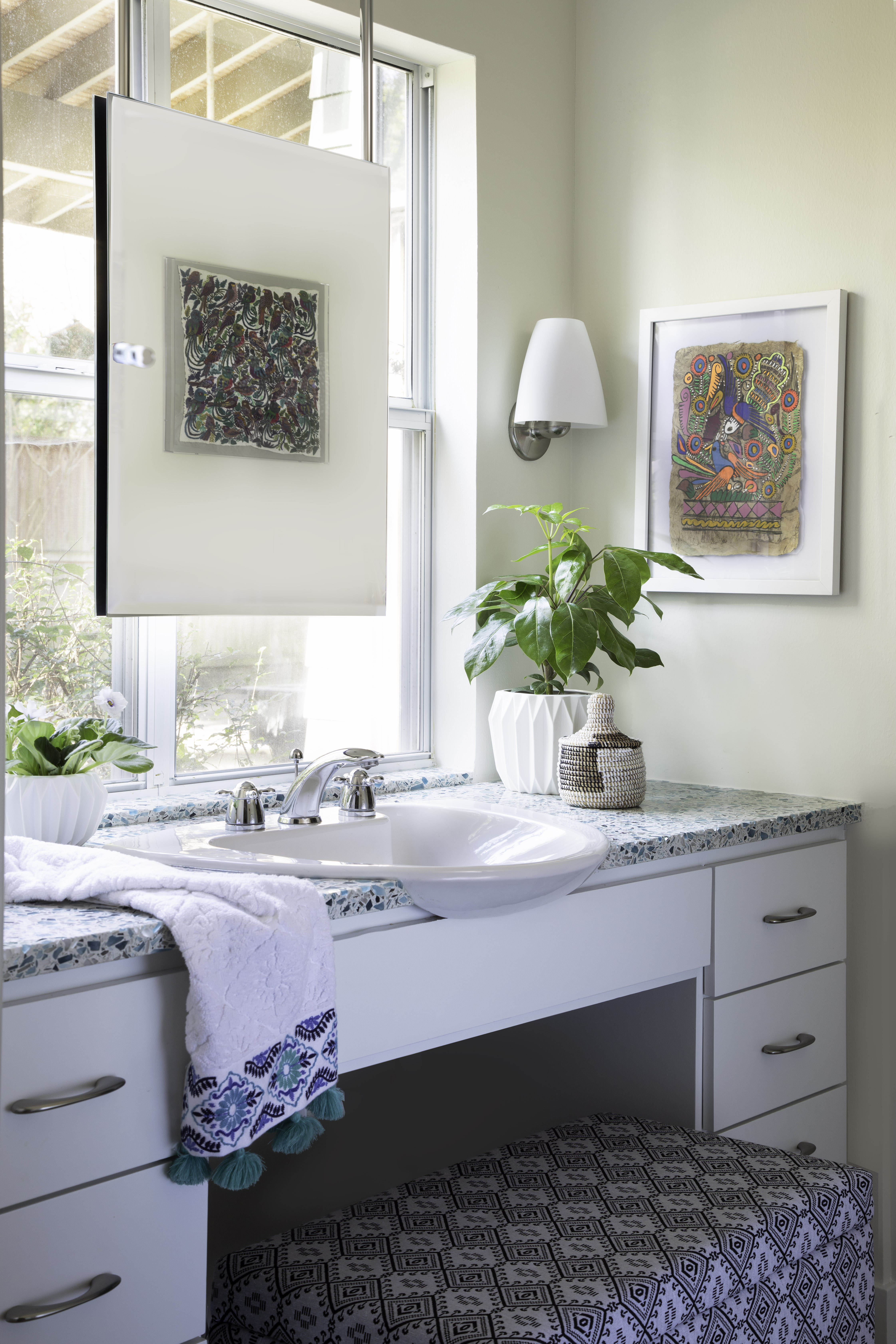 Spanos said she selected Vetrazzo countertops in part because of the client's personality. "She is very nature centered, but also has a modern aesthetic," she said. "It's sustainable, uses recycled materials, and has a clean modern feel."
For the first bedroom and en suite bathroom, Spanos layered on chic boho vibes by incorporating many one-of-a-kind treasures that her client and her husband had collected on their travels. By showcasing these items, she gave the rooms an international and eclectic feel that literally captured moments and memories from her clients' life together. It takes a lot of care to find the right mix of accessories, especially in a bath, where a smaller space means every decision must be made with extra precision.
"Bathrooms can be tricky, because you have a lot of different fixtures and materials to pick," Spanos said. "The selections can skew very boring or go way too busy very quickly."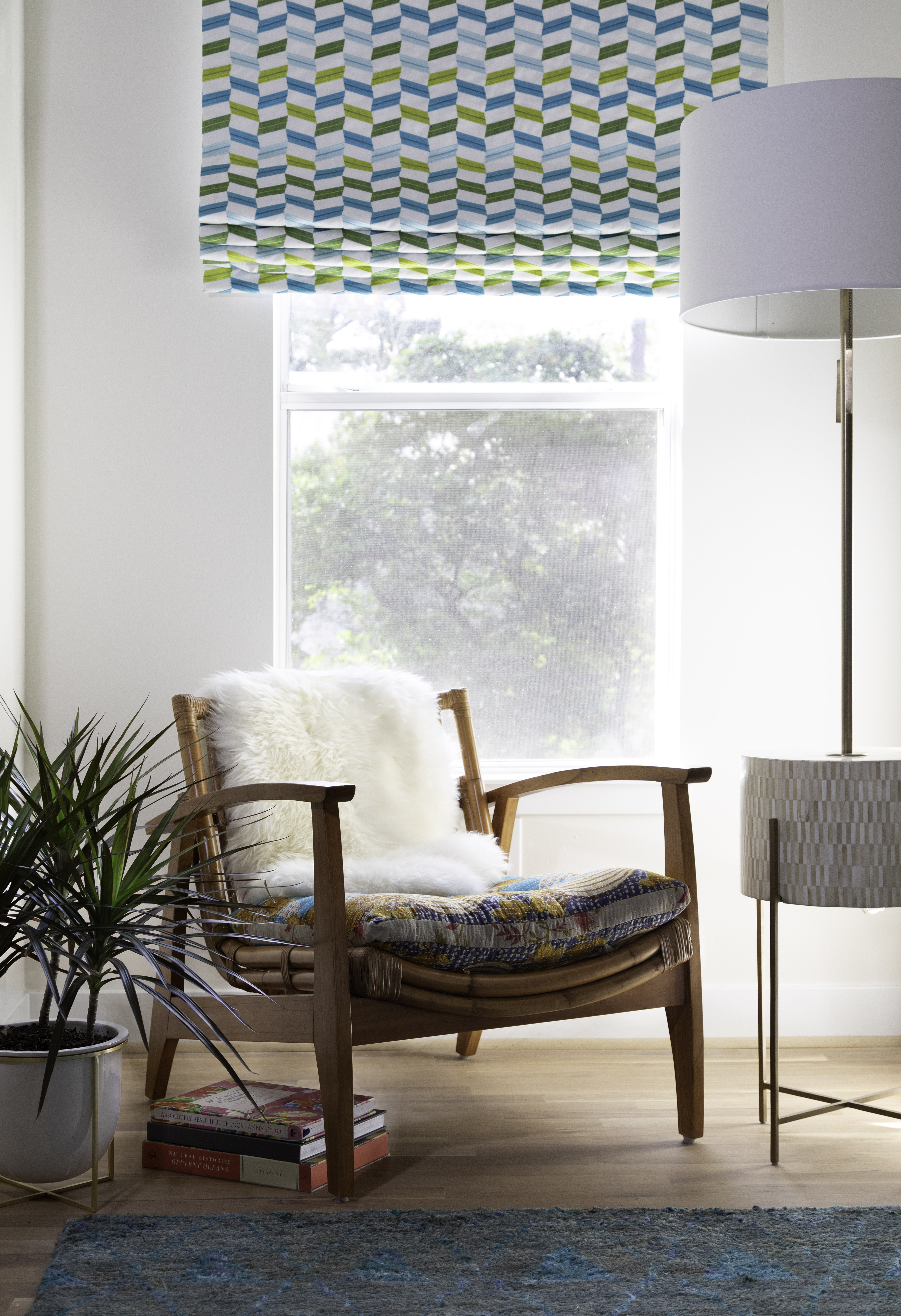 The master bedroom and bath lean more mid-century, still featuring bright colors and boho textiles.
In this attached boho bath, she used whites and neutrals in order to let the bright art and countertop really shine. And while she used Vetrazzo Floating Blue countertops and Benjamin Moore White Down paint on the walls in both bathrooms, her design choices made for very different results.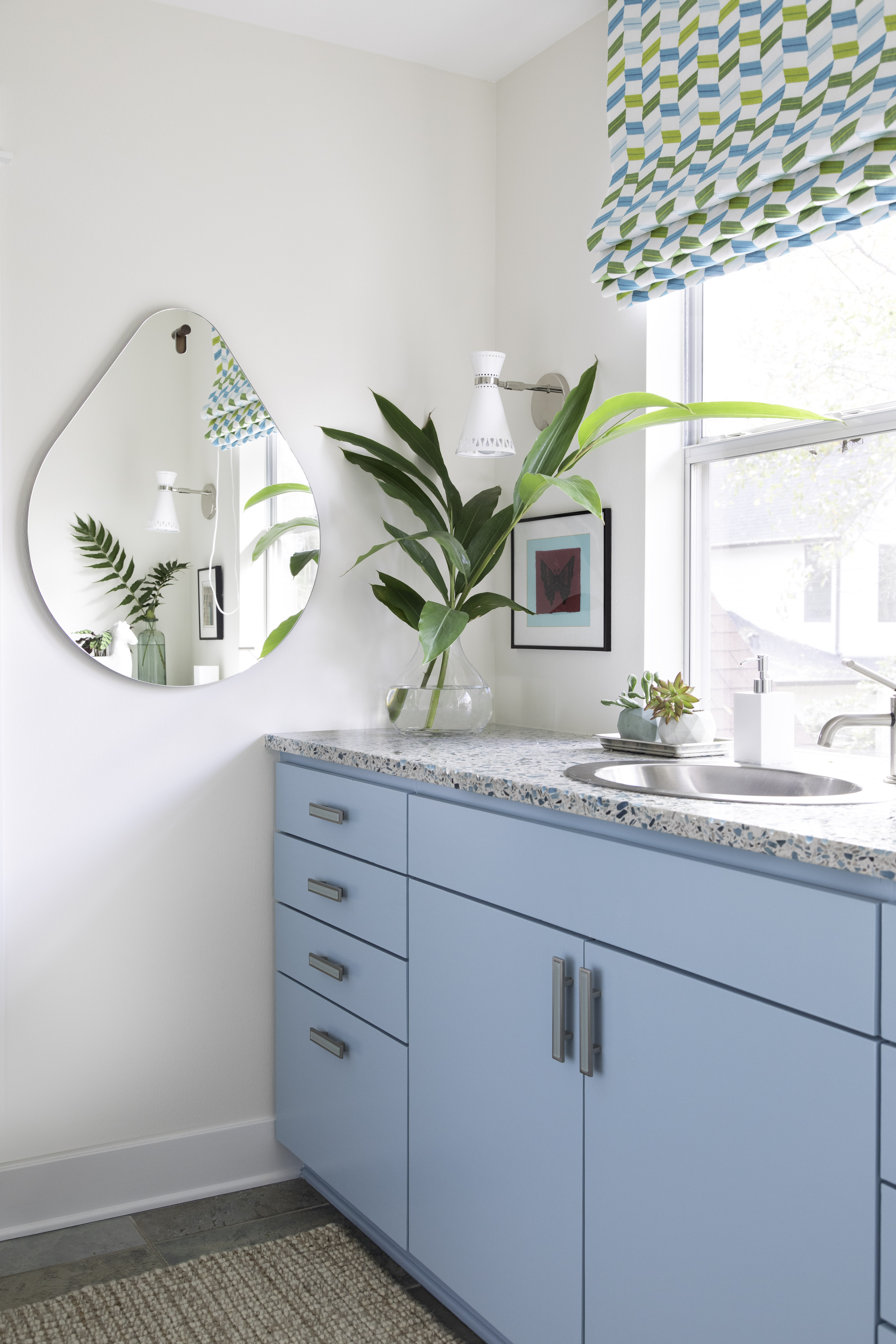 In this light filled bathroom, Spanos said, "The Vetrazzo countertops were perfect— the light just danced and reflected with the recycled glass in the material."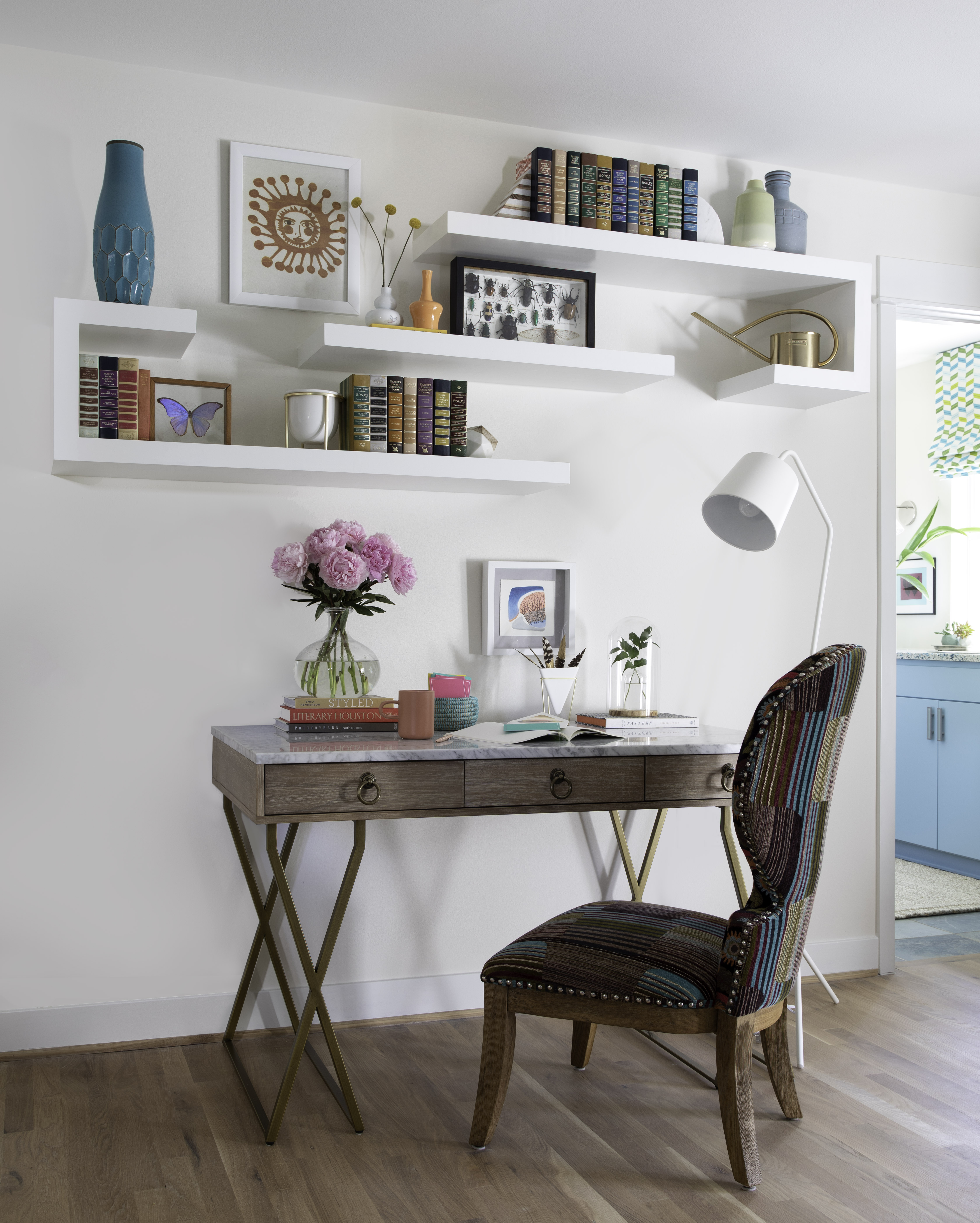 Spanos connected the bedroom and bath spaces with color, pulling in the blue of the countertop into upholstery.
In the second bath she wanted to tell more of a color story, bringing in shades of sea blue. To achieve this, Spanos placed the recycled glass countertop on a cabinet painted Benjamin Moore Passion Blue. The flooring in this bathroom is a natural slate that has grays, blues and greens, so the blue cabinetry complemented the color story as well. This second bath aligns more closely with the home's mid-mod design, with period-right sconces and a luxurious embroidered roman shade in a mid-century pattern that softens the window while adding a kick of greens and blues.
"My goal for these two bathrooms was to give them a face lift and create a more modern feeling," Spanos said. "By incorporating modern materials like Vetrazzo we were able to give the bathrooms a modern eclectic vibe that still felt warm."
Dive into a sea of color. Download the Endless Summer Lookbook.