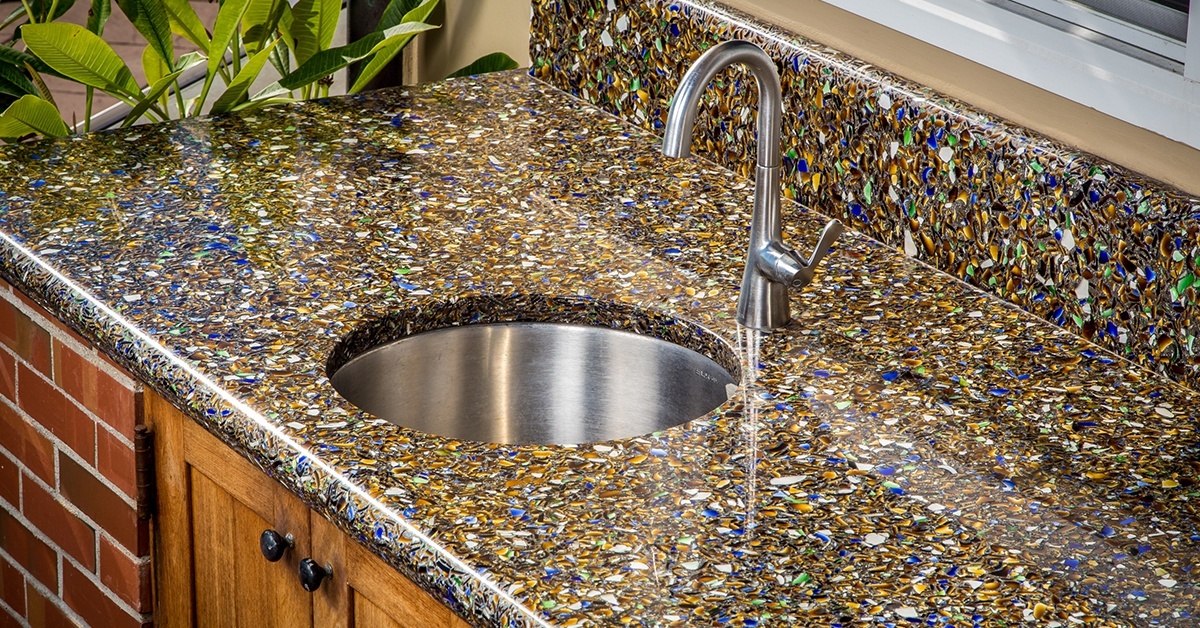 Mike and Gina Haase have lived in Ventura, CA many years raising a healthy family and operating a successful local business. They're ocean lovers and avid anglers who were looking for a durable, eco-friendly material for their outdoor kitchen. From their backyard the couple enjoys sweeping vistas of the Pacific Ocean and the generous California sunshine.
David Askar, general manager of Pacific Stoneworks, executed the exquisite fabrication. This was Pacific Stoneworks' first outdoor installation of Vetrazzo. "The family uses their barbeque area 4-5 times a week and love to entertain family and friends, cook and relax in the idyllic setting. Sunsets there are fantastic with the islands."
The home is located at a great surf spot off the beaten path and features views of the unique Channel Islands 20 miles out. The overall feel of the house is casual, but warm and inviting with coastal touches.
MATCH UP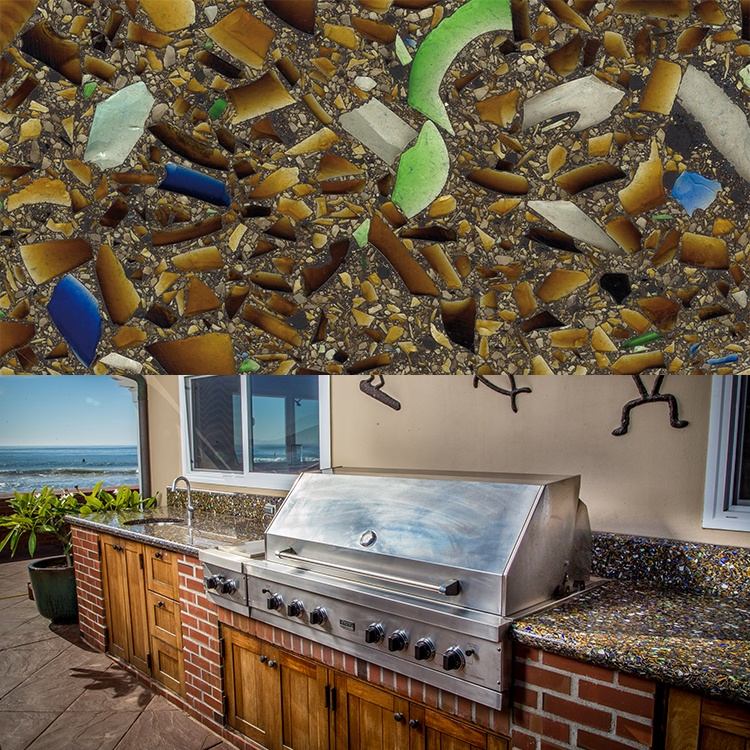 Color, look, sustainability and durability were all factors the couple considered when choosing their outdoor kitchen countertop material.
"Gina had two main criteria when the design process began," Askar said, "Blues to match the ocean and durability in the elements of sun, salt and surf. As options were discussed, the sustainability and uniqueness became solidifying points."
COLOR
GLASS SOURCE
Beer and wine bottles, Skyy® Vodka and 1664 beer bottles
Askar said Pacific Stoneworks has been an authorized Vetrazzo fabricator since 2011 and that they enjoy projects with creative flare/challenges to solve. "Like all materials," Askar said. "Vetrazzo has a personality that needs to be considered. For example, the edging needs a patina applied to get the color match and filling areas from the edging process are both areas where extra attention is needed. All fabrication happens with water cooled diamond pads to get the best level of quality in the finish."
The process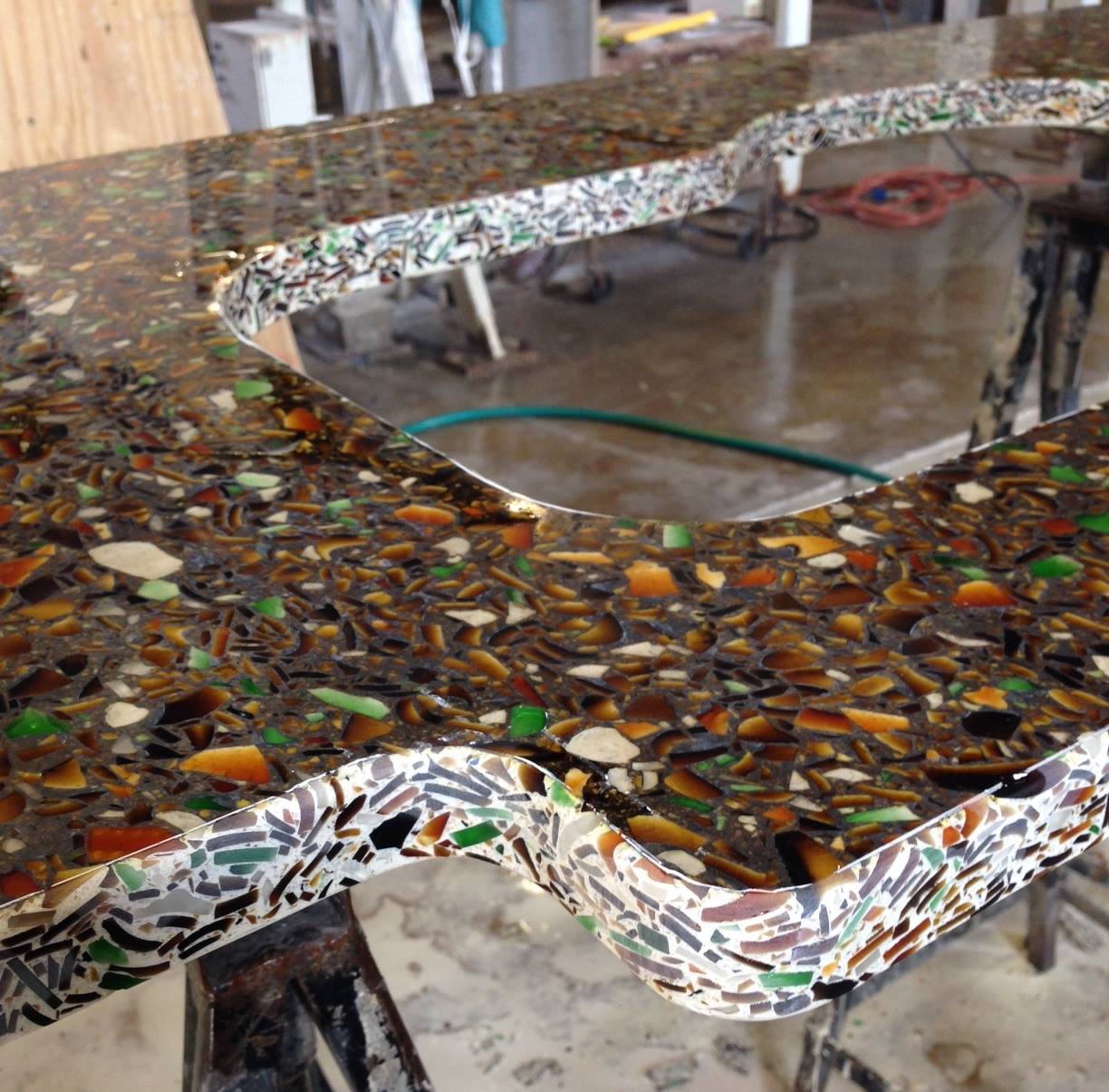 An example of a recyled glass countertop cut out before the patina process is applied to the edges.
One of the questions I'm most often asked when it comes to fabricating Vetrazzo is "how do I darken the edge on the patina colors?" And for good reason - it takes a few extra steps to achieve that finish and taking a stab at it on your own without the right information can run you into some unnecessary headache. Once the profile is routed on the counters, the edges need to be taken up to their final polish, then the stain can be applied. Once certified, our fabricators are provided with copies of our Trade Handbook which outlines the process in detail, including the proper stain they need to get the job done right. After a few test runs their patina edges will come out looking as beautiful as Askar's.
To ensure the beauty and durability of the recycled glass countertops, Vetrazzo has created a fabricator certification process for craftsmen like Askar. Fabricators can learn more about training, continuing education and the Vetrazzo certification process here.
Outdoor photos by: Mike Rubalcava