Could it be time to reimagine your interiors? We say it's all about the mix. From what's trending to the official colors of the year, we've chosen eight to pair with Vetrazzo surfaces to help bring sustainable design into a home. In this mashup, we've paired our original recycled glass surfaces with eight trending colors to inspire your next renovation. Here are some mixes we think you should try.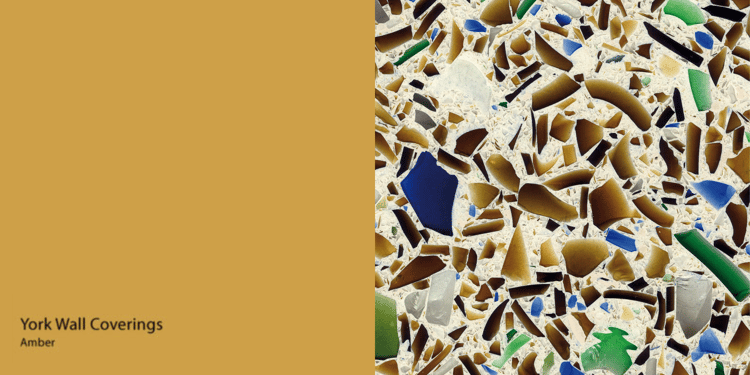 Amber and Charisma Blue
Inspired by the natural beauty of amber, York Wallcoverings' 2023 Color of the Year is a perfect pairing for Vetrazzo's Charisma Blue. Described as a burst of warmth and energy, Amber is a soothing yellow that is versatile enough to be both daring and grounding. Crafted from premium beer and wine bottles, the electrifying cobalt on the surface of Charisma Blue is enhanced by warm earth tones. Together, they are perfect for those looking to add warmth to their decor without sacrificing style or modernity. Embodying life in the moment, they offer a sense of comfort and positive energy.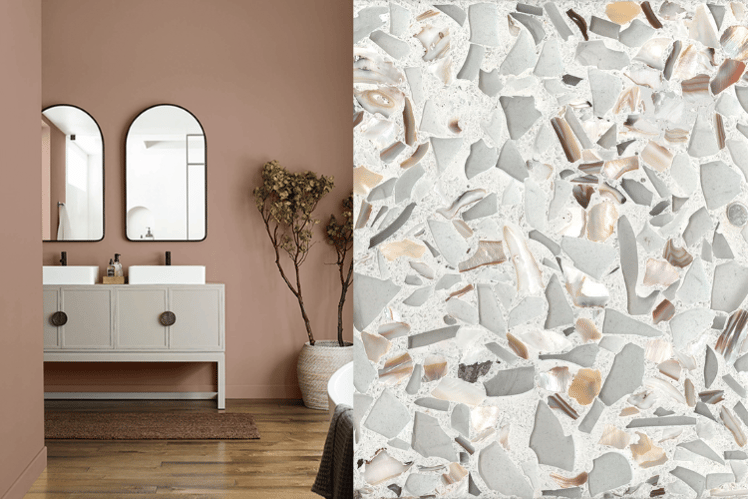 Sherwin Williams Redend Point and Fair Pearl
With Redend Point as their 2023 Color of the Year, Sherwin-Wiliams wants to inspire people to see neutrals with a fresh perspective. A blush-beige hue with subtle pink undertones, Redend Point represents warmth and empathy. For an equally inviting and energizing ambiance, we see it paired with Fair Pearl. It's a recycled glass surface with a unique blend of neutral and blush shades punctuated by mother-of-pearl shells. Its pearly iridescence makes it a natural in the kitchen or bath. Pair them in a space for a sophisticated yet modern appeal.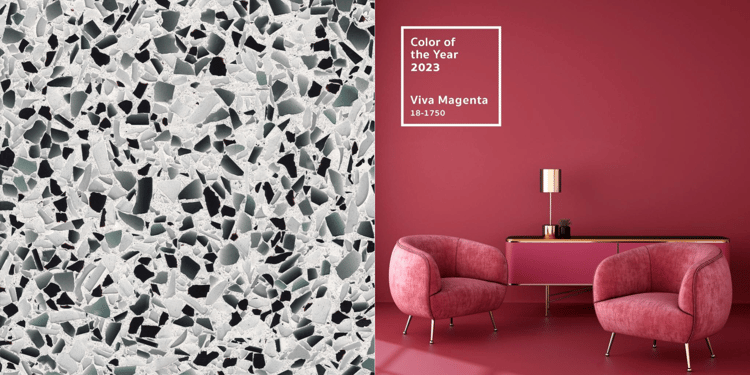 Pantone Viva Magenta and Classic Black
Both powerful and empowering is Pantone's Color of the Year. A carmine red, Viva Magenta is a vibrant shade for any room. For a neutral space, it can be just the pop of color you're looking for. For a more audacious look, it's a bold hue for a lacquered wall or iconic piece of furniture. We see it best paired with texture. That's why we've chosen Vetrazzo's Classic Black. Crafted from post-industrial recycled architectural glass and inspired by the glamour of Old Hollywood, it's the ideal backdrop for any modern interior design scheme. With Viva Magenta, the sharp contrast of black and white can add depth to a space for a sleek contemporary look both hosts and guests will adore.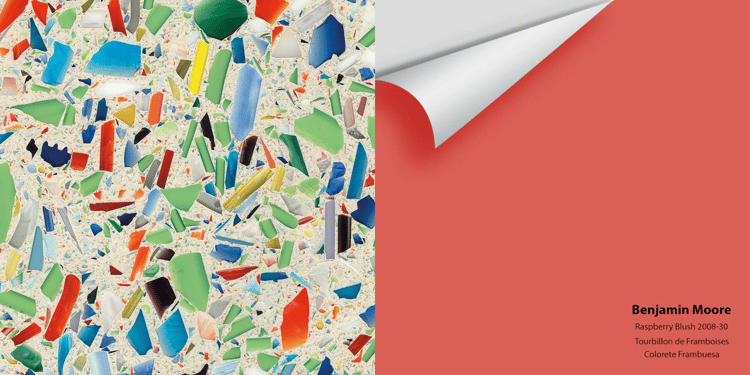 Benjamin Moore Rasberry Blush and Millefiori
For an eye-catching yet cozy cohesive space, consider pairing Benjamin Moore's Raspberry Blush and Vetrazzo's Millefiori. Each a star on its own, together, this power couple could be just the eclectic look your space deserves. Benjamin Moore's Raspberry Blush is a vivacious shade of coral tinged with pink and is oh-so-charismatic. Italian for "a thousand flowers," Millefiori is a vibrant mix of stained glass in 12 blooming colors. Together they are equal partners in a space. With walls draped in Raspberry Blush, Millefiori becomes an accent as a backsplash or countertop. The fiery red-orange of Raspberry Blush will complement the colorful glass in the Millefiori, bringing out the saturated reds and oranges, to energize any space.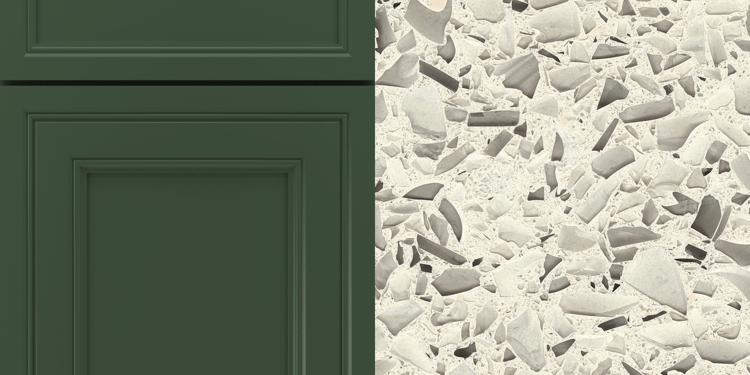 Sherwin-Williams Foxhall Green and Martini Flint
Jewel tones are expected to dominate in 2023, and Sherwin-Williams's Foxhall Green tops the list. Full of liveliness, it also allows neutrals to shine. Paired with Vetrazzo's Martini Flint surfaces, they create a harmonious and serene atmosphere in any room. Reflecting the spirit of the classic martini, Martini Flint is a surface that never goes out of style and is truly timeless. The shade of green in the Foxhall Green paint complements the grey and clear glass pieces in the Martini Flint for a sophisticated look. This pairing is particularly well-suited for traditional or transitional-style kitchens and bathrooms but is versatile enough to complement a variety of settings. Overall, Foxhall Green and Martini Flint surfaces are a classic and timeless pairing that will add warmth and depth to any space.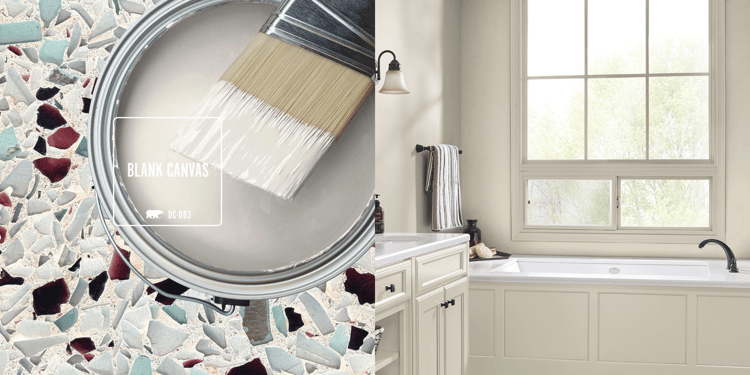 Behr Blank Canvas and Orchid Reflection
Behr has named Blank Canvas its Color of the Year. A warm white, this versatile neutral works with practically any design style. It's ideal for creating a relaxing and tranquil environment in bedrooms, living rooms, and other spaces where you find rest and solace. It's also inspiring and attainable, so we partnered it with Vetrazzo's Orchid Reflection in a space. The dark plum hues found alongside the flecks of mirrored glass in the slabs are a nod to the stunning wildflower fields of rural California. The off-white color between the glass pieces in Orchid Reflection blends seamlessly with the tone of the Blank Canvas. And with bold purple as the focal point, it's the perfect mix of feminine style with a masculine edge. Together they make a harmonious pair.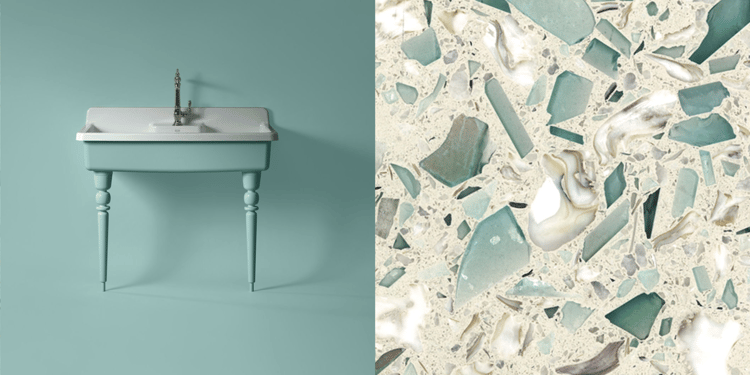 Kohler Spring Green and Emerald Coast
Going for a retro-inspired look? Look no further. Kohler's Spring Green is a lively, refreshing shade inspired by the blue-green waters of a northern spring. Originally debuted in 1927, Spring Green is a heritage color being revived this year for the brand's 150th anniversary. It pairs beautifully with the beach house look of Vetrazzo's Emerald Coast. This colorway features a distinctive combination of South Carolina oyster shells and architectural glass, alongside chips of locally quarried Georgia marble for a rich combination of textures and translucence. A dynamic color pairing, these two can bring a fresh and energizing feel to any space.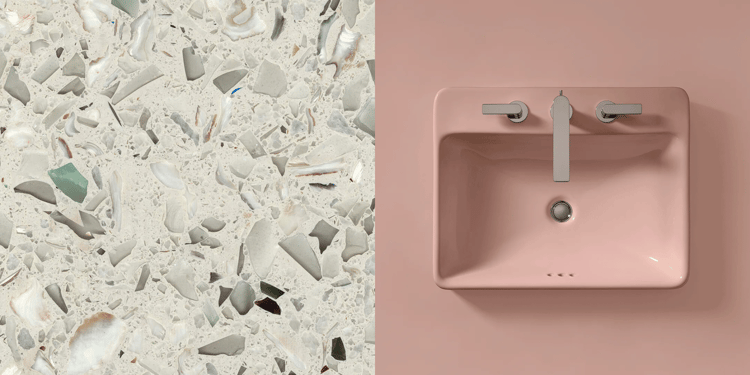 Kohler Peach Blow and Umbo White
Also back from the archives is Kohler's Peach Blow. First unveiled in 1934, it's as stunning today as it was then. An original Kohler pastel, its warm, dusky coral undertones are a bold complement to Vetrazzo's Umbo White. And in true retro fashion, the look of classic terrazzo symbolizes the look and feel of this Vetrazzo slab - pure white Georgia marble meets oyster shells and colorful recycled glass in this masterpiece. Peach Blow walls with Umbo White recycled glass countertops can create a soft and inviting atmosphere in a kitchen or bathroom. Together these two create a playful and modern look that is both bold and subtle at the same time.
Feeling inspired to make a change in your home decor? Order a sample today.