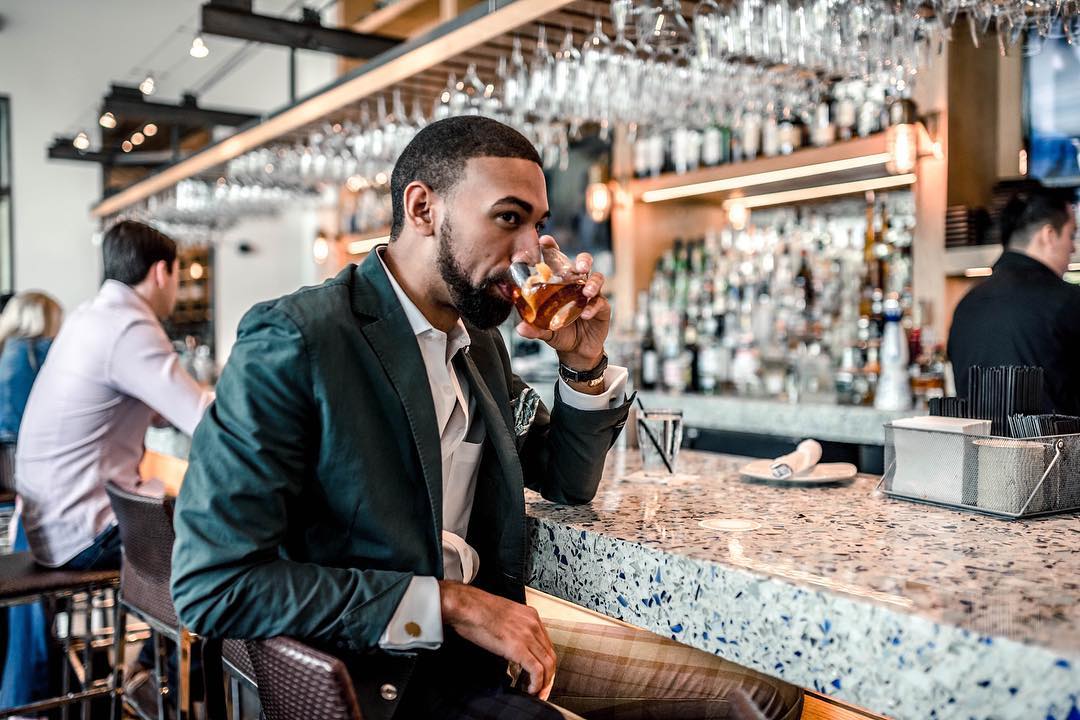 If your next project is a bar or restaurant you're already thinking how the overall design will reflect the food, drinks and vibe of the venue and customers, but if you want to make one statement piece, let it be the most photographed item in every restaurant space - the bar top itself.
At a time where we photograph our food and drinks before we even taste them, the surfaces we spec are as important as the top shelf liquor a bar serves or the glasses it comes in. The countertops are the background for a steady stream of digital ads served up free with a hashtag garnish. Social media has changed how we behave, so design should reflect our new snap and share culture.
Bar tops made from recycled glass catch light in otherwise dark spaces, provide movement and interest, and when the hue is just right, reflect the brand's signature colors. Not to mention it makes a great backdrop for Instagramming your favorite rum punch on trivia night.
We've collected a rainbow wrap-up of recycled bar tops from around the country. Read on to discover the stylish surface for your next signature cocktail experience. Cheers!
Chivalry Blue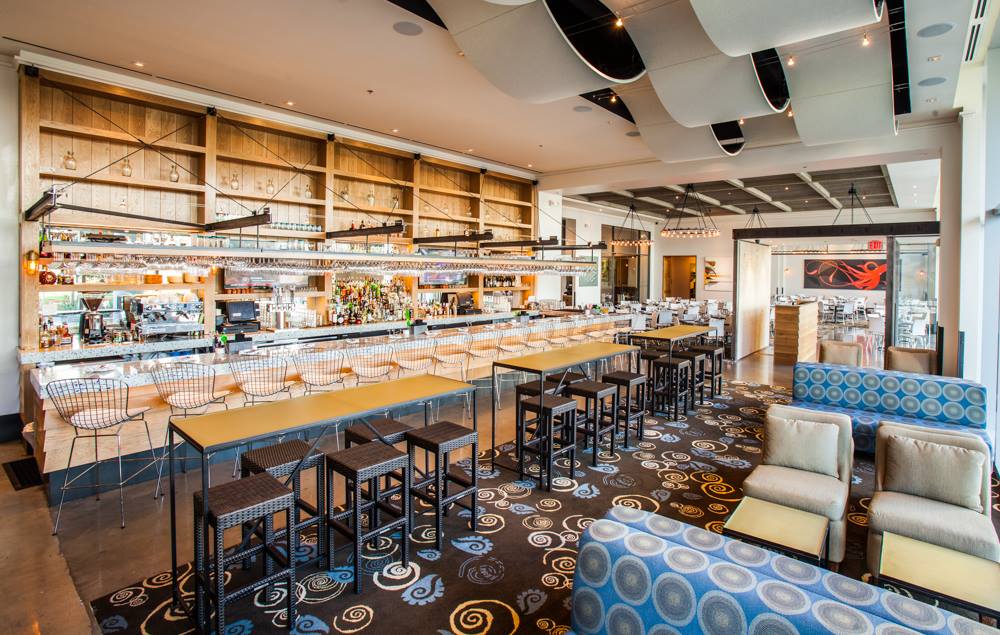 Image by Caracol. Top image of Fashion blogger Sir Josh Aaron by Fredis B.
At Caracol in Houston the bar is as long as it is beautiful. The recycled glass bar can seat about 16 people. The surface captures and reflects the generous natural light from the restaurant's floor to ceiling windows. Fabricated by StoneStore and supplied through Latera Architectural Surfaces.
Photo courtesy of Caracol.
The durable cement based surface can withstand the heavy use of a service bar as well as impress the style savvy bar crowd on the other side.
COFFEE HOUSE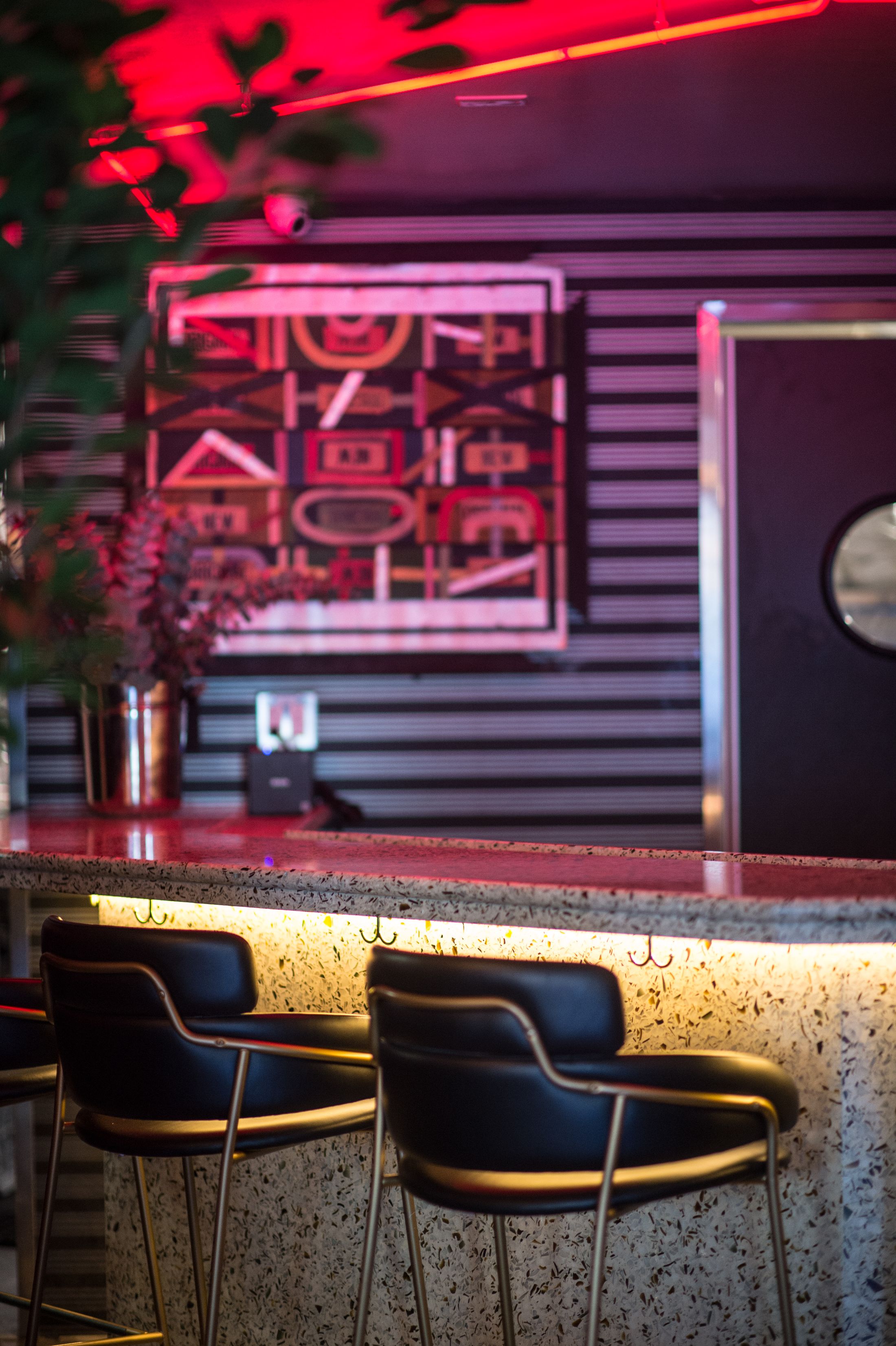 The Southern-inspired West Village restaurant 33 Greenwich puts as much emphasis on art and design as it does the menu. A custom poured bar top in Vetrazzo's Coffee House mix balances a serene and moody palette with the dynamic movement of the recycled glass surface.
Like every piece of art in the 86-seat restaurant, the countertops were intended to standout with undermount lighting and visitor friendly bag hooks. Kelly Framel and partner Zachary Lynd of Kizmet collected the works, pulling in art by drag queen Steve Willis, gallerist Joel Mesler, collage artist Miguel Rangel, and muralist Kelly Beeman. Even the bathroom is a gallery displaying commissioned drawings.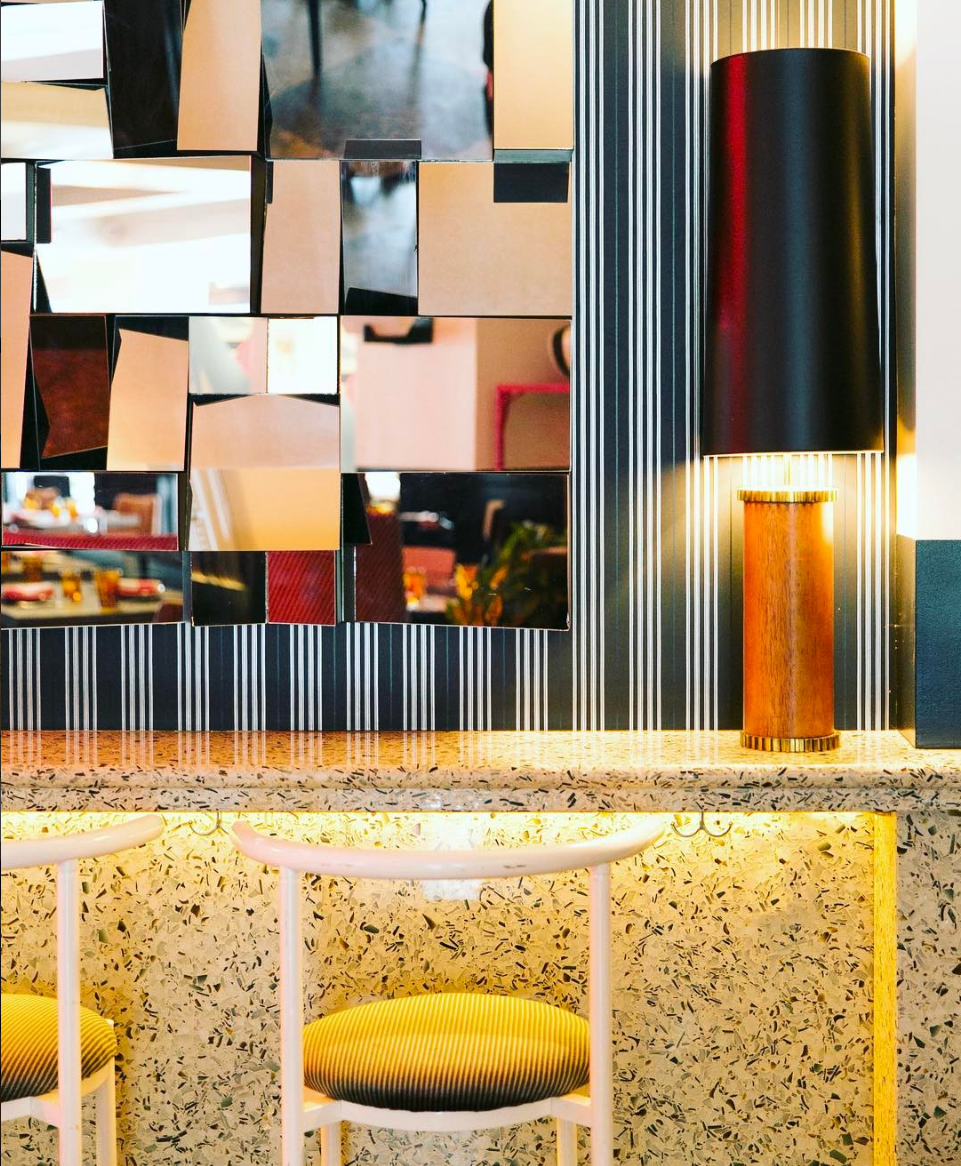 Coffee House is made from a mix of stained glass, beer and wine bottles and clear glass jars. A bold neutral that can hold its own against stripes, mirrors and mixed media art in a hospitality setting, or as a showpiece in a more serene residential kitchen, where the vibe is more quiet-morning-latte than high-octane-nightlife.
Cobalt Sky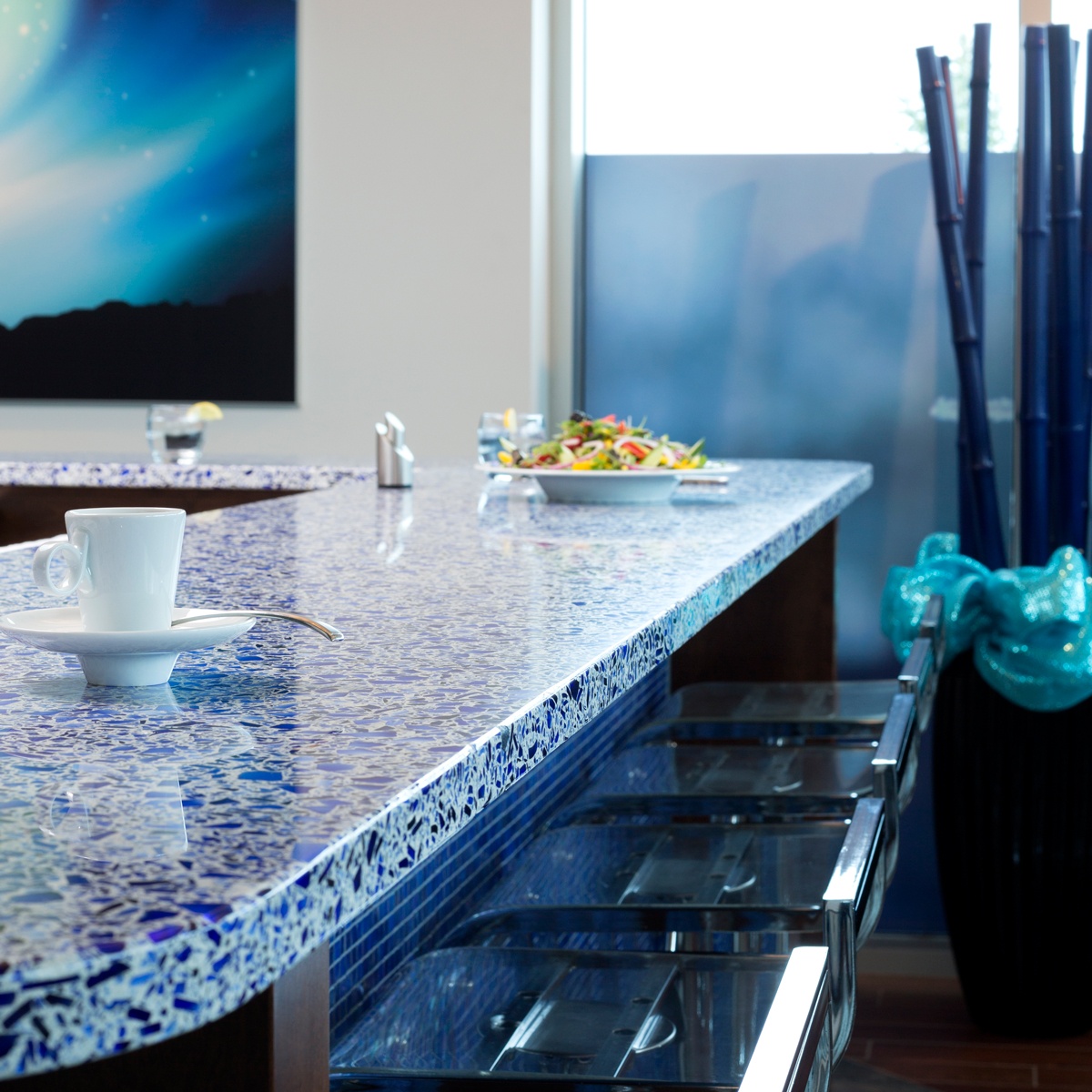 Mini blue glazed tiles complement the cobalt glass of this rectangular bar with rounded corners. Clear acrylic stools keep the focus on the bar top's unique surface.
Cobalt Sky Patina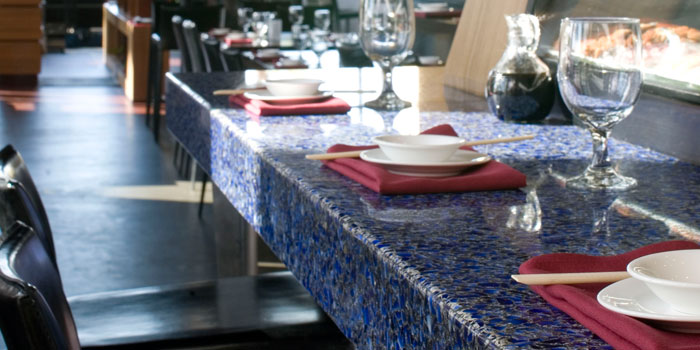 This sushi bar conveys a more elegant look with a patina added to the cement background of the Cobalt Sky. Patina finishes give the glass particles a glowing effect as the light passes through the shard and bounces of the white base back to the surface.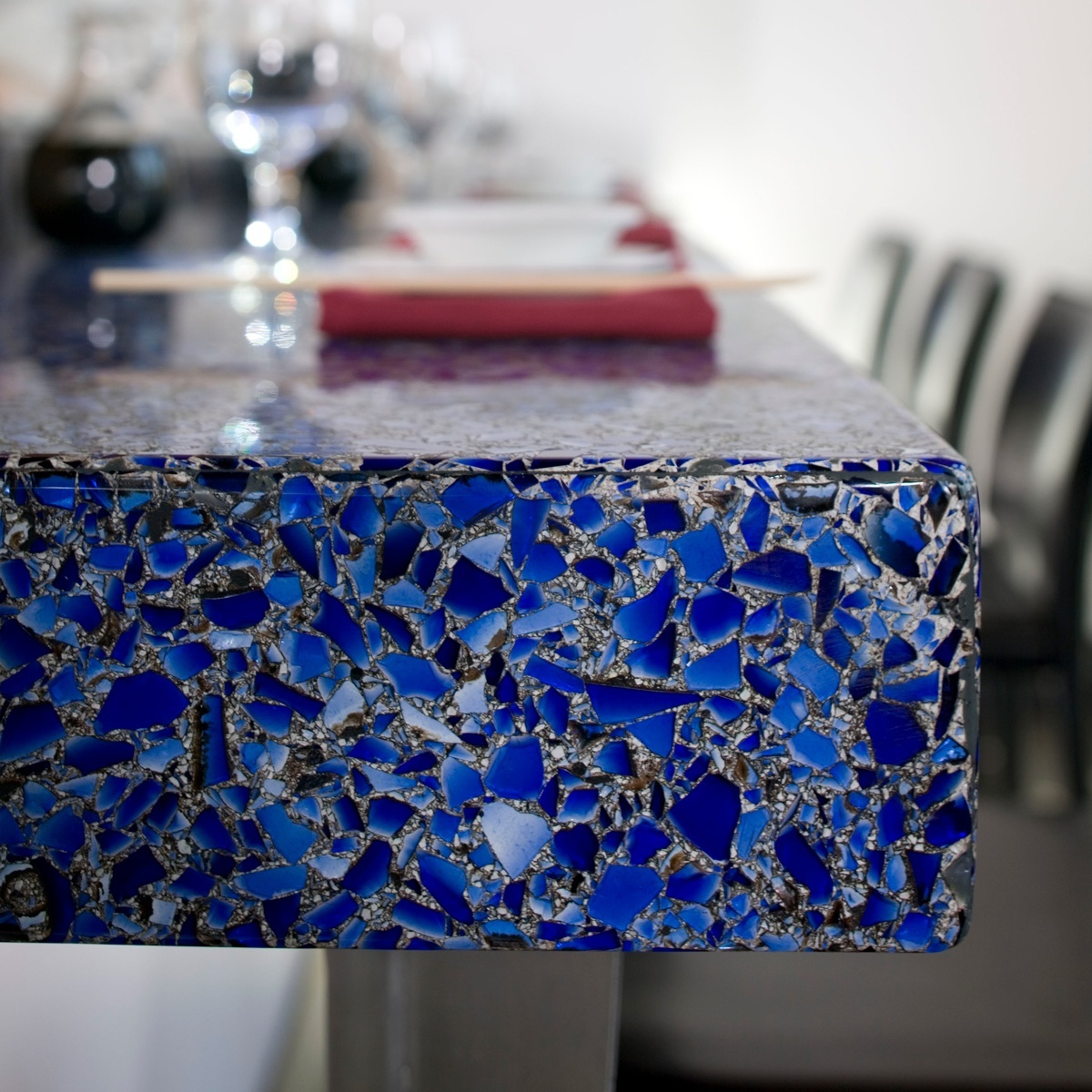 And what better way to showcase that inner luminosity in the slab than with a substantial mitered edge detail like this? An up close detail shot like this shows how well our recycled glass slabs hold up during those tricky 45 degree cuts. Color match the miter joints with the darker patina finish for a truly solid effect.
This bar below uses the same material but with rustic modern accents for a completely different look.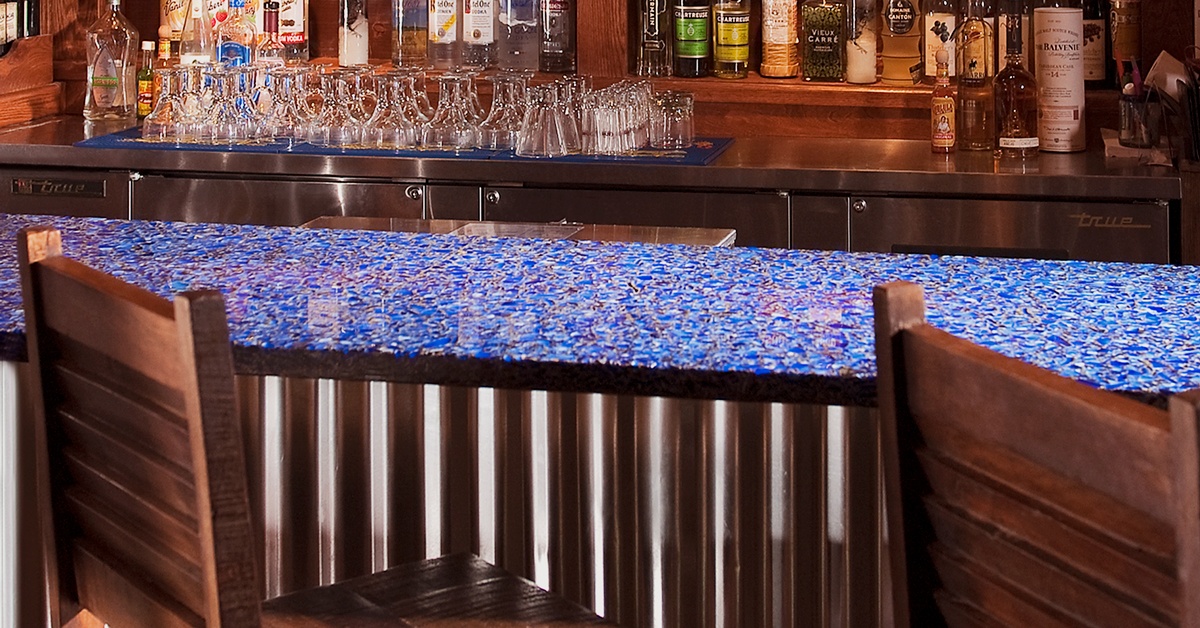 Each slab of Cobalt Sky is made with a unique mix of Skyy® Vodka and 1,664 beer bottles, condiment jars, demolition architectural glass and aquariums. We love the blue paired here with warm, dark wood. Supplied by Ciot.
Alehouse Amber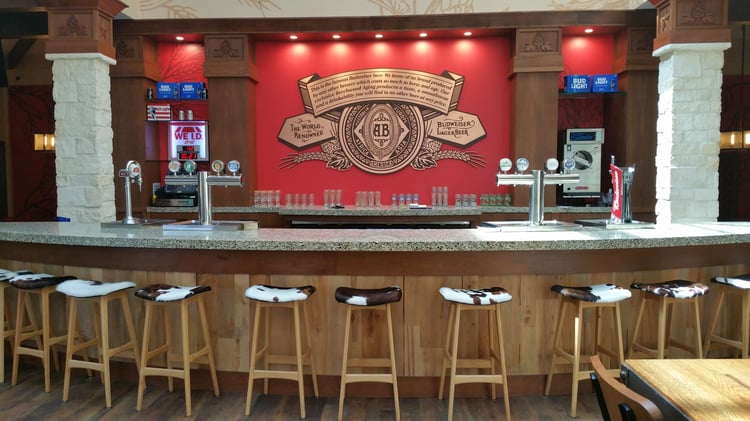 At Anheuser Busch's Houston Brewery beer fans visit for brewing and history tours before settling down on the cowhide stools at the brewery's expansive bar topped with Vetrazzo's Alehouse Amber. The recycled glass mix features the classic amber beer bottle as well as green wine bottles in a white cement aggregate. It's modern rustic vide appeals to its customers. Fabricated by JED Countertops ans supplied by Latera Architectural Surfaces.
Millefiori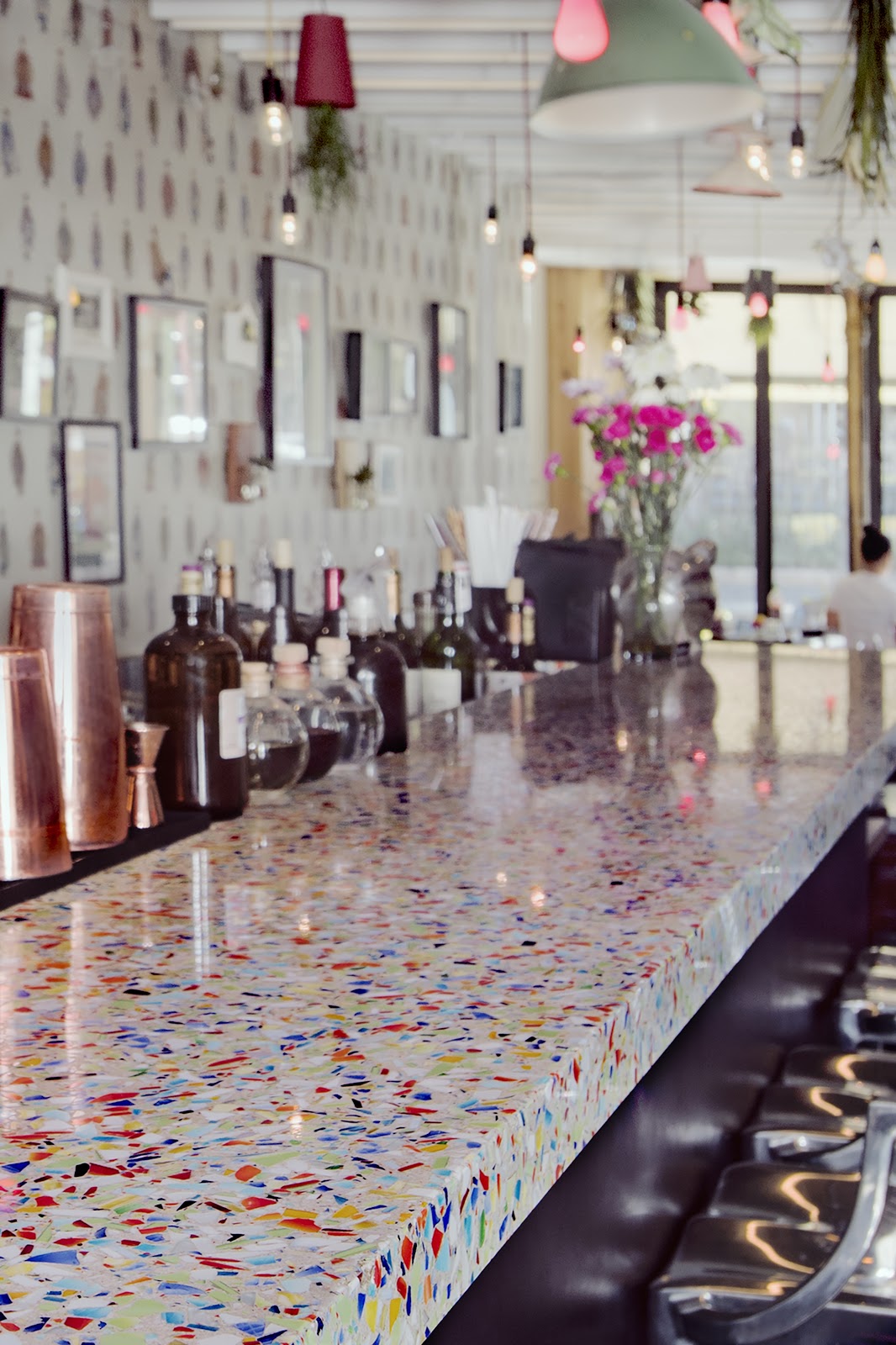 Down on Lafayette Street in SoHo, NY there is Vietnamese restaurant where the sun pours in through a sky light onto the happiest of tables ever to serve a bowl of Pho noodle soup.
Here at BòCàPhê diners are treated to bright dishes of Vietnamese food with a French twist in a space that is as lively, cheerful and artful as the well crafted dishes they enjoy brunch, lunch and dinner.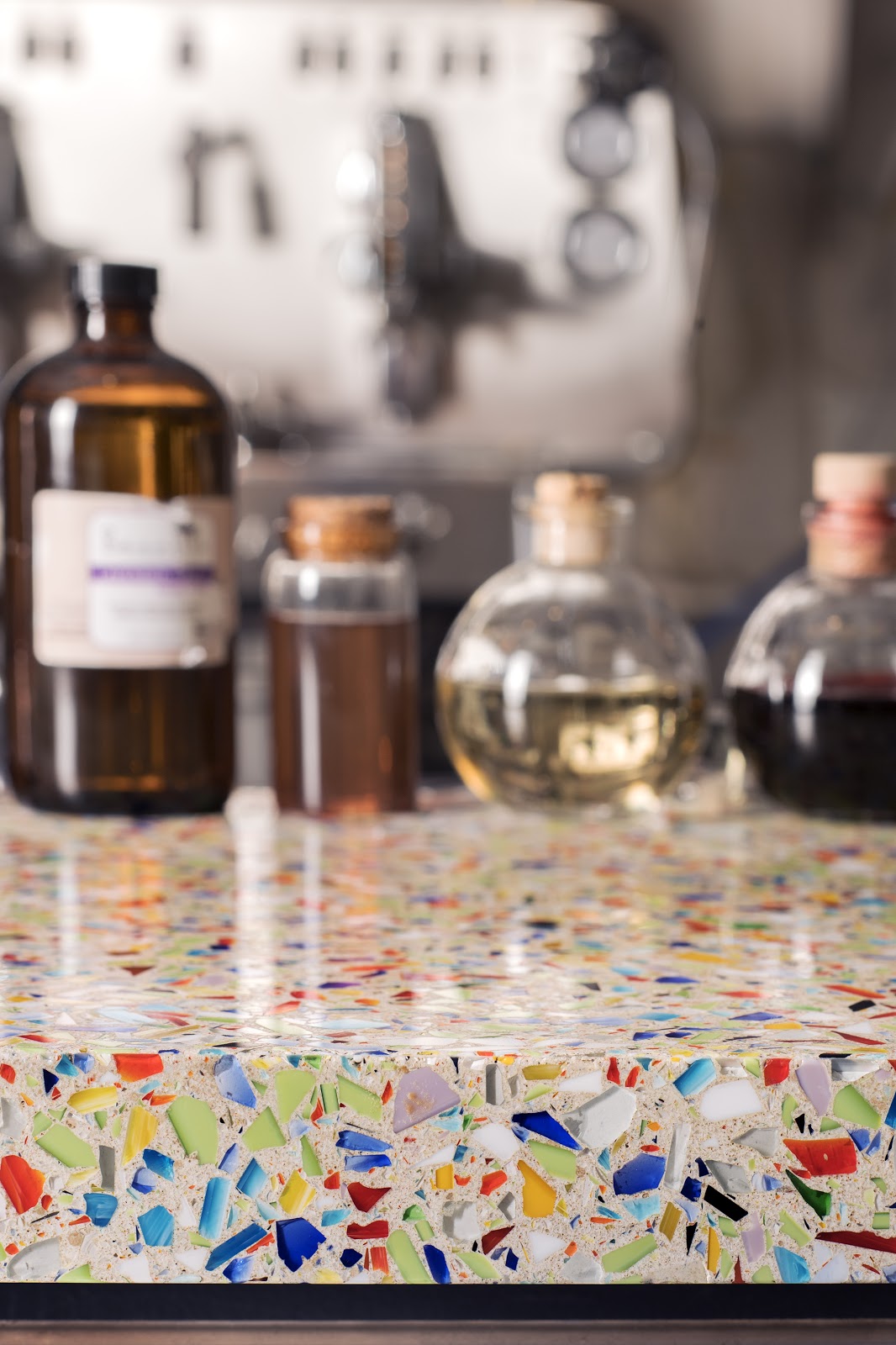 The thick edge build up on this bartop showcases the stunning spectrum of colors in the Millefiori mix. Each slab is made by hand and no two are identical.
The recycled glass countertops are Vetrazzo's Millefiori, a unique mix of art glass that originated from the artist communities of northern California.
Floating Blue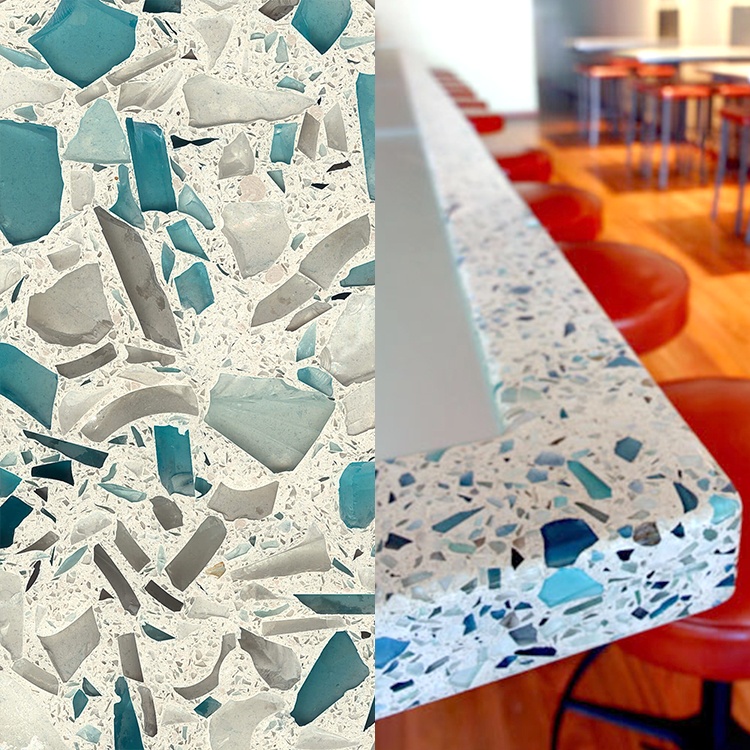 Inspired by sea glass and made from salvaged demolition architectural glass and clear glass bottles, Floating Blue is fun and tropical, a stylish match to these caramel colored leather bar stools, This surface is also available in a Sea Pearl finish with the look and feel of beach glass.
GLASS HOUSE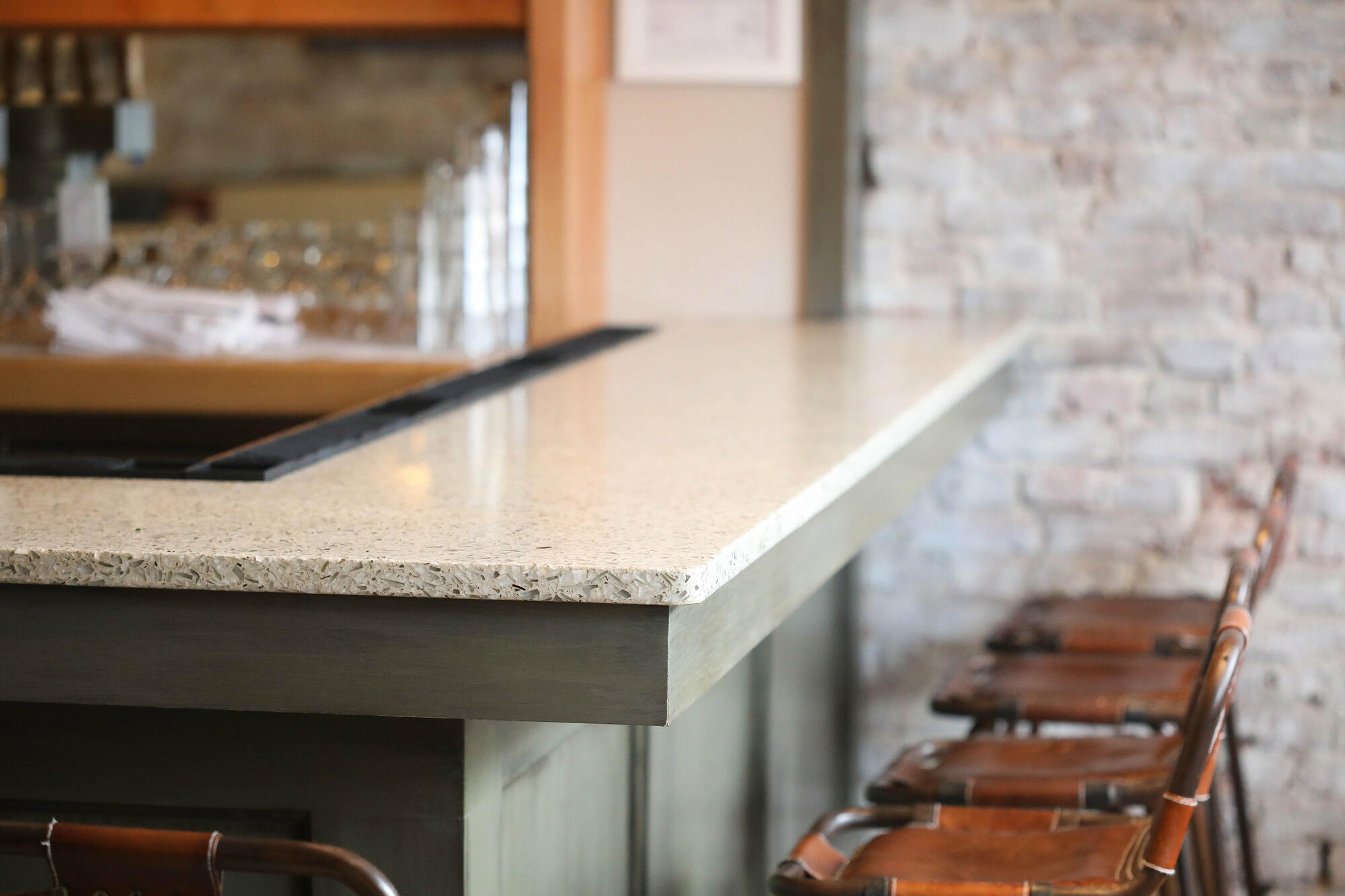 Photo by Patrick McNamara
Annapolis, MD husband and wife team Jeremy and Michelle Hoffman created their restaurant, Preserve, with a sustainable menu and green interior design to match featuring the Glass House color mix. Preserve's bar tops are also a nod to the menu. Those mason jars you see decorating the shelves with the restaurant's specialty preserves could be future Vetrazzo recycled glass countertops. Every slab of Vetrazzo is made with 660 lbs of domestically sourced, truly recycled glass, some from architectural salvage, some from industrial waste, and much from curbside recycling. (Vetrazzo doesn't import any glass aggregate. Some companies buy new, crushed glass from overseas for their "recycled" surfaces.)
Clear glass condiment jars are one of the main ingredients in Glass House which gives the surface it's light color and delicate sparkle, with just a hint of color - an occasional cobalt vodka bottle shard or green glass bottle fragment give each slab some extra unique character - no two are the same. The surface is also extremely durable, obviously key for hospitality design. Read more
Custom Red Robin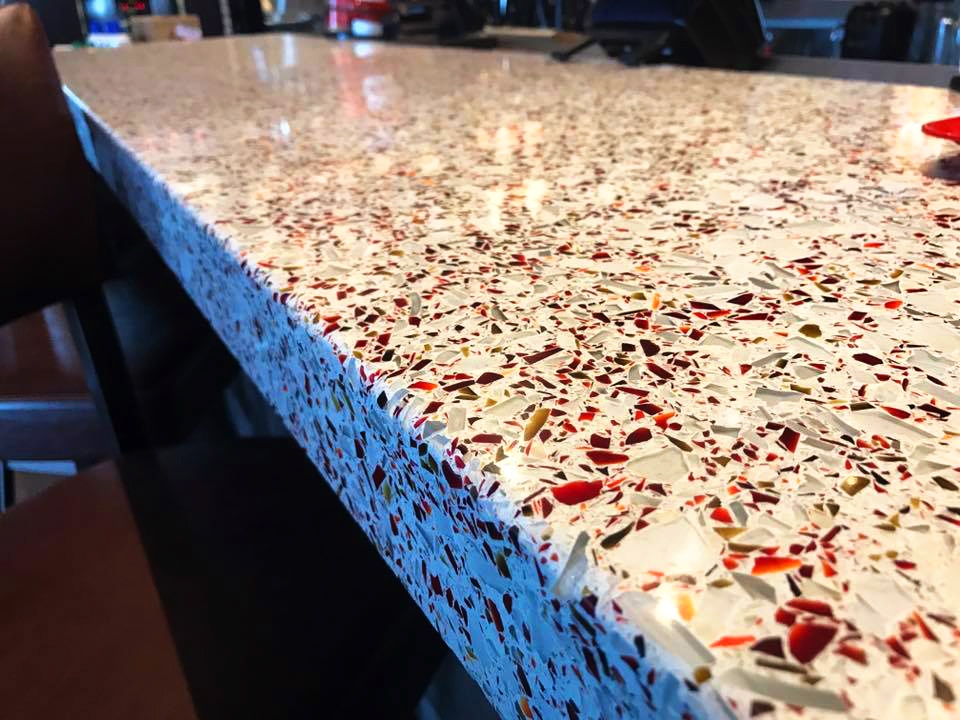 At Red Robin Gourmet Burgers & Brews throughout the US the bars are made with a custom mix of crushed glass aggregate to reflect the brand's signature fire engine red color scheme. Clear bottle glass pieces balance the color mix and keep the surface engaging without being overwhelming. Working with the designers on the project to develop the right blend of color and pattern resulted in a delectable visual treat. Photo is Red Robin's Chubbuck, Idaho location. Fabricated by Pebble Creek Custom Countertops.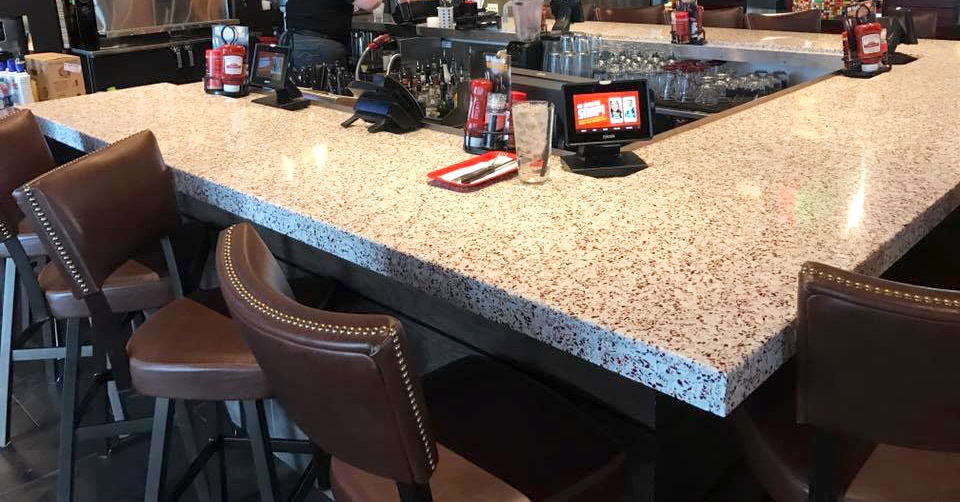 Colorful recycled glass countertops are a nod to any bar's menu - each slab is a mix of glass sources including beer, wine and condiment bottles, many of which originate in bars to begin with, during their first iteration.
Custom colors like Red Robin's mix are only available to the trade.
Samples of Vetrazzo's 18 colors (plus patina shades and sea pearl finish) are free to the trade. Click below to order yours. (Homeowners visit our eboutique to purchase a sample for $10.)