Known for her sexy performances and signature Ranchero style, Aná Barbara has been a fixture on the Mexican pop scene for more than 20 years. This spring the Latin Grammy winner purchased a home in the Beverly Crest area of Los Angeles for $1.87 million that includes glass walls, bi-folding doors and an ultra-modern chef kitchen featuring Vetrazzo's recycled countertops and Bauformat cabinetry.
Like its neighbors Beverly Hills and Bel-Air, Beverly Crest, is a high-end neighborhood known for it's multi-million dollar ranch and modern style homes.
Bauformat Kuchen cabinetry fits right into that sleek modern aesthetic and provides a neutral backdrop for a workhorse island in Vetrazzo's Palladian Gray recycled glass.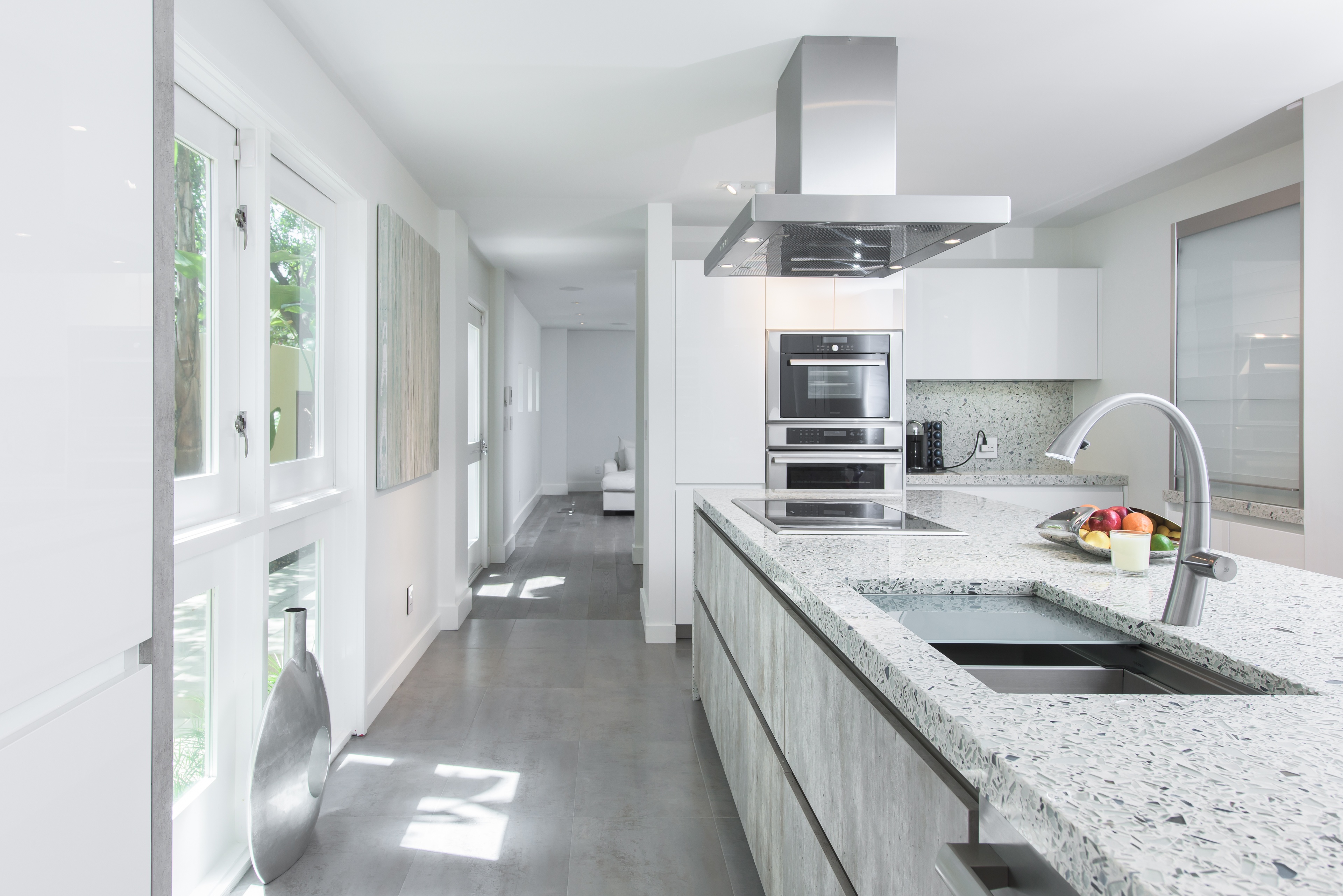 The 2,600 square foot home includes French ash floors, modern fixtures and bright gallery walls. The Bauformat Purista cabinets are mixed and matched with an interesting choice of different colors and finishes all combined in the same space. The industrial looking 'Brest' finish was used for the inside drawers where it looks more monolithic with its light gray, mottled tonality on the large drawer fronts concealing pots, pans and utensils inside. The Brest design by Bauformat is a concrete-effect cabinet finish inspired by the cool gray color and texture of real concrete, a fitting choice for the neutral cement matrix of the Palladian Gray Vetrazzo countertops.
A high-gloss white lacquer is used for the built-in wall cabinets and blends with the white walls nicely for a larger, more open feel in the kitchen. Dark gunmetal grey was reserved for the underside of the massive overhang on the island complementing the shadows below.
The large Novus series Houzer double bowl undermount sink gives a nod to the recycled architectural salvage glass in the countertop mix with its solid glass cutting board insert. The zero radius stainless design also blends with the clean, contemporary lines of the appliances in the space.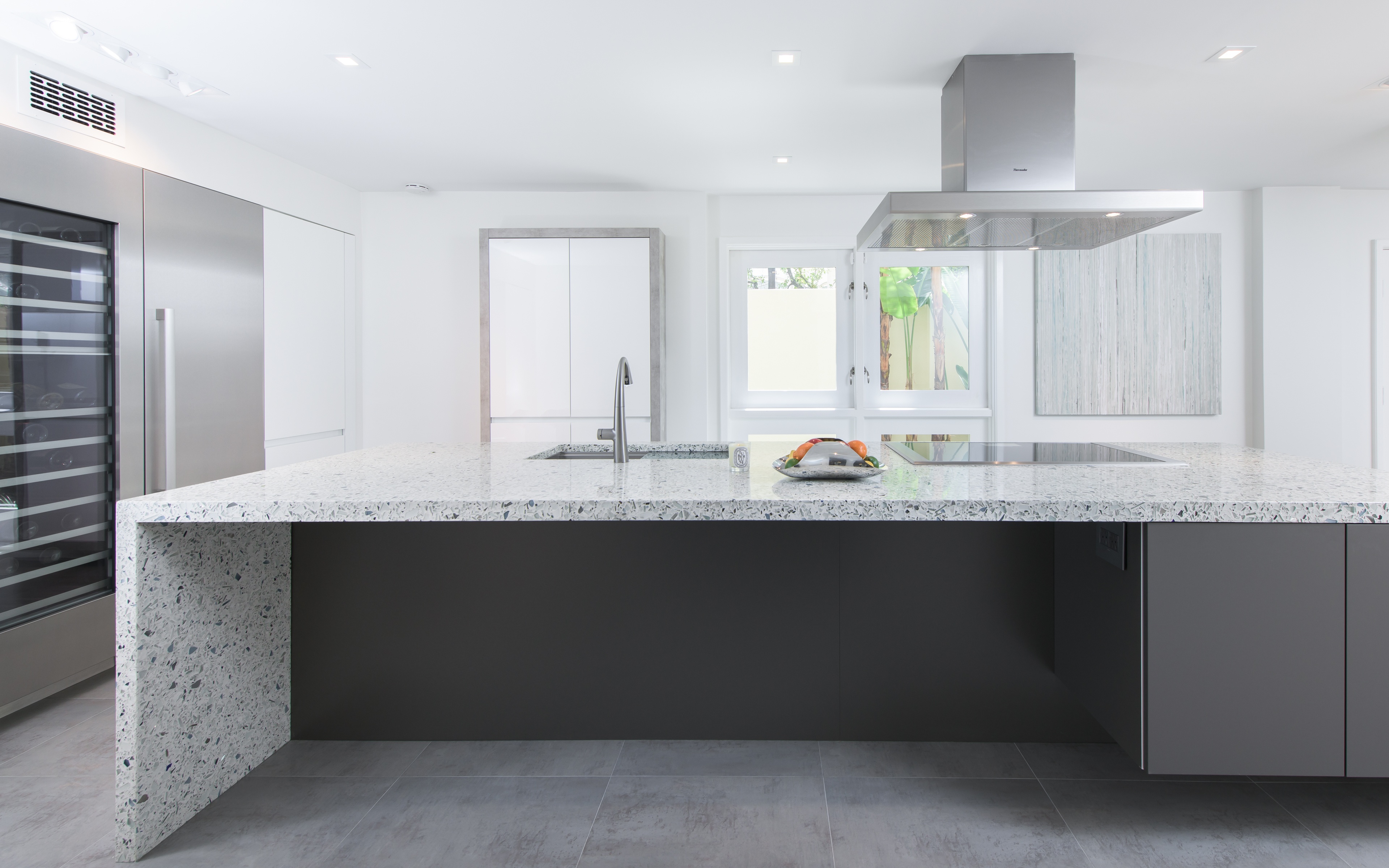 The Vetrazzo Palladian Gray countertops are 3 cm thickness and mitered into a 2 ½" build-up for a greater visual impact. The giant waterfall island is made from two slabs of material with a seamless double miter detail wrapping back underneath into the massive overhang, leaving generous space for seating while entertaining.
A glass top Thermador cooktop and 42" low profile island hood maintains the open plan feel while adding a stylish sculptural element. The Bauformat cabinetry under the island cooktop and sink itself creates a modern monochromatic surface almost indistinguishable from the floor.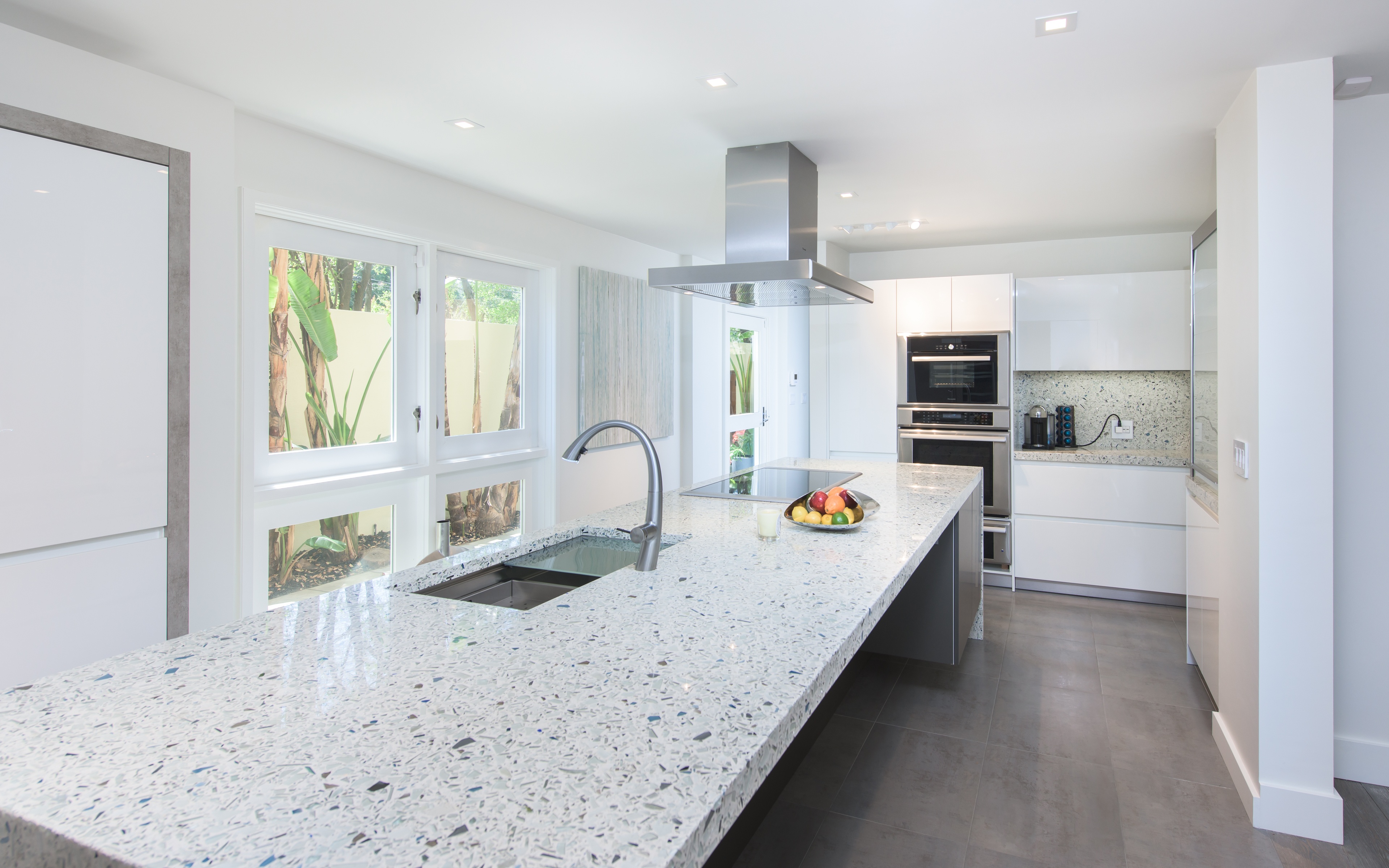 Palladian Gray is a subtle mix of grey and clear glass against a white backdrop with occasional bits of blue glass arranged by hand to make each slab unique. Part of this color's appeal lies in its predominantly monochromatic palette with only subtle hints of color here and there for added depth, texture and translucency. Inspired by the arched Palladian windows found in historic architecture made famous by Italian architect Andrea Palladio in the 16th-century, the majority of glass found in this color originates from repurposed window glass.
Like the singer herself, this luxury modern kitchen is edgy and polished, proof that when you sing, your kitchen counters should too.
Want to see Palladian Gray upclose? Order a sample here. Free to the trade. Homeowners can visit our eboutique to place their order.