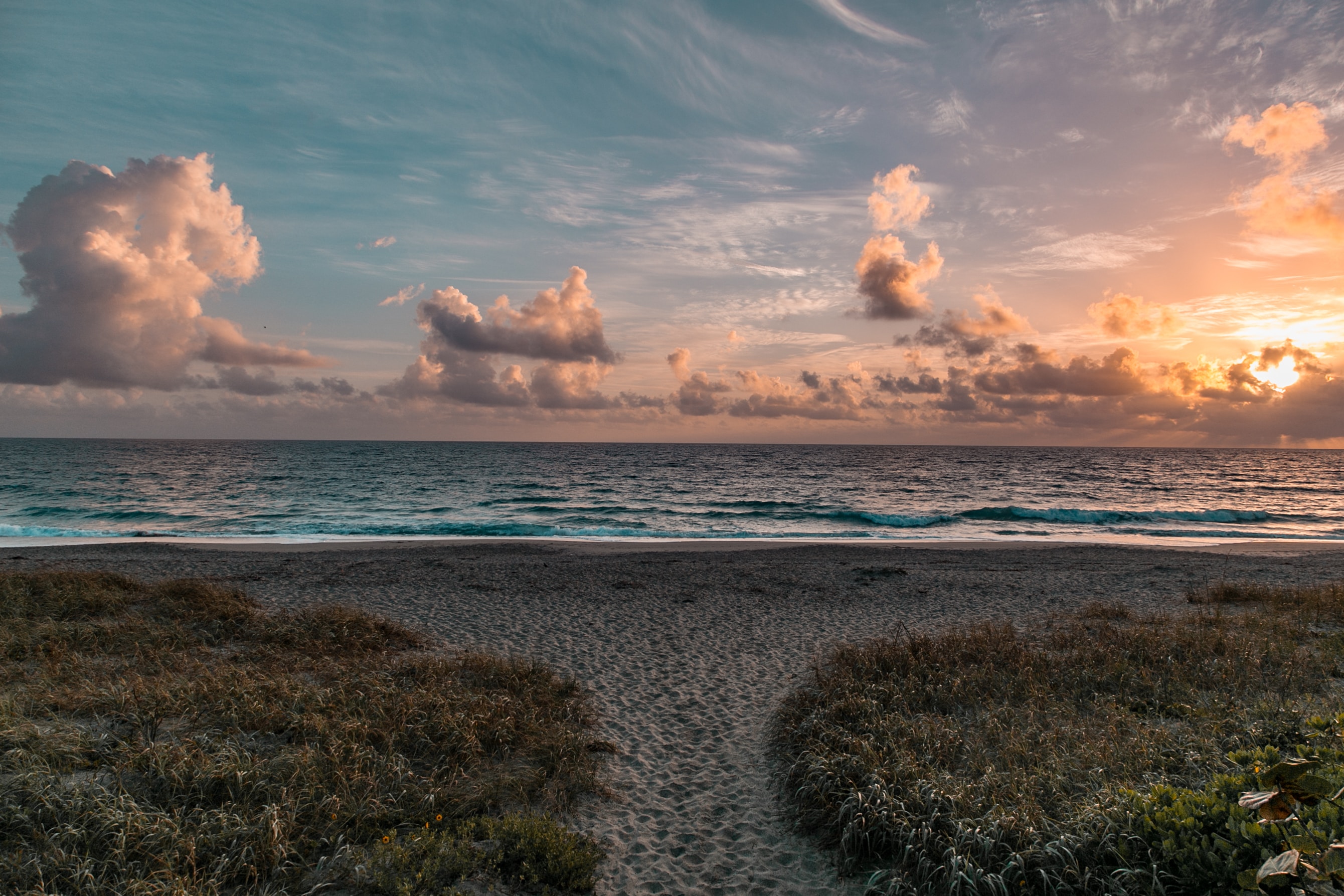 As part of an award-winning design team, Wendy Manley is accustomed to requests for high-end coastal kitchens with an elegant but beachy feel. But this kitchen and bar combo presented a unique opportunity: It's located in an open concept penthouse condo on Juno Beach with jaw-dropping views of the ocean from every angle.
"There are so many windows that everything almost becomes a backdrop to that focal point," said Manley. "You want to make sure that nothing is fighting with that beach view and the blue water."
Manley and her team at Waterview Kitchens in beachfront Tequesta, Florida take pride in providing their clients with options, answers and an exceptional experience when designing a kitchen or bathroom.
The clients, who are based in Texas, naturally wanted to make the most of those dazzling water views in this vacation home getaway, and make that breathtaking outside view feel a part of the inside space. They also wanted everything to feel relaxed — it is a vacation home, after all — but still sophisticated. Manley is an expert at combining warm whites with cool clean lines for a sophisticated and sleek result.
"Simplified design has become the norm down here because it should feel like you're on vacation and everything should feel easy," said Manley.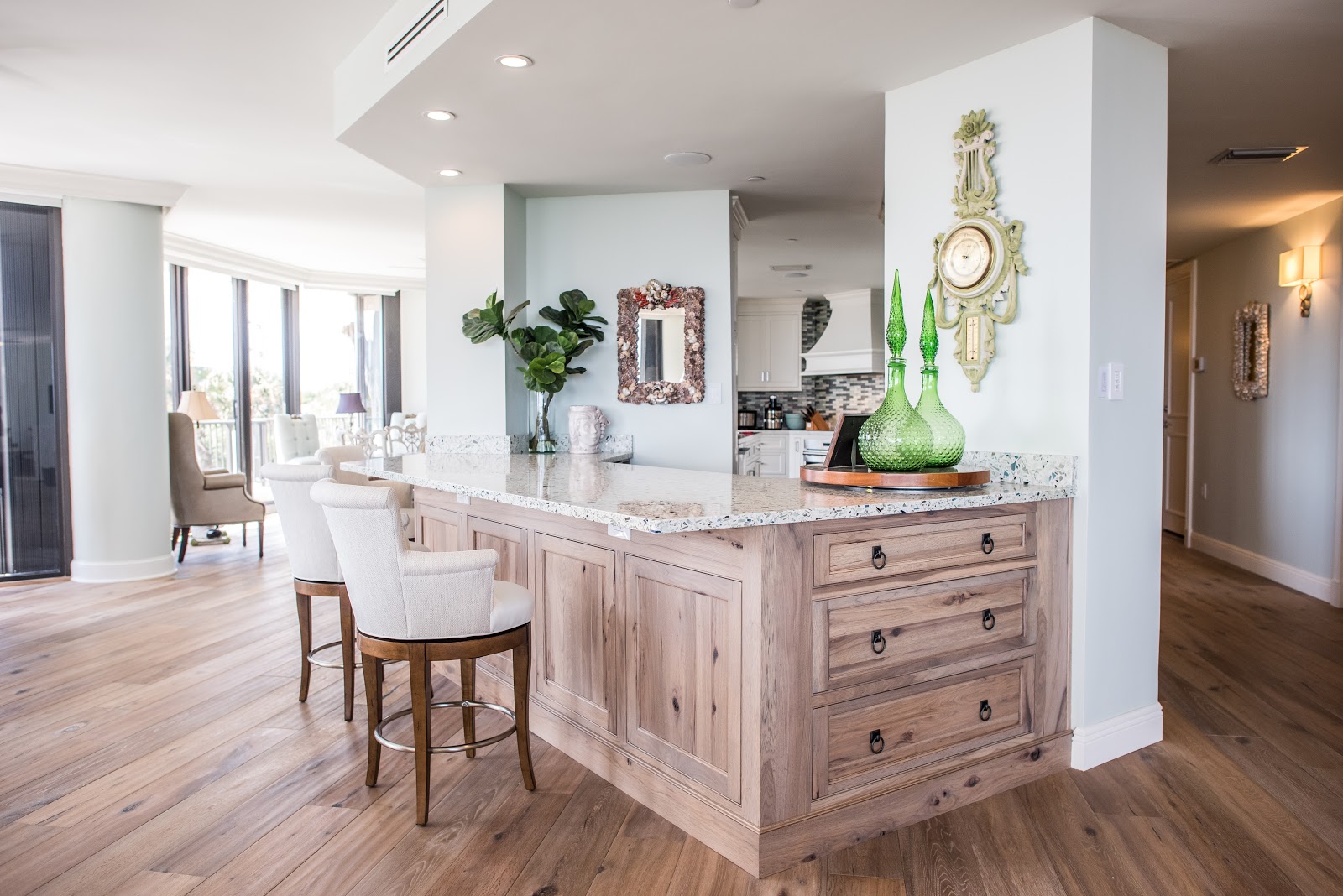 The open concept and many windows in this penthouse allows everything to almost become a backdrop to that beach view and blue water focal point.
An open concept home, the penthouse is decorated throughout in sandy nudes and shades of white, providing a subtle beach-inspired palette that Manley built upon for the contemporary coastal kitchen and connected bar.
"There's no 'This way to the beach' sign," or aqua blue colors everywhere," said Manley. "It's very elegant."
Manley continued the elevated feel with the kitchen design, which features white cabinets and a quartz countertop, but she wanted to make the bar area its own unique statement space. She wanted to bring in additional warmth and texture to the space and began defining the bar space by taking the cabinets in a different direction than the attached kitchen.
"While the kitchen is primarily white, we used Rustic Hickory cabinets with a driftwood finish and brown highlight for the bar," said Manley. "The highlight picks up the knots and everything you would find on an actual piece of driftwood on the beach."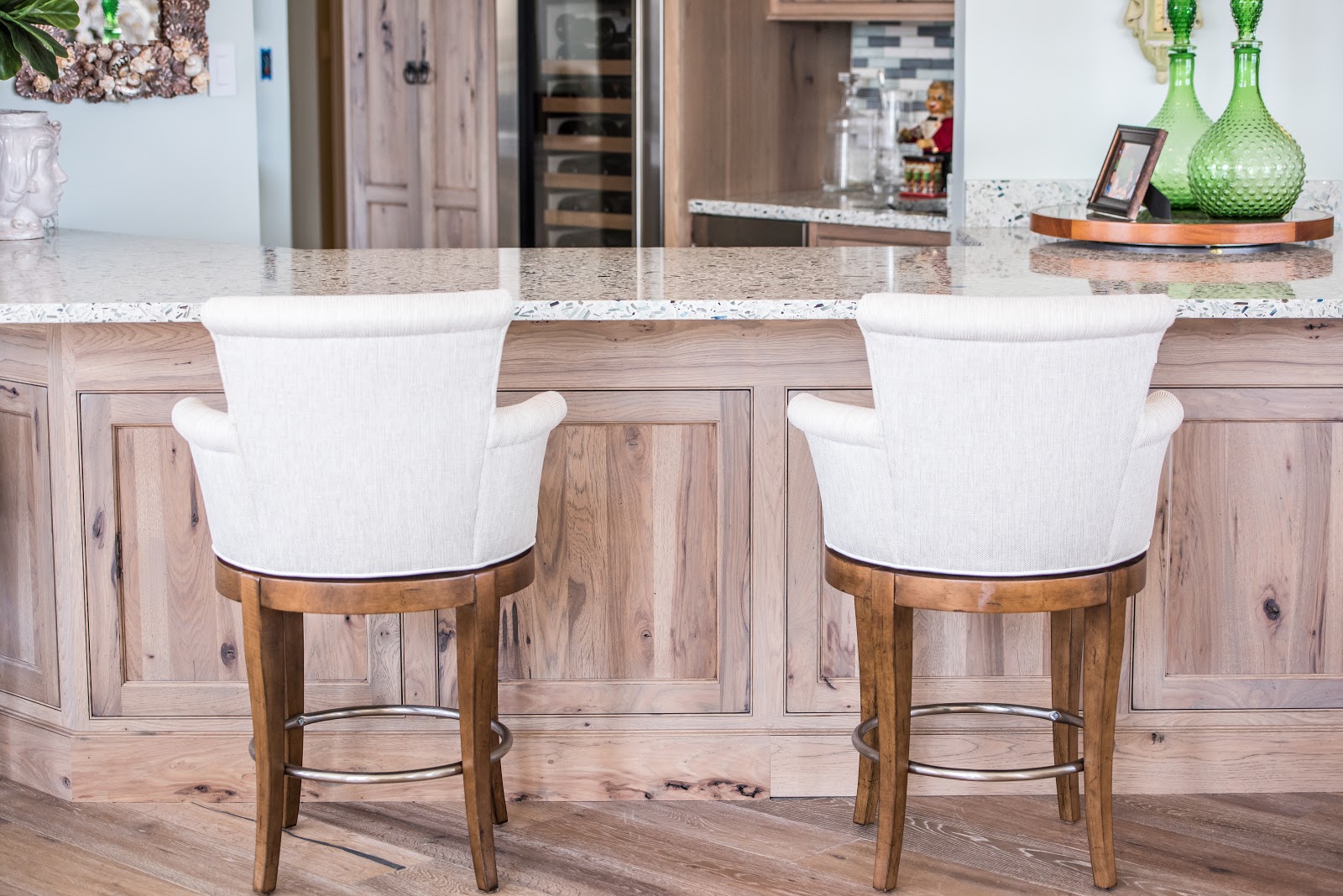 Manley made the bar area its own unique statement space with Rustic Hickory cabinets and Vetrazzo's Palladian Gray surfaces on the countertop.
The Rustic Hickory cabinets are in a Signature Driftwood finish with Van Dyke brown highlight; the cabinet doors are a French Villa Square. All of the cabinetry is by Crystal Cabinets, a family-owned, custom cabinet manufacturer located in central Minnesota; Waterview Kitchens is a Crystal Cabinet exclusive showroom. These same cabinets continue into in an adjoining office area, as a built-in desk with a hickory top. So, while all of these spaces in the home have their own clear function, the visual flow from space to space is consistent.
For the bar, Manley didn't want to use the quartz that was in the kitchen, or the hickory that was in the office, she wanted something that would capture the colors and textures of the ocean in a decidedly non-cliché way. Enter Vetrazzo.
"We really tried to bring the outside in through the driftwood cabinetry, but the Vetrazzo countertop was the icing on the cake," said Manley. "It's the perfect complement to the driftwood and the view."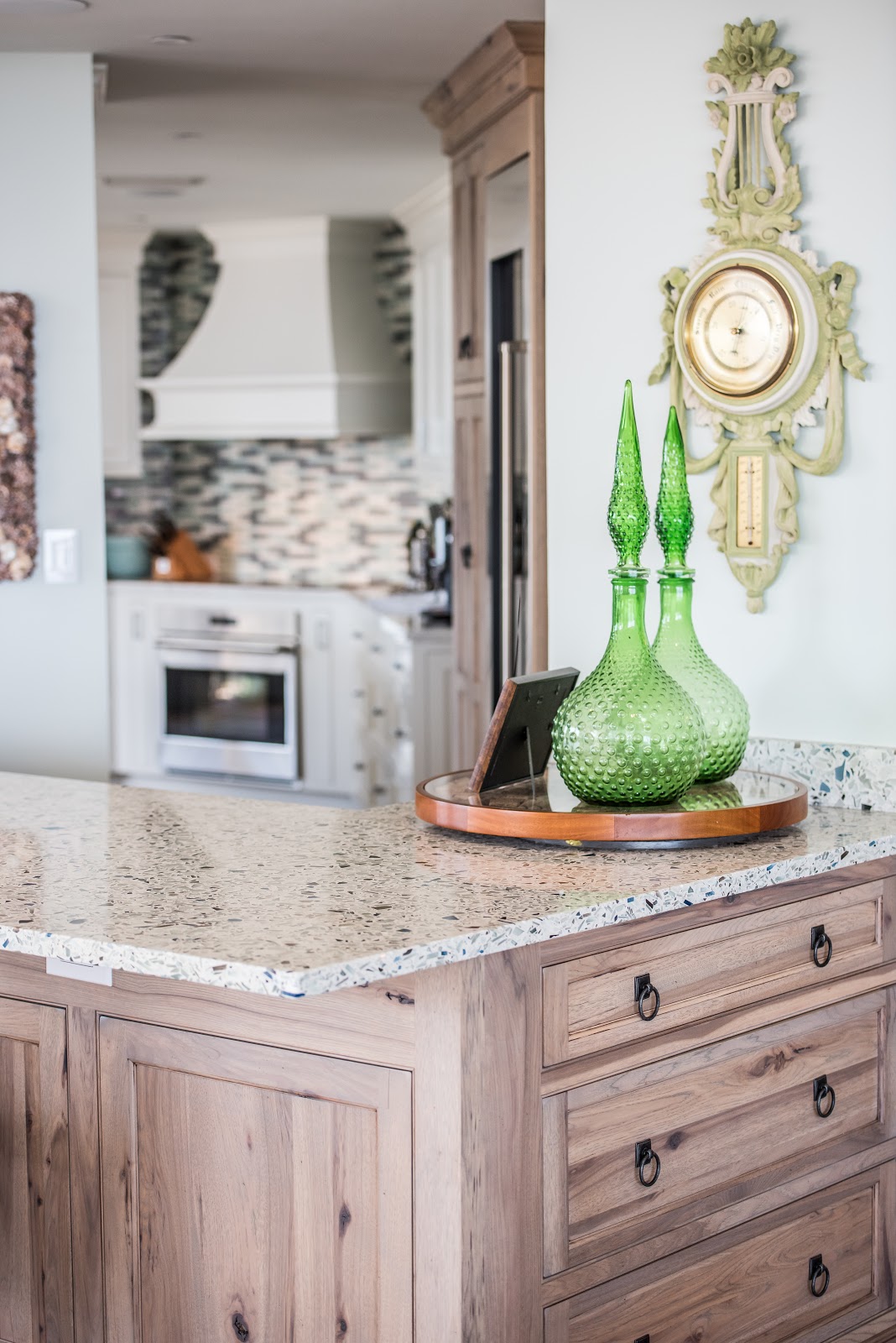 The Palladian Gray countertop captures the feel of the ocean without being overly beachy.
For a beach penthouse you might think that a blue or aqua infused surface would be the right choice. And in most cases, it probably would be (like this Jupiter, FL kitchen by Manley), but for this luxe penthouse — with those endless ocean views and sophisticated color palette — Manley chose Palladian Gray for its tonal shades of gray. The countertop captures the feel of the ocean without being overly beachy.
"I told my clients 'That view is your wow factor'," said Manley. "Everything else becomes secondary and we don't want to fight with it."
The soothing shades of gray, white and the occasional hint of recycled blue window glass in Palladian Gray add just the right amount of movement, sparkle and visual texture. In a space surrounded by "wow" moments, it's a sophisticated but not stark and nearly-neutral choice. As she has many times before, Manley worked with Treasure Coast Carpet and Tile to source the Vetrazzo surface. And as she has been every time, Manley was thrilled with the outcome.
"The colors in Vetrazzo are just phenomenal," said Manley. "It's just what we needed to finish off the bar."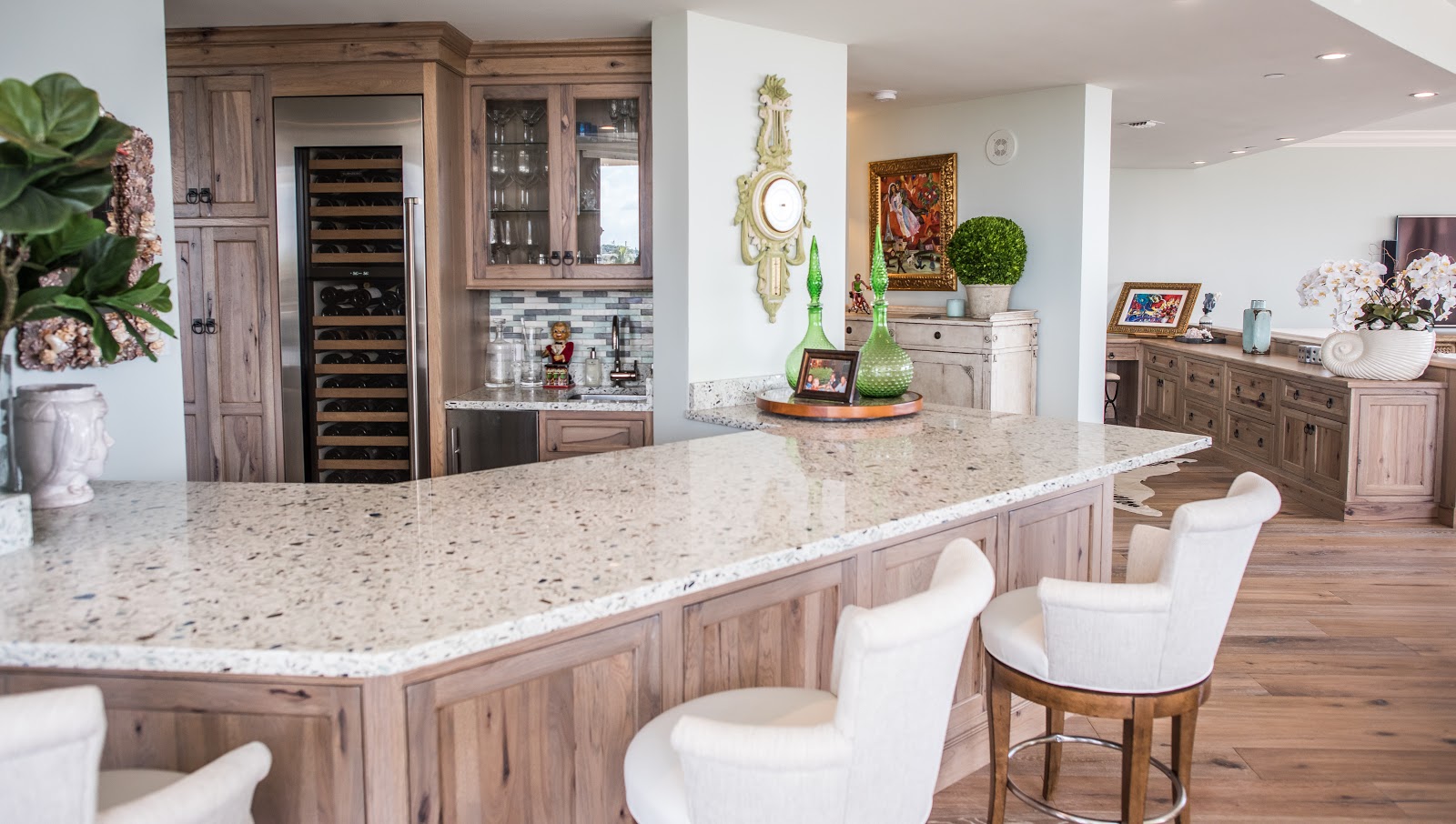 The soothing shades of gray, white and the occasional hint of blue glass in Palladian Gray add just the right amount of movement, sparkle and visual texture.
With upholstered bar stools for seating along the outside, the inside of the bar features a sink, wine cooler, plentiful stemware and additional bottle storage — everything you need to be the perfect host. And with its open concept layout, this penthouse was designed for entertaining.
"You could throw a great party there, for sure," said Manley. "And it doesn't matter which side of the bar you're on, you'd still have a good time."
And while she hasn't been to any penthouse parties since the project was complete, the clients have done her one better: they have sent her many referrals.
"It's such a big compliment," said Manley.
Get a coastal look, without the sea shells. Order a sample of Vetrazzo recycled glass. Free to the trade.