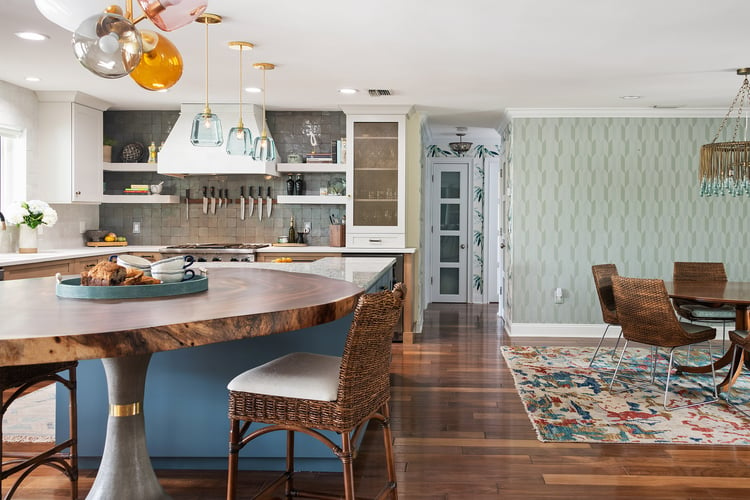 For a kitchen and master bath reno at a home perched on the water's edge in St. Petersburg, Florida, designer Brooke Eversoll looked to the sparkling views outside for inspiration.
Like a wave sweeping a beach clean and leaving bits of shell and sea glass behind, Eversoll replaced the dark and dated cabinets and countertops with cool water blues and soft sand neutrals that reflect a coastal vibe with a layout more conducive to its homeowners.
"Everything in the home centers itself outside to the beautiful water view," said Eversoll, who owns the St. Pete's-based, full-service design firm Bee Studios. The home is just steps from the Gulf of Mexico and its rear windows enjoy a view of the owners' pool and outdoor kitchen, which are framed by the canal running behind them.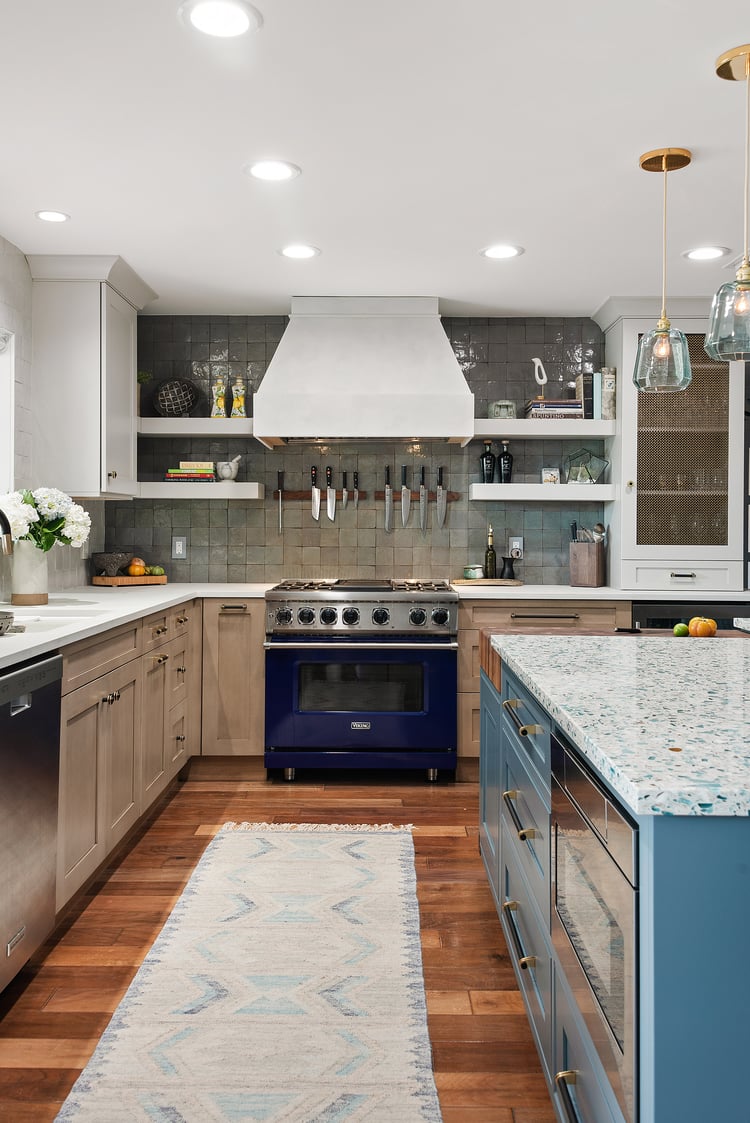 Eversoll, who has been designing unique spaces with clean lines and intentional details for 17 years, said she doesn't bring a cookie cutter approach to her design projects. "I really want every client to have a space that's uniquely theirs," she said, mentioning how she rarely reuses design elements from client to client.
As such, she also loves working with artisans and unique products to implement one-of-a-kind designs. "I love playing with patterns, color and texture," Eversoll said.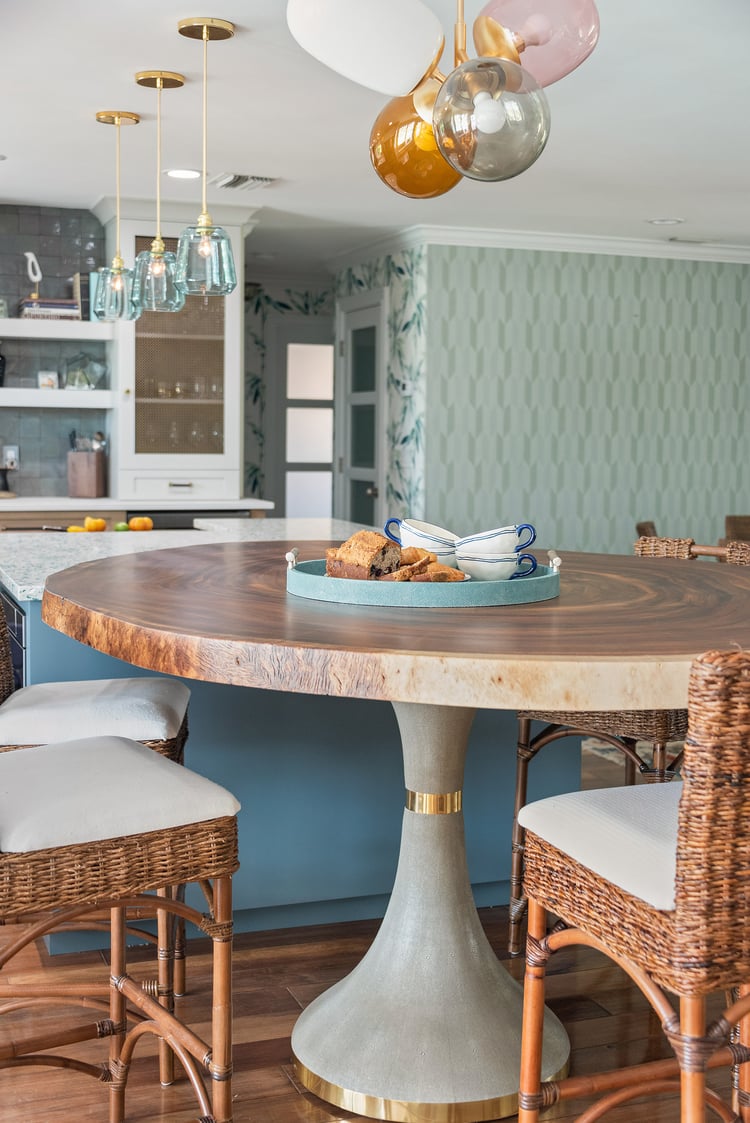 "The majority of our projects are not white kitchens," she laughed. "Our clients are coming to us for something a little more unique and different."
That sensibility is evident in every nook of this coastal kitchen and master bath transformation, from the combination of multiple cabinet and tile finishes, floating shelves and plaster oven hood to its custom-designed partition glass and speckled Vetrazzo countertop surfaces.
A Chef's Kitchen
The refreshed kitchen sparkles with sea glass pendants, a pleasing gulf-hued island and Vetrazzo's eye-catching Bretagne Blue countertop, but don't let all that beauty fool you — this kitchen is more than just a pretty face.
Dubbed "The Chef's Kitchen" by Eversoll in honor of the homeowner's passion for cooking and entertaining, this is a working kitchen that was designed to put necessary culinary tools at the cook's fingertips in a well-planned prep and cook area that's separate from dining and gathering space. "They love to cook and entertain so it's a very functional and usable kitchen," she said.
And the island — with its butcher block prep area, walnut rollout trays inside cabinets with painted interiors and attached stunning custom seating crafted from a slice of Guanacaste tree — is the kitchen's workhorse, serving a number of different functions for the homeowners.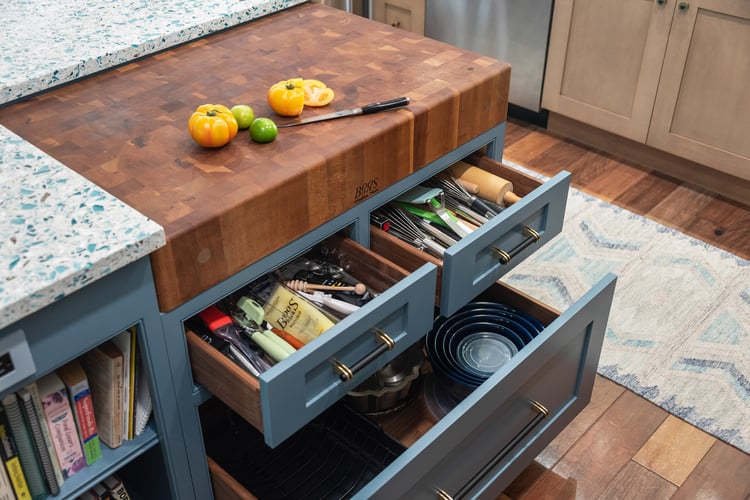 The kitchen's biggest design challenge was creating a better traffic flow and utilizing space without a total reconfiguration of the existing layout, according to Eversoll. The homeowners wanted to retain the kitchen's walnut wood floors but did not have much leftover for any needed patching. But with a few clever tweaks, Eversoll was able to accommodate a larger range by moving the refrigerator and shifting island seating away from a busy traffic area and creating a unique seating area that utilized dead space between the kitchen and living areas.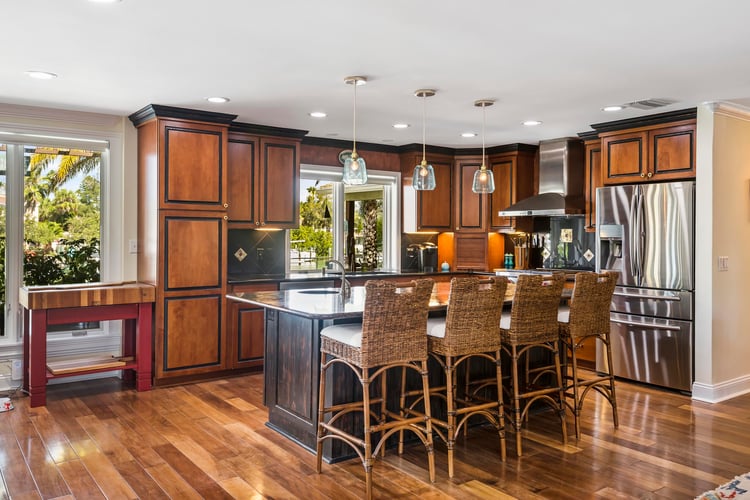 Working with local artisan Erdei Designs, Eversoll designed a custom pedestal table crafted from the Costa Rican Guanacaste tree whose live edge kissed the Vetrazzo surface, effectively connecting the two elements.
Even the Vetrazzo Bretagne Blue surface that tops the main island — with its melange of fine architectural glass and delicate oyster shells — combines form and function to accommodate the homeowner's lifestyle. The eco-friendly product is handcrafted and American made and each slab is unique — no two are the same.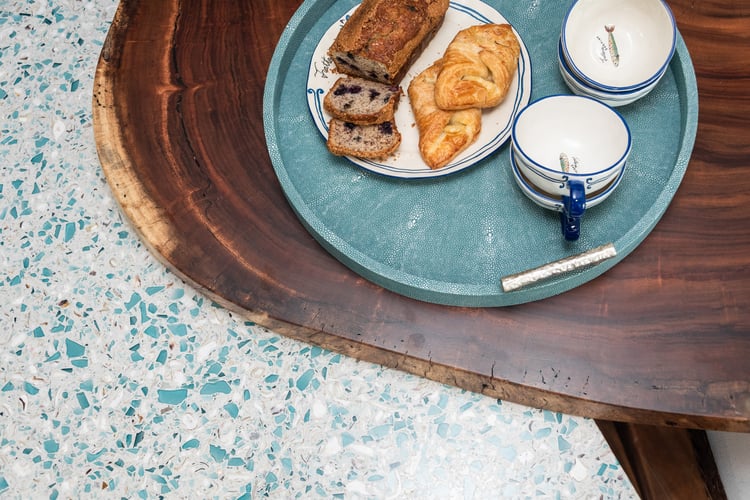 "It was an easy item to incorporate into the project," said Eversoll of another one of the homeowner's bucket list items and the inspiration for the rest of the kitchen's coastal color palette. "The color was perfect with the home's water setting and matched its existing coastal colors in the home."
The result is a soft and sophisticated palette with chunks of bright turquoise color to "add a little pizzazz," she added. "It's a special little jewel in the middle of the kitchen."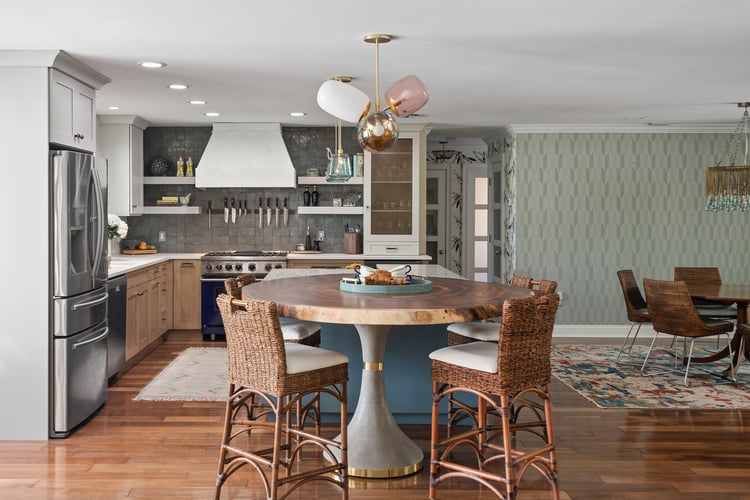 In fact, at a housewarming party following the kitchen's renovation, Eversoll said she was pleased to see her design in action — filled with platters and trays of food with the prep area being put to good use — but to find fellow guests gathered around the new island touching the Vetrazzo countertop and asking all about it. "It's a real talking point," said Eversoll.
For the kitchen's perimeter surface and backsplash areas, Eversoll chose a more neutral Caeserstone and tile with whitish-gray undertones to let the custom-painted island and Vetrazzo countertop shine. "I really just wanted that pop in the middle of the room," she said.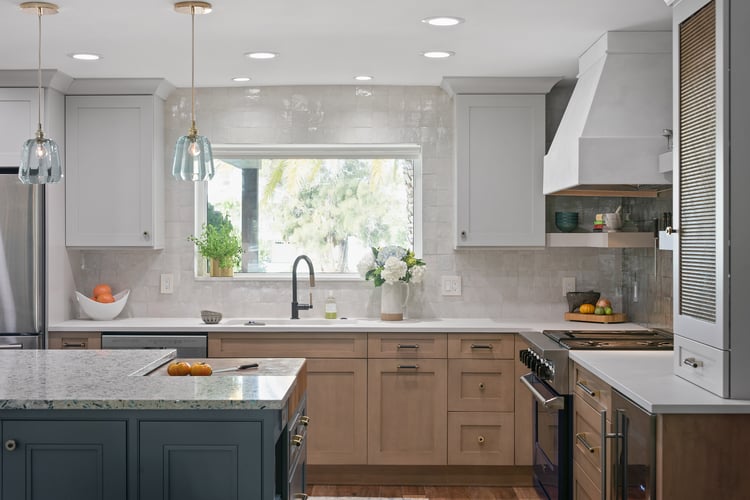 From Dated Master bath to Soothing Retreat
Eversoll found the master bathroom much the same way as the kitchen, with dark, dated cabinetry and poorly laid out — only this time, she had more freedom to reconfigure the space's floor plan.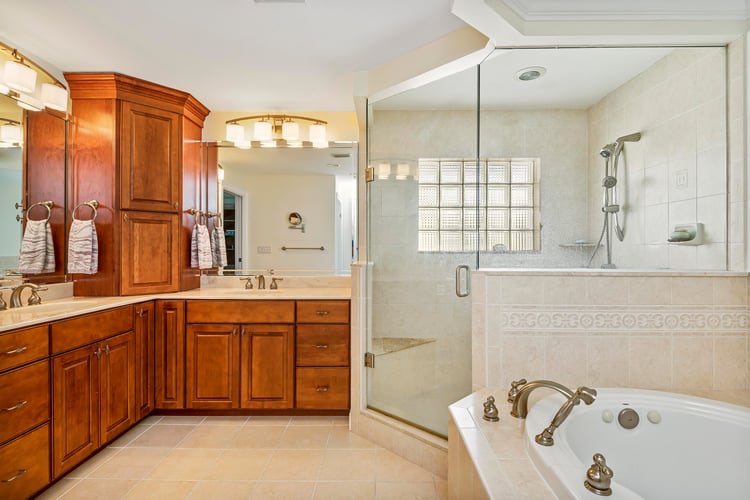 Out went the old cabinets that were in an awkward L-shape and in went a soft taupe double sink vanity as a more modern replacement.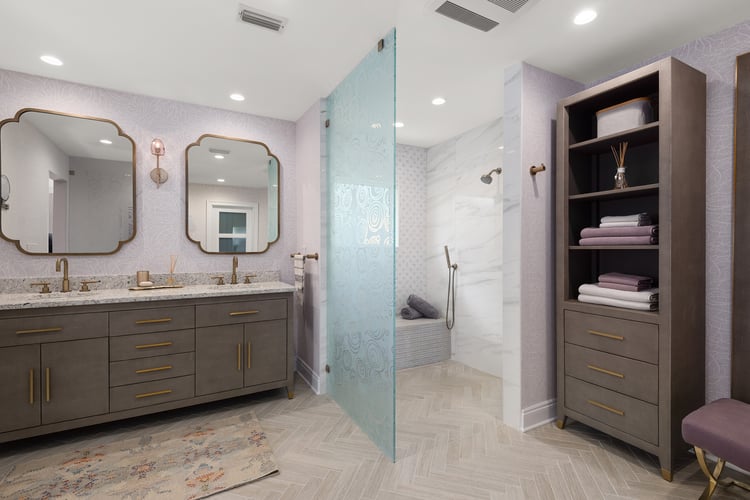 The unit was topped with Vetrazzo's Umbo White surface, which combines pure marble, oyster shell and glass to give a luxurious feel to any space.
"The countertop is soft and serene, with muted tones and little flecks of amethyst, which gives the space a spa-like feel," said Eversoll, explaining that she wanted to design a "serene and feminine space" for her her client, who had been undergoing treatment for an illness at the time.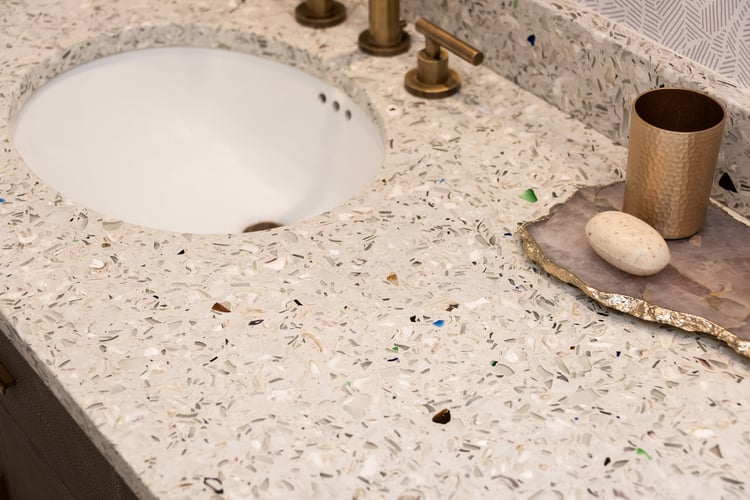 "I love the Vetrazzo for the uniqueness of its products," said the designer. "I know it's sustainable and so important that it's made from recycled materials but for me, that's just the bonus." The Vetrazzo counter was also sourced locally, with the atelier located in nearby Tate, Georgia. Vetrazzo takes great pride in providing natural, sustainable and locally sourced materials to their customers. Incorporating its products into the project not only boosts the local economy but minimizes transportation requirements and decreases its carbon footprint.
Another unique element in this master bath reno is the floor-to-ceiling partition glass that the contractor, Lindross Remodeling, commissioned a local artisan to create, based on a design fashioned by one of the homeowners. The glass's swirling patterns separate the vanity area from the shower.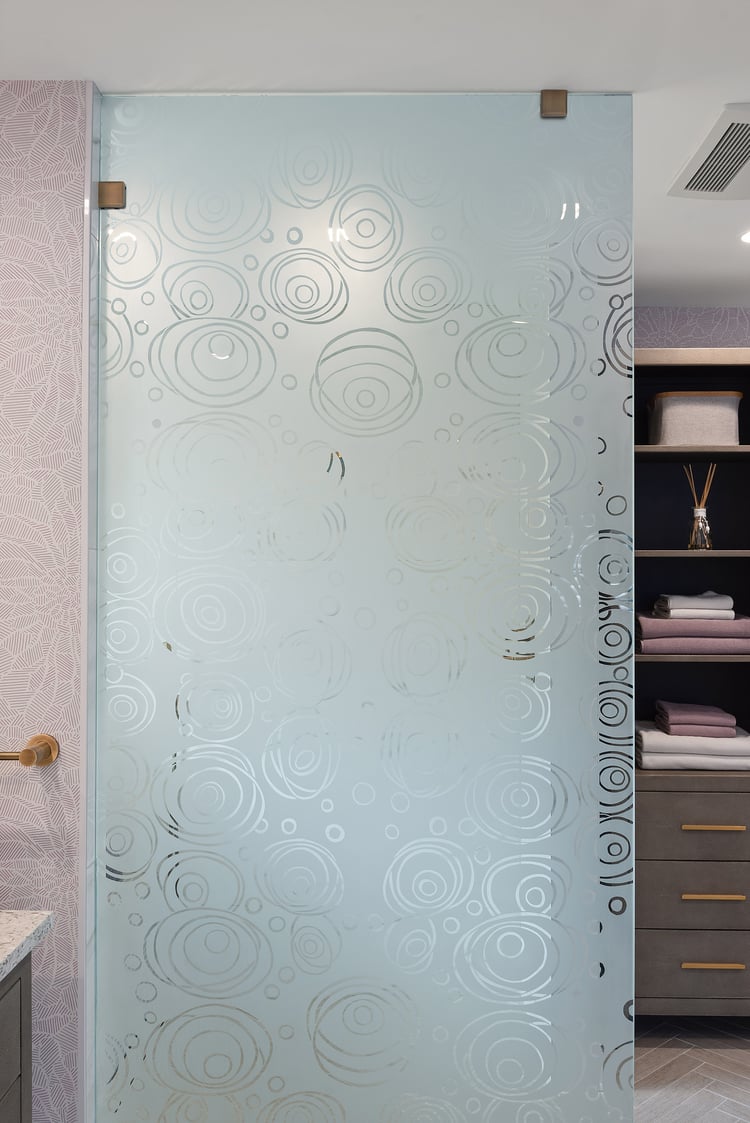 Eversoll ditched an old garden tub and reconfigured the area and shower entrance to accommodate a changing area that's in close proximity to the shower with a heated towel rack, linen tower and full-length mirror.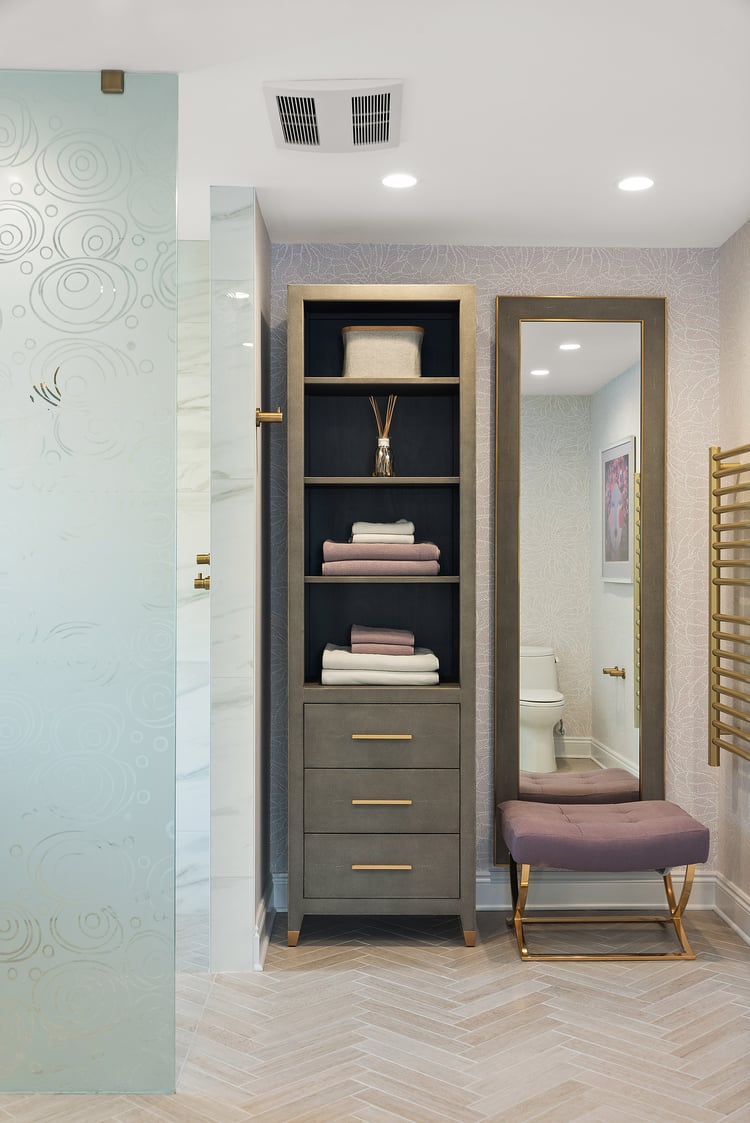 The porcelain floor tile, which was carefully laid out in a herringbone pattern throughout the space, continues into the shower, creating a curb-less entry, with the tile running across the single-sloped shower floor to the rear to empty into a long channel drain. "This created a very complicated installation," said Eversoll.
In the end, the designer was able to pull together three different types of tile, delicate wallpaper, the partitioned glass, modern vanity and Vetrazzo's Umbo White surface to create a unique space for her clients.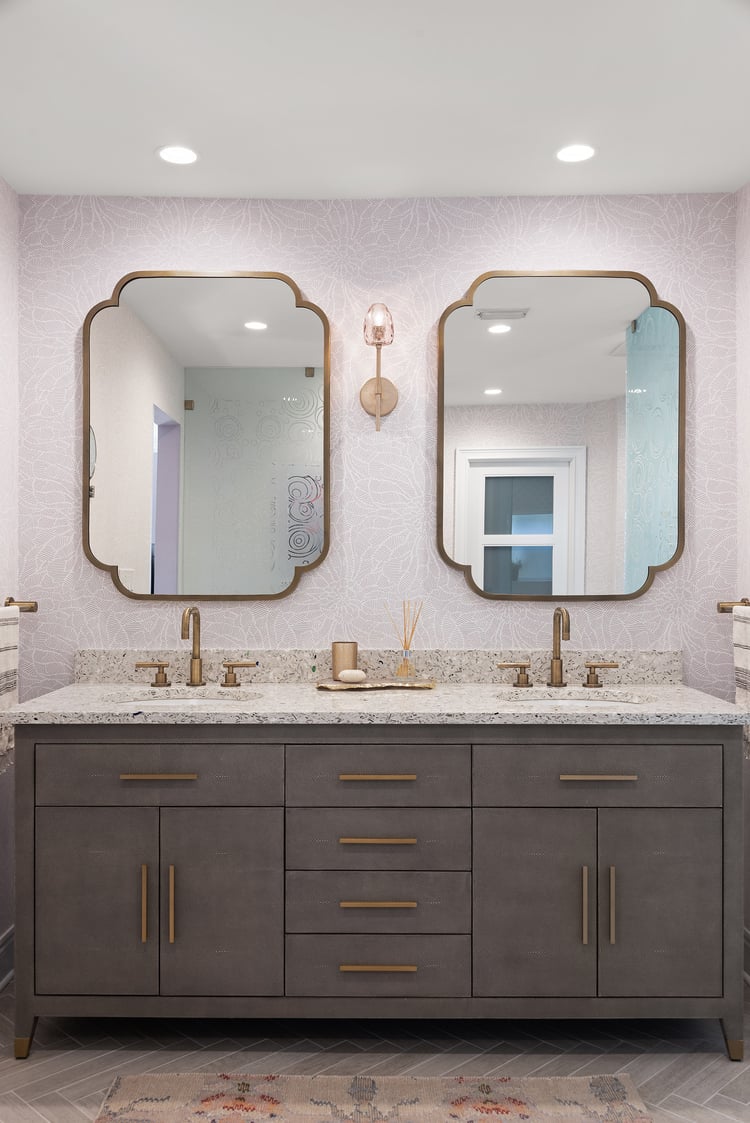 Design firm: Bee Studios,
Principal Designer: Brooke Eversoll, CMKBD
Contractor: Lindross Remodeling
Photographer/Videographer: Rickie Agapito
Create a space that never goes out of style. Order a sample of Vetrazzo recycled glass. Free to the trade.