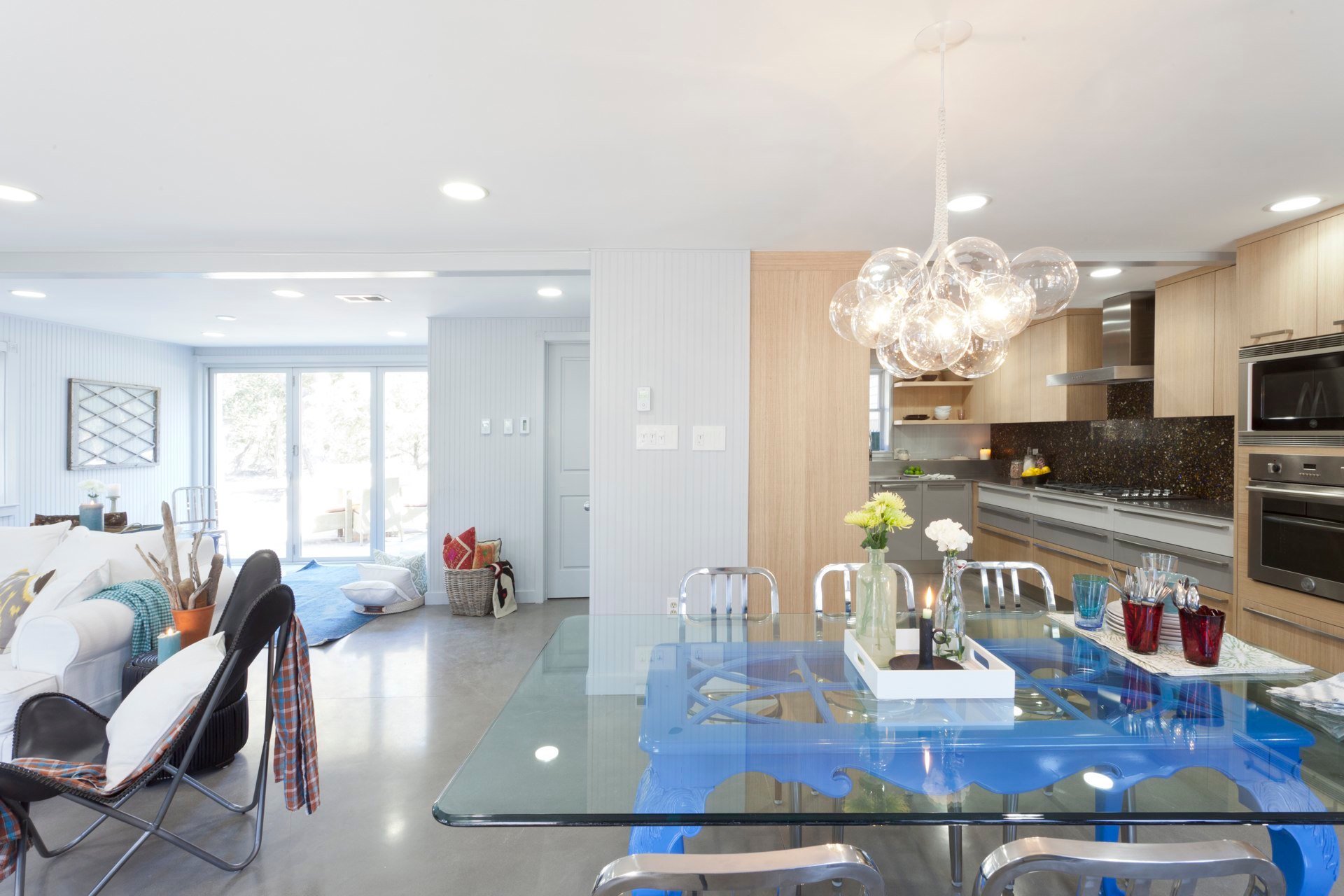 For HGTV design and home improvement star, Anthony Carrino, family and design go hand in hand. Whether it's renovating homes with his cousin, John Colaneri on the HGTV show, "Cousins Undercover" or helping to create a dream kitchen for his parents' beachside home in Long Beach Island, NJ, the two always seem to be intrinsically linked.
"We are a family that revolves around good food!," Carrino said. Entertaining and enjoying the space as a family were the driving forces behind his design that centers on a modern, practical kitchen featuring the bold palette of Vetrazzo's Charisma Blue with Patina.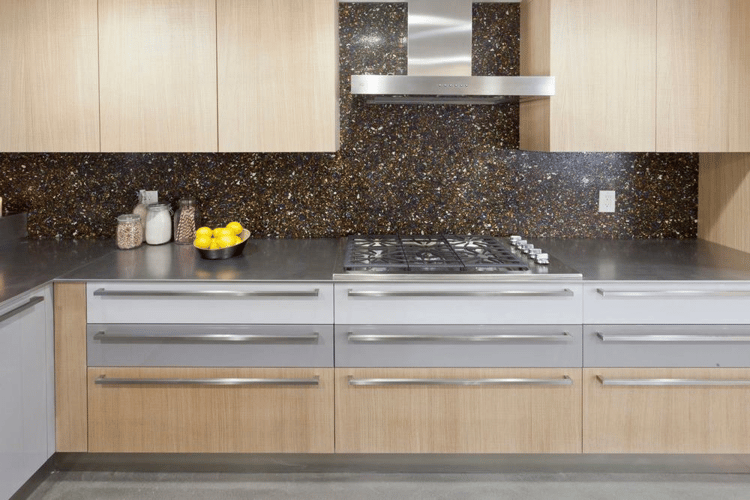 The small and scenic shore-town of New Jersey's 18 mile-long barrier island, Long Beach Island — known by locals as "LBI" — boasts a beautiful coastline with white beaches, picturesque lighthouses and the contrasting blue Atlantic ocean. The clean and minimal landscape of this naturally beautiful area helped to set the tone for the redesign of Carrino's parents' beach house. "My mom's style is definitely clean lines and no clutter, but also homey and very personal at the same time. She also considers her environment and likes to design to it," Carrino said. "She has a great eye for design and interiors. I really learned a lot of what I do today from her."
Designing for a beach house?
Carrino's family values and love for home design shine through in this renovation. One of his biggest and most noteworthy changes to the LBI beach house was the creation of an open-concept kitchen and dining area for where his parents could prepare meals without being cut off from their guests. "The overall layout changes I made were specifically to foster my parents ability to entertain and allow others to work with them in the kitchen," Carrino said. "The old kitchen had a peninsula that came off the wall and closed the entire space down. My parents are always entertaining down there, and there are a lot of meals where everyone is involved in the cooking, so the big goal was to open it up. And since all we do down there revolves around food, we thought it was a good idea to make the kitchen a bit bigger as well."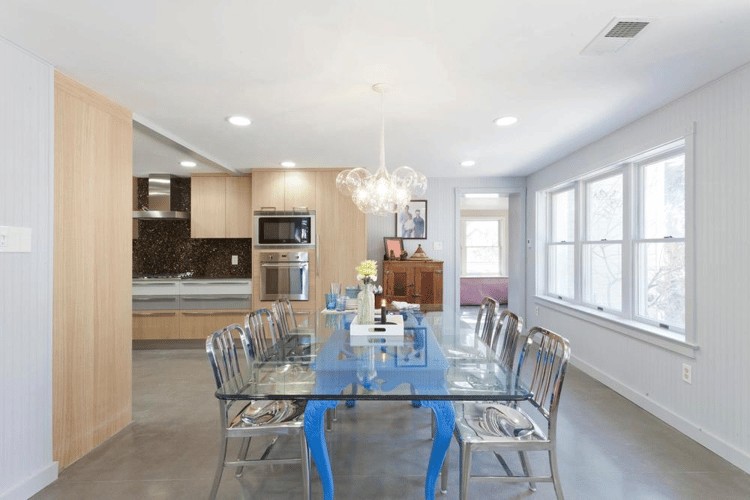 With the new space awash in natural light all it needed was some color. Enter Vetrazzo's Charisma Blue with Patina.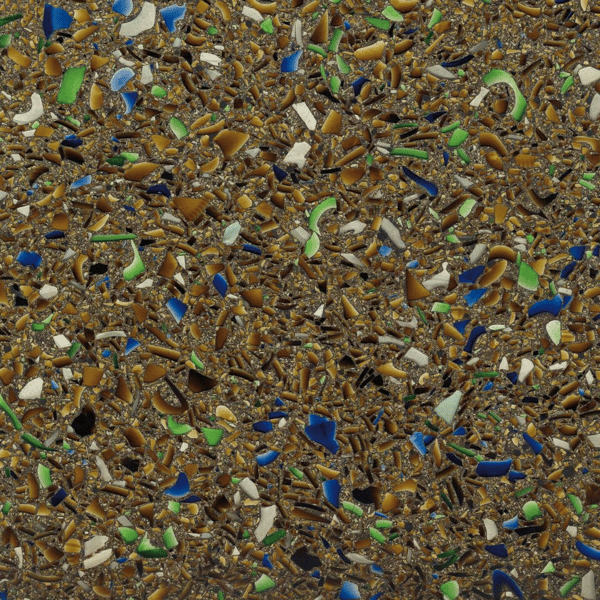 Cobalt blue, emerald green and amber glass pieces - once part of our favorite bar staples - get a second life in the recycled glass backsplash. "Quite simply, it was what my mom liked best," he said. "From a design standpoint I liked the idea of introducing a few different colors into the overall palette and I also liked the patina look because it both grounded the kitchen while allowing the glass and light wood cabinetry to push forward."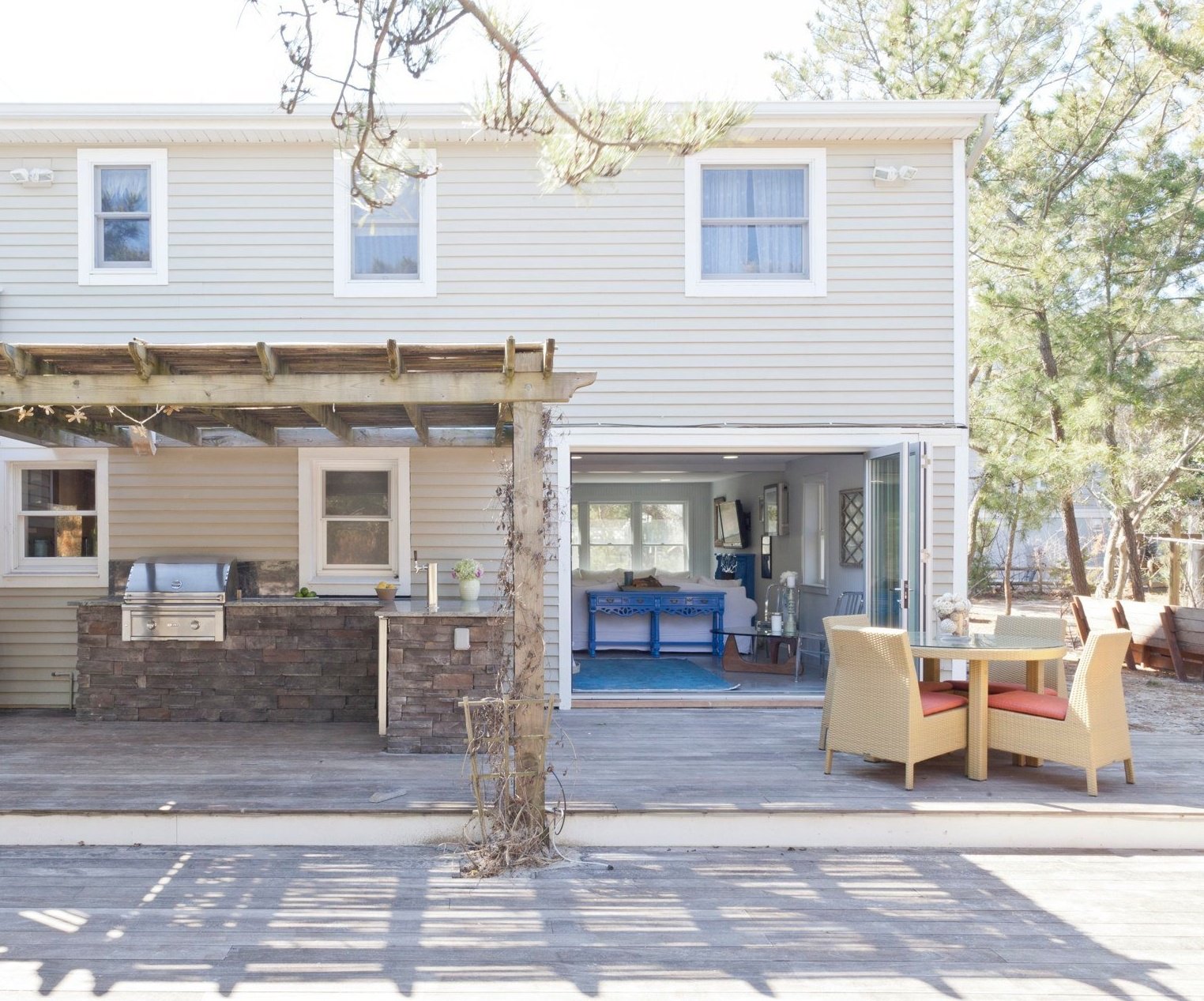 Carrino's biggest task was to keep the space aligned with the natural landscape of the beach house's coastal setting while retaining a modern aesthetic. Outside the designer added an outdoor kitchen and built a pizza oven for the family. Inside the kitchen features cabinetry from Italian manufacturer Mittel Cucine with light wood slab doors on the uppers and grey lacquered lower drawers paired with stainless steel counters. Polished concrete floors add a bit of texture. "The light wood is very consistent throughout, so having that dark patina in the background really pushes the cabinets forward, and then as you look closer you are drawn in by all the glass pieces of Vetrazzo's Charisma Blue."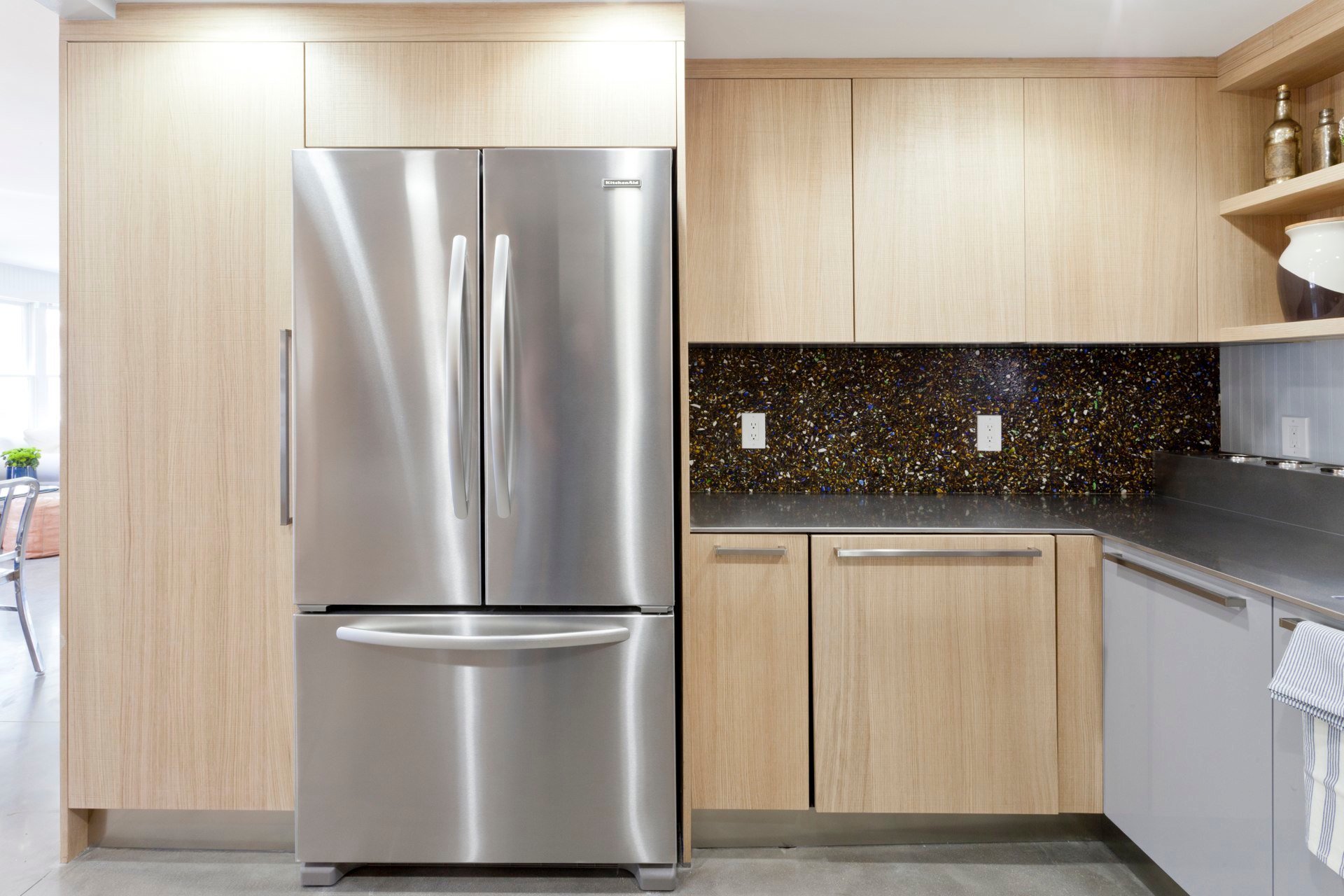 The Charisma Blue with Patina backsplash helps to soften the look of the stainless steel countertops and connects to the warm tones of the cabinetry. The best part? The redesign made sure to keep family at the center of it all. "Vetrazzo fit perfectly. It reminds me of combing the beach for sea glass with my parents as a kid," Carrino said. "That kind of nostalgia married with the overall aesthetic of the product is the perfect combination to evoke a personal home."
See more beach glass inspired kitchens in our Endless Summer ebook. Download it here.