How do you turn back the clock on a vintage home that's been stripped of its retro charm? For Arkansas couple Amy and Andy, who purchased a house built in 1970, they turned to HGTV's "Fixer to Fabulous" team of Jenny and Dave Marrs.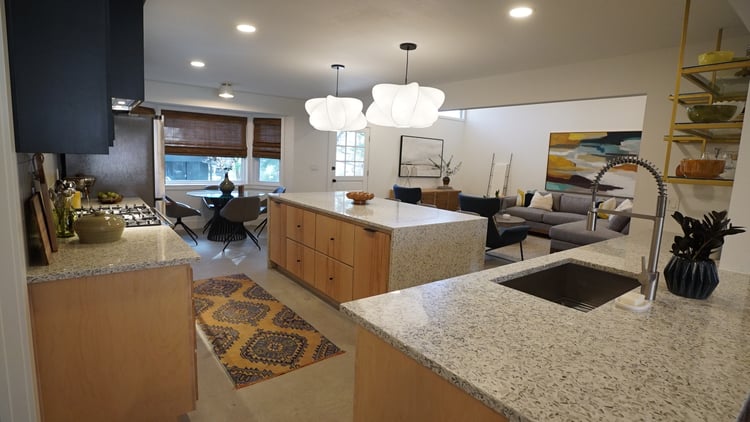 Hoping to return the house to its former glory, the couple thought they could do the restoration work themselves, but the challenge proved too much. The project became the basis of a "Fixer to Fabulous" (Season 3, episode 14) as the Marrs couple went to work combining touches of vintage, vintage reproduction, and modern updates for a home that's fresh but still maintains a nod to its past.
One of the biggest transformations was the kitchen, which was in desperate need of a makeover. The layout featured a peninsula counter that jutted out into the main entrance and was blocked by the refrigerator door that opened right into the walkway. The drop ceiling made the space feel small and dark, and the cabinetry and colonial spindle barstools were too old-fashioned to go with the funky fresh style they wanted.
The Marrs opened up the space with a more modern color palette of black upper cabinets contrasting with blonde natural wood lower cabinetry, open metal shelving and white and greys throughout. An island with a waterfall edge countertop and Eames mid-century shell-style barstools and chairs allowed room for gathering and entertaining. They raised the ceiling and installed fun cocoon-inspired pendent lighting to make the kitchen feel open and bright.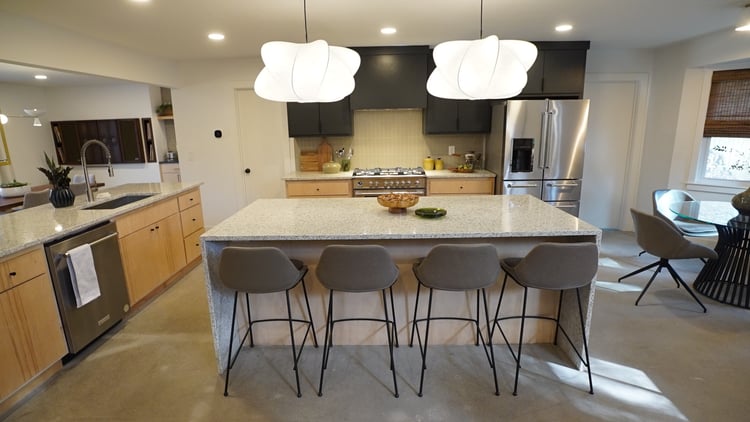 Instead of bold-colored laminate countertops (think Brady Bunch) popular in the 1970s, the Marrs decided to tap into another '70s trend.
Terrazzo is a sparkly composite created by pouring a solid layer of concrete or epoxy resin, then pressing or embedding chips of stone, glass and other materials into the surface and polishing it smooth. It was a popular choice for flooring in the 1970s, but originated in Italy decades prior as a way to reuse scrap rock and other materials.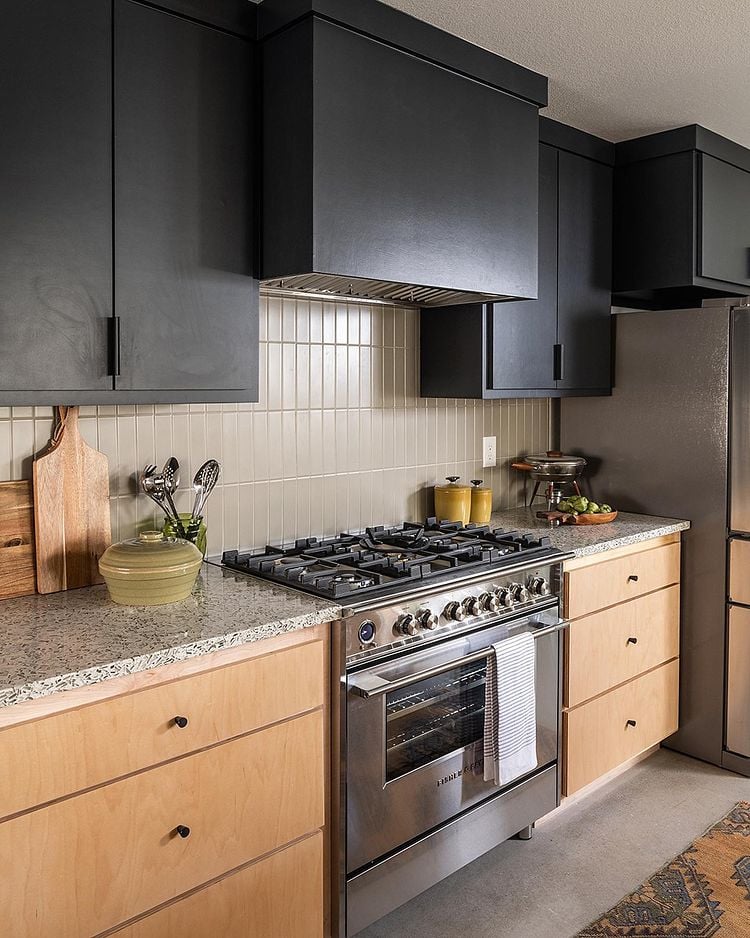 Vetrazzo has a better spin on it. Vetrazzo countertops are made with 100% recycled glass chips to create a more eco-friendly Terrazzo look with a lot more sparkle. Vetrazzo's sustainable surfacing product is made by hand with no chemicals or dyes and diverts tons of waste glass from landfills annually. As sustainability grows more critical in the 21st century, Vetrazzo's modernized Terrazzo look is perfect for a post-modern home like this one.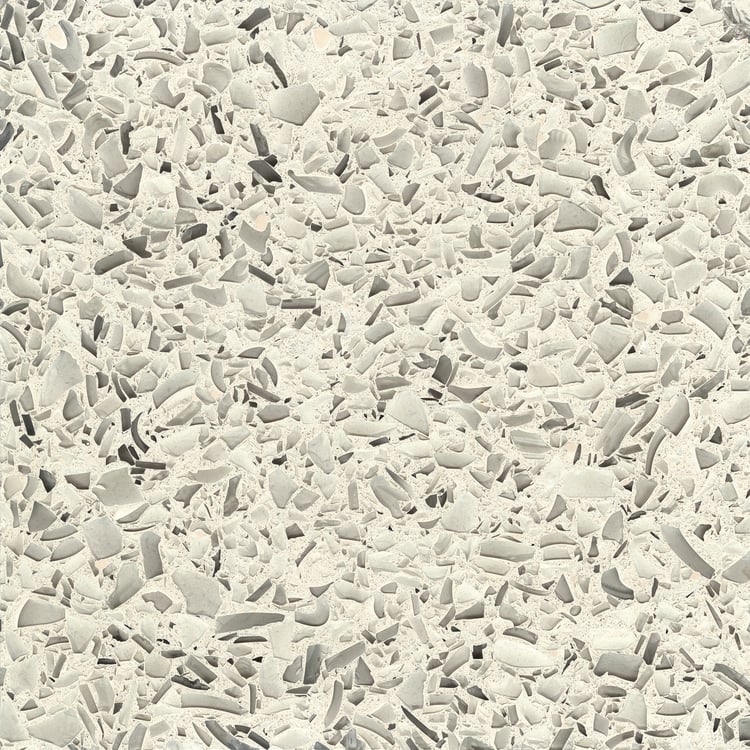 Martini Flint is made from a mix of post-consumer recycled glass for a low-embodied carbon countertop surfacing option (plus it's just so stunning to look at!).
When Jenny Marrs decided to use the Terrazzo look for the countertops, she chose Vetrazzo's Martini Flint design. This colorway features recycled clear glass bottles and condiment jars to give a shaken, not stirred look of a cool martini in a clear glass.
"We just wanted something that was so over-the-top unique. They are my absolute favorite," says Dave Marrs of the Vetrazzo countertops.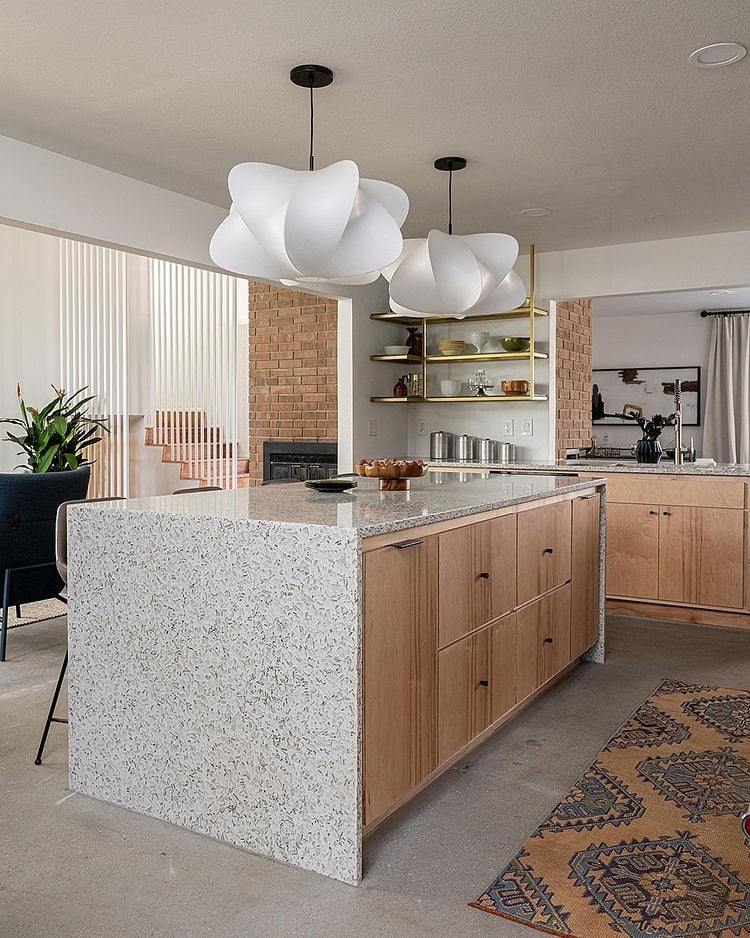 Other improvements around the home included a new entryway with a new floor-to-ceiling metal handrail and a complementary slatted wall to create a stunning design element. In the dining room, they fitted Andy's treasured vintage stereo unit into the wall and added a cocktail bar with a vintage pendant light—perfect for entertaining, just like they did back in the '70s.
The living room was freshened up with a fresh coat of paint, new stained concrete floors, and they removed the traditional big-box store mantle from the period-correct fireplace that was returned to a focal point. The new mid-century-inspired furniture included a custom storage/television console made from a white oak tree that had to be removed from the Marrs' backyard. With its horizontal slats, the '70s-style console became a statement piece that coordinated perfectly with the front door.
For the home's exterior, they replaced the siding with sleek metal, removed the old-fashioned shutters and added a new front door and garage doors that fit better with the style of the house. They painted the entire house, including the brick, a dramatic shade of dark gray.
They converted the pool house in the back of the house into a party space—after some major structure upgrades—by adding a garage door that opens to a deck, a cocktail bar, a fun 1970s-style super graphic striped mural and—of course—a disco ball overhead!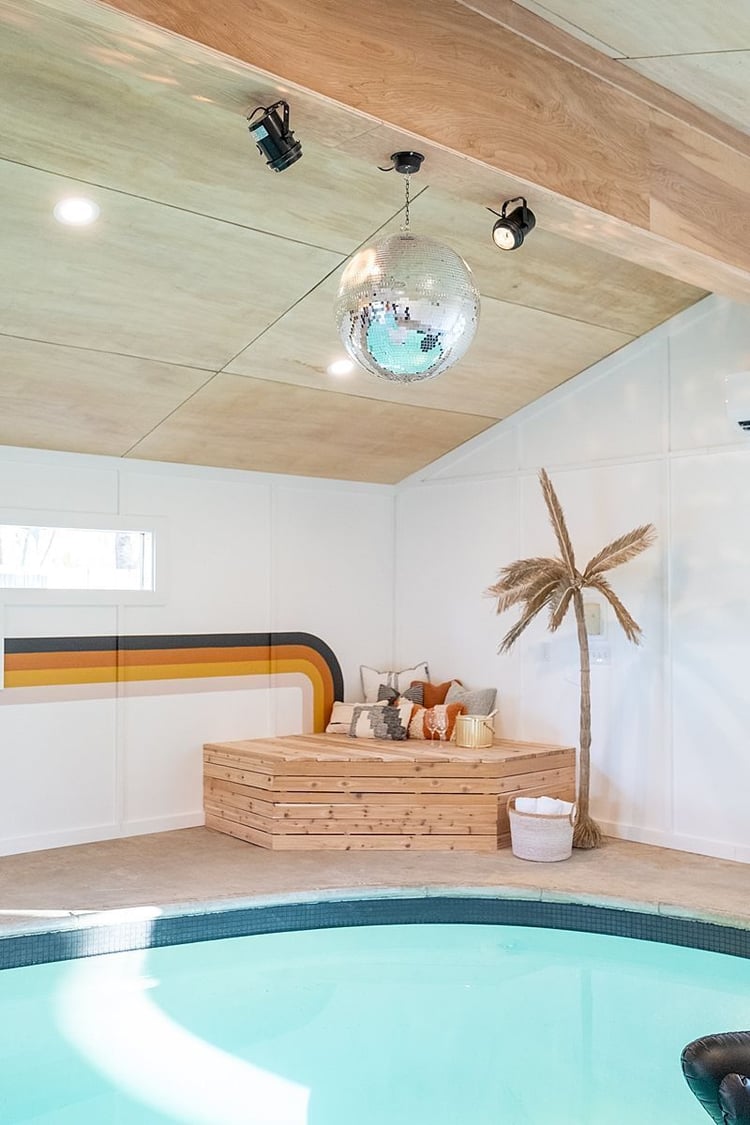 When the owners saw the redesign, Amy exclaimed. "This is how the '70s wishes it was!"
"Fixer to Fabulous" had its highest-rated season premiere for HGTV in November 2021 for season three. Ratings increased 24% over the Season 2 premiere.
Looking for a safer, more environmentally friendly countertop surface with more life and character than the same old quartz? Vetrazzo is the original recycled glass surfacing product developed by a pioneering scientist in Berkeley, California. With over 25 colorways you're sure to find your perfect match...