Beneath the towering peaks of mountains, and skimming the surface of pristine lakes, is a rich palette of deep greens, browns and blues that says one thing to your mind, body and soul - be at peace.
There is no greater feeling than being, for at least a moment, at the top of the world, surrounded by nature in its purest form, seeing as far as the eye can see.
If you traveled to a lake or mountain this summer you already know, it's a feeling you want to capture in your everyday interiors - fresh, earthy, wholesome.
We've taken design inspiration from four of our favorite mountain and lake destinations and paired them with our own colorful recycled glass countertops for a style match that says natural luxury. See which gorgeous getaway is your interior style inspiration.
Destination
lakes and mountains
ACADIA NATIONAL PARK, MAINE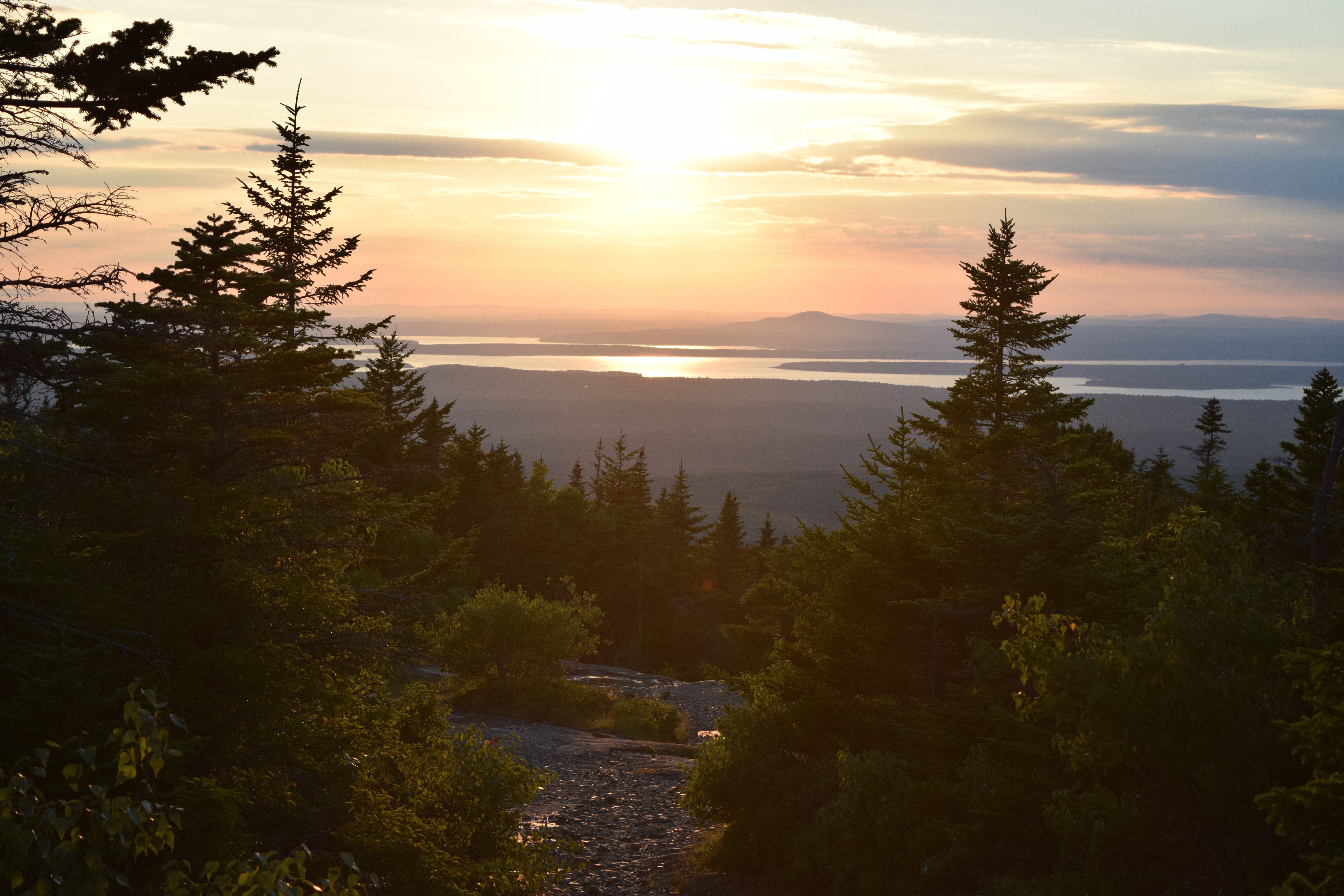 The lush greens, bluer-than-blue lakes and rich brown hardwood forests draw millions of visitors a year to Acadia National Park in Mount Desert, Maine. The majority even rise before daybreak to make the climb to Cadillac Mountain, the highest point on the North Atlantic Seaboard, to see the sun rise over the tiny island's thousands of feet below. Maine's pink granite, gnarled spruce trees and wild blueberries surrounded by large boulders make it an inspiring color palette.
vancouver, Canada
The dark brown cedar planks of the Capilano Suspension Bridge in North Vancouver are in sharp contrast to the dark green Douglas Fir trees, temperate rain forest, award-winning gardens and nature trails. Since 1888, the simple suspension bridge has been a destination for those craving a treetop adventure in the 1,300-year-old firs or a cliffwalk along the granite precipice along the Capilano River.
l'anse township, michigan
The wild and rugged Huron Mountains encompass swamps, lakes and high plateaus, like Mt. Arvon, the highest summit in Michigan. The striking green peak rises 1,400 feet over Lake Superior, where dedicated, experienced hikers can conquer the ragged and rocky terrain to arrive at the top to a breathtaking view of the Huron Islands. There's even a mailbox at the top for trailblazers to leave their information and join the club of those who came before.
new york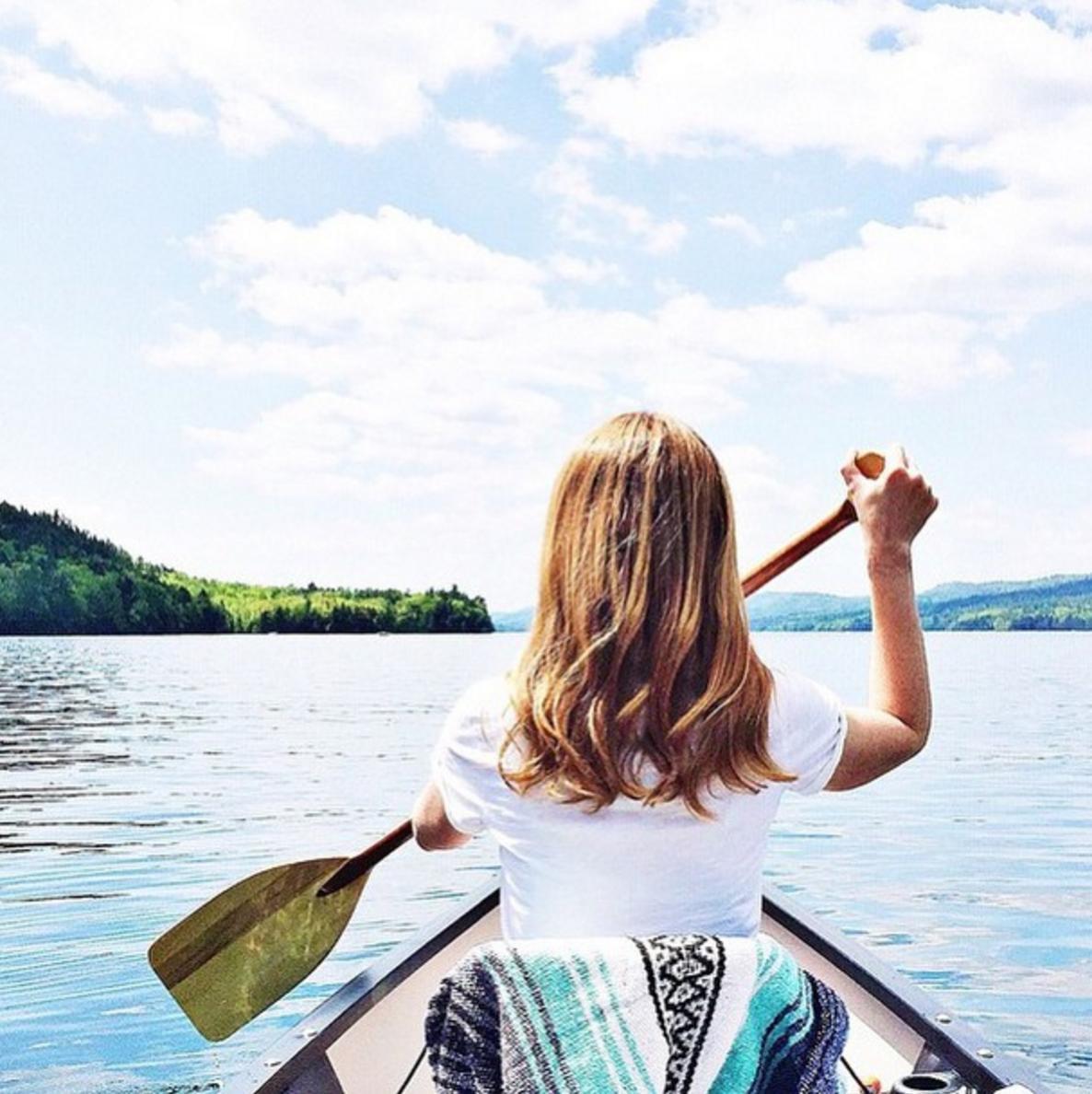 Lake George's unspoiled waterways are an outdoor playground of deep blues and lighter teals, framed by thick forests that make up the Adirondack Mountains. A canoe ride on the narrow, 32-mile lake reveals pine, spruce and birch trees native to the area, as well as the dense, dark green islands that dot the body of cool water.
Match up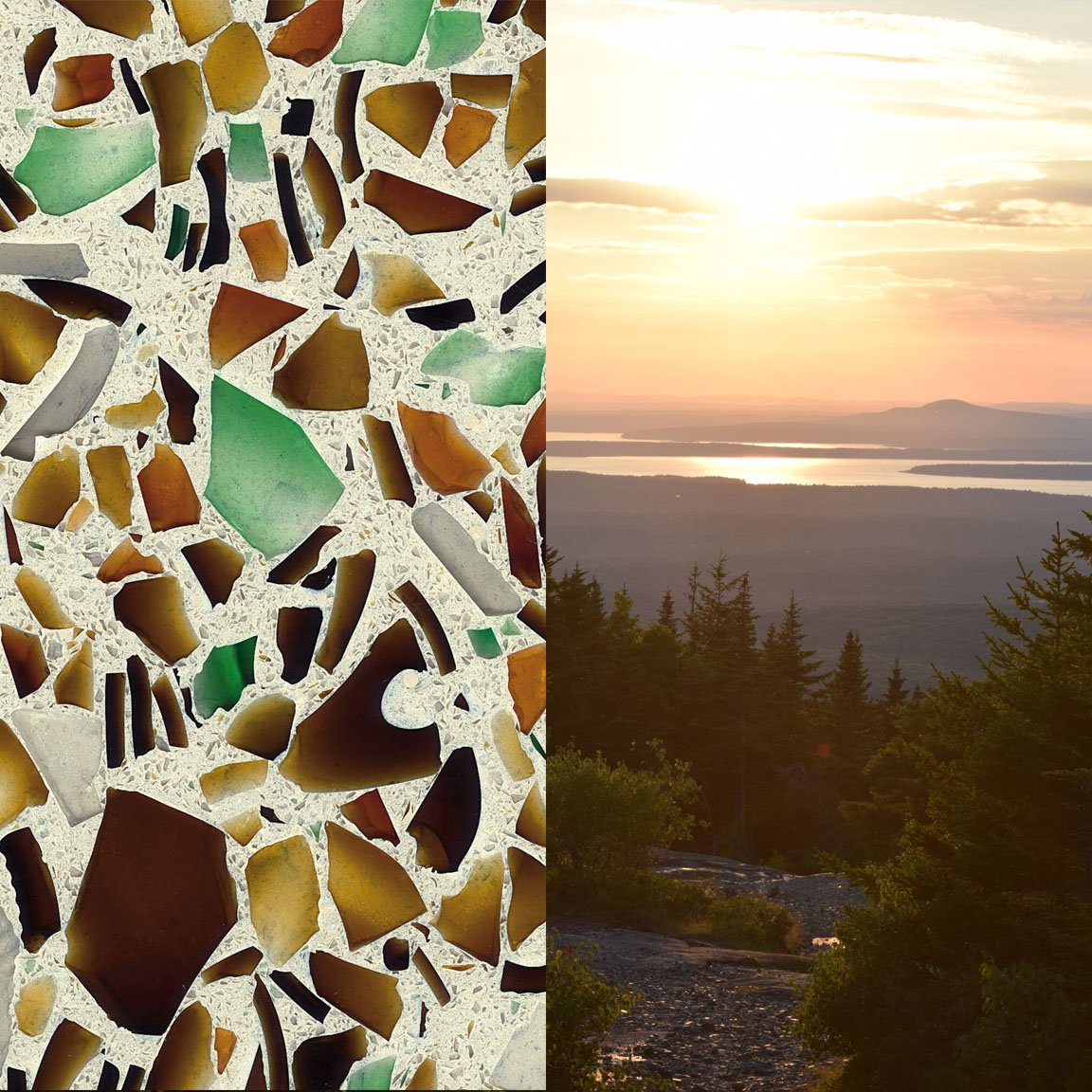 Alehouse Amber inspired by Maine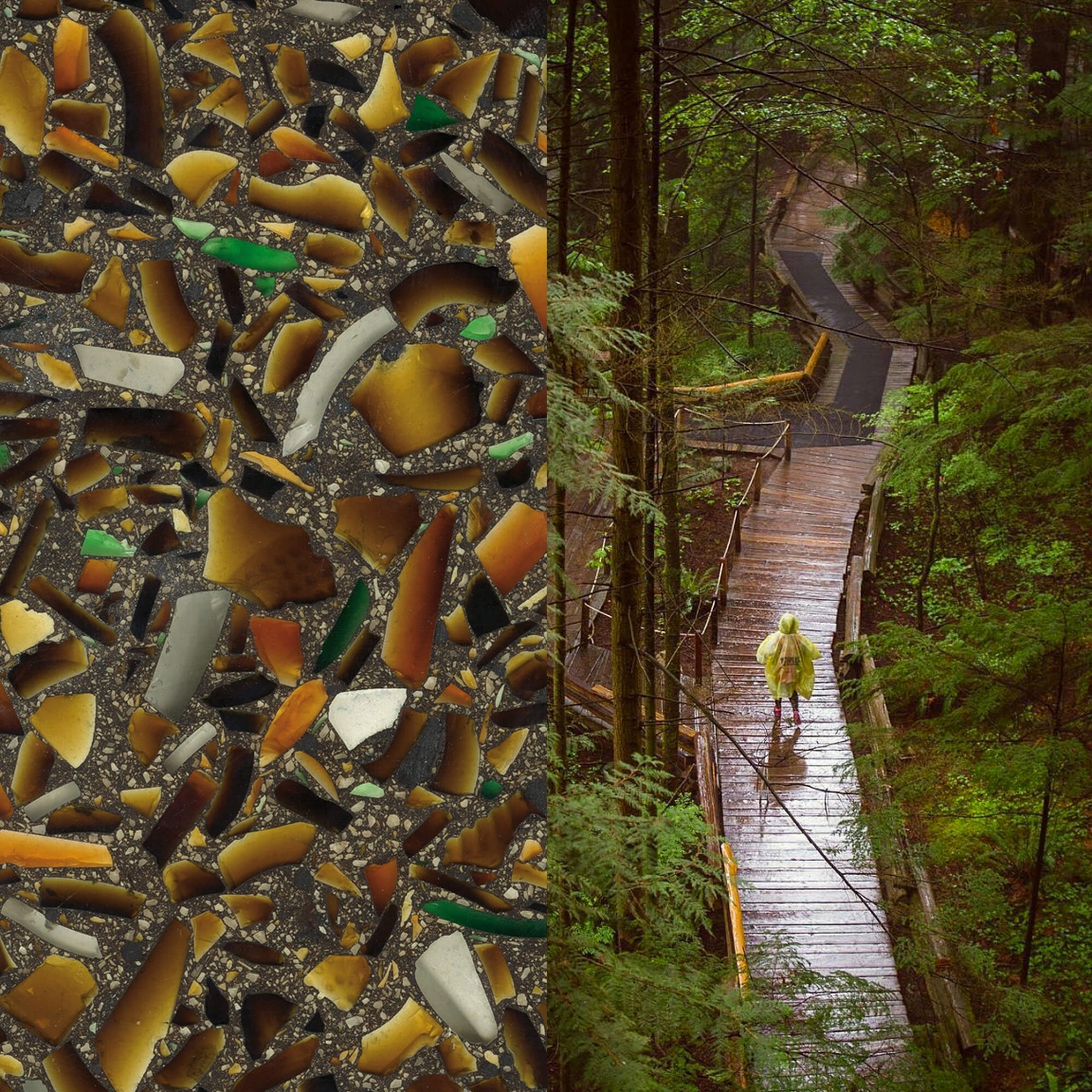 Alehouse Amber with Patina inspired by Vancouver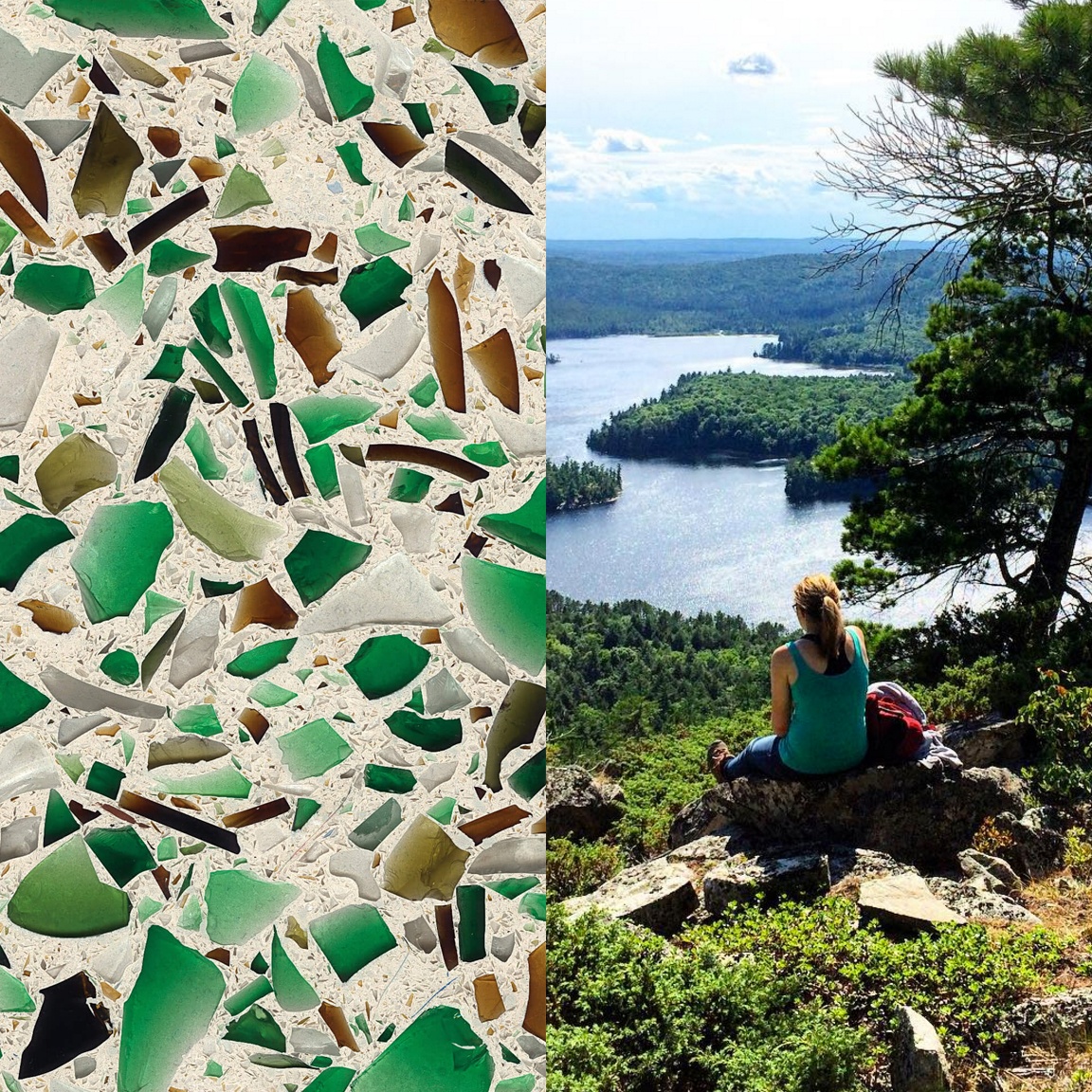 Bistro Green inspired by Michigan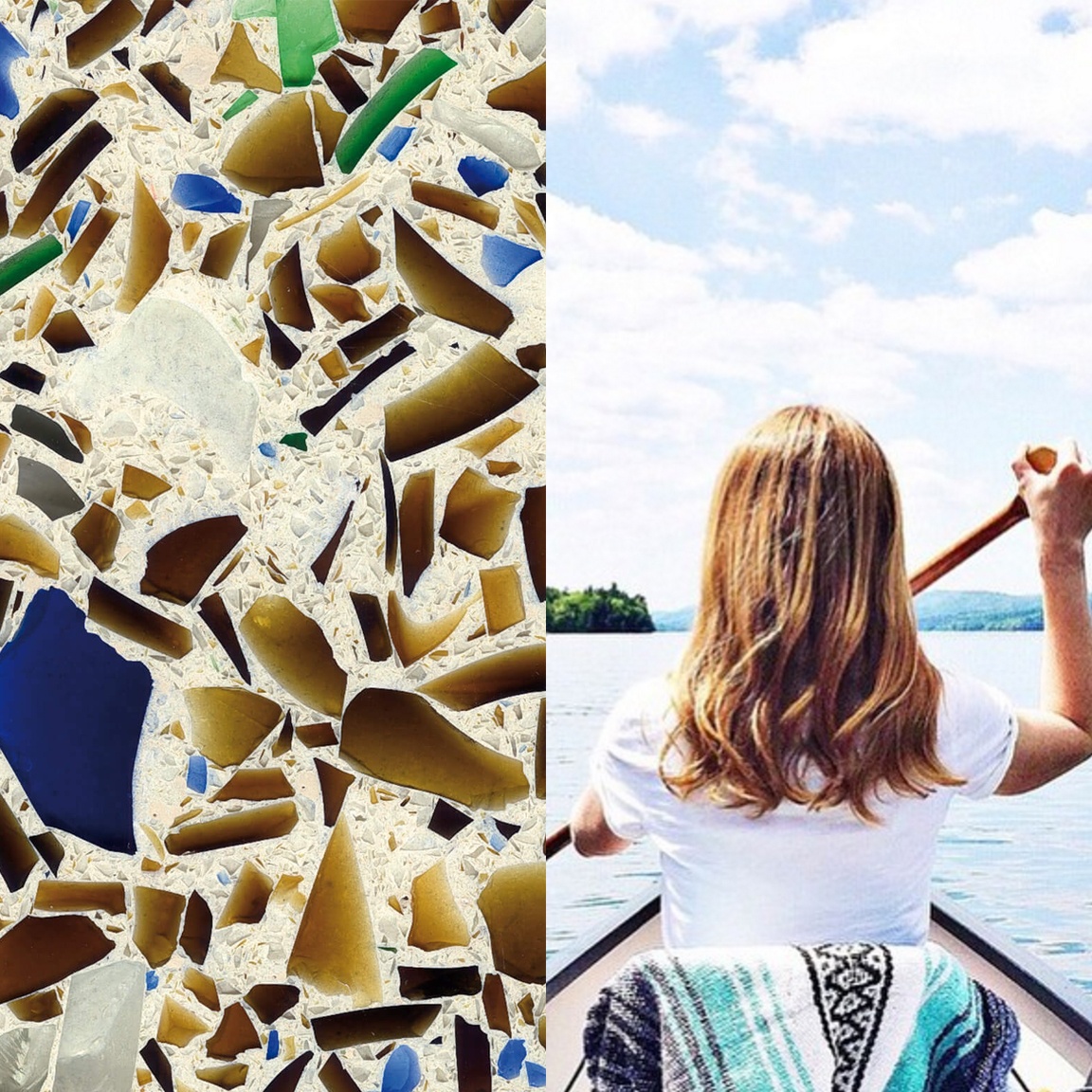 Charisma Blue inspired by Lake George
Install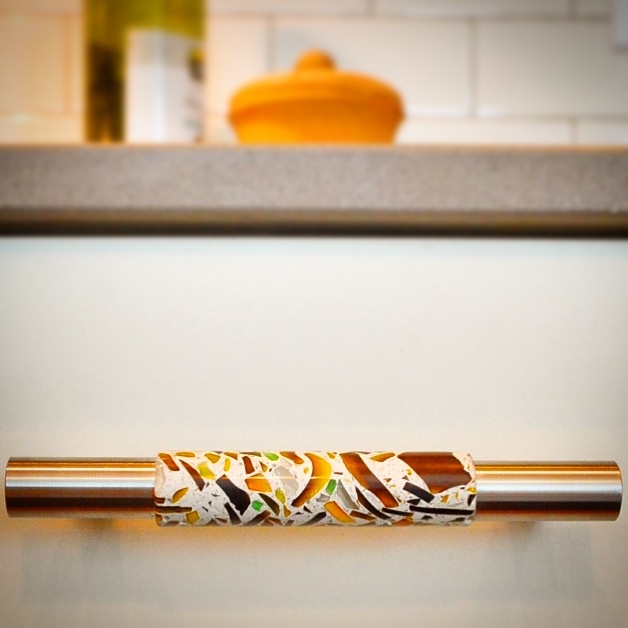 Alehouse Amber hardware adds an earthy feel to stark white contemporary cabinetry.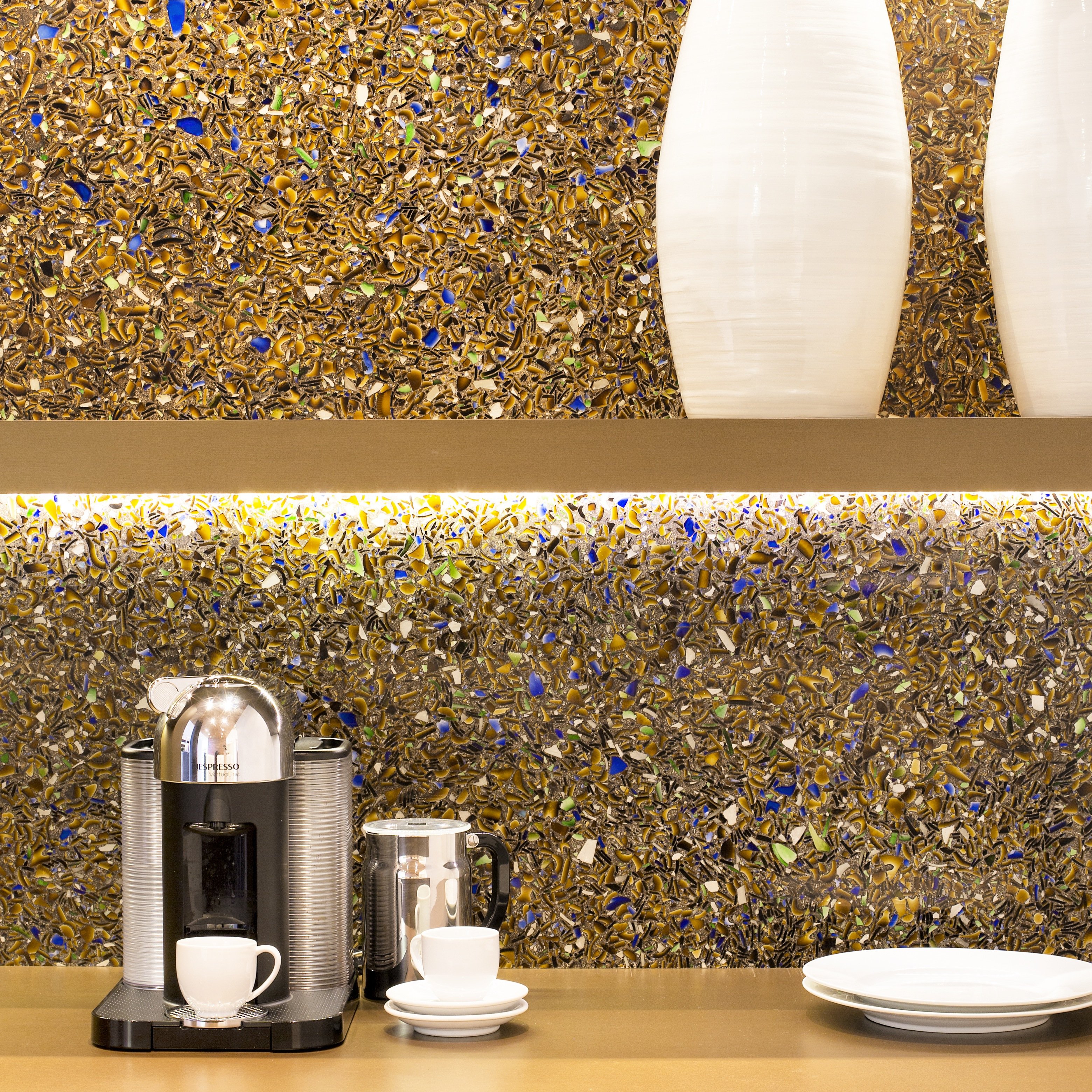 A full wall backsplash in Alehouse Amber with Patina brings warmth and movement to an otherwise ultiltarian space in this contemporary kitchen.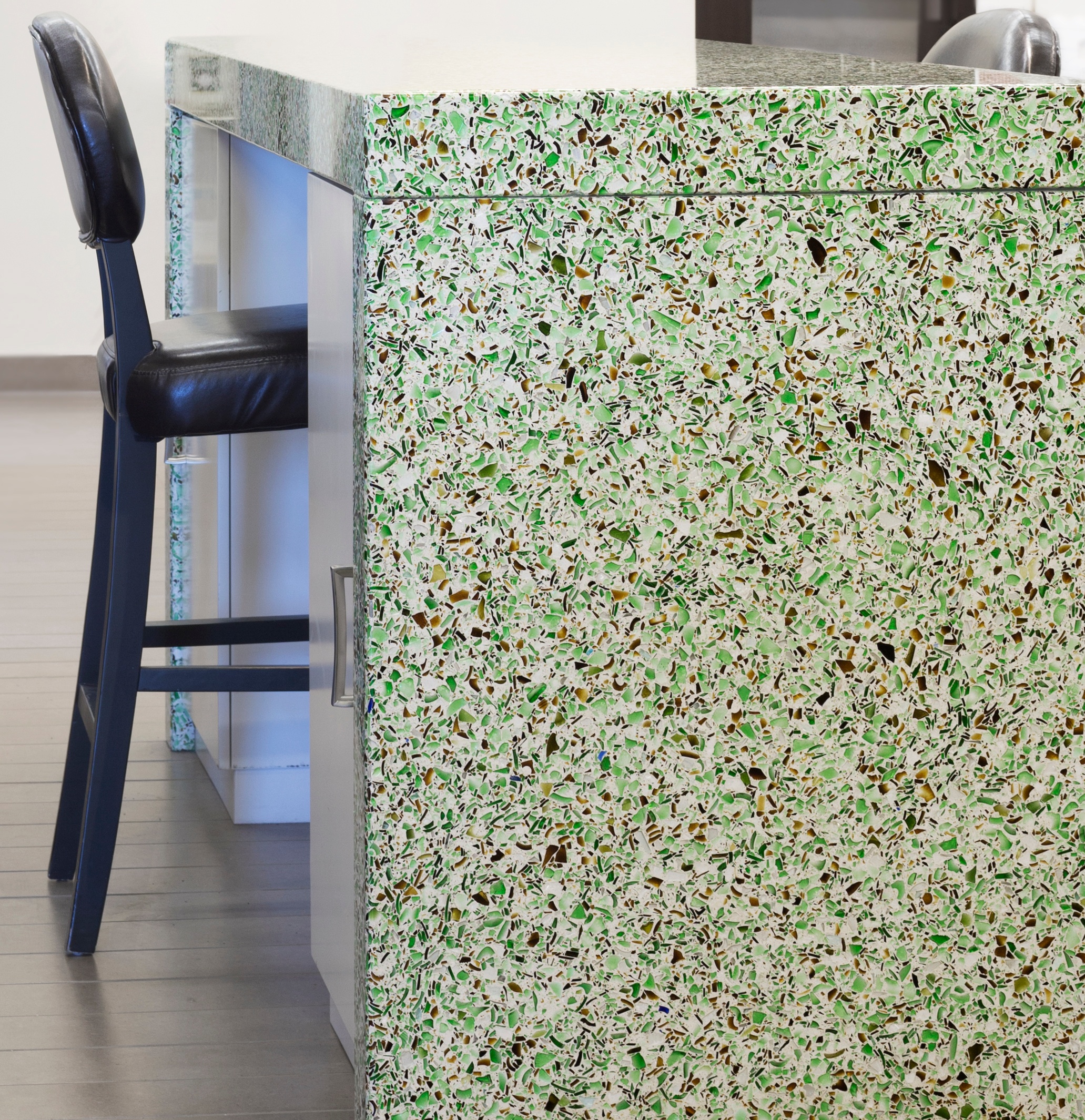 The emerald hues of crushed glass in Bistro Green give the edges of this waterfall island an organic feel.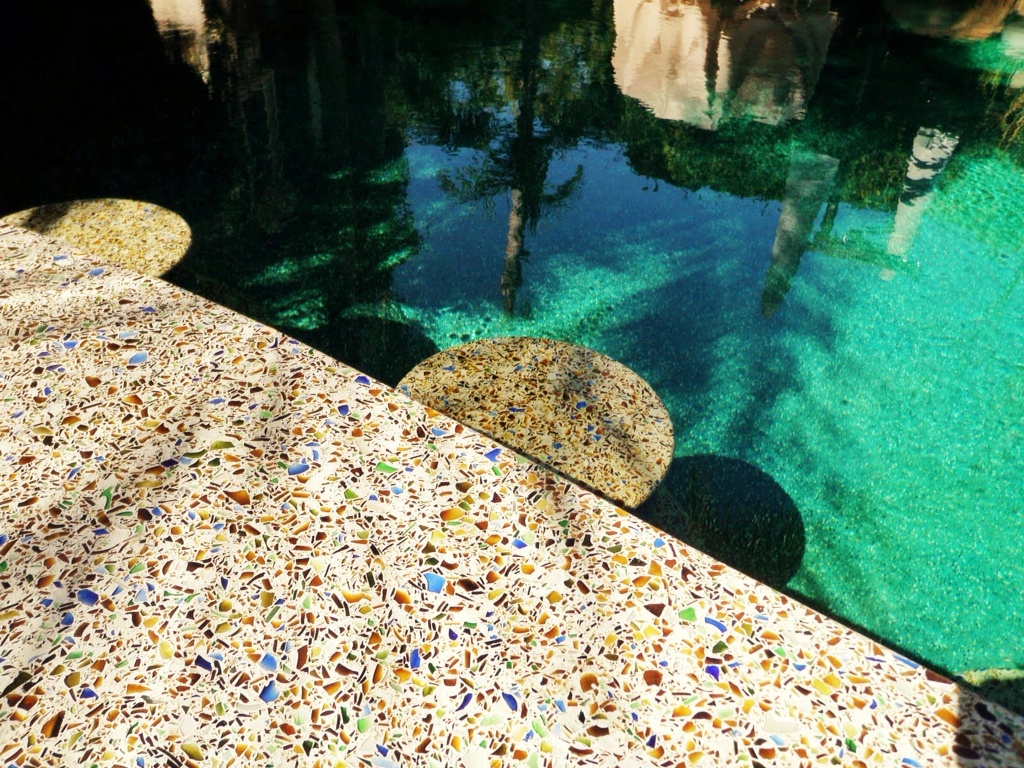 A poolside bar in Charisma Blue brings home the spirit of lakes, mountains, and of course, cocktails.
Colors
Alehouse Amber

Glass source
Stained glass, beer and wine bottles from individuals and restaurants and condiment jars
Alehouse amber with patina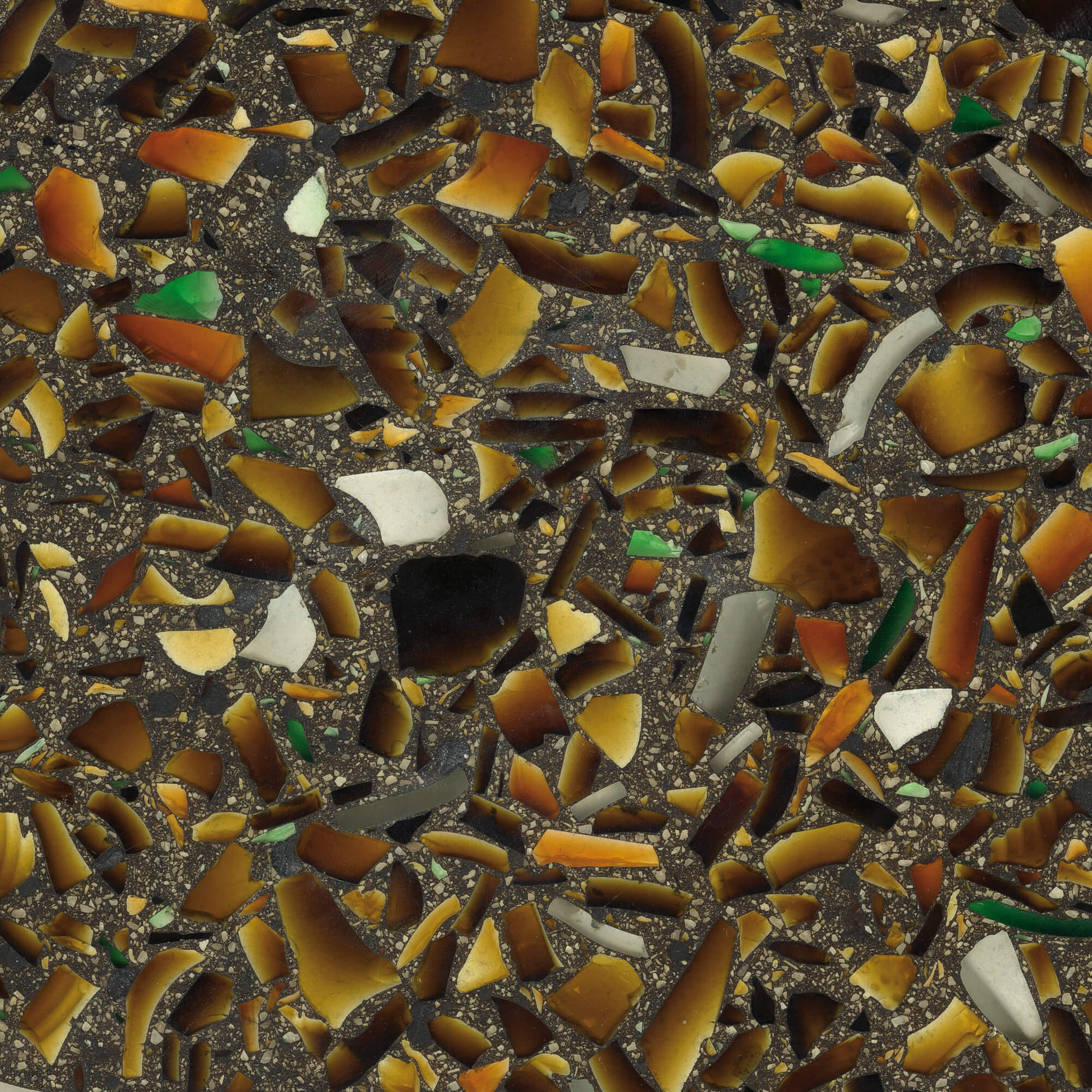 Glass source
Stained glass, beer and wine bottles from individuals and restaurants and condiment jars
Bistro green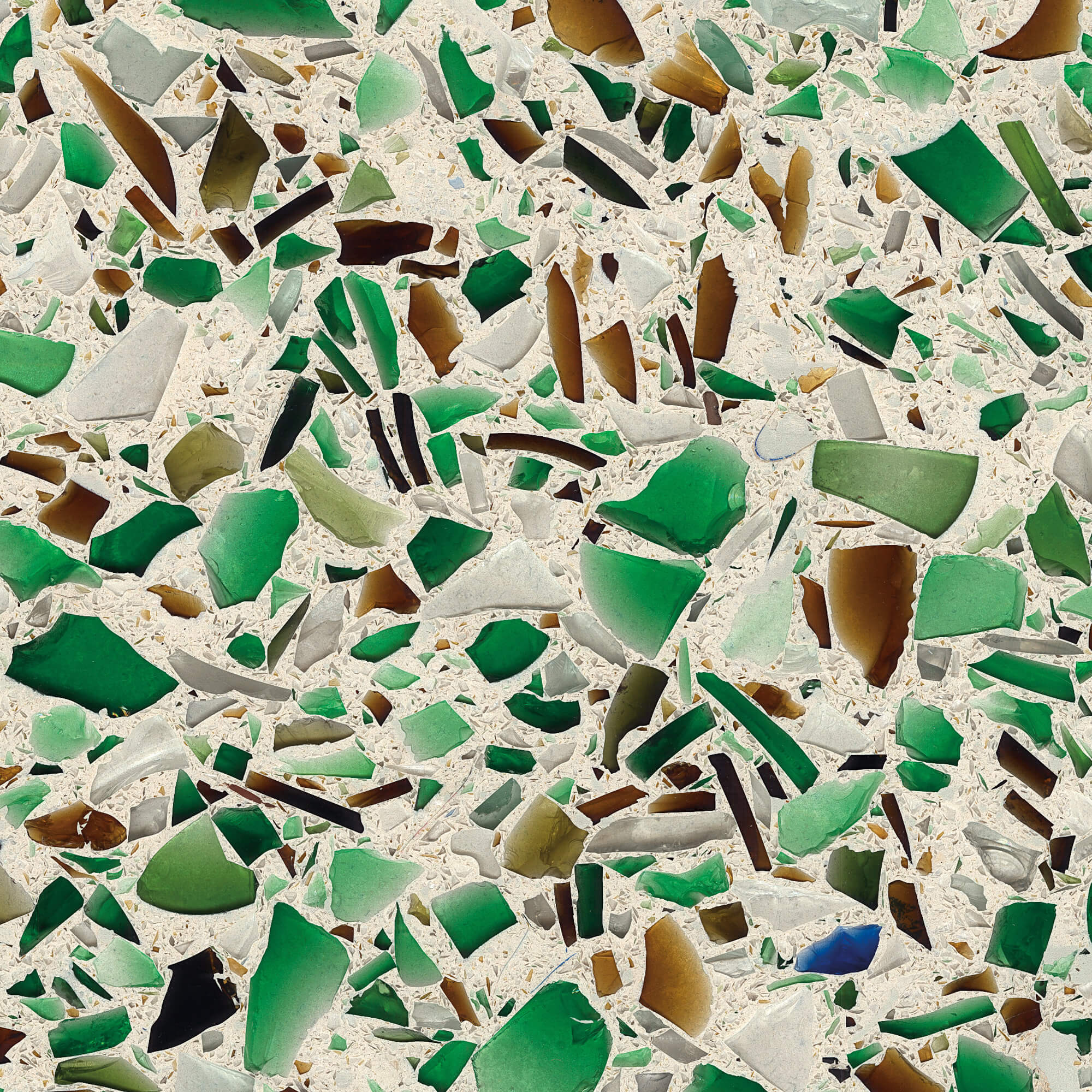 GLASS SOURCE
Beer and wine bottles, various condiment jars, tasting glasses, bowls and blue glass shards
Charisma blue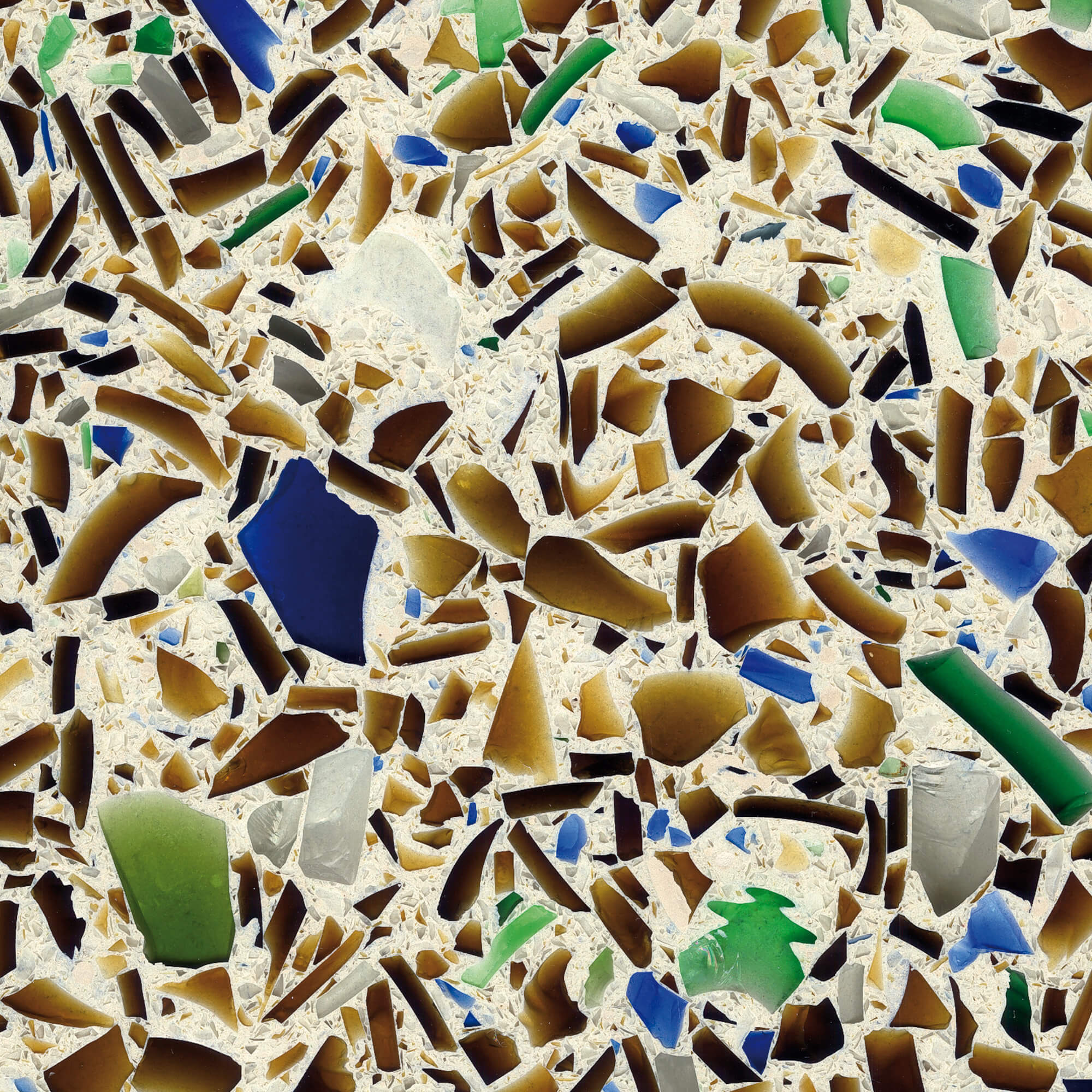 GLASS SOURCE
Beer and wine bottles, Skyy® Vodka and 1664 beer bottles
Want to dive into some more color inspiration? Download our free lookbook where we pair our colorful surfaces with furniture, decor and hardware for a completely inspiring look.