Out of all the questions I field about Vetrazzo's recycled glass countertops - about color, texture, durability - it's price that I'm most often asked.
Vetrazzo's slabs are many things - colorful, engaging, sustainable - but they are also a handcrafted luxury material.
Did you know it takes eight people a full day to create one slab by hand? And then that it takes up to four weeks for that slab to cure? Or that each piece is hand finished?
Artisans hand place glass pieces in every slab to lend unique character, like this bit of green glass foating in the Martini Flint counter of Stephanie Rothbauer's design.
Vetrazzo only produces about 16 slabs a month, each one unique, even within color blends. (Compare that with a quartz factory where manufacturers can turn out thousands of slabs in a month.) That kind of bespoke production is reflected in Vetrazzo's pricing, which is on par with other luxury surfaces. This isn't the recycled glass you'll find at the big box stores (more on that later).
Factors that influence cost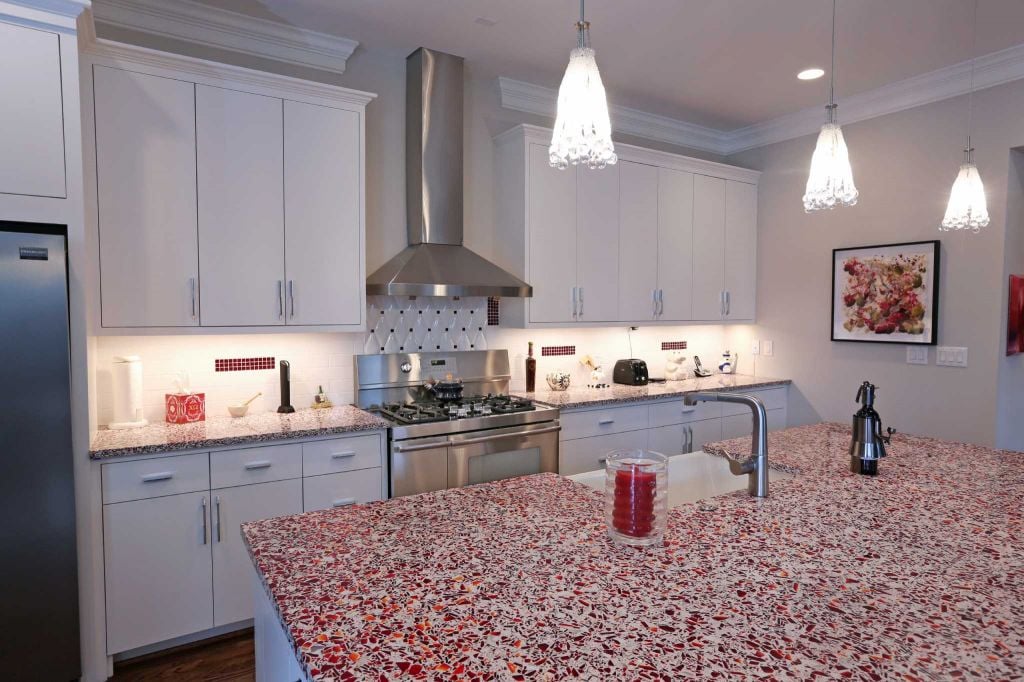 This white kitchen was designed around the Ruby Red recycled glass island. Simple flat front cabinetry and minimalist hardware leave the focus on the island.
Price for Vetrazzo slabs and tiles vary based on a number of factors including color selection and choice of patina, and vary by distributor. Market region, stock availability and dealer overhead, these are all factors which can influence the price point. Because of these factors you can expect prices to vary among distributors and regions.
Fabrication costs are determined by individual fabricators based on their labor costs. Vetrazzo slabs must be fabricated by trained and certified fabricators to maintain the product's warranty.
Vetrazzo currently carries eight color blends, with patina and sea pearl finish options available for some, making for a total of 18 different variations in color and finishThe availability of glass sources, the size of the glass aggregate in the blend, patina and finish all influence the price point. Cool Titanium and Martini Flint for instance, made with readily available glass jars from curbside recycling, are the most inexpensive of the Vetrazzo brand. Ruby Red, with its rare red glass pieces is at the top end of pricing. Adding patina, which requires use of a cement stain product and more labor, raises the price one level. Vetrazzo's unique Sea Pearl finish carries an additional square footage charge because it requires an extra finishing step to give it that soft, undulating texture that feels like sea glass.
Here's a list of Vetrazzo color blends by pricing level beginning with the least expensive*:
Cool Titanium, Martini Flint
Alehouse Amber, Bistro Green, Charisma Blue, Cobalt Sky, Glass House, Coffee House
Cubist Clear
Chivalry Blue, Floating Blue, Palladian Grey, Bretagne Blue, Umbo White, Emerald Coast
Millefiori**, Amethestos
Ruby Red**
*Sea Pearl finish and patina options will add an additional square footage charge.
**Fun facts: Millefiori contains cut ends of ribbon glass from an artist studio in California, one of our original glass sources for more than 20 years. In order to make red glass like that in Ruby Red, gold must be added to the glass ingredients to produce that vibrant hue.
Price comparison with other high end materials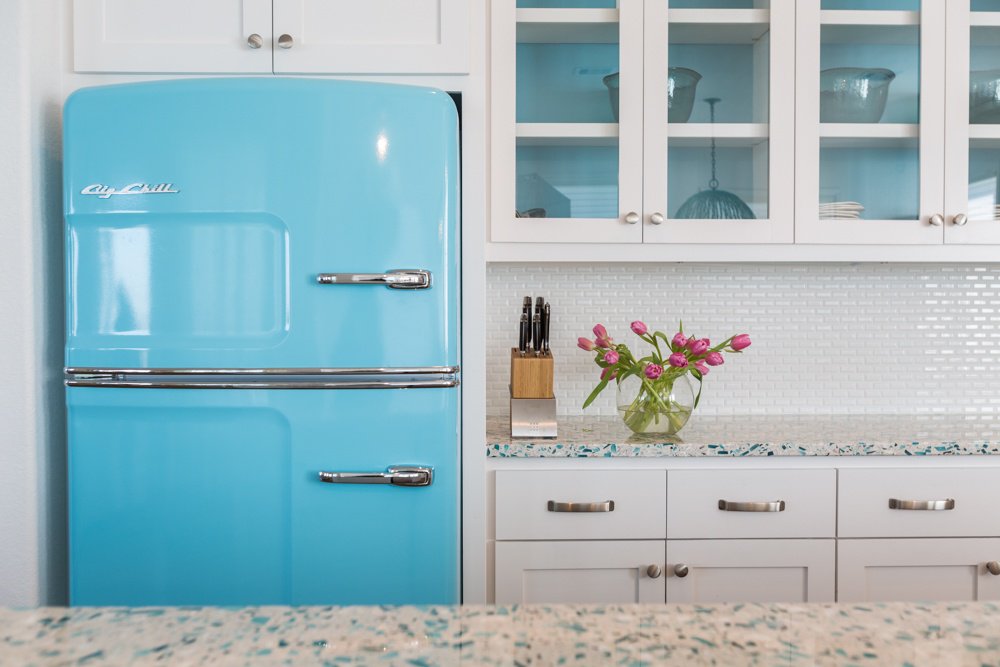 High end retro appliances pair perfectly with luxury recycled glass counters in Floating Blue here at this Houston vacation home designed by Laura U Interior Design. More here.
It's impossible to give a universal square footage price for Vetrazzo recycled glass countertops because of all these factors we've discussed. So one of the best ways to give you and your clients an idea of cost is by comparing to other well known surface materials.
These handcrafted recycled countertops are comparable to higher end quartz products like Caesarstone and Silestone. For a comparison with natural stone, Vetrazzo counters are comparable to a category four stone, such as a higher quality marble or granite. They are more expensive than soapstone.
Vetrazzo is certainly not the only recycled glass countertop on the market, but there are key differences that set it apart from others, and which influence the price.
Comparison With Home Store Recycled glass counters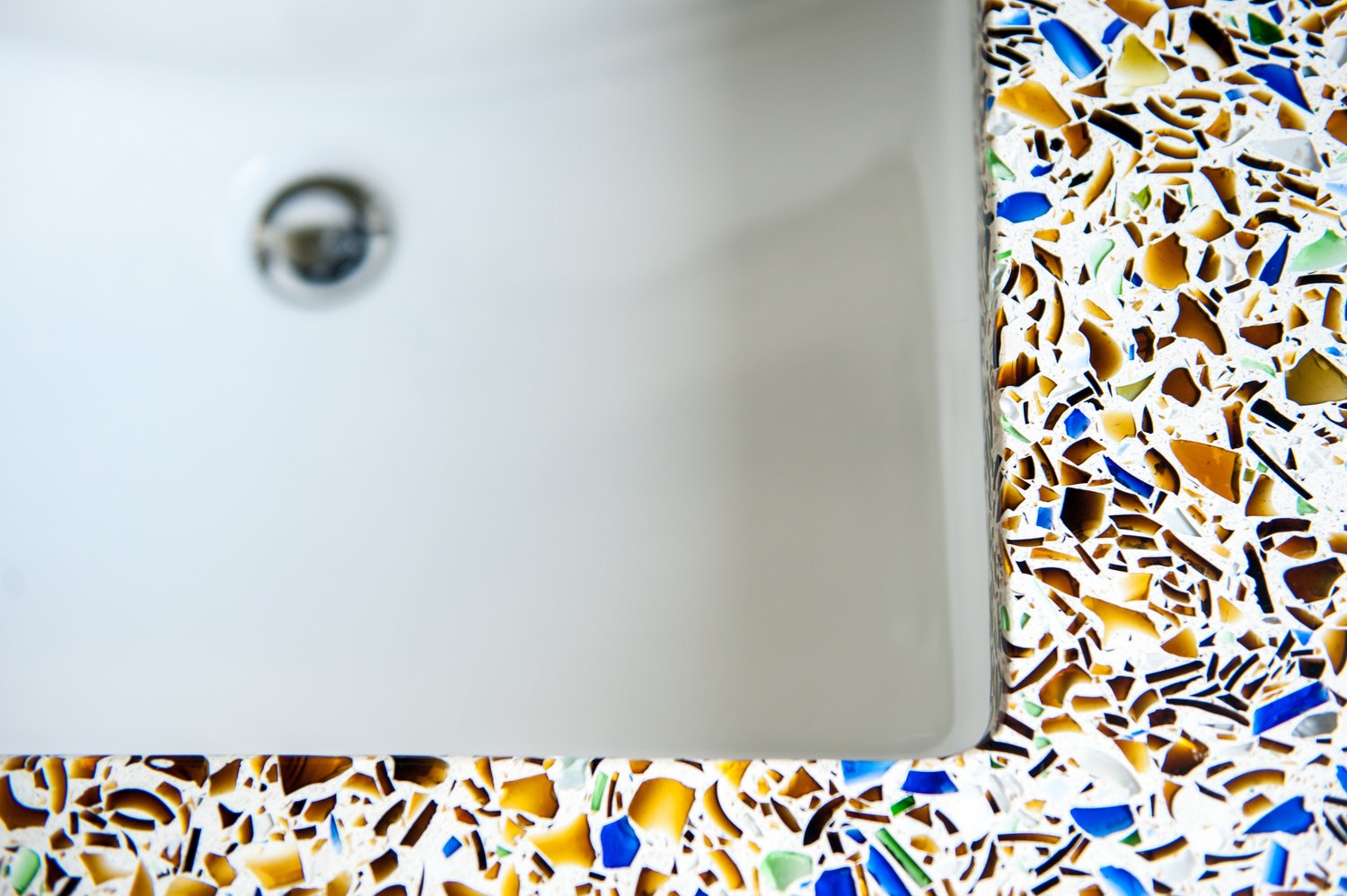 Charisma Blue contains the signature amber bottles of America's favorite beers along with cobalt blue glass shards.
If you've ordered your coffee and a donut from a chain store you may have set your cup down on a counter with small bits of sparkling aggregate, which looks a little like recycled glass, but is actually a quartz product. The tiny crushed pieces of quartzite are suspensed in a binder. Besides Vetrazzo's handcrafting (which alone makes it unique) is the size of it's glass aggregate. At our atelier our craftsmen have perfected a method of suspending large glass shards within the binder, without leaving voids in the surface, something other manufacturers have not been able to achieve. This enables us to incorporate glass from bottles, architectural salvage glass. and even stained glass, in a variety of shapes, weights and sizes, all while maintaining a perfectly smooth surface.
That's one reason you see less expensive recycled glass counters with small glass pieces sold at big home stores. The small crushed glass pieces are cheaper and easier to work with in large production. They are also more uniform in shape giving the slabs a flat appearance.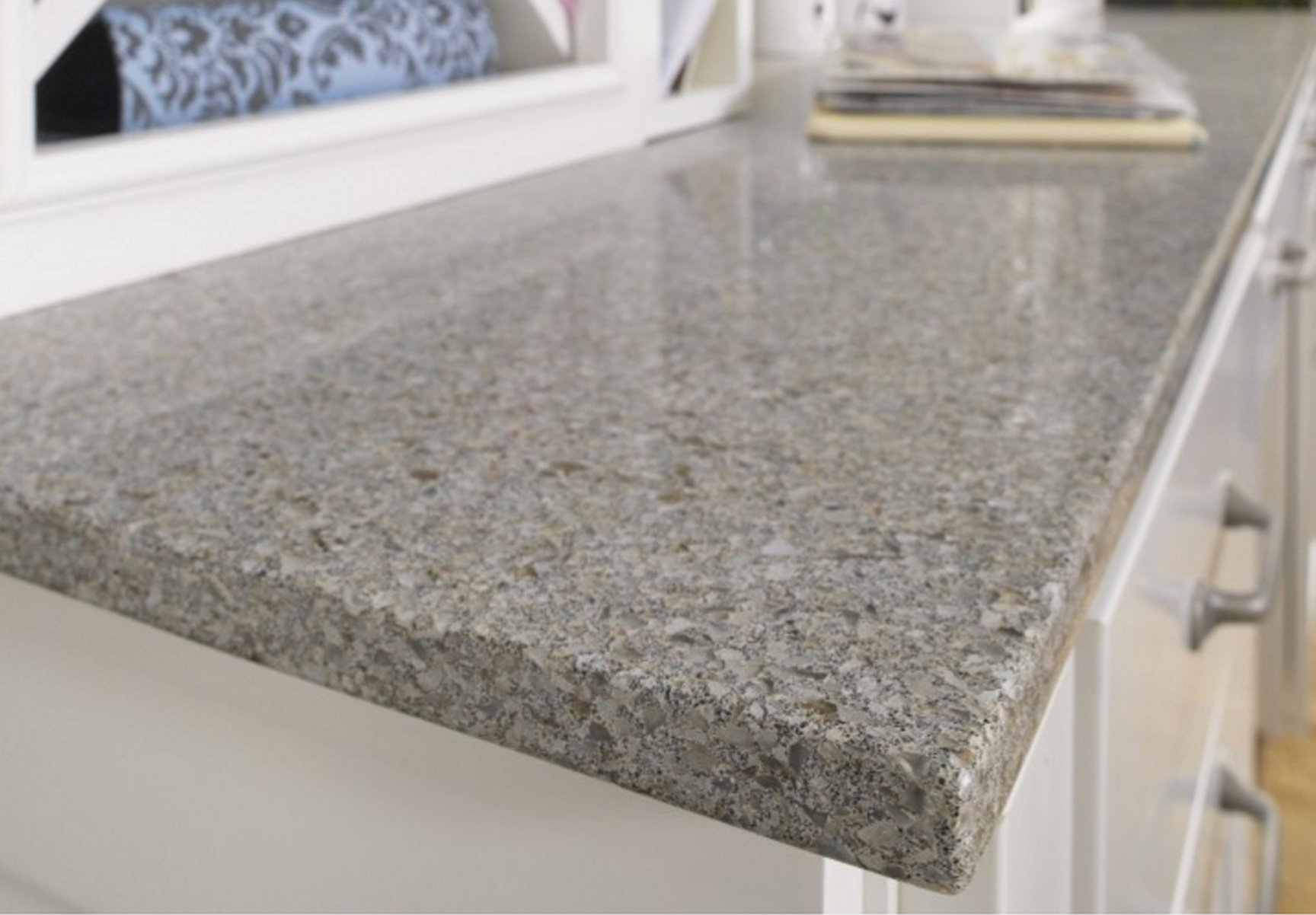 Detail of Cosentino recycled glass countertops available at Lowes which contain small sized aggregate.
In Vetrazzo slabs the glass pieces vary in size and feature large chunks giving the slab a dynamic appearance. Some colors blends have additional elements like crushed oyster shells in Emerald Coast and Georgia marble pieces in Bretagne Blue. Irregular sized pieces give movement to the surface.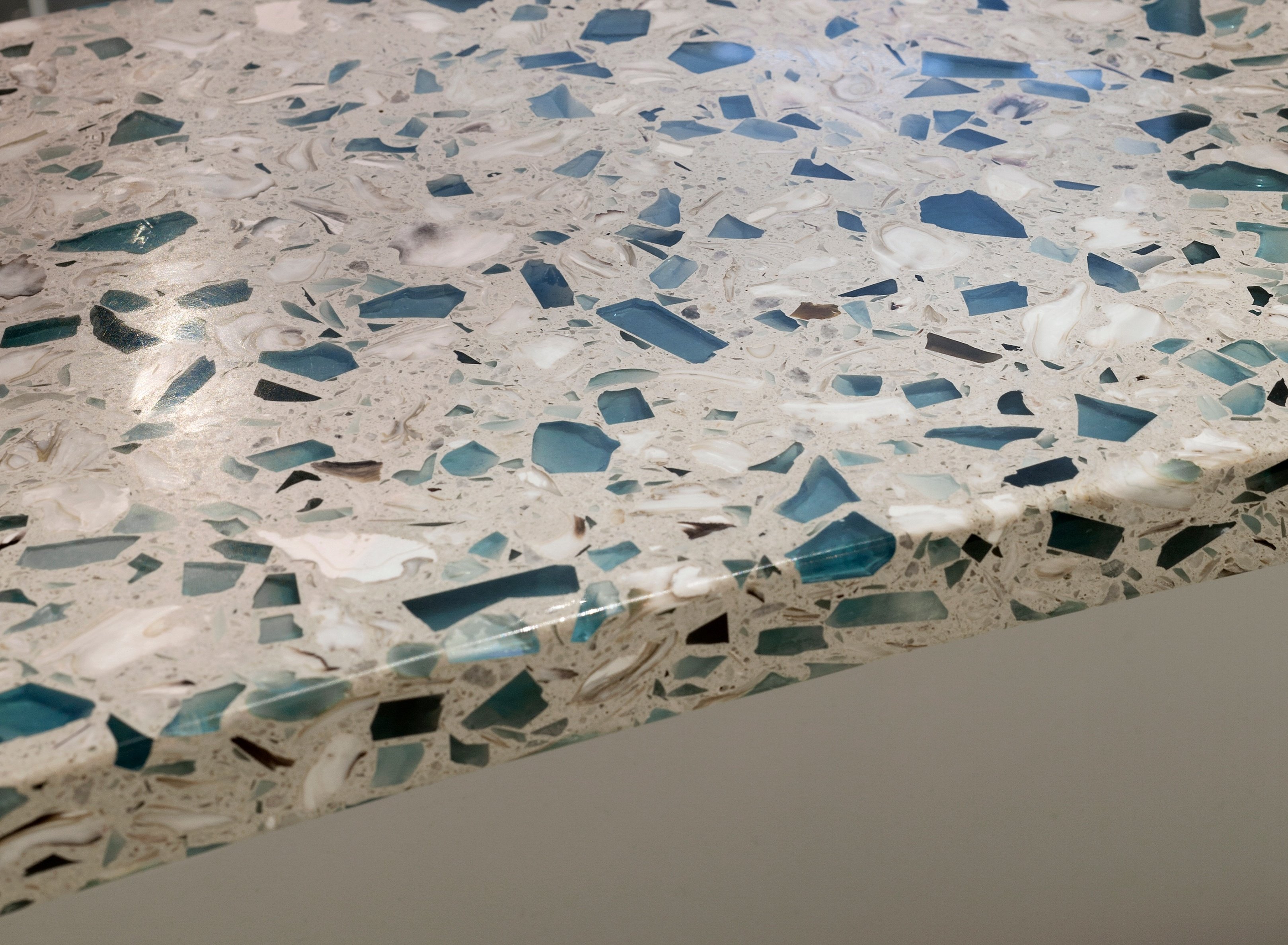 Detail of Vetrazzo's recycled glass countertops in Bretagne Blue which incorporates South Carolina oyster shells, Georgia marble pieces, archtiectural salvage and aquarium glass. The larger glass aggregate pops against the white background. Vetrazzo is available exclusively at authorized dealers.
How to tailor your budget to include recycled glass countertops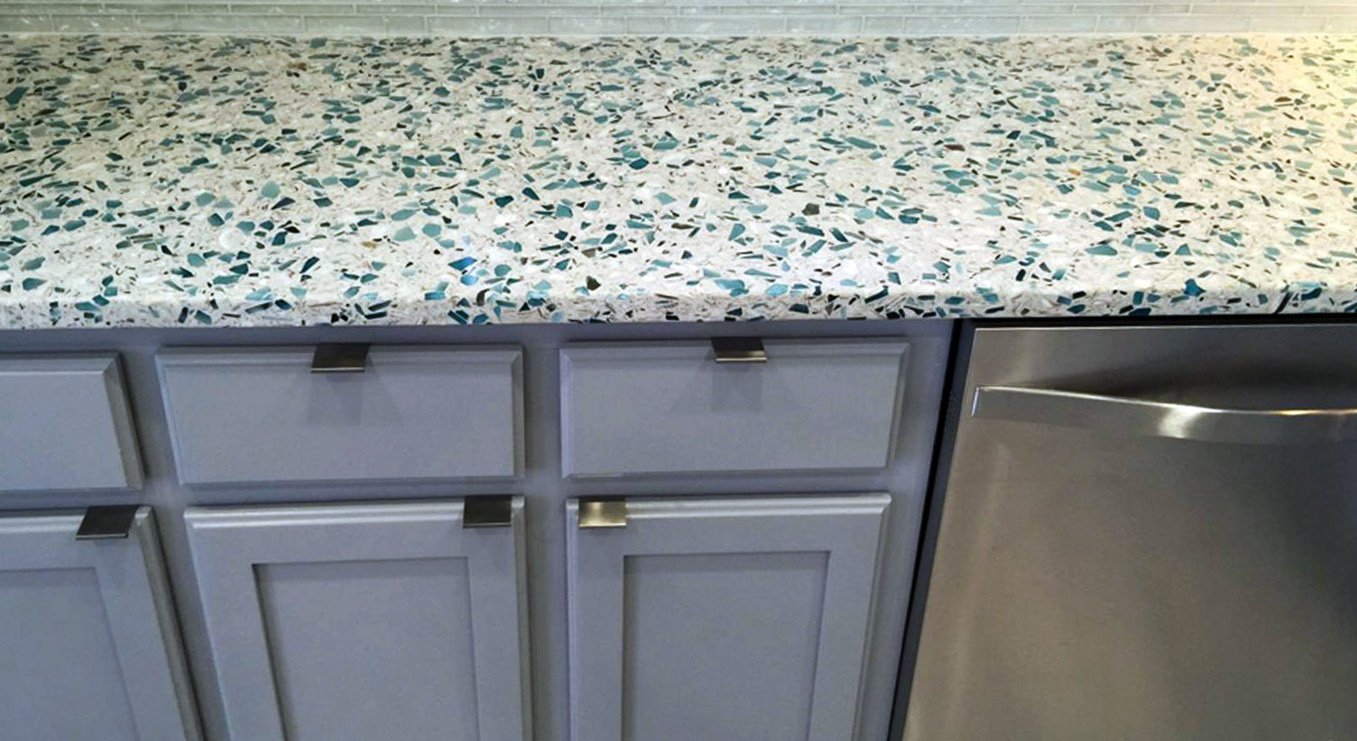 Judy Moore's dream countertop in Bretagne Blue at her family's North Carolina beach home.
When Judy Moore was shopping for a countertop for her North Carolina beach home she fell in love with the look of Bretagne Blue with it's turquoise tones and Georgia marble pieces. But when the price seemed out of her reach she considered settling for a lower end recycled countertop from a home store. "I said to my husband 'Oh well, the Vetrazzo is lots more expensive, but it was exciting just knowing it was actually available; I guess I will call the home store and order their's."
To her surprise Moore's husband said, "Get it. The last line in the Vetrazzo description you sent me said: This is the perfect countertop for your forever home. This IS our forever beach home. It's our beach condo, then our children's, so get what you love. We are one and done so get what you love because you will have to look at it for the next 40 years. We can save money on something else."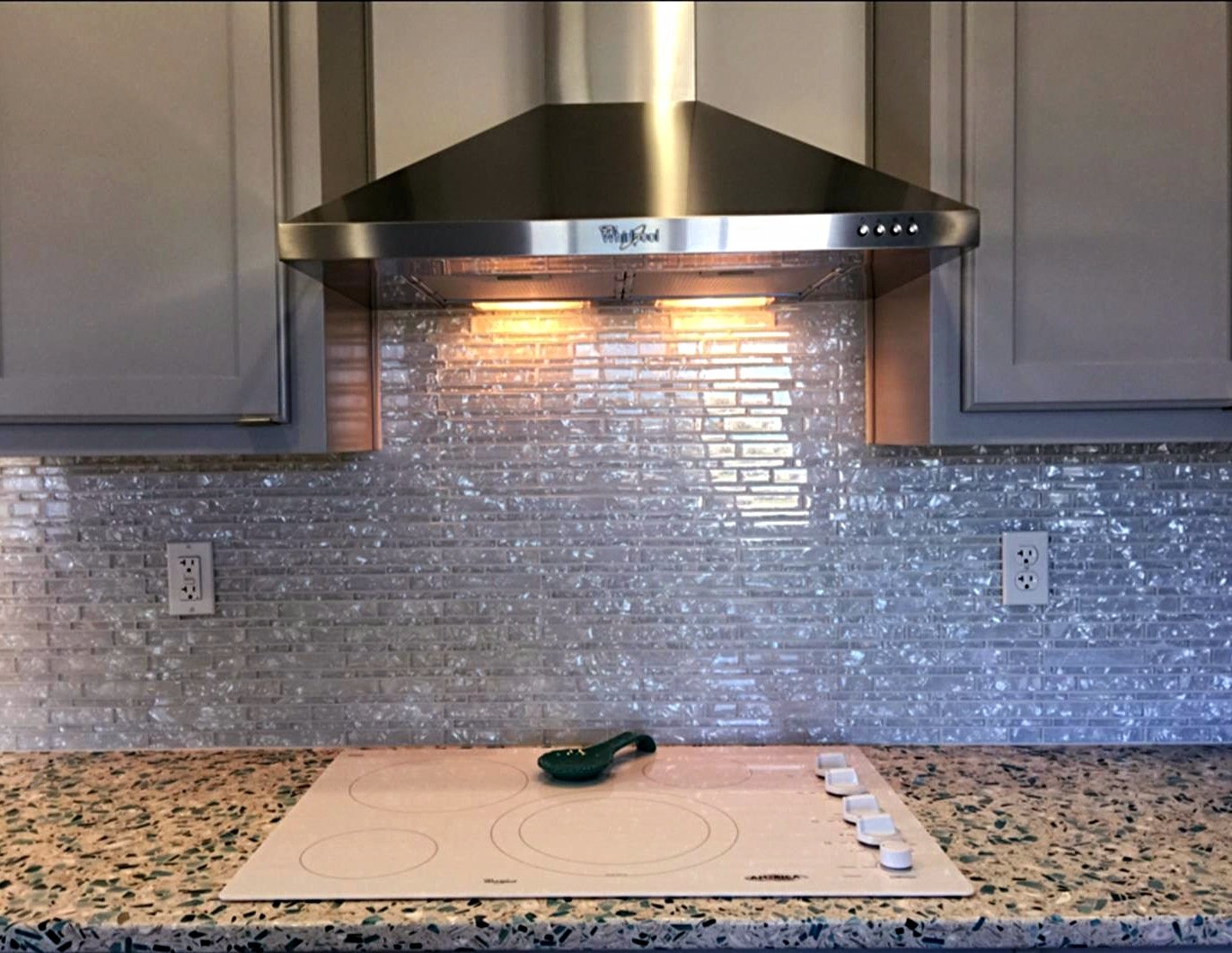 The homeowner chose a white cooktop to better blend with the white cement background of her recylced glass countertop.
Which is exactly what Moore did. She made her favorite kitchen element, the Bretagne Blue recycled glass, her focus and made finishing, lighting and appliances choices that would allow her to have the Vetrazzo while staying on budget.
"It's about choices," Moore said. "I really wanted the Vetrazzo so in exchange I saved in other parts of the renovation. I did some work myself, like some of the easier painting and I made other items we needed instead of purchasing them." The considerable savings on labor and furnishings she said, allowed her to have what had always been her dream material.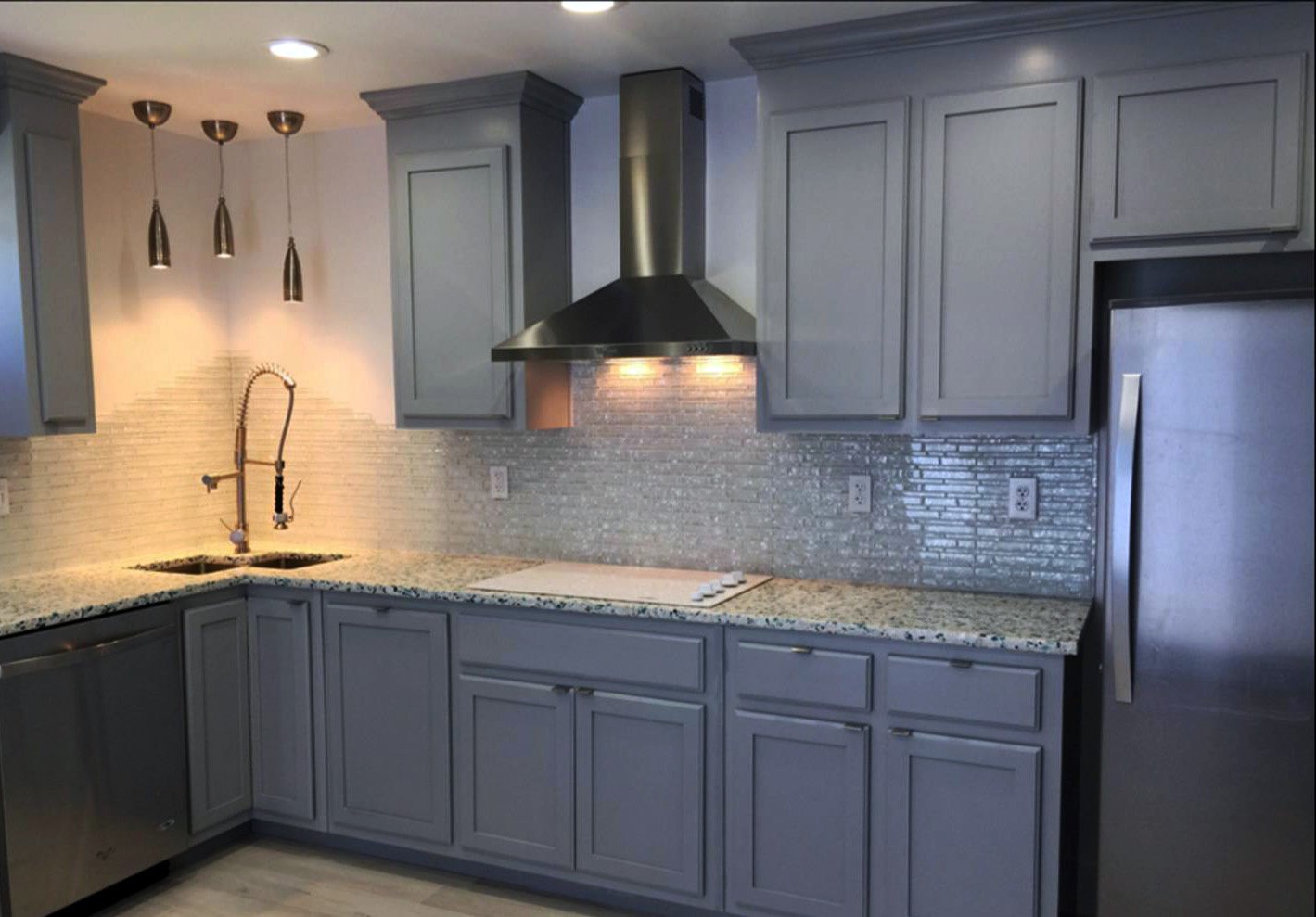 In her renovation, Judy Moore used Vetrazzo as her centerpoint for design, pulling back on costs in other areas to achieve her desired look.
"I think anyone can afford to have their choice of any one of the beautiful Vetrazzo's products and they shouldn't think of it as a product reserved for 'a certain level of income only' because it isn't," she said. "I had a friend that saw it and said, It's beautiful, I can't afford it though." I said,"Yes you can! If you see one design that's you, just make the choice to have your dream countertop. If you want to install it in your entire kitchen, you may have to choose to make one of the other elements for the room yourself. If that isn't possible, you could still enjoy your dream countertop by just installing it on a kitchen island."
Maximize Slab Yield, Maximize Budget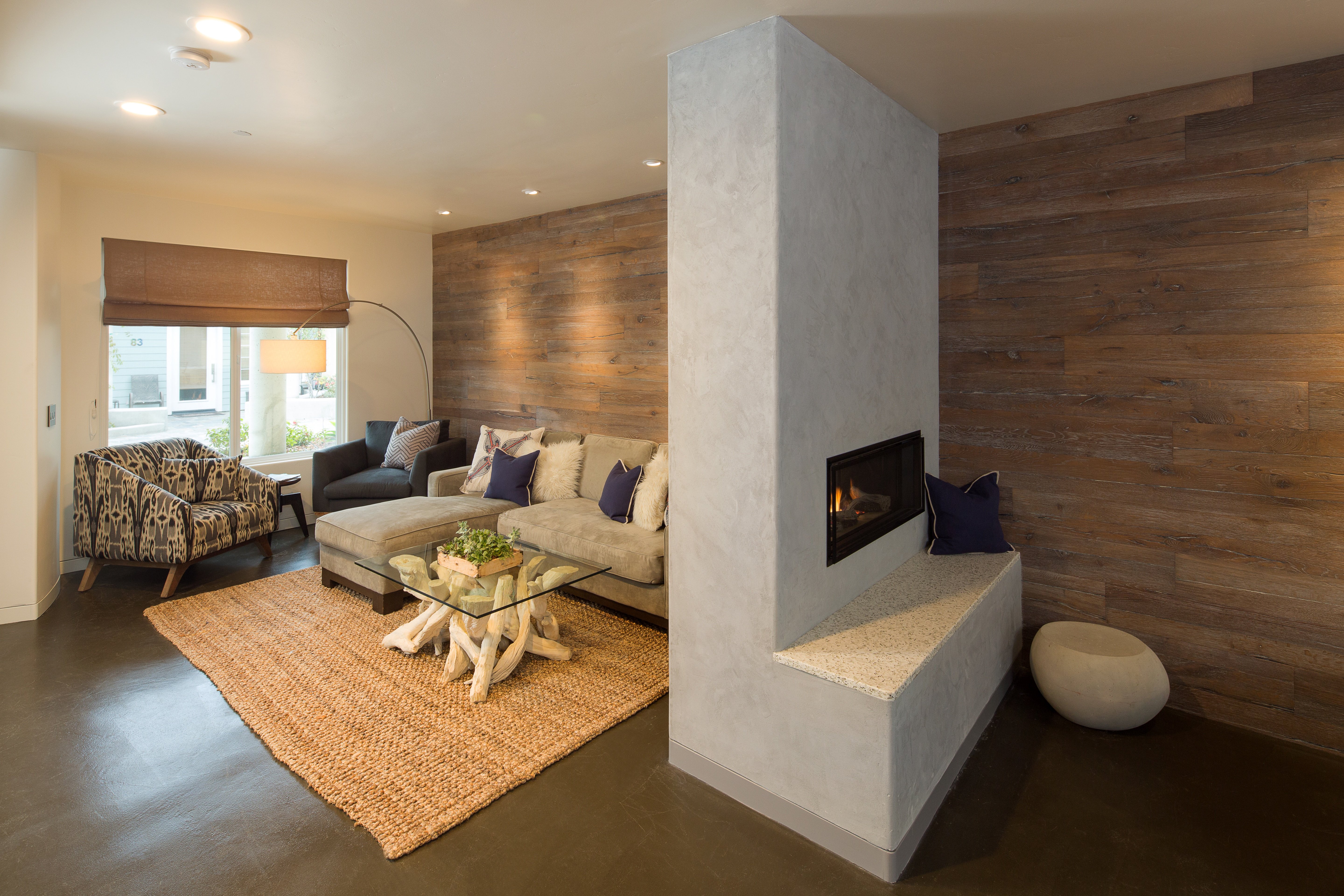 This warm and wecloming California beach home incorporates a mix of elements to create visual texture. Here Vetrazzo's heat and stain resistent recycled glass slab adds hearth seating.
California designer Stephanie Rothbauer and her client fell in love with Vetrazzo's Martini Flint, a neutral toned blend that had a subtle homage to the shores of Avila Beach where her client had a home. To make the project cost effective they purchased two slabs and made use of every piece in the kitchen and two bathrooms. They even used a remnant on the fireplace.
"We utilized every last inch of it that we could. I didn't even want a hearth originally, but the plumbing for the bathroom is there and I needed a way to cap it. I already had the Vetrazzo on hand so it made for a creative solution."
See the kitchen of the Avila beach home
Protip: A skilled fabricator can work with a design plan to help clients get the most yield from their slab. The earlier in the design process that you speak to your fabricator the higher the slab yield and most cost effective layout.
When I speak to clients about their countertop choices, whether they're considering natural stone or recycled glass, I always have the same advice - choose the material you fall in love with and design your space around it. The price of high quality materials is reflected in their origins and their unique qualities.
When people hear that Vetrazzo is a manmade product I think they envision an assembly line with robots and sparks flying everywhere, but with Vetrazzo it takes eight guys all day to make a slab. At every stage there are people involved, hands on, using judgement, adding an artisan skill to every piece. That they incorporate the same level of care and detail into slabs that you do in your design is what makes Vetrazzo recycled glass countertops a luxury surface and not a common good.
See and feel the texture of our recylced glass counterops. Order a sample here. Free to the trade. $10 for homeowners.