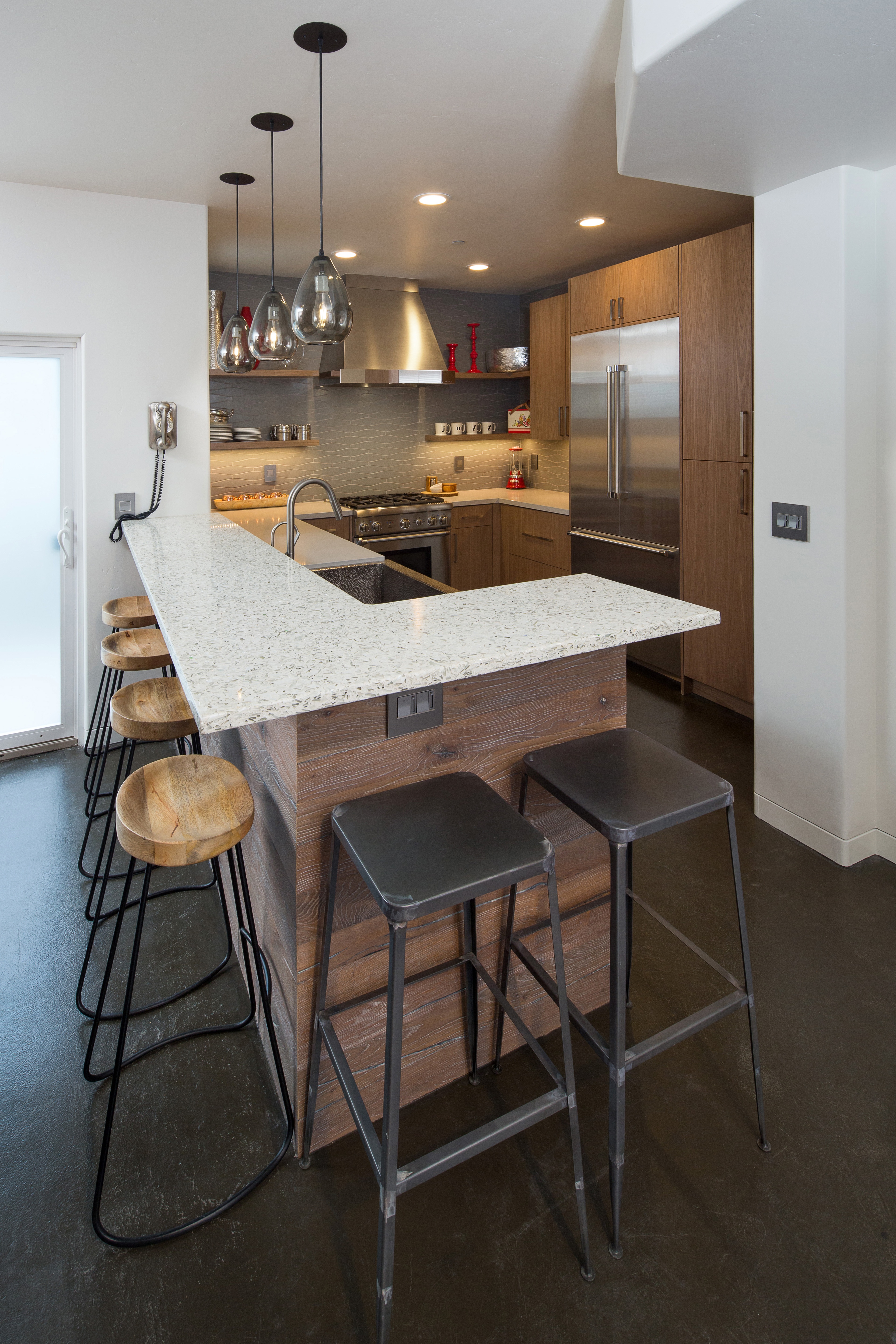 Out on California's Central Coast in Avila Beach, there's a beach getaway with a design that's stunning both for what it incorporates and what it omits. When designer Stephanie Rothbauer envisioned the total home renovation, which started off as just a bathroom (don't they all), she turned to her surroundings for inspiration.
And in San Luis Obispo County that means foggy days and soft color neutrals of sand and shells and rugged browns of weathered wooden piers. More sunbleached driftwood than twinkling turquoise. (Not that there's anything wrong with that.) The designer used it all to create a luxury, sustainable retreat with recycled glass kitchen countertops reflecting the subtle sparkle of the Pacific.
"I wanted a coastal feel, not screaming beach," Rothbauer said "I chose tones natural to the local environment."
Her interior which incorporates Vetrazzo's Martini Flint recycled glass countertops in the kitchen, three bathrooms and a fireplace hearth, is all about mixing materials: concrete flooring, plaster and wood walls, wood veneer doors, recycled glass tiles and even porcelain tile on the stair risers, all in a sandy palette.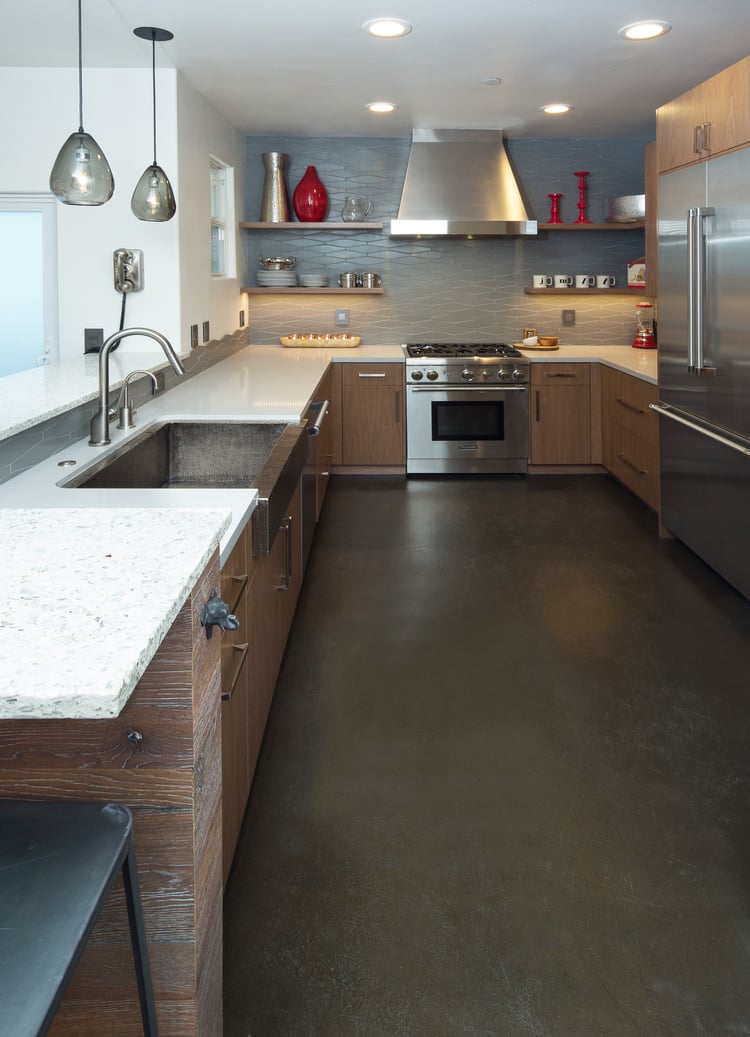 Despite the neutral colors there's nothing beige about this home, which is actually a center unit condo. Rothbauer relied heavily on the patterns and visual texture of Vetrazzo's Martini Flint and glass and porcelain tiles from Fireclay Tile and Oceanside Glasstile to give every room the same dose of movement and interest as the ever changing coastline.
Green Goods also supplied the Vetrazzo slab for the custom upper bar top in the kitchen. The perimeter counters are quartz. Rothbauer said for the bar top she originally considered one of Caeserstone's engineered products that had some sparkle in it. "But it was no comparison to the Vetrazzo," she said. "When I saw it I said, 'Oh, this has to be it." Using the quartz on the worktops allowed her to make the Vetrazzo with it's unique recycled glass composition the main focal point. Environmental impact was also a factor for the homeowner. "We tried to do everything eco-friendly," the designer said. Sustainable countertops, wood veneered cabinets and recycled glass tiles were used throughout the home.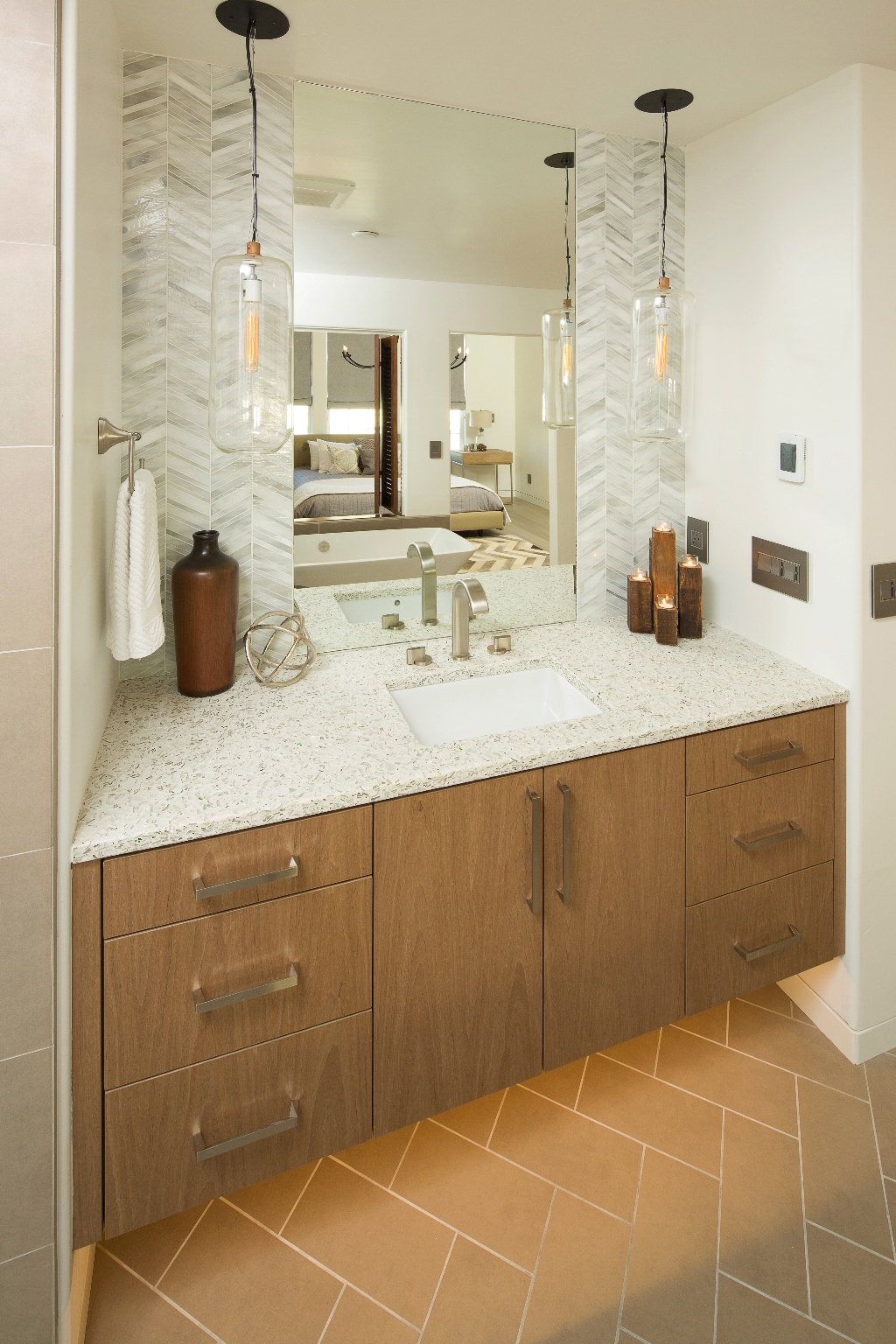 In the master bath Rothbauer picked up the glass from the Martini Flint vanity top and carried it up the wall with a herringbone tile from Oceanside Glasstile, drawing your eye up to a pair of Cisco Brothers' pendants. This interior bath has no windows so the designer created a shuttered pass-through from the bathroom to the bedroom to allow extra light (or extra privacy) when needed. "The bathroom on my honeymoon had shutters like that and the idea stuck with me for these last 15 years," she said.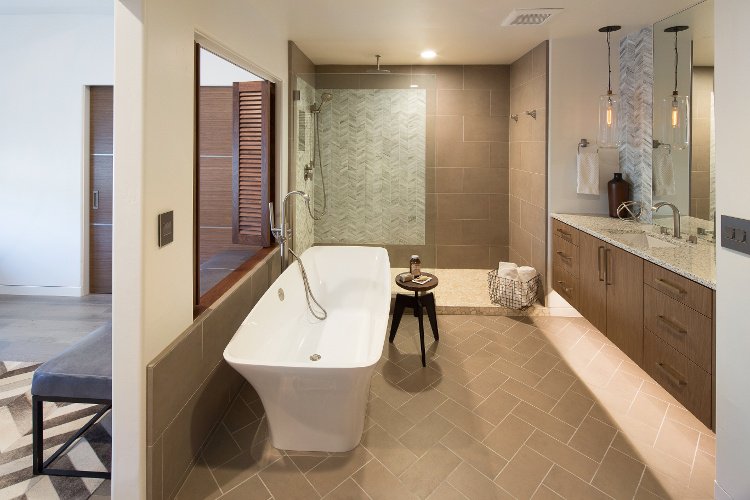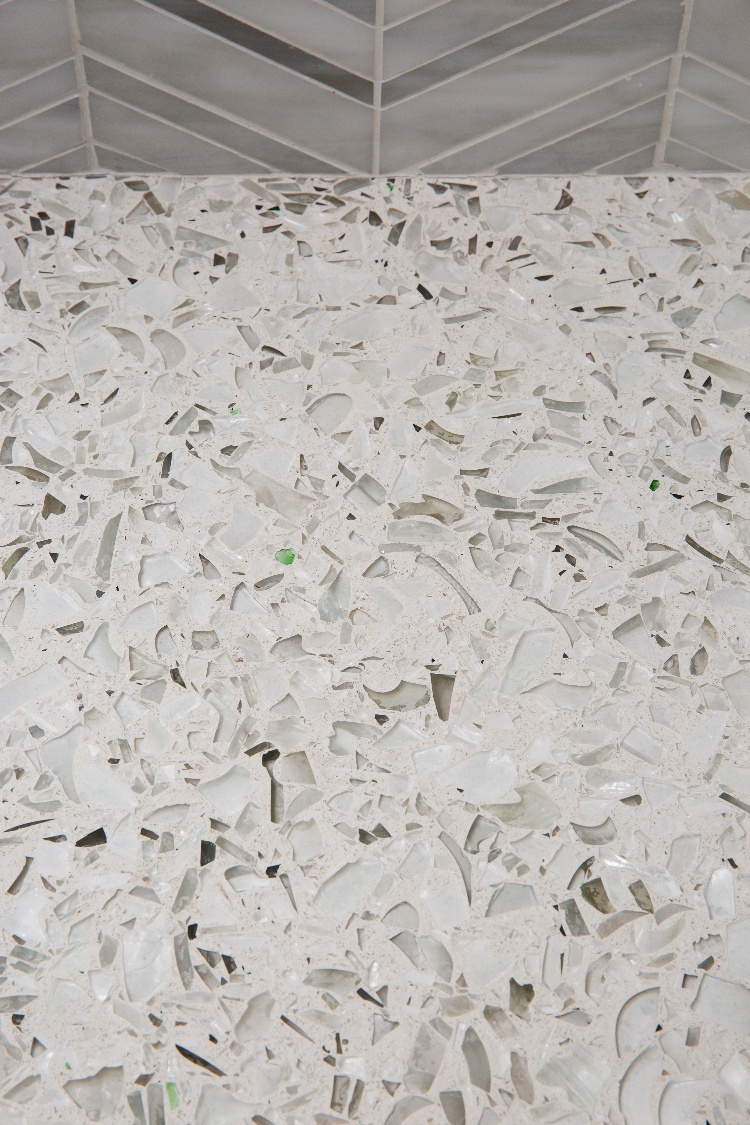 "I love the lightness of it," Rothbauer said of the Vetrazzo surface. The Martini Flint color is made with mostly clear recycled glass bottles and jars, with the occasional tiny piece of green. "We were joking around that someone was drinking a Heineken when they made it," she said. "It adds some cool character."
See more on how Vetrazzo slabs are handcrafted here.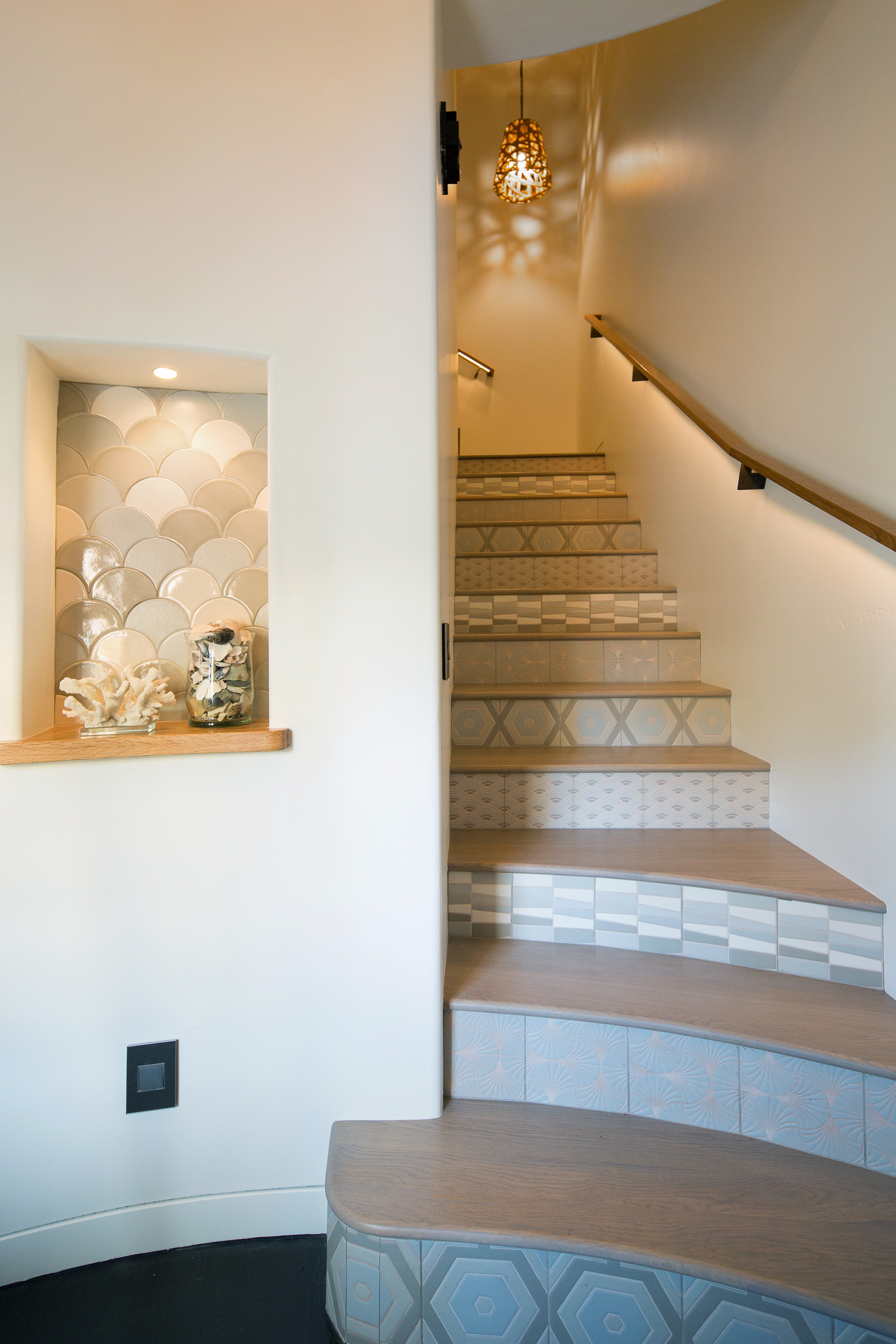 For the stair risers Rothbauer presented the homeowner and her children with tile samples in a variety of patterns, all with the same tones, and asked each to choose their favorite.
Vetrazzo recycled glass slabs, mosaic tiles and large format tiles come in 26 colors from the neutral Martini Flint to the bright Ruby Red, and sea themed colors such as Floating Blue, and Emerald Coast, which has bits of oyster shells embedded in the surface. "I could have gone with a darker color for the coastal theme on this project," Rothbauer said. "But I wanted it to be one of the features of the design without wanting it to take away from other elements, and I think that color helped achieve that goal."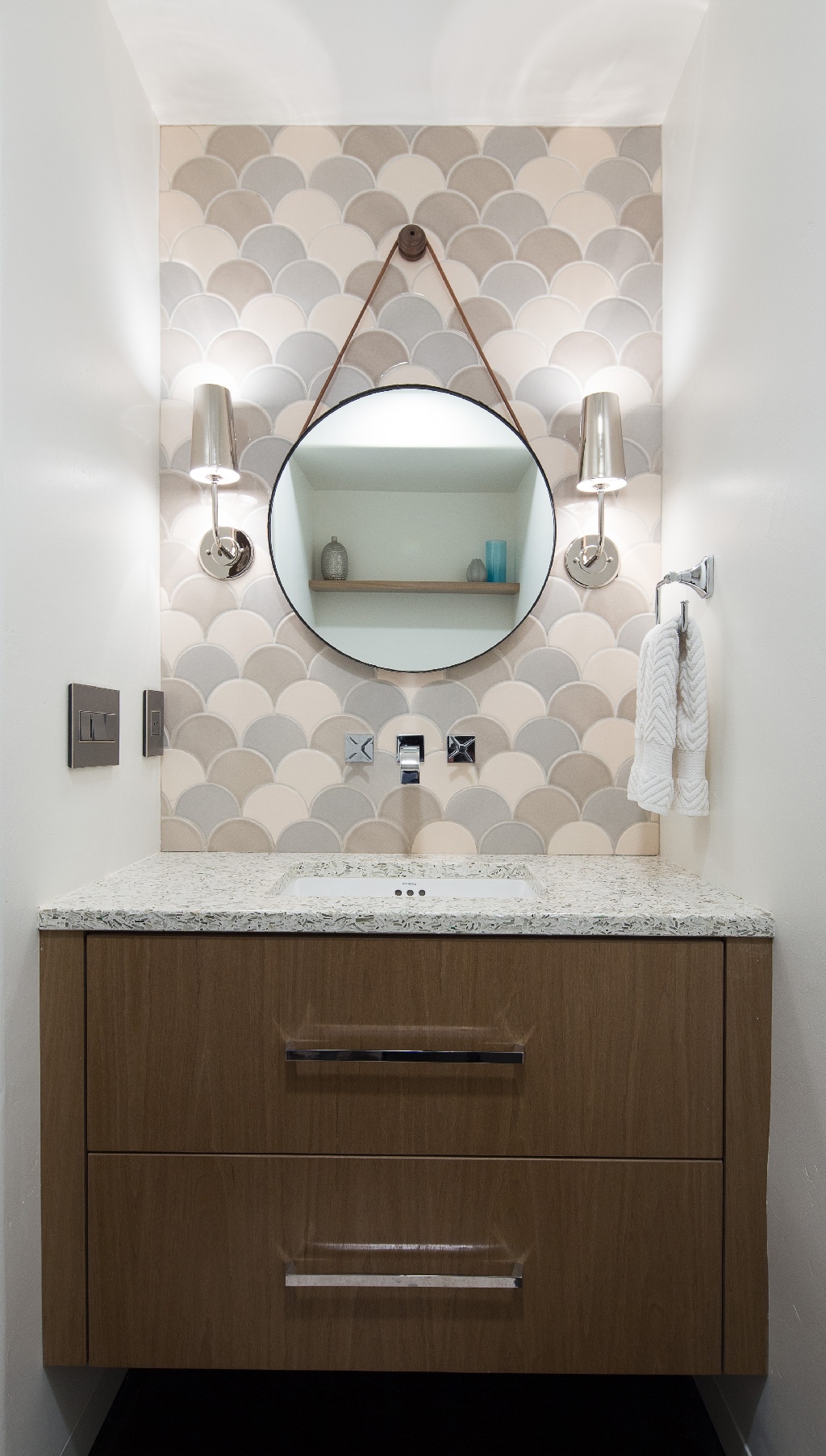 The powder room has all the tones and textures of a beach escape, without saturated sea glass colors, showing the versatility of Vetrazzo;'s glass palette. Rothbauer paired custom cabinetry from Green Goods with Vetrazzo's recycled glass vanity top and Fireclay Tile's Ogee Drop for a fish scale look.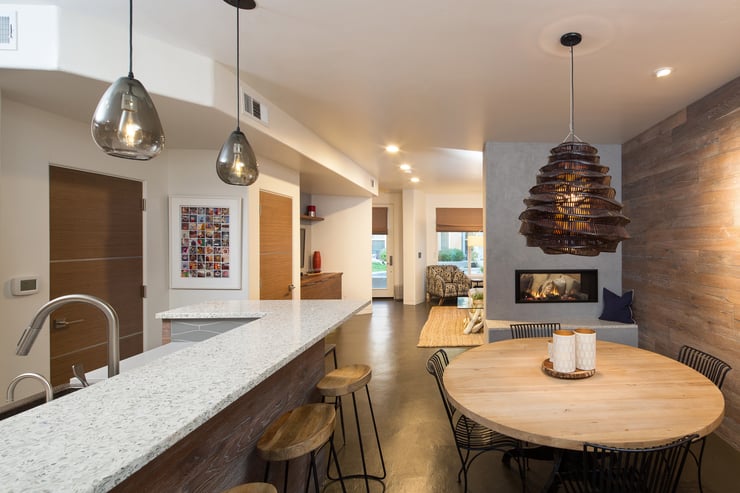 Originally the home was a series of closed off spaces. The designer opened up the kitchen to the living room to expand the visual space well beyond the condo's 1,400 square feet, and tied them together with wood veneered feature walls and a double sided fireplace. The recycled glass hearth in the kitchen was a bit of serendipity. For this project Rothbauer used at total of two slabs of the Vetrazzo surface, and she said,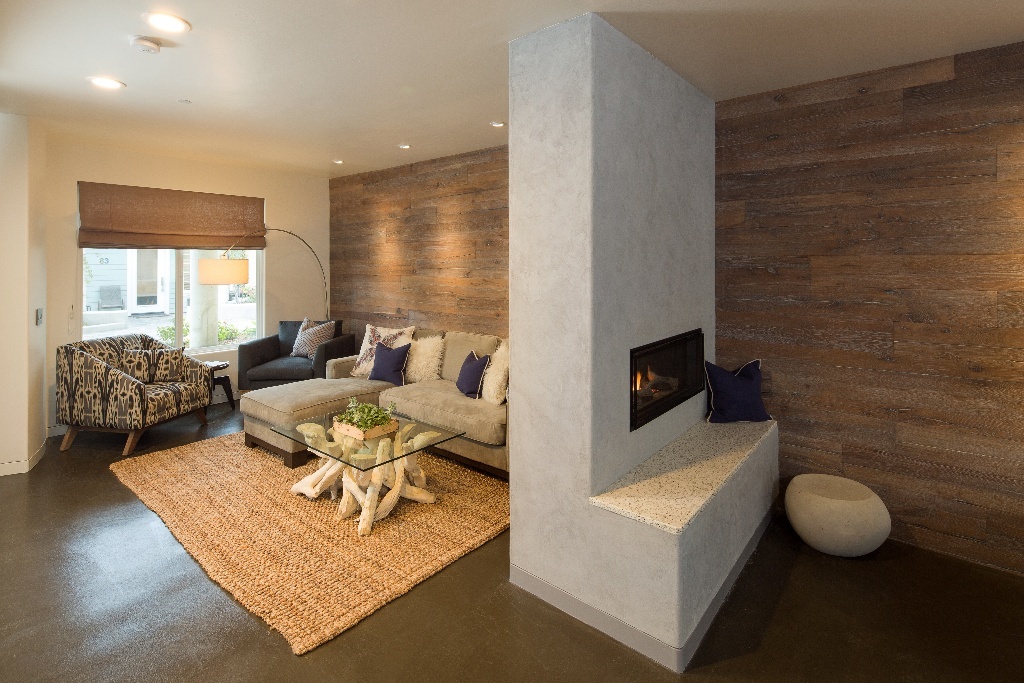 "We utilized every last inch of it that we could. I didn't even want a hearth originally, but the plumbing for the bathroom is there and I needed a way to cap it. I already had the Vetrazzo on hand so it made for a creative solution."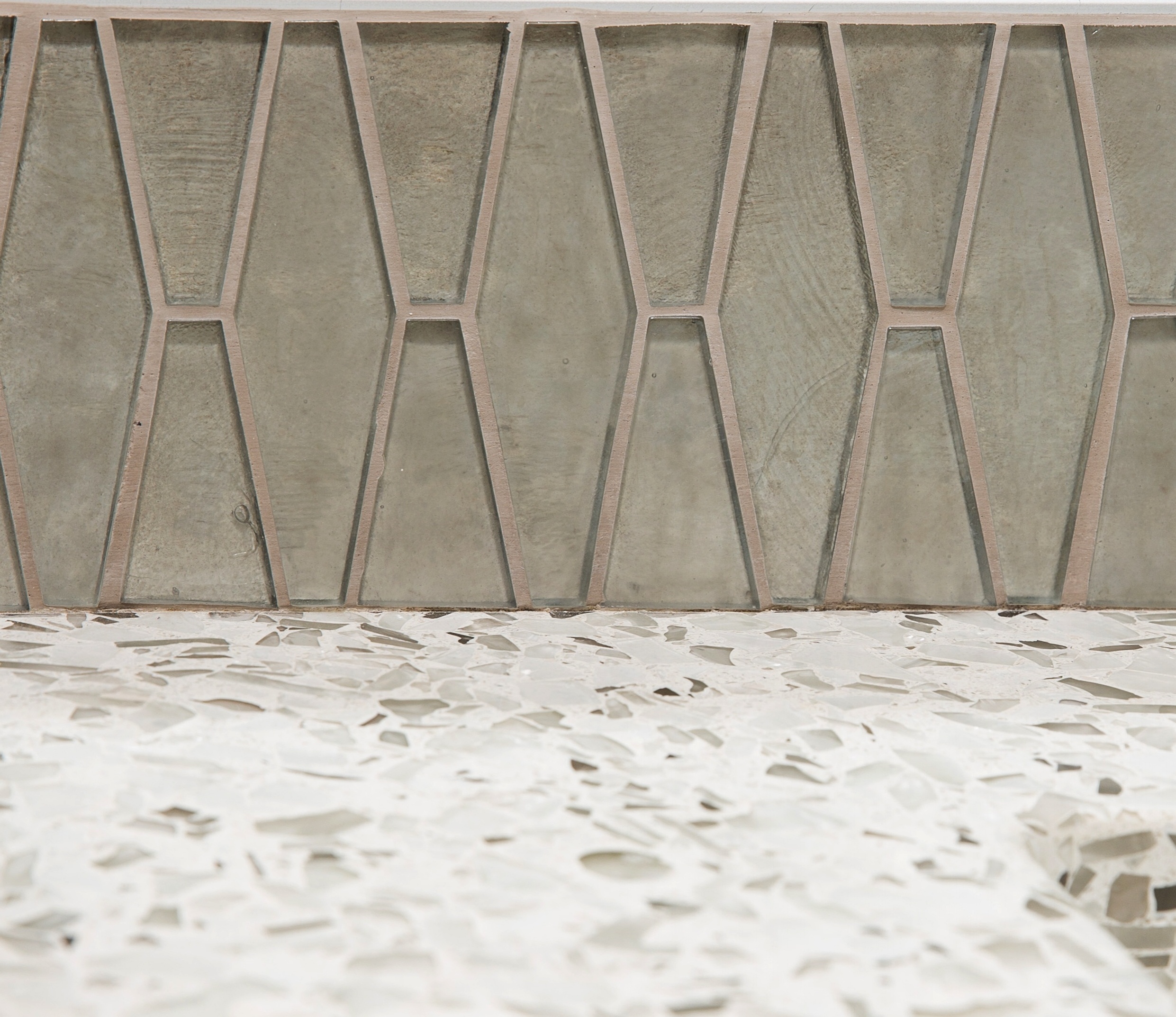 The kids bathroom features more recycled glass tiles from Oceanside. "I looked at hundreds of tiles," Rothbauer said. "These blended really well with the Vetrazzo, and I love the pattern too. They look like little surfboards."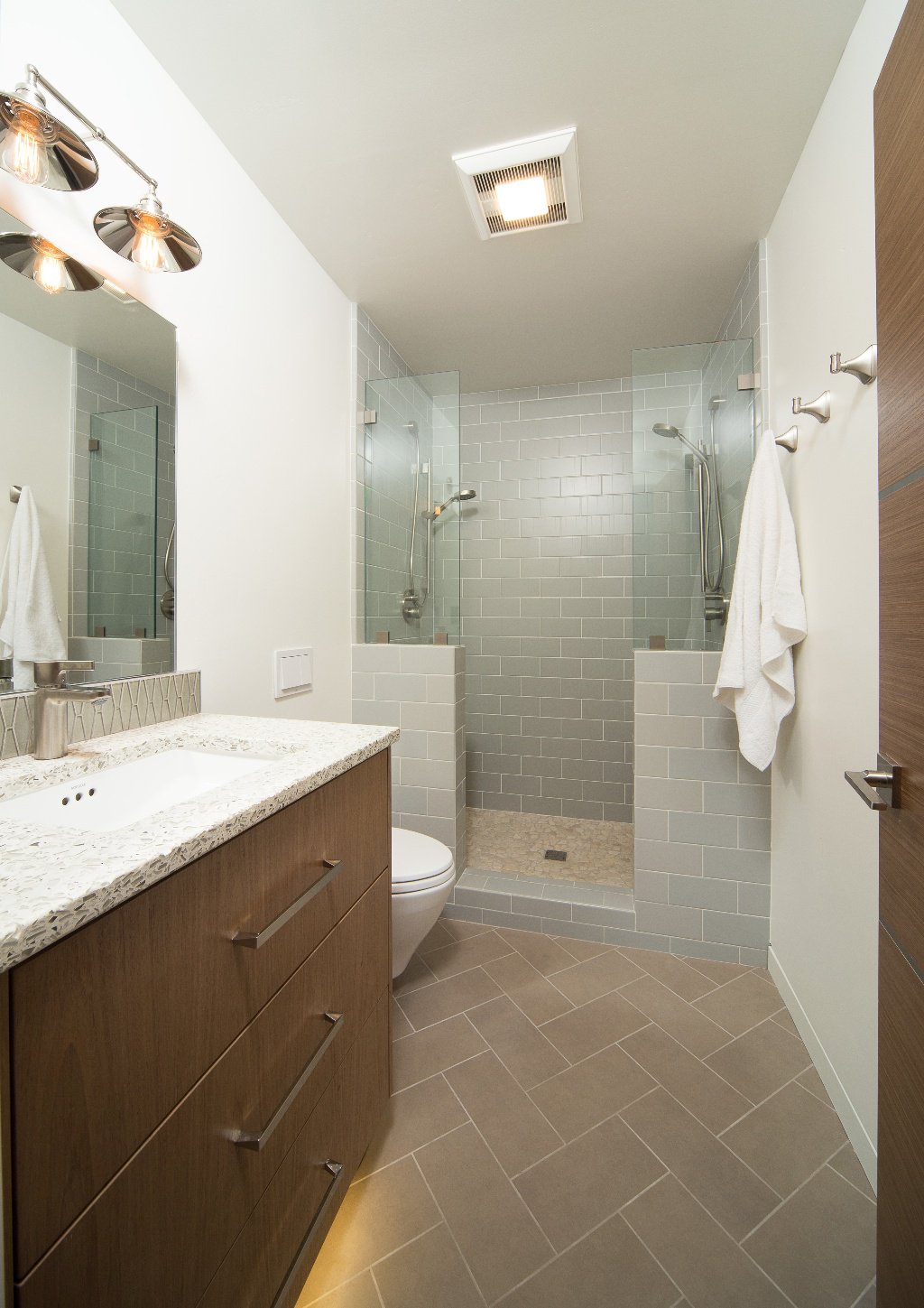 The project has become a living portfolio for Rothbauer. Recently she showed another client a sample of the Martini Flint, but the client couldn't envision it in her space from just a 4x4 swatch. But when she took her to Avila Beach, and she could see how it played in the space, Rothbauer said, she was sold.
Are you a designer or architect who works with Vetrazzo surfaces? Your recent project may be your ticket to visit our Georgia Atelier to see how we handcraft each slab. Click below for contest details.